A dreamy indie rock record awash in lush guitars and intimate storytelling, Coconut Cream's 'What Kind of Music Do You Like to Listen to?' EP sees the Australian band coming into their own seductive style with golden grace and raw finesse.
Stream: "Your Drug on Computers" – Coconut Cream
---
Sydney, Australia's Coconut Cream appear to have the musical Midas Touch: Everything they make is pure, sunny sonic gold.
Whether they're celebrating love and the magic of human connection, or dwelling in poignant, dark depths, their instruments shimmer with an undeniably sweet radiance – giving every song a warm, welcoming, comforting glow. Nowhere is this more evident than on the rising band's sophomore EP, which celebrates its one-year anniversary later this month. A dreamy indie rock record awash in lush guitars and intimate storytelling, What Kind of Music Do You Like to Listen to? captures a band coming into their own seductive style with golden grace and raw finesse.
Tennis players at a house party
I didn't know right from wrong
You've got an ego and perfect eyesight
Double take as I walk indoors
And you came to a show
And you stood in the front row
We walked down Enmore Road
Every afternoon in the cold
Listening to Your Drug on computers
I was enough to be your muse
But the bus broke down in Double Bay
We walked home even though it was a long way
– "Your Drug on Computers," Coconut Cream
Released February 18, 2022 via Broth Records, What Kind of Music Do You Like to Listen to? truly is a daydream brought to life in sound. Following 2019's debut EP Out of Touch, Coconut Cream's second extended player finds them tightening their hooks and honing their pop-laced indie rock aesthetic – one that calls to mind such bands as Alvvays, Tennis, and Anteros, while still standing out from the pack. The four-piece of Astari Mudana, Jasmine Tan, Chad Kennedy, and Oscar Saran has grown significantly in a relatively short period of time, and What Kind of Music… puts their growth on full display as they come together as one, while simultaneously highlighting their individual creative strengths.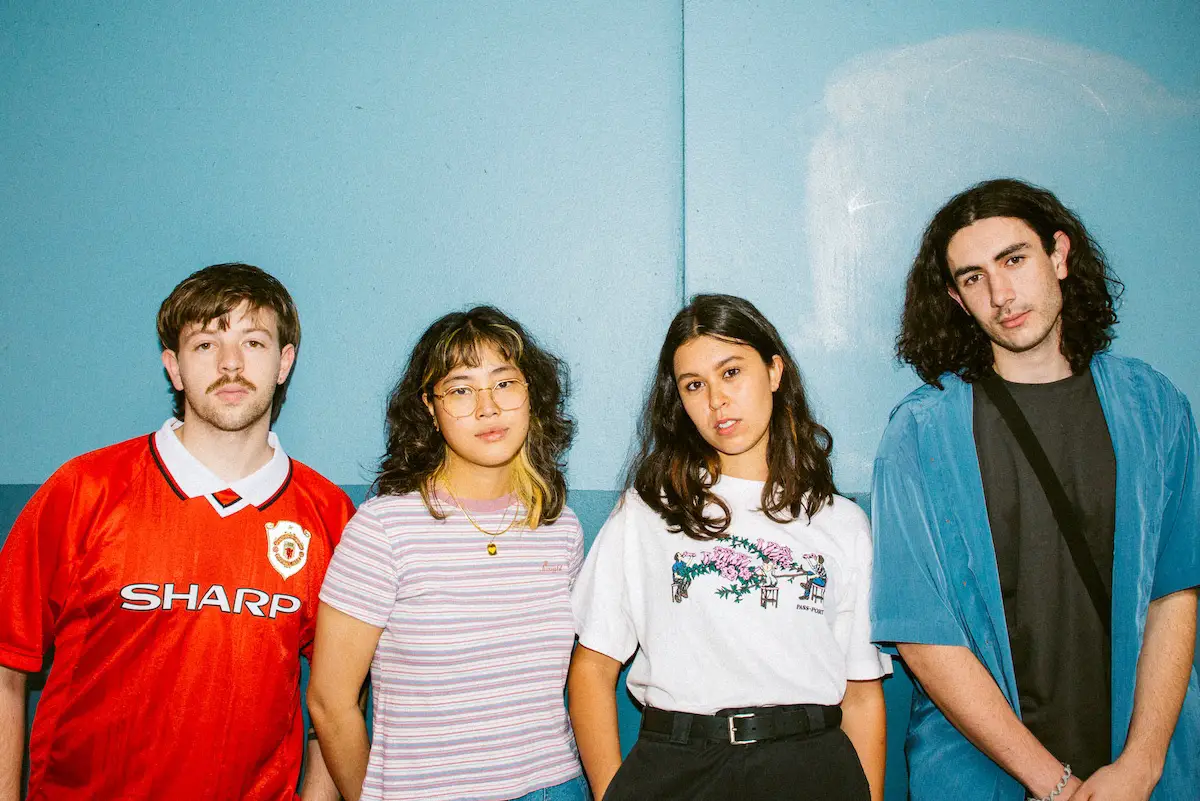 For Coconut Cream's lead singer and songwriter Astari Mudana, this EP is as much a time capsule of her own life as it is anything else." All the songs on this EP are about my experiences over the past three years, so it kind of feels like a little collection of journal entries," she tells Atwood Magazine. "The order of the tracks is actually chronological with the first couple of songs being about toxic and complex relationships. Then you have songs like 'Overgrown' and 'Safety Net' which are about the end of a relationship and finally, the title track at the end of the EP which is a song about finally being on your own and meeting new people, dating etc. It goes full circle which I think is pretty nice."
"I think with this EP we wanted to just compile all the tracks we were most proud of writing together into a body of work. We'd been playing a lot of the songs on the EP live for years and we'd always have people coming up to us after shows asking us, 'When are you going to release this?' So it was nice to get a couple of these songs recorded for people to listen to. I think our sound just naturally developed and matured over the course of three years so each time we went into the studio we would bring new elements to the songs to make them sound bigger and better. The EP is really a compilation of songs that we've written over the past few years and curated into a body of work. I think the record highlights the strengths and qualities of each member of the band and kind of blends all our musical influences together into one sound."
The EP gets its name from the final track, which was also the last one the band wrote for this record. "'What Kind Of Music Do You Like To Listen To?' is a song about when you first meet someone you really like and want to know everything about them," Mudana says. "We really liked it as the name for the whole body of work and we felt like it really tied all the songs together."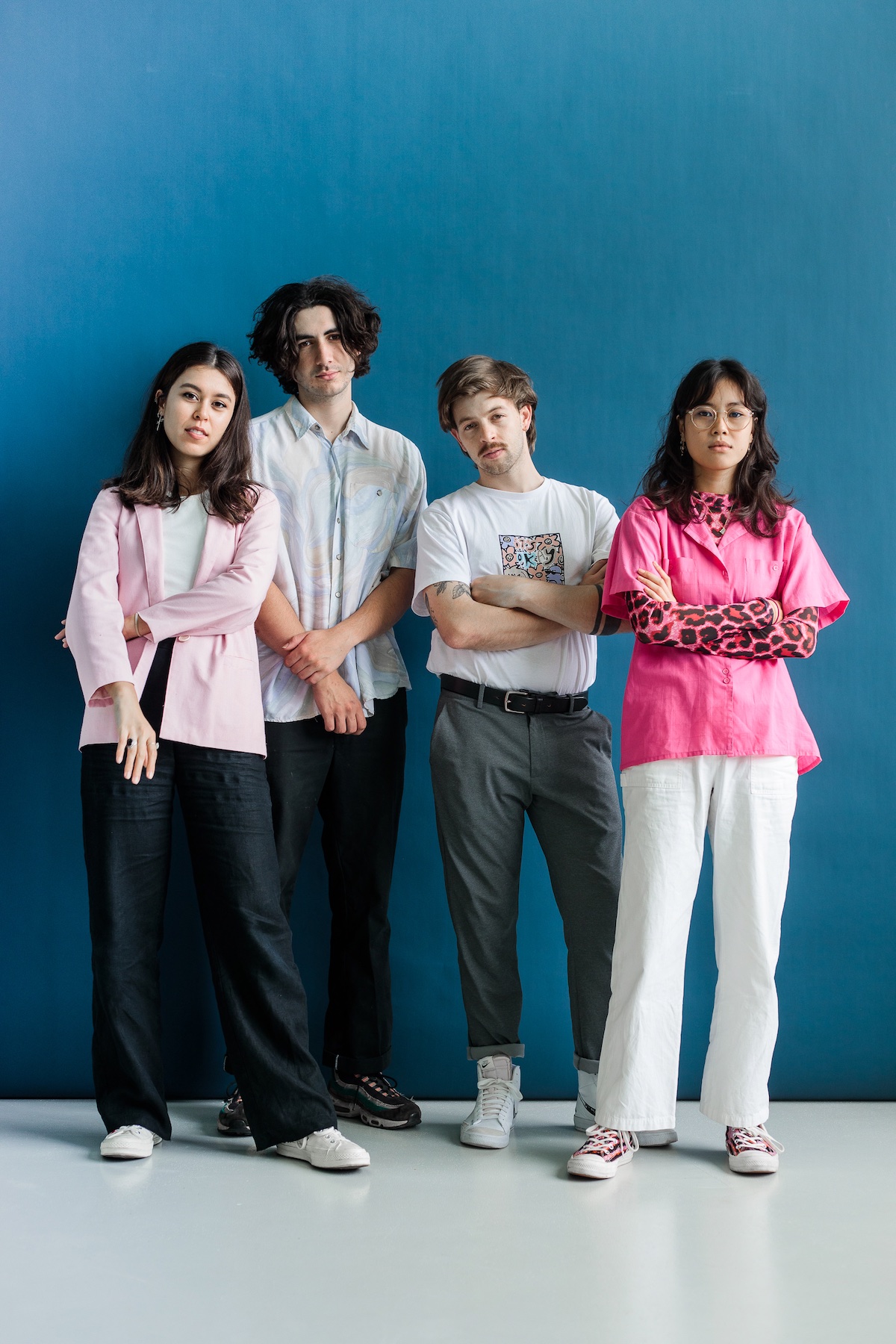 Mudana considers the EP a dreamy, guitar-based, and storytelling affair.
While she and the band weave an immersive, seductive (and equally catchy) reverie, her lyrics provide vivid insights into the emotional complexities of a young twenty-something in the throes of self-discovery, dealing with both the external drive of intimacy and desire, and her own shifting internal identity all at once.
We feel that turbulence come to life in tracks like the EP's dazzling opener "Your Drug on Computers," which dwells in a valley of young love and youthful innocence, and the achingly passionate "More Time," which deals with the unabating feeling that you're falling behind in life. Both of these songs, as well as the four other tracks on this record, feel like little worlds unto themselves. Whether they're drenched in reverb or hushed with tender, delicate string plucks, Coconut Cream take care in channeling a bevy of palpable emotions through sound.
---
"I really like the lyrics in the track 'Safety Net,'" Mudana says on the topic of favorites. "Particularly the first line, 'I walked to the drugstore, I saw they sold your cologne. I put it on my skin just so I could feel something'. I think this is my favorite because it's something I actually did, and it prompted me to write the whole rest of the track. I think it's pretty crazy how the smell of someone's cologne can be such an emotional trigger and lead to this flashback of feelings and memories and yeah… I really like that song."
I walked to the drug store
I saw they sold your cologne
I put it on my skin
Just so I could feel something
And I walked out onto the road
I'm wearing that North Face raincoat
I know I seem fine
But I've got too much time
And I know you still care so come upstairs
You're the same since the last time, glad you didn't bleach your hair
And you're a fire I'll never forget
I don't want to be your safety Net
But I don't want to be your safety Net
– "Safety Net," Coconut Cream
For her, the overall record will always be connected with a sense of camaraderie with her band mates; that deepening of relationships as they found their stride together, as a unit." My favorite memory associated with writing this EP was when we spent weeks at a time at Oscar's recording space in Berilee. It was during these times we really bonded as a band and were deep in writing and recording and doing some of our most productive work. It was also just really nice to be out in nature and writing songs in the middle of a paddock too."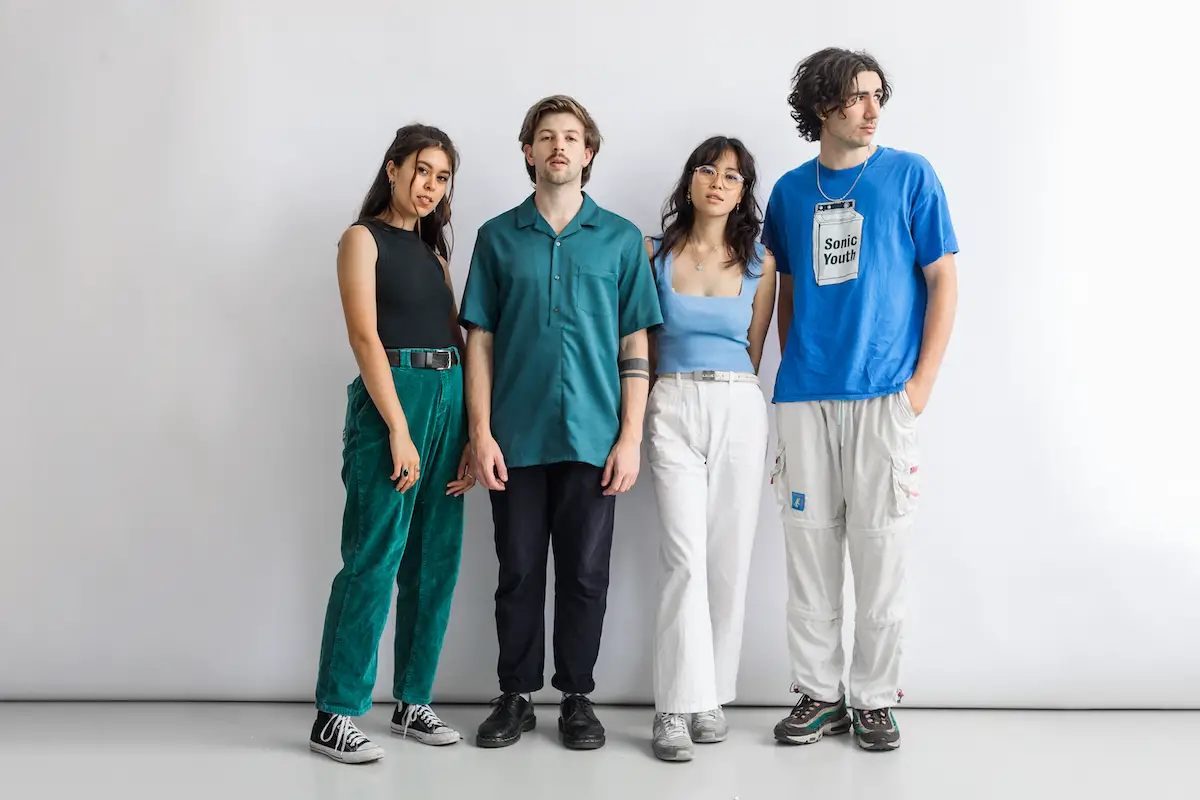 What Kind Of Music Do You Like To Listen To? may be a long title, but the music itself is here and gone in a flash; before you know it, the glistening guitars and vibrant beats of "Your Drug on Computers" are a distant memory, and the title track's impassioned, emotional vocals and feverish, kaleidoscopic backdrop are slowly fading in the rearview. Moments of heartrending vulnerability in "Overgrown" and "Safety Net" continue to stick out long after the music's over, and accompanying them is a salient understanding for what this band is quickly becoming: A beacon of intimate, colorful, and cathartic indie rock with a flare for the buoyant, the bold, and the beautiful.
"I hope listeners can relate to the moments and feelings that I've written lyrics about," Mudana shares. "I think that's really the main goal for me. I think this whole EP has been a huge learning curve for us as a band and it's really pushed us to keep going with making music despite all the setbacks with COVID."
Coconut Cream returned late in 2022 with the standalone single "Crumbs," a cathartic anthem showcasing their captivating, charismatic sound while capturing their continuous maturity and ongoing growth together. "In a word, 'Crumbs' is a soaring, cinematic reverie," we wrote in an early December roundup, going on to describe the track as one with its head in the clouds and its feet on the ground. "Coconut Cream combine tight rhythms and driving beats together with radiant melodies and catchy, cool vocal lines that lure listeners in, tapping a core deep down inside."
Coconut Cream are clearly nurturing and further developing that musical Midas Touch, and we can't wait for more gold to come from this stunning Australian export.
For now, their one-year-old EP remains a resounding hallmark of their collective talents, shining bright with emotional energy and rich, euphoric, dreamy sound. Experience the full record via our below stream, and peek inside Coconut Cream's What Kind of Music Do You Like to Listen to? with Atwood Magazine as the band goes track-by-track through the music and lyrics of their second EP!
— —
Stream: 'What Kind of Music….' – Coconut Cream
:: Inside What Kind of Music Do You Like to Listen to? ::
— —
Your Drug On Computers
This song is kind of like a journal of all the places that me and this person used to go to together and things we did which all really shaped my teenage years. 'Your Drug' is actually the name of a Saskwatch song that I listened to a lot with someone when I was around 17. Whenever I hear the song now it takes me back to significant moments when I was younger so it's still very sentimental to me.
Parking Ticket
Parking Ticket is a track about a toxic relationship. I kind of based it off my own experiences but also took inspiration from stories that a friend would tell me about their ex. Parking Ticket is essentially recounting all this toxic behaviour that my friend had to put up. This is one of our earlier tracks and one that we love playing live so we're so happy that it's finally released.
More Time
More Time is a track about feeling like you are falling behind on where you want to be in your life and your career. I wrote the song when I was feeling this pressure from people around me to write a good song for the band. Along with this pressure, I was studying music at university and finding it hard to submit all my musical pieces with a deadline when I was so creatively stuck. I wrote this track prior to covid so looking back on it, the ideas of needing more time seem even more relatable and true.
Overgrown
Overgrown is a track that I wrote after a breakup. It's reflectively looking back on the relationship and realising that maybe you cared for that person more than they cared for you. It was written at that stage of a breakup where you are finally ready to kind of let go and move on. I love this song because of how cathartic it felt to write and I love how it all came together with the band.
Safety Net
The song essentially alludes to reuniting with someone from a past relationship and this, in turn, provoking a mixed response. The lyrics in Safety Net are acknowledging the immense importance of that person/relationship but also coming to terms with the fact that it's not meant to be.
What Kind Of Music Do You Like To Listen To?
What Kind Of Music Do You Like To Listen To was the last track that I wrote for the EP. I actually wrote this one during a recording week at Oscars house while everyone was inside setting up gear. Oscar's house is on a little farm property so I took an acoustic guitar into the paddock and just wrote the whole song from there. It was a super beautiful and calming writing process. It's actually everyones favourite song on the EP as well.
— —
— — — —
? © Cath Connell
:: Stream Coconut Cream ::
---