Sun-kissed and stirring, Foxtrails' sophomore album 'Kaweah' is a tender drop of sweet summery warmth come to melt our winter chill: A radiant, captivating indie folk record inspired by nature and brimming with ambient charm.
for fans of Fleet Foxes, Mt. Joy, Lord Huron
Stream: "Sundrip" – Foxtrails
---
For us we all agreed that the beauty in making an album is that it is a journal, a record of the times.
There's nothing quite like the uncompromising light of music to lead our way; to awaken us and uplift us.
Sun-kissed and stirring, Foxtrails' sophomore album is a tender drop of sweet summery warmth come to melt our winter chill. A radiant, captivating indie folk rock record inspired by nature and brimming with ambient charm, Kaweah isn't a reinvention: Rather, it's a stunning, cinematic revival of the Topanga Canyon sound we've long known, and long loved.
sweet summer lingers in the colors on the top of your lovers smooth skin.
clouds cover, sun is running under, luna kissed her brother goodnight..
forest breathing, sundrip ceiling, i guess its alright..
oh when i look inside i find you.
oh when i look inside i find you.
oh when i look inside i find you.
oh when i look inside i find you.
oh when i look inside i find you.
winds colder, frost on the shoulders, spread across winters new skin.
snow pillars lean into the silver, light holds the heat in.
forest breathing, sundrip ceiling, i guess its alright.
forest breathing, sundrip ceiling, i goess its alright.
Released December 17, 2021 via Prizefight Records, Kaweah is a soaring, sterling return from one of Southern California's most enchanting music collectives. Formed by singer and songwriter Blake McLeod in 2016, the now seven-piece Foxtrails have been weaving their own vibrant blend of psych, folk, alternative, and ambient music for five strong years now. Fans of bands like Fleet Foxes, Mt. Joy, and Lord Huron are sure to fall fast for Foxtrails' spirited, effervescent glow.
They released their self-titled debut in 2018; three years later, the expansive Kaweah finds an confident Foxtrails sounding cooler (/hotter), tighter, and stronger than ever: Consisting of multi-instrumentalists Micah Sohl, Michael Brenner, Dane Sandborg, Cory Yamashiro, Nikita Sorokin, and "percussionist extraordinaire" Dylan Grombacher, the collective imbue in their second effort an appreciation for space, sonic warmth, musical wandering and exploration. The record feels natural and loose, yet decidedly thought out and well-executed – as though the group first gathered all the key ingredients they knew they wanted to have in their record, and then let things find their way organically, falling into place from there. Some songs seem fleeting, here and gone; others linger, their sun-soaked tones washing over the senses and seeping deep into our bones.
Like a full-bodied red, Kaweah is rich and complex; Foxtrails ensure we come away with a sense of completion, relaxation, and catharsis.
"This album was sort of recorded in different parts," Blake McLeod tells Atwood Magazine. "Some of it before the pandemic, and some of it during a period of quarantine, during the beginning of 2020. For us it was a process of learning to create and write together, which in a band of seven artists was a learning experience. The band had sort of found it's spiritual home in the mountains of Three Rivers, CA; where many of the songs were written, and where we decided on the title Kaweah (the name of the river that ran through the mountain town). There wasn't necessarily a vision for this record, but there was an emphasis on process. Not every song we wrote ended up on the record, but we were dedicated to creating a body of work and however it came together, that is was the record. For us we all agreed that the beauty in making an album is that it is a journal, a record of the times.
On the album's title, McLeod expands: "We have spent a lot of time in the land of Kaweah, and were inspired the landscapes around and imagined what it could have been like before our time. Coming from Los Angeles, it was very inspiring to go to a smaller more desolate place and trying to imagine the history there, the way the people lived, and how this same river was always a source for them, the way it had been for us. The record is inspired by the river Kaweah, which flows through the town of Three Rivers. We drew inspiration from it as we felt it mirrored the process of us becoming a band. What we took from the river was that we found ourselves in the "flow" or both creativity and time. They constantly push forward, and our record is a sort of snapshot of this flow… the waters may never be exactly the same, and there is a beauty in that impermanence. We went to Kaweah because it felt like a beautiful place to create but we didn't really know what impact it would have on our band."
Foxtrails are proof that sometimes, more cooks in the kitchen can be a really good thing; their music is a bold, robust tapestry of influence and artistry. Never too dense, never too thick or murky, the artists within it help to make Foxtrails far greater than the sum of its parts.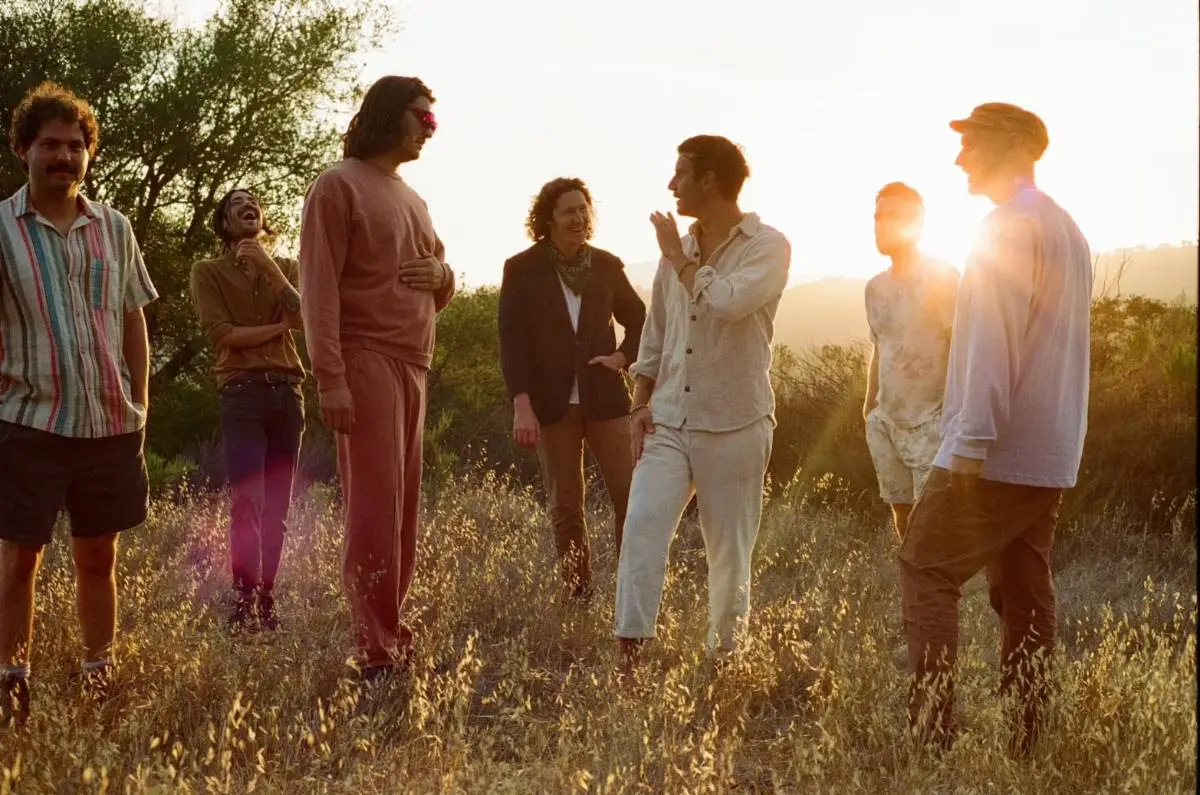 ---
"With seven guys there is a lot to unpack artistically," McLeod says. "There is certainly a landscape between all seven of us; we all have different tastes and styles, but Kaweah is a sort of banner under which we can be creative together. When we get into a room to create music, the sounds can develop into a variety of different sounds and styles, but the language and themes that we use to communicate our art is always sort of similar. It teaches us how to listen to other artists that we are working with, to take a step back and to be in service of the song."
Highlights abound throughout this hypnotic, enthralling collection: From the seductive rhythms and soft, lilting melodies of "Humming Bird" (the first track after the instrumental opener) to the dynamic, unapologetically driving "Fossil Rock," the passionately alluring "Sundrip," and the harmony-filled "Susanna," Kaweah is simply dazzling. Every track feels like it has a purpose and place on the record, like the lighter acoustics and mesmeric beats of "Dusk on the Walls," or the grooving psychedelia and smoldering instrumental work of "Gemini." The album's finale is just as soothing as its start: The burning embers of "Merlin" sizzle with musical light, paving the way for the epic seven-minute closer "Distance" to utterly envelop the ears and the heart.
"The end of 'Dusk on the Walls' is definitely a highlight," McLeod says. "'Paint on the walls, the dusk seems to stall.' It's a sort of meditation on being present in your greatest moments, when everything stops and you realize that you are in that exact perfect moment. You've been in the river all day, sunburned, feet covered in sand and you suddenly stop and realize, 'I am exactly where I need to be right now, and I'm surrounded by all of my favorite people.'"
---
So much of Kaweah is about stopping to smell the roses; about finding balance, re-centering ourselves, and meditating on (and being in) the present moment.
To this end, Foxtrails' music can be appreciated as both an escape and an indulgence: A means of immersing ourselves in the here and now, and letting our worries, baggage, anxieties and fears fade into the background – at least for a little while.
On the topic of lyrics, McLeod highlights moments of personal vulnerability that shine through the greater collective's musical poetry: "I grew up with bibles and found there to be a lot of poetry in scripture. As I grew older I mended that together through my life's experience. It's honestly hard for me to decide. The human aspect of deciding to share my story without getting in the way of music that I personally feel speaks for itself, is very difficult."
"Nature was our true north," he adds, highlighting lines in the songs "Susanna" and "Fossil Rock."
"Susanna": "Chasing the time in the river deep. Oh Susanna counting the bees." The classic tale of fatherhood, cycles of parenthood, really inspired me for this song. The cycles of life. The wish for our parent's to see their kids pass the torch on to another generation These lyrics make me cry most times I listen to it. (I don't have any kids tho haha.)
"Fossil Rock": "Abandoned chapel empty hall, the roof collapsed and the sycamores grew tall." Nature always prevails, no matter what we build and how we leave our mark, there will always be growth from what was there.
Whether it's winter, spring, summer, or fall, Kaweah will fill your world with light, heat, and a natural kind of love: Foxtrails have delivered an album we'll be returning to time and again. Sometimes, we'll listen intently; other times, we'll tune in to drop out. Either way, this is the music that will help us channel good vibes, good feelings, and a sense of inner peace and tranquility.
"For others, [I hope] that they feel a sense of peace and comfort in their current state, but also the possibility of growing out of that," McLeod shares. "We imagine people listening to this record in so many ways, from driving down canyon roads alone, to sitting and watching sunsets with their loved and having a unique experience to the album each time. We want it to mean whatever the listener decides they would like it to mean. We just hope that someone has some sort of experience when listening to it. I want people to feel comfortable in their space, but excited to take the next step, hopeful for the future."
"For us, the the takeaway would be the ebb and flow of life, and to just surrender to the feeling and being the best way you can be. Whatever it is that you're looking for in your life, the river is going to take you to like minded folks. With this record we are exploring the human design. We feel very lucky to have found each other for this record."
Whatever it is that you're looking for in your life, the river is going to take you to like minded folks.
This is music to live by. Experience the full record via our below stream, and peek inside Foxtrails' irresistible Kaweah with Atwood Magazine as the band goes track-by-track through the music and lyrics of their sophomore LP!
— —
Stream: 'Kaweah' – Foxtrails
:: Inside Kaweah ::
— —
Kaweah (Intro)
Dawn; this song is preparing you to open up.  Kinda like the first five minutes of a yoga class, warming up mind body and spirit.  Sort of sets a sonic palette for the rest of the record with these different sounds being stirred around in an ambient stew. We feel like this song is a kind of gathering of the senses. All of this song was improvised and recorded in our home studio in Topanga.
Hummingbird: 
This is sort of a culty song.  There is a kind of mysticism around the song that I feel like we are trying to evoke.  I think this song is trying to help you get situated into the feeling of the album.  Shake off the uneasiness and the "cold feet on the clay" and dive into this feeling. This song is less of a narrative and more like a collection of images that I see.  A field at sunset, cat tails swaying the wind, and something stirring.  Energy, love, vulnerability, freedom of opportunity all sort of being thrown intro a crock pot and being stirred around.  Really it's about being undeniably yourself.
Fossil Rock:
This song is unique in that it's a bit more of a story piece than the other tunes. It was a very tough song to write personally.  I didn't want to finish this song, because it forced me to bookend a part of my personal story and reflect on it.  It was painful and I think that really shines through in this song. The instrumental: I'm trying to pull myself away from some, definitely exercised some demons with this one.  But it resolves in a beautiful place. Fossil Rock is my ode to many years of feeling conflicted. Pain and love get tossed in the tumble dryer, but in the end you end up with love.
Sundrip:
The is sort of my ultimate ode to nature.  The beautiful circular progression that we are all engulfed in forever.  I think there is beauty in that idea. I'd be lying if I said there wasn't some fragments of my childhood religious upbringing in the lyrics.  "Oh when I look inside, I find you." It isn't necessarily God or anything, more of this image that I fixated around of a sun dripping into a snow globe that we all inhabit. The song was built around this looped groove that was written during the pandemic.  It felt like something that you could really wrap yourself around, it felt really cozy and I think I wanted to just hear it looped infinitely.
Susanna:
This song was literally from a dream that I had.  I had a daughter in the dream.  As a kid I visited my grandmas farm a lot, she loved sunflowers and they surrounded the property.  For me its all about going to that place and showing her the things that I used to know when I was young.
Dusk on the Walls:
This is all about suspending time with the people you love. Also taking in with all of your senses. Sights, smells and sounds. Really soaking in it, being fully immersed in this moment that you wish would just last forever. This song was written during quarantine, during a time when I was feeling pretty isolated.  I missed my people and I yearned for a moment like the ones that I used to have so often with my friends.  You take those moments for granted, and you never know you're gonna miss them until they're gone. It was definitely a reflection of a day that we all had at a place called Slick Rock Recreation Area in Three Rivers, CA.  The whole band was there, we had an incredible time together playing in the river.  Glasses were lost, laughs were had, Micah drove us home blasting the club mix of Donna Summer and Giorgio Morodor's "I feel Love" down a dark winding forest road.  It was a day we will all remember and I wanted to sort of tell that story in a way.
Gemini
If the album is the progression of a day, this is definitely just after the sun has gone down.  That time of day where you sit and reflect on who you are and the things you've done in your life. The song is introspective for me, being a gemini to understand the patterns of my own ways.  Caught between light and dark, I'm good and light but I can also be serious and kinda suspect sometimes.  Trying to hide from the world, but as an artist wanting to share my voice with the world.  I always feel like I'm caught between two sides and this song is my meditation on that notion.
Upper 5
Upper 5 is a place in Three Rivers, California, where we decamped to write much of our new record, Kaweah.  It tells the story about the brotherhood of this band and the connection we feel to each other and this landscape. The song was formed around a bass line played by Dane Sandborg and is the first to feature a lead vocal from singer/ guitarist Michael Brenner.
Merlin
This song is definitely a departure for the band in terms of mood, sounds, and textures.  It's very brooding, it explores the uneasy feelings around cravings, yearning and shame. Cory Yamashiro offers lead vocals on this track. If the daytime is all of the good feelings on the record, this song explores the other side of the spectrum. Our tendency to indulge in negative feelings and question ourselves constantly.
Distance
This song was a very powerful moment for the band.  The whole thing was recorded in one night in Three Rivers, with some friends present. The song is sort of dirge, for a friend that you feel may be beyond the point of reaching. When you lose your faith in someone is it possible to ever get it back? Distance explores a lot of feelings, but really at it's core it's about coming to terms with not knowing.  We know so little in our lives; how much time we have left, whether or not we will achieve whatever it is that we set out to do, this song is a sort of reckoning with all of that.
The whole thing was recorded live, and everyone was only given one take for their performance.  Nikita's violin playing was some of the most emotional musical wizardry any of us had ever witnessed.  Cory's keys played a delicate dance around the repeated guitar and drum pattern.  The song didn't have a click track, but Dylan used his breath to sort of pace out the whole thing out.  It was a really magical night and we are so proud to have this recording to encapsulate this memory.
— —
— — — —
? © 2021
:: Stream Foxtrails ::
---