Atwood Magazine is excited to announce our newest column, Watts' Weekend Picks, a weekly playlist of songs curated to fit your weekend lifestyle. Whether you're getting ready to go out, driving on a long road trip, or cleaning your home, there's a song for you. In his latest column, Watts picks tunes from John Newman, Jack White, MNEK, and more. From turning up to hitting the gym, there's always a record for you!
---
:: Morning Vibes ::
Heaven – The Blaze
A few weekends ago, I heard Toto's "Africa" in a bar. The drunk crowd was screaming the chorus and it reminded me of melodic harmonies that force human emotions and actions. I figured in this week's column, I'd focus on a morning record that makes me feel something. I honestly can't remember a song that has made me feel more emotional than The Blaze's "Heaven."
The Blaze is a production duo from France that focuses on the layering of synths and effects to pursue an endless black hole of emotion that comes across in every song I've ever heard from them. Their new single, "Heaven," is quite literally one of the best songs of 2018 and I wish I could make every human being on this earth listen to it at the same time. It sounds corny but the song's upbeat percussion, mixed with its filtered vocals and peaks of synthesizers carries a blissful mood throughout the record. It's great to wake up to and make breakfast to. Just listen to it and let it take you away to a happier time/place.
:: Gym Flow ::
Over and Over and Over – Jack White
Growing up, I was a HUGE fan of The White Stripes. From "Seven Nations Army" to "Icky Thump," Jack and Meg White provided me with years of pump-up anthems. After they broke up in 2011, Jack White went on to do a lot of different sounding music. One of the greatest guitarists of our generation, Jack White left his hard guitar riffs in the past with The White Stripes and moved on to smoother strumming and more melodic records. This was up until last week when I heard Jack White's new song, "Over and Over and Over."
"Over and Over and Over" meshes Jack's guitar expertise with his insane ability to make things…er, original. The vocals are a bit strange and out there…but that's what I love about the record. It's classic White Stripes. Pulsating with an early 2000s drum groove and raging through with a hardcore guitar riff, Jack White takes us on a loud journey through his anxiety-filled mind. The two guitar solos are by far the best part of the song. I'm listening to this song now as I sip my Starbucks cappuccino and boy, this record mixed with caffeine is dangerous. I'm about ready to run though a glass window. Throw this on your workout playlist and thank me later. ROCK ON!
:: Windows Down ::
DELETE DELETE – BOOTS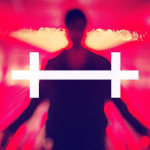 Driving songs are usually anthems and I understand that completely. But every now and then, a song comes across with the exact qualities of an in-the-car bop. I actually heard of this song a few weeks ago when my girlfriend played it in a long road trip. At first, I was skeptical of the ups and downs of the record but then the bass kicked in and the strong rap vocals blared through my ears. I literally cranked this song in that moment and pretty much every time I drove thereafter. It's BOOTS, featuring Run The Jewels and Cristin Milioti with "DELETE DELETE."
"DELETE DELETE" features two pop hooks, one from BOOTS and one from Cristin Milioti, and two rap verses from Run The Jewels. Not to shame the pop hooks but the rap verses are TOUGH. The bass drum is super wide and the high hats are mega crisp. These, combined with the rough and raunchy lyrics from RTJ, make it a flawless song to bang in your car. I dare you to blast this and not groove during your next road trip!
:: Pre-Game ::
Fire in Me – John Newman
Oh man, I really don't have too many words to describe this next song. It's just a flawlessly executed pop banger from one of the world's most infamous pop stars, John Newman. Newman is known around the planet for his edgy, deep, and unique voice, which he has delicately placed on records with Rudimental, Calvin Harris, Kygo, and Alex Clare. This is his monster new single, "Fire in Me."
At the time of writing this article, about 5 days after the song has been released, "Fire in Me" has racked up over one million streams on Spotify and Apple Music combined. For reference, that's insane. Newman is more known in the UK and Europe but I personally think this record could be the one that strikes him big in America. Featuring a catchy pop hook and a funky horn section, you'll find yourself bopping for days while listening to "Fire in Me." It's ideal for every situation but will make your next pre-game one for the memories; I can guarantee that. Enjoy and thank you John Newman for this absolute hit.
:: Lituation ::
Captain (Remix) – Wiz Khalifa ft. Smokepurpp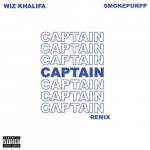 Wiz Khalifa is an interesting topic of conversation these days. Is he too old to jump into the mumble rap genre? Is he past his prime? Is he still "cool" amongst the kids? Are his weed-focused rap lyrics overplayed and annoying? I personally think Wiz is still a boss and his vocals are still welcome on any type of instrumental. The original version of "Captain" was dope but this remix with Smokepurpp gives it the extra OOMPH needed to survive in this fast-paced digital age of music consumption.
"Captain (Remix)" is a flawless song to play at the hour of the night when everyone is dancing and waiting on that next drop. Wiz's chorus is super catchy albeit a bit repetitive, but it's Smokepurpp's verse at the end that really signals the dope difference in rap styles between both MCs. While you understand every word of Wiz's verse and are able to relate to it, Smokepurpp raps about guns, hard drugs, and droptops – all of which I have 0 experience in. Regardless, his flow matches the beat perfectly and so I have to give mega props to whoever A&R'd this remix: well done! Play this at your next party and watch the crowd lose their sh*t.
:: Staying In ::
Love Me Right – Amber Mark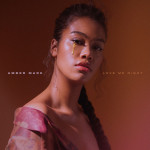 Yo…Amber Mark is PHENOMENAL. Her jazzy, gentle vocals are flawless in every song I've heard from her so far. However, this one is probably my favorite from her and it's a jam and a half if you ask me. It's called, "Love Me Right," and it's ideal for staying in with your significant other or just kicking it with some good friends.
"Love Me Right" is a sweet, uptempo, electronic-soul love song that expresses the message that although one can say they love you, that doesn't mean they are loving you the right way. Amber Mark slides in between the piano strikes and sings of a lover who doesn't understand what it means to love effectively. It closes with the chorus repeating underneath a 1/4 note hand-clap that gives it an anthem-like feeling. This is the type of song that would be so much fun to see live because the lyrics are catchy and easy to learn. I'm so impressed with Amber Mark and this record might be her most versatile yet. Throw it up on the speaker next time you and your friends are staying in this weekend.
:: Deep Clean ::
About You – G Flip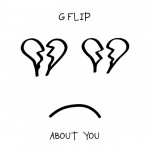 I say this every column – the deep clean song choice is always the most versatile and widely appreciated. It's the song you can play at any moment of the day and immediately start grooving along to. Usually filled with catchy lyrics and a simple hook, I think they are the most fun records I write about. This week, it's the Australian teenage pop star, G Flip, with her new single, "About You."
"About You" is filled with The 1975-influenced synthesizers and Imagine Dragons-ish percussion. G Flip's voice is so cool because it's very natural and casual-sounding. Meaning, you can easily harmonize and sing along to this song as her vocals are pretty straightforward and her lyrics are fun and relatable. The chorus is incredibly catchy and I find myself singing it to myself at random times throughout the day at work and during my commute. If you've got some boring chores or side jobs to take care of this weekend, throw this on your work playlist and get it done with an added boost of inspiration and positivity.
Fun fact: G Flip wrote this song in her bedroom and currently it sits atop the official Australian Spotify Chart. Crazy.
:: Sunday Scaries ::
Tongue – MNEK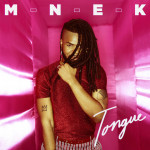 I met MNEK at a small bar in Notting Hill, London, back in the Spring of 2015. I had been a fan of his for a while through his collaborations with Gorgon City and Shift K3Y, both very popular British acts. He was sweet and welcoming to his (at-the-time) small and loyal fanbase. He performed a DJ set that made me feel like I was the hippest kid on planet earth; 80s-inspired dance records with an electronic, soulful twist. Fast forward to now and he's writing for some of the biggest acts in the world; Dua Lipa, Zara Larsson, Little Mix, and even Beyonce have been blessed with MNEK's incredible songwriting skills. Finally, he is releasing more of his own music starting with this new pop smash, "Tongue."
"Tongue" is a sexy, original, pop song about refraining from saying, "I love you," during the opening stages of a relationship. It dances around the relatable topic of feeling a strong emotional connection to someone but not wanting to take it to the next level for fear of it not being reciprocated. The production is flawless (as to be expected), the lyrics are clever, and MNEK croons comfortably in his own skin. It's the perfect song to rescue you from your Sunday Scaries and I think it's going to be the record to propel MNEK into the hearts and ears of every pop-obsessed person on this planet.
Listen on Spotify:
Listen on Apple Music:
— — — —