Intimate, impassioned, and emotionally charged, INSIDE is an achingly vulnerable indie rock experience. It's Mother Mother at their most human, spilling their guts in song.
Stream: "Sick of the Silence" – Mother Mother
---
It's a play on the pandemic moment and the stay at home orders, but transferred to the metaphor of inner journeying. Going 'Inside' of oneself.
Dynamic and raw, Mother Mother's eighth studio album is the record the band never expected to make: A surprisingly cohesive collection of songs written and recorded during the pandemic that capture life, in motion and on pause. Intimate, impassioned, and emotionally charged, INSIDE is an achingly vulnerable indie rock experience. It's Mother Mother at their most human, spilling their guts in song.
I don't wanna write a masterpiece
I don't want the world at my feet
I just wanna leave all my dreaming to dreaming
I don't wanna have to run, run, run, run
I just wanna fa-la-la-la
And sing it like the drumbeat is played back
And sleeping
Time, it doesn't stop to ask you
Why you choose to stay behind
Life is just begging to include you
But sometimes you just got to stay behind
Everybody wanna save the human race
But do I really gotta scrape the night away?
Just put me on a jet plane and
Send me off to outer space
Released July 26, 2021 via Warner Records, INSIDE is an immersive outpouring of reflection and longing, connection and catharsis. Mother Mother's eighth LP arrives nearly three full years after 2018's Dance And Cry, finding the Canadian indie rockers embracing the full spectrum of their alternative identity. The five-piece of Ryan Guldemond, Molly Guldemond, Ali Siadat, Jasmin Parkin, and Mike Young come to life on hard-hitting anthems and poignant, beautiful ballads that explore themes of purpose and place, understanding and belonging, togetherness and disconnect.

---
The whole band was never once in the same room during the making of 'INSIDE.'
At its heart, this is an album of human reckoning: Of accepting ourselves while pushing ourselves to our limits.
"This record was the record we didn't know we were going to write," Mother Mother's lead vocalist and guitarist Ryan Guldemond tells Atwood Magazine. "2020 was meant to be a hiatus year for the band, but the pandemic struck, and kept us home with idle time. So we decided to make a record. It was very fragmented and remote though, the process. The whole band was never once in the same room during the making of INSIDE. But that didn't stop it from being a good and connected experience. There was lots of phone conversations and sharing ideas via email. And when it came time to do the big room studio work, each member would come in one and at a time. Therefore it was a multi-tracked album, but we strived for an organic and humanistic sound, despite that."
"The vision was steered by all of the insular alone time myself and the rest of the world was having. I wanted the lyrics to reiterate one theme: Going within to understand oneself better, to be better. Sonically I imagined a fusion of folk and industrial/dystopian sounds cut into alternative indie rock. We in Mother Mother love dichotomy, so hopeful words set to ominous tones is always favoured. Not much changed conceptually or sonically during the process of making it. It felt kind of predestined, like it was what it was before we made it, so was a matter of listening, intuiting and following the energy. [The title INSIDE] is a play on the pandemic moment and the stay at home orders, but transferred to the metaphor of inner journeying. Going 'Inside' of oneself."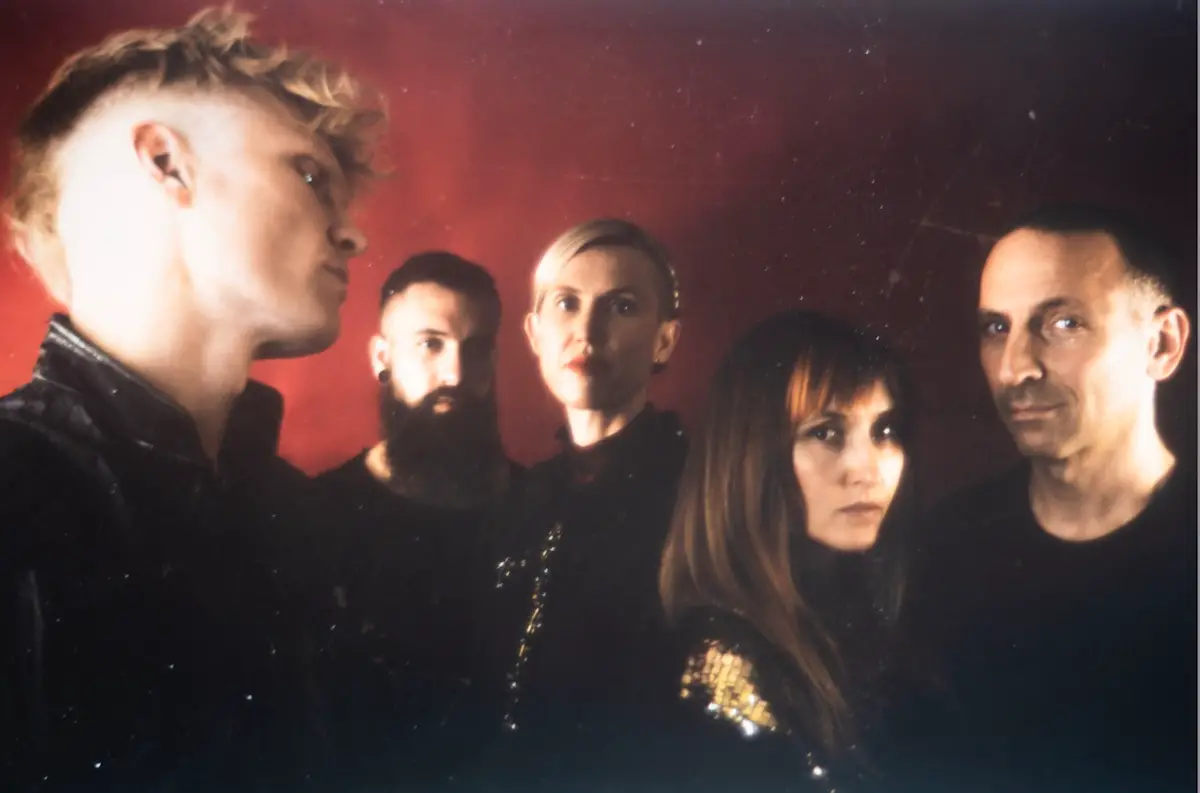 ---
Guldemond and co. consider INSIDE a special record in their expansive, nearly two-decades long catalog of songs (the band first formed in 2005). "It's an album we could only make once, during a very unique time in the world, and a focused response to that moment, so whether or not it's our best album, or a great album by any metric of judgment, it's an important album in our discography. I'm really happy we had the opportunity to chronicle this time in the world with a body of work."
"I think it exposes the traditional music making side of us," Guldemond adds. "That we love the art of the album. A reiterated theme, thoughtful track listing, an arc and a story. And it exposes the human and heartfelt side of us. The lyrics are point blank vulnerability. Not a lot of cryptic cynicism or abstraction."
That you see cinematic, scene-setting songs like opener "Seven" and the bittersweet "Breathe" against more explosive tracks like "Two" and "The Knack," and more tender songs like "Stay Behind,"  "Pure Love," and "Girl Alone" already speaks to the many sides, sounds, colors, and textures sitting side-by-side INSIDE.
The band consider it a continuation from Dance and Cry, which "was all about how to celebrate and honour one's pain."
"INSIDE is about how to transmute that pain into meaning, love, freedom, healing," Guldemond says.
---
From start to finish, INSIDE is an experience to behold.
Highlights abound, from catchy pop songs like "I Got Love" and "Sick of the Silence" to more haunting, intimate outpourings like "Weep." Guldemond notes the latter, as well as the stirring song "Stay Behind," as two of his definitive favorites. "I lean towards the more melancholic and dark songs," he says with a smile. Lyrically, he cites the line, "There is a place where it hurts the most, but will I go there and weep into my birth," as a moment of particular import for him. "I think the stuff that happens early on in life creates some big imprints. Sometimes for the better but often for the worse. I like that lyric because it's a question which really asks "do you have the guts to go back to the wounds of your childhood and tend them?"
Mother Mother have certainly created something special with INSIDE, and the album's shadow is set to grow longer soon: A deluxe edition is set to release in January and will include bonus tracks, including the recently-released feverish single "Life," "Maybe I am right where I'm supposed to be right. Where I'm supposed to be, this is my life," the band sing in a Cage the Elephant, Grouplove-esque cataclysm of frenetic guitars and booming drums. It's a dramatic chorus for a song that already operates in a tense, high-octane space – ready to burst, both emotionally and sonically, at a moment's notice. And it's just one more way in which Inside looks inside and out for answers we don't always have on hand.
---
"I guess since the overarching theme is about going within and tackling your demons to come out the other side happier, I would hope the listener might feel empowered to do just that after spending time with INSIDE," Ryan Guldemond shares. "As for my takeaway, it's similar to how I feel after every record: there's lots of room to grow. I find music making incredibly humbling. Every album is a schooling for the next one. I love INSIDE but I'm eager to write new and different songs and tap into other sonic aesthetics. I'm a little spent on writing such personal and vulnerable music to be honest. Maybe the next album will be called Outside."
Experience the full record via the below stream, and peek inside Mother Mother's Inside with Atwood Magazine as the band goes track-by-track through the music and lyrics of their eight studio album!
— —
Stream: 'Inside' – Mother Mother
:: Inside INSIDE ::
— —
Seven
In the early stages of writing this album, during the first phase of lockdown, I would take long walks around Vancouver, which was eerily quiet, and record city noise, hums and drones etc., intending on weaving them into the tapestry of the music. On one such occasion, at 7 PM, the neighbourhood I found myself in erupted into clangorous applause, which, as it turns out, was the healthcare salute that many people around the world were partaking in. Until that moment, I wasn't aware of this phenomenon, so I was utterly bewildered, delighted, and moved by the sound. I pulled out my phone to capture the moment and decided then that this album would begin and end this way. Because the album's overarching theme is about going on an inward journey to slay personal dragons, this applause, in the context of INSIDE, and during "Seven", the opening track, to me, symbolizes cheering the individual on before they take the deep dive into themselves, to overcome themselves— a rallying cry before a battle.
TWO
"TWO" was more of a conceptualization than sitting down with a guitar to write a song. I knew I wanted the second track, which is really the first proper song on the record, to burst out of "Seven" with a massive drum pattern, bridged seamlessly. I created a loop from the healthcare salute, which acted as the hi-hats and built the drums up from there. There was a lot of singing gibberish over top of the rhythm track before the words appeared. "There's a cage inside my chest, and a heart inside that cage, and key inside that broken heart, where do I start? ..Inside". This worked out well, as I hoped to include the album's theme and title in the very first passage of lyrics the listener would hear after putting on the record. The end of the song felt repetitive and needed more lyrics and a new melody. I had mentioned to Molly the new words should sound like a proverb or zen koan, and she came up with "Come what may, only way out is going in", which felt right, although our voices didn't suit the part, so we had our seven, and 9-year-old nieces sing it into a phone and send it over. This worked out well, not only sonically, but thematically, as a lot of self-improvement and healing work involves revisiting childhood.
Sick of the Silence
It became clear that writing an album about self-betterment would only be creatively and lyrically successful if I engaged in my own regiment of self-betterment and not cut corners. A disciplined meditation schedule became a part of my routine, which wasn't necessarily new to me, but what came as a surprise was just how noisy my mind was during the first half of 2020. It was as though the quietude of the world provided the space for my mental noise to amplify. I came to find these meditations quite uncomfortable and unenjoyable, and resentment grew for not only the practice but the general ideology of self-help and mindfulness. I was fed up with stillness and craved distraction, noise and escape. "Sick Of The Silence" came directly out of this experience. Because it's such a loud and aggressive song, writing it was very cathartic, and ironically, seemed to quiet those negative voices.
Forgotten Souls
"Forgotten Souls" is one of 3 older ideas that made the record. It was important to me that if we were to include old songs written before INSIDE, they align with the album's theme. The lyric "the garden grows in frozen rain" fit perfectly, and quite accurately describes a big part of healing: Trust, trusting in the process. We often link growth to external markers of success, and if we can't see it, we don't believe it. But the soul is constantly evolving and expanding, just from time passing. A different kind of soil turns over when we're just simply being, just like the earth enriches beneath the ice in the dead of winter.
Pure Love
"Pure Love" began as a voice memo sent to me by a friend who wrote the main refrain when chopping wood in her backyard. Her recording featured only her voice with rustic noise in the background, around which I later built a soundscape. The song perfectly fit Molly's timbre, but both she and I felt like it needed another narrative dimension, so Molly then wrote the "moth to a flame" refrain, which added a lot to the song. Pure Love feels like it came from elsewhere, a celestial kind of place, and centres around a theme of awe for the universe and creation and promotes self-love as a modality for living. I particularly enjoy the fact that it's the only Mother Mother song I've not penned one single lyric for. That only adds to the sense of it having just appeared.
Weep
I had written a very short poem that lived on my fridge for the longest time: "There is a place where it hurts the most but will I go there and weep into my birth". I knew these words belonged on the record somehow as they fit well with the theme around rebirth, which often requires going back and addressing the past, sometimes to birth itself, or even before considering intergenerational trauma. At the time of writing the album, and to better write the album, I was doing IFS (Internal Family Systems) Therapy, which is a method that helps an individual compartmentalize the different parts of themselves in a way that allows them to speak to those parts objectively and compassionately. In these sessions, a lot of imagery surrounding my family and natural elements such as wind, earth, and water came up. This helped me flesh out the poem into song lyrics that lived in a folk song's skin, but I felt like the concepts were too visceral and dense for the music to stay acoustic in its entirety. It needed a dramatic disruption, so I purposefully wrote a chorus in a slower tempo, using an industrial/metal style, which is as heavy as the album gets. This felt right symbolically, as significant life changes can often feel like you're grooving to some familiar song only for the beat to change suddenly.
I Got Love
"I Got Love" was one of those fortunate moments in songwriting where the song was waiting inside the guitar and hanging in the air. I picked up my acoustic, and the riff was right there, and I started singing, and the melody was right there, and the chorus lyric, "I got love", was also right there. With songs like this, one wants to play them repeatedly and sing at the top of their lungs because the song's expression came about so naturally and it feels really good to do so. I certainly indulged in this, and did so in the comfort of my apartment where the walls were thin. As I was belting it out, my neighbour texted me, and I thought, "oh no, I'm getting shut down", but what he wrote was, "hey man, I'm loving the new song! It sounds like you're summoning the laws of nature with that one." It was an excellent text to receive. Every songwriter likes to be rooted on when they're cracking a new one open.
Stay Behind
During the first few months of the pandemic, I became thoughtful around the idea of productivity and self-worth and how, as a society, we tend to join those two at the hip. Because Covid forced so many to "do nothing", I think a lot of people felt like their identity structures had crumbled a bit. I wanted to write a song that celebrated taking a respite from the rat race: an anti-productivity song if you will. The sweet spot for my voice in the chorus forced the verse melody into an uncomfortably high range, so the idea to make it a duet between myself, Jasmin and Molly surfaced. It's something we don't do enough of, so I was happy to see "Stay Behind" take that shape.
The Knack
"The Knack" is a very old song of about ten years, a song that we've tried two other times to include on an album but never found the right approach. It's relieving that it has finally found its home as I think we were all getting a little tired of trying and failing to bring this song to life.
Girl Alone
This is another old song, even older than The Knack. It used to be called "Man Alone" as I would be the one singing it. Jasmin always loved this song, so when discussing how she might be featured on INSIDE, we pulled "Man Alone" from the archives and switched the genders, which I find gives the song a lot more depth and purpose as it is the trope of the disillusioned, single woman in need of a mate to fix her – that needs to be challenged and abolished. Because we live when aloneness has been somewhat forced upon many, this theme holds extra pertinence.
Like a Child
"Like A Child" was another song that wrote itself without deliberation or premeditation. Perhaps it was all of the inner child work I was doing that brought these lyrics out or the humbling of the planet. Still, I feel like we're living in a time when a child's inclination for curiosity and unconditional love would be good traits for the adults controlling the world to adopt.
Breathe
We wanted INSIDE to be structured like a proper album, with an intro, a big ending and an interlude that preceded the album's back end. "Breathe" is that interlude, which came about on a stroll in April 2020, during one of the most picturesque Spring seasons in Vancouver I can remember. During this walk, I came upon a playground laden with caution tape, like all the rest were around the city. I enjoyed taking pictures of these dichotomous scenes, and when approaching this particular swing set to do so, I came upon a man swinging, caution tape flapping and tangled all about him. Though he was swinging, he was motionless unto his own physical body and could just as well have been a corpse sat up on a swing which magically moved back and forth. There was a rather eery and rhythmic squeaking sound produced by the swing, which I recorded onto my phone. I knew then I wanted this to be the basis of the interlude and that it should feel extremely dark and sad like the moment did: a beautiful day, a global pandemic, a playground all taped up, and a zombie-like figure swinging dead still. I created a loop of the squeak and wrote the music around it later that afternoon. The word "breathe" felt poignantly appropriate as that was what a lot of people were struggling to do around the world, and it's also what we tell each other to do during difficult times: "take a deep breath", or "don't forget to breathe."
Until It Doesn't Hurt
"Until It Doesn't Hurt" was another old song refurbished for Inside, and ironically, more than any other song on the record speaks to a covid era lifestyle: "I wanna kill it, but I gotta stay inside/I wanna kiss it, but I gotta stay inside". This, of course, is symbolic of staying seated in one's problems and not indulging in escape before dealing with them: "If I can't make it right, then I won't make it worse, Imma just sit tight until it doesn't hurt". I've always enjoyed when concept records reuse the album's title throughout, so I looked for ways to do so creatively. During the last chorus, I thought it would be cool if Jasmin spelt out the word I-N-S-I-D-E while singing in an operatic style, which she's so great at. This idea was inspired by The Pixies' song Velouria, when Kim Deal spells out V-E-L-O-U-R-I-A during the song's outro.
Inside
I wrote this song after pulling three 'angel cards' from a bowl. Angel cards are like one word fortune cookie papers offering loving guidance. "Patience", "Joy", "Discernment" are the types of words you'll find on each card. The three I drew that day read "Beauty", "Truth", and "Courage", and after reading them, I grabbed the guitar and wrote the first verse to Inside: "Beauty, I surrender. Truth, I am tender for you. Courage, I hunger for you", and then the chorus goes: "cuz the battle's inside, the trouble's inside, and everything's fine outside, but the battle is, the trouble is, and don't forget the answer is, Inside". It was one of the earlier songs written, which was fortunate as that meant we knew the album's title and theme from the outset, which is rare for us. Usually, it is deeper into the process that the thematic face of an album reveals itself, but after writing Inside, the way forward felt clear, and so did the conclusion. Running 8.5 minutes, Inside couldn't possibly be positioned anywhere else but last on the record. The 7 PM healthcare salute's return, rising from the song's ashes after a thunderous climax, bookends the album poetically. Instead of cheering on the individual before the journey inward, this applause celebrates them having completed it, returning home to themselves.
— —
— — — —
? © Rich Smith
:: Stream Mother Mother ::
---