New Jersey band YJY's second EP The Same Noise (8/19/2016 via Sniffling Indie Kids) represents a refinement of what the band did well on its previous extended play, Couch Surfin USA, namely the unification of various strands of indie rock by sheer force of honesty.
The band works with a palette that is both familiar and logic-defying at the same time. In the guitar work we hear the reverby chimes of bands like Beach Fossils and Real Estate, in the vocal delivery, the snotty post-pop-punkishness of Wavves' Nathan Williams , and in the ambling rhythm section, the delighted propulsion of Best Coast.
Those names are dropped with a certain degree of specificity: YJY is a surfy band. Post-2008 surfy.
But that doesn't quite capture what's special, and frankly astonishing, about YJY. In one sense, the magic is in the band's ability to do it all at once. Where their predecessors mastered particular margins, the members of YJY dominate the whole page. The move from the fuzzy angst of their previous EP to the crystalline incision of The Same Noise, which Atwood Magazine is proud to be premiering today, suggests that nothing is really off the table for this band, but their trajectory is about where they wanna go.
In another, perhaps more important, sense, what sticks out about the latest EP (though it was apparent on the first) is the way in which the humor and distinct personality conveyed lyrically not only anchor, but also manage to reinvigorate, the tropes of surf-punkish music.
Listen: The Same Noise [EP] – YJY
---
"Summer Lifeguard" leads off the EP. It starts with a hypnotic, reverb-soaked guitar line, and then the drums kick in, chugging forward at steady but contained pace. Narratively, it's classic angst. Vocalist/guitarist Steven Sachs has been thinking about the lifeguard, but she would only notice him if he's drowning. Frankly, she doesn't give a shit about him.
It's hilarious but super serious as well, a Kurt Cobain-ish joke where you wryly smile but feel like you shouldn't laugh because it's pretty real. The music suits the sentiment perfectly. Like the best post-punk tracks, on this tune YJY is all about building tension and the implication, but withholding, of release. And if that sounds like a sexual metaphor, well… you were listening to the song.
The next track is "Past My Prime." This might be the weakest track on the EP, and not because it's a bad song. In fact, it's a fun, jaunty, fuzzy delight. If you're the same age or younger than these guys, no doubt it's a lot of Descendents-esque wit and playful prodding fun. At that age, the targets they choose mean something more. When you get older, you realize you've got a bit in common with the track star who had all the girls doesn't any more.
Watch: "Through Being Hip" – YJY (NPR Tiny Desk)
---
"Through Being Hip" is the acutely self-aware counterbalance to previous track's subtle naiveté. Not only is it clever and catchy and a good argument that Surfer Blood has a legitimate successor in today's indie scene, but it distinctly captures a moment in experiential "hipsterdom:"
See, I was trying to be myself,
But somehow, some way I went,
And became somebody else
That's the perennial problem of being hip or unique or weird. The impulse is let's be unique together, but obviously, that just kills it. In some ways it's a funny caricature of the "hipster," and leaving that identity behind, ("I'm done with cold press/I only want drip") but it's really a hymn of allegiance.
The stereotypes and the butts of the jokes are rendered with a specificity that belies YJY's own hipsterdom. Hate and love are metaphysically indistinguishable and only true hipsters think everybody else is a hipster but them. Few hipsters write songs that engage the existential quandaries of hipsterdom, which is itself an exisential-identity-solving process, but YJY do.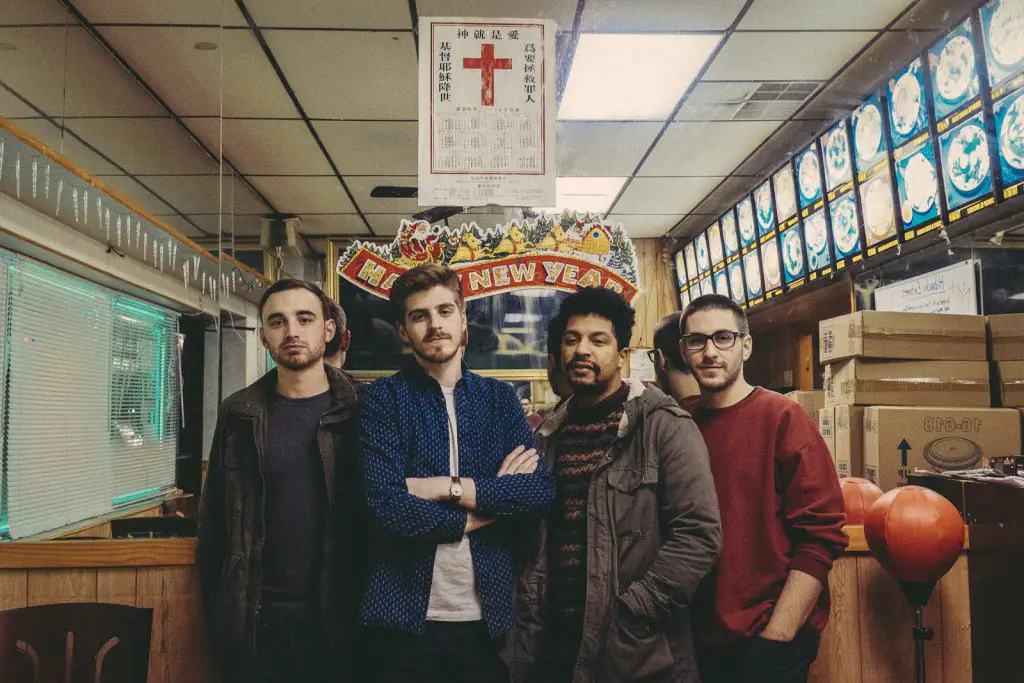 "Evergreens" is just charming. It's got a folksy, Twerps-like guitar strum throughout, with piercing lead lines. The drums and bass keep things up-beat, but this is a song where you get the sense that as a ballad at half-tempo it would work just well. That's to say that melodically it's fantastic, and the central metaphor, the evergreen, as a representation of the disjunction of present and past, non-evolving love, is extremely powerful.
Disjunction is the key word:
Something's wrong and it's been,
Crawling under my skin,
I keep feeling this gnawing inside me…
Like Lou Reed and St. Paul to the Galatians, YJY think you're gonna reap what you sow. They're probably right.
The Same Noise is a huge introduction for YJY. The EP shows growth for those who know the (slightly) older stuff and for those hearing the band for the first time, it's obvious that the group has created something something special. Let's hope they reap the proper rewards.
cover: YJY © Nick Matsas

:: YJY 2016 Tour Dates ::
08/19 @ J House – New Brunswick, NJ
08/20 @ W.O.R.K. – Salisbury, MD
08/21 @ The Barbary – Philadelphia, PA
09/03 @ Gold Sounds – Brooklyn, NY
09/10 @ North Jersey Indie Rock Fest – Jersey City, NJ