Building on the success of his previous singles, Boy In Space's "7UP" is an ode to how love is often immensely tough.
Stream: "7UP" – Boy in Space
---
Sometimes we can get so wrapped up in the notion of love or become so deeply infatuated with the picture of someone we've fabricated in our own minds that we can let ourselves be hurt in a paralyzingly painful way. That anguished agony can plunge you into a state of disillusioned bewilderment but, ultimately, results in transformative growth that leaves you undeniably stronger than you were before. Describing that process through music in an accessible yet affecting way isn't an easy task but Boy in Space has accomplished that with a breezy ease with "7UP."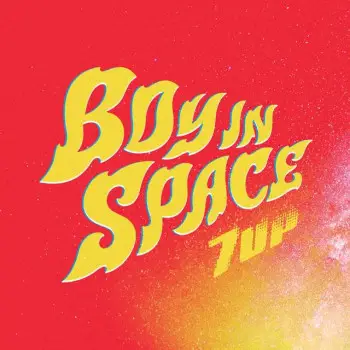 Boy in Space's music cleverly combines the wistful romanticism of a coming-of-age movie with the emotional sincerity of a hard-hitting drama to create something truly special. With "7UP", Boy in Space deeply delves into both the energizing excitement and paralyzing uncertainty of leaving something that's comfortingly familiar. The emotion embodied within the track unquestionably comes from a deeply personal place but Boy in Space's entrancing lyricism and absorbingly atmospheric production serve to make this track almost painfully relatable.
I love it when we hang out
in your treehouse after dark
And when you hang my heart
against the wall and play with darts
I know it's kinda sad that
you're the only, oh my god
I promise I will love you,
even with my broken heart
On the track, Boy in Space's love of hip-hop is blazingly evident but an adoration for artists like The 1975, Khalid and Post Malone, who craft deeply affecting, personal music that's mind-blowingly popular, is also obvious. Boy in Space seems to be an artist that places great importance on lyricism, with single lines of his engaging lyricism evoking a whole plethora of intertwined emotions.
Speaking about the track, Boy in Space said "7UP is very simply about how love isn't easy. The lyrics portray this feeling in the context of your everyday neighbourhood house party. Sometimes, we can get so caught up with being in love that we let someone hurt us." The track's lyricism and production complement one another to remind the listener how sometimes the pain and pleasure within a relationship are so powerfully and delicately intertwined. Also, how those emotions can end up becoming so mixed that it's often hard to fully tell the difference. In other words, there's pleasure in the pain but also pain in the pleasure.
7UP in my red cup
Tears pouring down on your makeup
You can hold me down if you want to
I don't really mind 'cause I like to
Feel love, how it hurts us
Fire in my chest, watch it burn out
You can hold me down if you'd like to
I don't really mind 'cause I love you
Fully capturing that sentiment is something that hardly any artist in the relative infancy of their careers can do but Boy in Space proves to be an exception to the rule. "7UP" beautifully portrays how you're never just one emotion or one state of mind; your experiences are often dictated through the way in which your memories and emotions mix to create a unique perception of your current reality.
While you could easily use a phrase like "otherworldly" to describe Boy in Space's unique sound, the inspiration behind Swede Robin Lundback's moniker hits a little closer to home. Talking about his artist name, Lundback shares, "It's the courage to depart the familiar to a destination unknown. The 'Space" is the intensity of youth. The cold sting of heartbreak. The suffocation of betrayal. The fiery passion of young love."
The moniker he's chosen serves almost as a unifying statement for his music – like how an album's title partly dictates the narrative of a record. Serving as just his fourth release, "7UP" sees Boy in Space innovate and expand his sound, with the end result being exhilaratingly exciting and softly soothing.
Stream: "7UP" – Boy in Space
— — — —
? © Eva Pentel
:: Today's Song(s) ::
---
:: Stream Boy in Space ::