'Will California Be Worth This', the latest EP from Nashville/LA-based trio October Tooth, is a springtime gift full of memorable and minute details.  
'Will California Be Worth This' EP – October Tooth
---
Since 2013, October Tooth has been an ever-evolving project. With borrowed gear and newfound knowledge, Zachary Threlkeld made a few songs and put them out in October, thus began a tradition: some sort of release each October from then on out. Flash forward several years and releases later, and October Tooth is now Threlkeld, Sam Gidley, and Les Priest working on songs as a semi-long distance trio. And though it isn't October yet, their newest EP out May 15, 2020, Will California Be Worth This, is a springtime gift.
why do people toss
their tennis shoes across the power lines
is it just to hear them calling?
you know me, goku three,
watch me move across the country lines 
– "Handwriting," October Tooth
Today, Atwood Magazine is proud to be premiering the aforementioned EP, Will California Be Worth This—comprised of five songs, perfectly poetic and brief. Most moments of the EP blend synth and samples with acoustic instruments, and incorporate lyrics that often repeat and echo, intricately and deliberately. And as a whole, each song tells an abstract story made up of memorable and minute details.
Will California Be Worth This came together in an unusual way for October Tooth, with Priest on the road with his band LANY, Gidley coordinating production on a Jason Isbell tour, and Threlkeld in the midst of moving from Nashville to L.A. "Beginning ideas, abstract snippets, and fleshed out songs were sent back and forth for months, growing as each person added his unique vision," says Threlkeld. "Looking back at this unconventional and new-to-us process, the months of steady watering and nurturing of these ideas developed a natural growth pattern that was exciting and healthy to be part of."
Though each band member contributed to Will California Be Worth This from miles apart, that natural growth is evident, and it resulted in five beautifully cohesive songs; beginning with "Handwriting," a metronome driven notion to the ways two people can take on the world together, movements and patterns blending over time. And followed by "Rough Old Boy," a synth-filled track that seems to seep and spread as it goes on, like a good kind of warmth.
let the wine spill on my white jeans
leave the stain now,
send me back home red-eyed and heavy
red-eyed and heavy
maybe I know I'm a rough old boy 
– "Rough Old Boy," October Tooth
The EP slows with "Silver Curls," a not-quite ballad that's a bit moodier, and then speeds back up with lead single, "Black Cat," a satisfyingly syncopated track that borders on the edge of dancey; it feels like a handful of moments strung together and given a fresh commonality. Then "Tennis Match" is the natural closer, a contemplative pause to take stock of the tiny moments that make up a life, that make up how our time is spent.
"Tennis Match" ends with the lyrics, "darlin' sink in, sink in," which seems to be the nexus of Will California Be Worth This. It's a settling in, a semi-colon and an exhale, a reminder to take it all in while you can. And today you can take in every track, exclusively on Atwood Magazine.
scale back, scale back the green
it's a tennis match between
all we have and all we want to have
oh, I feel in love again
hold it – let that Angelica candle burn
let it burn down
drink your tall citrus water
with your flower cup of mine
catch the foldings through your frame,
darlin' sink in. sink in.
– "Tennis Match," October Tooth
— —
'Will California Be Worth This' EP – October Tooth
— — — —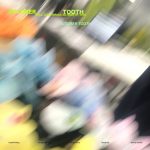 ? © Wrenne Evans
EP cover art © Kelly Ross
cover design © Zachary Threlkeld

:: Stream October Tooth ::
---