This was supposed to be a live review for Odesza, but because I didn't take many notes — okay, I didn't take any at all — I have to influence the history with impressions and thoughts. What resulted is a tried and true ramble.
Stream: "Love Letter" – ODESZA ft. The Knocks
---
Nostalgia has a curious way of affecting memory.
Case-in-point: In Return is one of those albums that I remember being better than it probably is. However, the lack thereof also has just as much power to affect our powers of perception. Second case-in-point: A Moment Apart is one of those albums that I remember being worse than it actually is.
To be fair, this is not an empirical analysis, and nothing about my column ever will be. But I'm quite confident in this assessment because while music theory and songwriting might employ foundational concepts of chord progressions, tonal melodies and song structure, how we receive these elements as listeners are fundamentally subjective. In this situation, perspective informs preference.
A listener who enjoys melody may not be necessarily impressed by percussion. A listener who enjoys a great chord change may not be necessarily impressed by the intonation of a lyric. From a macroscopic level, however, how an album succeeds in attracting my interest, whether by grabbing hold of the conscious or worming into the subconscious, comes down to a matter of melody.
Granted, music should never be listened to in a lab; music for the average listener is anthropological.
It's a matter of living with it. Instead of writing an album review or ethnography, it might be more apt to call it a musography. In my estimate, however, music commentary works, too.
Hell, I'd probably be thrown into a loony bin if I started sharing pieces in my column as "musographies."
But we have to account for the fact that both In Return and A Moment Apart occurred at different points in my admiration for this project from Harrison Mills and Clayton Knight.
The opinions on both albums were formed in a similar milieu, my fraternity house, but the activities are done while listening featured a real difference in, well, activity. One occurred while ostensibly studying, and the other occurred while cleaning the house.
These are not open activities. The brain is somewhere in a sort of flow state of instinct. But what I'm searching for in between the activity comes down to moments. Moments that pass through the filter of the mind and make me stop and realign along the melody or rhythm or percussion of an album. If an album can't stop me in my tracks, then I can't really write for it.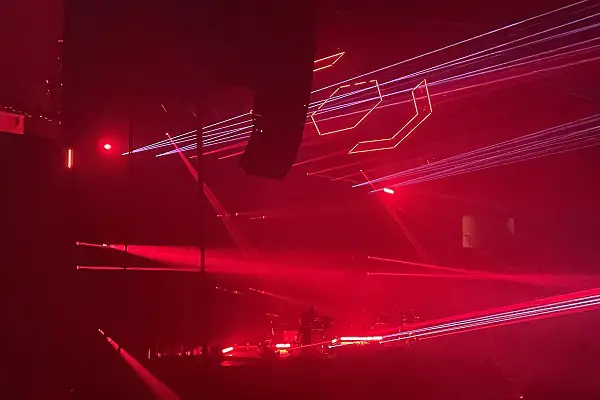 Nonetheless, Odesza's middle albums do showcase the same argument, each from a different perspective; In Return is a technical powerhouse but not flawless. A Moment Apart features svelte expansion but much less memorable hooks.
Both hover around the 50% mark if we're just listing off memorable tracks. But if I were to write an album review about either/or, my impressions would echo many different tones. An In Return impression would probably encourage a glass-half-full ideal. The review for A Moment Apart would press on a glass-half-empty abstract.
Mainly because the deep catalog of In Return is pound-for-pound pure Odesza sound, impossible to be mistaken by any other artist. For a whole generation of electronic music fans, In Return holds a place similar to Daft Punk's Discovery, providing an entry point to today's electronica, bass and garage music.
Not every song is undeniable, but the cohesion certainly is; for every weak spot in "White Lies" and the segues to and from "It's Only," there is a back catalog moment to match it. "Koto" knifes and sparkles, "Memories That You Call" glistens with glucose-pumped vocals, and for 48 otherwise sublime minutes, Mills and Knight transport to another world apart.
Contrast that with A Moment Apart, which had all the hype of a cultural event and a tracklist twelve minutes longer than it's predecessor. The widescreen album charted in more countries and debuted at number one on the Billboard Dance/Electronic charts. But its features ground the record in a popular music milieu of R&B and soul.
At various points, the album sounds more like a Calvin Harris project than Odesza. Only by consistent and thorough waves of recent listening did the deeper cuts like "La Ciudad" and "Just A Memory" come alive. But when I was cleaning the chapter room at my dear fraternity house? Nothing. It was all about the next album.
The same ratio of memorability holds true on Odesza's latest album, The Last Goodbye (July 2022 via Foreign Family Collective). The album is about 50% successful in demanding my attention, with "Love Letter," "Forgive Me," and "Light of Day" all providing incredible moments that solidify their repertoire with a convincing mixture of future bass, synth-pop and indietronica.
Of course, the duo still maintains a consistent through-line with their career beginnings; they continue to squeeze and sample horns and synths into needlepoint form, lancing listeners with an acupuncture of pitch. Nor is any vintage Odesza album complete without cut-up bubblegum vocals across the runtime or a drum sound that reaches into God's tabernacle. One might even consider it a sin if they forgot to include a dash of the harp.
But all of these are legacy sounds hidden across the Last Goodbye, providing moments of nostalgia betwixt new formations of UK Garage, Arabic trance and operatic chillwave. The last three songs on the record provide a phenomenal cross-section on In this way The Last Goodbye occupies as an oxymoron: both not as good as I wanted it to be, but better than I expected.
---
But did that stop me from making an unsound financial decision to see Odesza on their last tour of the year?
No, because as I meander back into tenuous normalcy, I decided to at least kick my ass and see as many of the big-name indie acts as I could. I'm gearing up to make another unsound purchase for Florence + The Machine in October and there's nothing you can do about it unless you are a walking pustule of monkeypox.
But before I let that happen, I'm gonna dance my life away.
And dance we did at Key Arena in Seattle. They call it Climate Pledge Arena now, but I'm a nominal Luddite. My phone died, so my companion, Chromatic, had to take photos for me. I'm grateful because, without them, this whole article would be nothing but a series of words with album covers rather than one of show pictures and moments.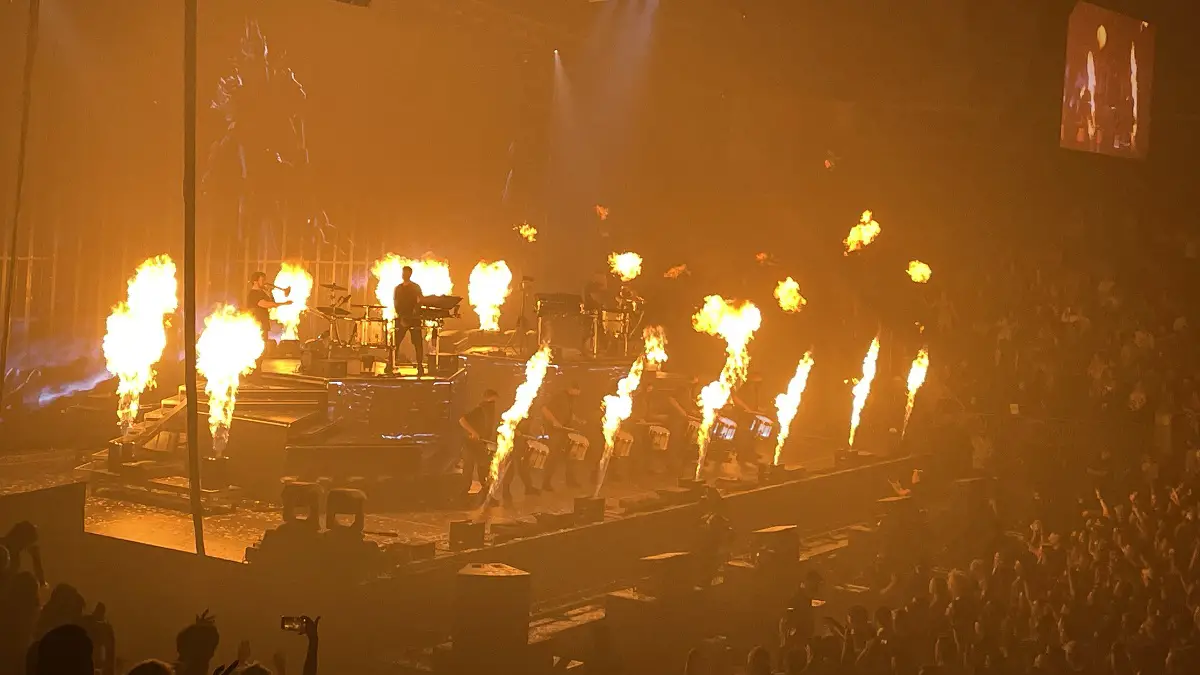 Many of these moments were influenced by the use of pyrotechnics. At least three times, the words "holy shit" escaped my mouth in amazement. Like when Mills and Knight exploded into the chorus of "Behind The Sun" with bursts of flame.
Or when they introduced a harder, more abrasive mix to "All We Need," and Chromatic and I locked eyes for the hook and hit every word: "I was thinking you and I could, skip the part where we small talk each other."
Or when they seamlessly transitioned from "Love Letter" into their remix of "Something About You" and captured concertgoers between the past and present of Odesza's illustrious catalog.
Or when Naomi Wild crushed her feature on "Higher Ground" and the crowd brought out the flashlights to bring it back home for "A Moment Apart."
Or all the times the drummers came out to great effect and nailed their choreography as if they hadn't just spent two years locked away from public performance. "Imagine telling a marching band student that you can end up in the Odesza drum line if you keep at it," my companion commented between songs.
---
It was about halfway through the set when I realized the confetti cannons had shot out three different varieties, from streamers to little logo squares, and it was about three-quarters when I came to the conclusion that Odesza's light show easily outstripped any previously seen.
The large main screen would display preternatural pictures of glowing humans breaking through to the other side, a host of otherworldly satellite stations orbiting in space and a deadly duo of sleep-paralysis demons chasing the camera in scratchy red-and-black anime aesthetic.
The two supporting cast screens to the side of this main event would cut between the digital art and a live feed of Mills and Knight, each on a synth pad that would pulsate with every tap. I have no damn clue what brand or make it is, but it might be the coolest digital instrument ever. Part of me almost doesn't want to know, just to grant Odesza that last bit of mystique as they continue their "Last Goodbye" tour.
Part of me also refuses to believe this is the last tour. Whether two years from now or twenty, Mills and Knight will return, they'd be leaving too much money on the table if they didn't.
But until then, their performance gave a goodbye to last.
— —
— — — —
? © Ben Niesen
:: Stream ODESZA ::
---