Get ready an immersive synthesized experience: Scandroid's new music video "Afterglow" is an '80s-inspired indulgence of love and togetherness, powered by BMX bikes, a magic necklace, and quintessentially new wave tropes that keep us hooked to our silver screens.
When we're living under midnight
Lights shimmer off the walls
These feelings rise into the sky
Our fears faded with the twilight
Our tears mingle as we fall
In moonlight this love is amplified
Watch: "Afterglow" – Scandroid
---
Atwood Magazine is proud to be premiering the music video for "Afterglow," the lead single off Scandroid's anticipated sophomore album Monochrome (out 10/27/2017 via independent label FiXT Music). The modern synthwave project of Detroit artist/producer Klayton (best known for his multi-genre project Celldweller), Scandroid offers a deep dive into the futuristic feel and new wave, synth-heavy sounds of that oh-so-beloved era that we just cannot seem to shake!
"Scandroid is my love letter to '80s new wave," Klayton explains. "I was a kid in the '80s and grew up on '80s TV and movies, wore '80s fashions (Parachute pants FTW!!) and listened to '80s music. This is me finally getting to make the music I wanted to make back then, but was too busy making industrial / metal to fit time in for straight-up new wave."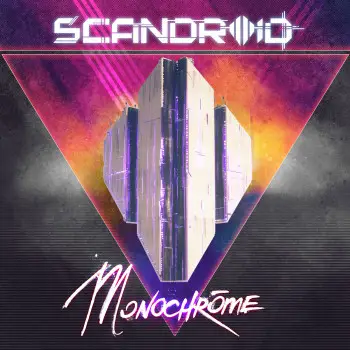 In stereo
We both let go
Into the flow
You and I will ride the afterglow
Scandroid's major influences include Depeche Mode, Tears for Fears and The Cure, "but I didn't have the know-how to produce what I was hearing at the time. I put the notion of making an '80s new wave band on a back burner in my mind, waiting for the right time in my career that I could do it. My favorite movie and film score of all time was Blade Runner, and marrying that aesthetic with the songs and sounds I loved from all the '80s new wave bands I was listening to was on my bucket list." Scandroid's self-titled debut album was released in 2016, but with the quick follow-up of Monochrome, it's clear that the full scope of Klayton's vision has only begun to be realized. "I started writing my first demos in 2012 without even knowing there was anyone else doing it. I was so excited when I stumbled across Lazerhawk's "Redline." I remember thinking "Wait, there's other people DOING this?!?!"
Epic and nostalgic, bombastic and superiorly retro, "Afterglow" is the perfect portal into Scandroid's sci-fi engulfed '80s world, where the technology and apparati of our present world are still pipe dreams in secret labs. Androids, cyborgs – and more realistically, drones and Mars rovers – this is the mindset as "Afterglow" commences, and we feel a glimmer of that futurism come to life in the chorus as Scandroid sings of love as being "In stereo."
Yet what 's truly beautiful about "Afterglow" is the way it takes us back in time. The largely grayed-out music video features a BMX-riding boyfriend and girlfriend (portrayed by Joe Gall and Samantha Camden) basking in each other's light. He gives her a necklace with what seems to be a magic triangular crystal on it, and suddenly their black-and-white world is filled with color (The Giver, anyone?). Everything takes on a surreal vibrance until the necklace is stolen and the pair have to track down the assailant (Jeff Tabb).
Scandroid cites John Hughes films as a driving influence for his Kyle Danley-directed music video. "The idea of BMX bikes (I had a Hutch) and the bully who finally loses in the end was a great way to tie a visual to the song 'Afterglow,'" he says – and we couldn't agree more: The video is an incredible gateway into what may be considered an intensified version of the Strangers Things soundtracks.
The last traces of the sunlight
They wish us their last farewell
The streetlights lit up like fireflies
The faint glow of distant starlight
Keep the secrets that we tell
Our bodies vibrations multiply

Never has it been so much fun to bask in the warm "Afterglow" of retro-synth pop. Scandroid's video is dynamic and cool, a worthwhile accompaniment to a song that supercharges the already glorious sounds of The Cars, Talking Heads, and many more new wave favorites.
As for Scandroid, it seems this project has truly just begun. Klayton says his artistry is next headed to "1984… I already have a new song almost finished and hope to release a new album next year. It is possible I will do a film or video game score as Scandroid as opposed to my main moniker "Celldweller" due to the specifics of the sound and production style. I LOVE playing with my hardware synths and look for any excuse to create soundscapes whether they have vocals or not. I also hope to date a replicant. My wife should be cool with it since Nexus 6 models only have a 4 year life span." He's acting fast, and the music just keeps coming.
Don't miss Scandroid's vibrant "Afterglow," exclusively on Atwood Magazine!
— —
— — — —
photo © 2017
:: Listen to Scandroid ::