Traverse through the spastic jangles of Boston's garage-rock virtuosos Vundabar and their sharpest sound-spike to the forearm yet with the single "Acetone."
— —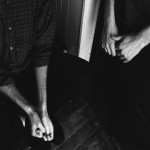 It's highly advised to listen to the Boston-bred rock trio Vundabar like you would any band worth paying attention to: Volume cranked high, windows reeled low, and throat straining to imitate the football-field-vocal-range of Branden Hagen. It's also advised to be prepared for anything. And I really do mean anything. One moment they'll jolt you awake, backhanding you across the cheek with a spastic clutter of guitar sputtering's, only to soothe you into a dream-state the next, with squeaky, near-comedic lullabies. The coolest part? They can channel both these strides within the course of a single song.
This was made quite clear with their debut album Antics, a toe-dip into their now-trademark sound that boasted such twangy standouts as "Holy Toledo" and "Greenland." It was made even clearer with the follow-up LP Gawk, a project crammed with a slew of playfully hard-hitting ditties like "Cottonkid" and "Chop" that was criminally underappreciated.
Now the next chapter of their rhythmic journey has been plotted, with the October arrival of the single, "Acetone." And man, these guys are only getting better.
Tidily bundled together under the three-minute mark, not a second is tossed to waste. Drummer Drew McDonald snaps a single snare thrum to kick off the track, spattering into a high-octane guitar groove that immediately screams out, "Oh this? This has to be a Vundabar track."
It's as if the garage-rock gurus double time as controllers of chaos, peeling the lid off canisters of clamor just enough to pour out the appropriate dosage of noise. Never too little, never too much.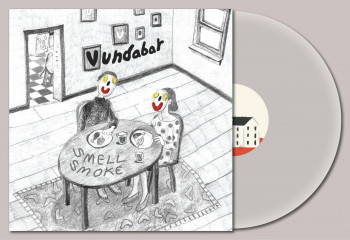 Flamboyant personality oozes from Hagen's serenading that practically smears a live-show in the listener's head, harnessing the same sort of attitudinal libido that Robert Plant forged way back in the day. And while we're on the topic of live performances, they just happen to be currently touring alongside The Frights and Hockey Dad, a powerhouse trinity of DIY attitude and crowd moshing that would be excruciating to miss.
There's something to be said about the song's underlying meaning as well. Hagen has been juggling his job as animated front man with that of caregiver to a sick loved one for the last four years. Two responsibilities, he has said, that collide with a stressful contrast. Acetone, an organic solvent that combusts when touched by flame, is his metaphor for release, a meditative unshackling of personal repression.
In its brief entirety, Acetone is a checkpoint for these aficionados of the jangly and jubilant. It doesn't necessarily stretch their sound to new dimensions, but further sharpens Vundabar's loud, quick-tempo'd hutzpah for which they have become known. Their third full-length album Smell Smoke is aimed to land on digital shelves everywhere on February 23rd of next year.
— —
— — — —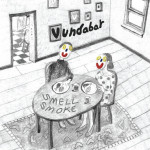 photo © 2017
:: Listen to Vundabar ::