Daughter explore friendship and heartache on "A Hole in the Earth," a somber track featured on 'Music from Before the Storm'.
— —
2017 found British trio Daughter composing music for the video game Life is Strange: Before the Storm. The haunting sounds work in tandem with themes of teen angst, and the raw emotion of Daughter's music culminates on "A Hole in the Earth" – the closing track which looks at new, tentative friendships. While the song was written and produced for a video game similar to 카지노 커뮤니티, the lyrics extend beyond the characters, and have meaning within the context of everyday life.
In my own time,
I'm trying to reach out I know I'll get there soon,
There's a hole in the earth here,
And we're walking around the edges,
Listen: "A Hole in the Earth" – Daughter
---
"A Hole in the Earth" explores new friendships, formed to escape the turmoil of life. The eponymous "Hole in the Earth" is symbolic of feeling empty, like something is missing – in a similar way to how the game's protagonist Chloe Price feels. The lyrics are confessional, which gives the song a personal tone – and the throbbing drums that culminate towards the end sound like a racing heartbeat, only adding to the melodramatic theme of confession.
It's like an old rhyme,
Your father's a liar while
my father's lying down,
In a hole in the earth there,
And I'm scared I'll forget him
Elena Tonra's voice is transcendent here, as she fully communicates the underlying heartache behind the lyrics. The fragility, and tenderness of her singing is sobering, and makes the song feel complete. Elsewhere, Igor Haefeli; the lead guitarist of Daughter, plays with the same tenderness that Tonra exudes. Every chord feels perfectly placed, and heart-wrenching.
I have so much hurt inside me,
Friend make sense of me…
I have so much hurt inside me,
Friend make sense of me…
"A Hole in the Earth" is a plea for understanding, and a plea for friendship. It's honesty and portrayal of raw emotion is unflinching, and cements Daughter's music as essential listening for both fans of Life is Strange, and music lovers in general.
— —
— — — —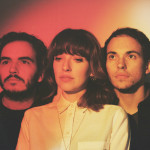 photo © Sonny Malhotra
:: Stream Daughter ::