GOLDN's "Break It" kicks off his new 'Once Upon a Star' collection with a great summer heartbreak song.

— —
The best part about recent pop-music is how heartbreakingly honest it is. While rockists and certain overtly pretentious hipsters will claim that pop music is vapid, most of the best pop music (from any decade) is loaded with depth and complex emotion if you just dig a touch deeper. The rapper GOLDN delivers a catchy slice of heartbreak with his new single "Break It" from his Once Upon a Star project. His previous single, "Mama I'm So Sorry" is a great summation of his work, but Once Upon a Star is a bold next step. The LA by way of St. Louis rapper's Once Upon a Star is the start to an intriguing project with a strong start, and we're excited to premiere the first track today.
Listen: "Break It" – GOLDN
https://www.youtube.com/watch?v=8T1OI5uBaTY&feature=youtu.be
---
"Break It" incorporates elements of trap and R&B into an excellent pop song. The staccato beats, finger snaps and all, emphasize the physical trauma that comes with a breaking heart by sounding like it was literally snapped in two. GOLDN's voice is reaches highs with emotions. He has a smoky, raspy quality that compliments the song's content about sex and drugs. It's unsurprising that GOLDN counts pop-punk legends such as Mayday Parade as influences as he pours as much emotion as can be found on A Lesson in Romantics into the verses of this song.
"'Break It' is the first song that I wrote about this girl," GOLDN tells Atwood Magazine. "It was me seeing the warning signs that this girl was a rockstar, a savage — probably more of a savage than I was. Within the first week of meeting her, I realized I didn't think she really gave a fuck. If I gave her my heart, she'd break it and smoke it. This is the beginning of the story of me falling in love and getting lost in this world with her."
These emotions are reflected best in the chorus and lead up:
I should've never let it get this far
Cause the second that I gave my heart
You'll probably just break it, roll it, smoke it.
The distorted downtuning of his voice with the female backing vocals really seems to drive home that this is what he thought would happen. He conveys his feeling so well especially when singing, "All you wanna do is get high." It shows how much it can suck to assess a situation and realize that pain is inevitable.
That being said, "Break It" doesn't exist in a vacuum of heartache. It's just the beginning of a story. Once Upon A Star Pt. 1 is two songs and the first two chapters. So many stories start with pain, and GOLDN has made us excited for the whole story:
"I'm really fucking stoked. This past week, I was getting everything ready for the project with the visuals, the artwork…I started jamming to the project just as a fan. I got to experience it as a listener and it's really just making me excited. I'm proud of my producers, my team and of myself — I'm excited about how vulnerable I've been on these records."
The beginning of GOLDN's Once Upon a Star is out tomorrow, July 20, 2018. "Break It" is a midseason grab for an essential late summer track, with a great pop instrumental and all the epic emotions of mid-2000's pop-punk. Be sure to listen to the start of Once Upon a Star and follow the rest of GOLDN's story.
https://www.youtube.com/watch?v=8T1OI5uBaTY&feature=youtu.be
— — — —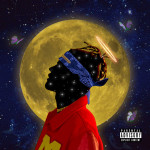 ? © Nikko LaMere
:: Stream GOLDN ::