The tight-knit Portland band All Hits discuss the politics behind their debut record 'Men and Their Work', transforming the DIY scene for the better, and more.
Stream: 'Men and Their Work' – All Hits
---
"One more month, three more months, by summertime," … at this point, COVID-19 is a Camus-esque daily trudge at worst, a waiting game at best. Concertgoers lose their senses of time as dates once pushed back until Fall, then perhaps 2021, are now postponed indefinitely. Well-worn venues across the nation collect dust in their monitors — or in some cases, close up shop for good. In the aftermath of countless sexual abuse allegations, once-key players in the indie scene have fallen from grace as many are forced to face the toxicity long embedded in the history of rock music. One thing is for sure — DIY scenes await an uncertain vacuum of a future. It's no wonder why those of us who have found our families in sweaty pits feel as though we're facing the death of live music. Punk isn't dead though, not yet; it's just quarantined.
For Portland, Oregon post-punk trio All Hits, this new beginning is an unexpected gift, of sorts. At the start of the summer, they released their sardonically titled and refreshingly astute debut LP Men and Their Work on hardcore label Iron Lung Records. Clocking in at only twenty minutes, it is a biting, satirical collection of songs examining the violence of capitalistic, patriarchal, and state oppression that sounds like it came straight out of the '70s punk scene. Guitarist Janie Black's angular riffs supercharge vocalist and bassist Izzy Dupuis's spitting declarations, which come together as dissonant melodies that evoke predecessors like Pylon and The Raincoats—in other words, Men and Their Work has the makings of a modern classic. Bandcamp audiophiles around the world quickly bought it up, much to the surprise of the year-old group.
"We got pretty lucky in pretty much every single way," Dupuis reflects as they sit on their living room floor, with Black and drummer Sam Whitelaw behind them on the couch. Gathered around Whitelaw's laptop, the band sits in a triangle formation against a wood-paneled wall with an autumnal landscape painting hanging above them — an idyllic Pacific Northwest scene. They recently came out of quarantine to practice together again, but they're taking the day off to celebrate Whitelaw's birthday. It's surprising to learn that these friendships are relatively new — All Hits was conceived when East Coast-born Dupuis, recently out of a bad breakup and in desperate need of a band to play with, met Black at a New Year's party at the end of 2018. After playing together as a duo for a while, Black brought in Whitelaw, a veteran of both the Baltimore and Portland scenes. With their shared love of early British post-punk and hardcore and similar senses of humor, everything clicked almost instantly. "When we first started playing together, we would practice two or three days a week because we just liked to hang out [with each other]," Black recalls.
One of the most notable things about All Hits is the way in which they communicate with and hold space for each other. They finish each other's sentences without walking all over one another, listening and filling in gaps in memories as they go—a palpable cadence of collaboration. However, they also make sure that everyone gets a chance to have their say. It's this fluid and effortless chemistry built on mutual respect that formed the basis of their working relationship, too. While Izzy typically showed up to jam sessions with various ideas and lyrics written on their phone, the band also sat down and piece songs together, or even come up with a topic to write about separately before their next practice. "We didn't have a plan for what the band would sound like at all," says Black. "It [was] just kind of like 'well let's be friends and fuck around, and then see what happens'," Whitelaw elaborates.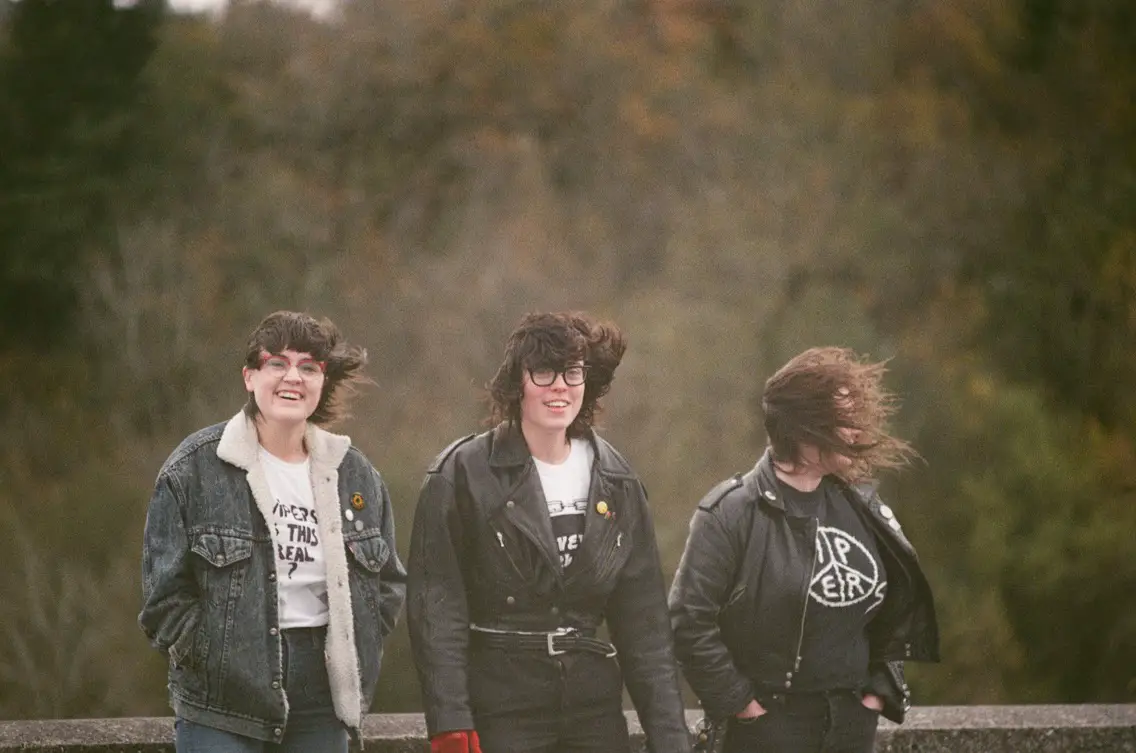 All Hits also strive to maintain sonic equity in their creative process.
"What's important to me is everyone having an equal role with everything," Whitelaw says while discussing the benefits of everyone in the band writing their individual parts. Fully embracing a DIY ethos, they've found freedom in this friendly democracy. "We each do exactly what we want to do," Dupuis explains, "and then it just sounds right. That's been kind of cool." It brings Iron Lung's motto to mind: "we know what we like and what we don't like." 
By splitting up the work this way, the overlaps and discrepancies in each person's tastes shone through early on, solidifying All Hits' sound from the get-go. "We all come from similar but different places of punk," Dupuis summarizes. They cite a collective love for British post-punk acts like Wire and Gang of Four, while Black and Whitelaw are partial to youth crew, 80s hardcore like Bad Brains, not to mention their Iron Lung contemporaries. The resulting amalgamation is a complementary mix of tough-as-nails melodicism crashing forward with darker, frenetic undertones. 
They've gotten to know each other so well that they can pick up on what one another have been listening to almost intuitively. "One of the songs, when we were playing it, I was like 'oh, this sounds like one part of an Elastica song'," Whitelaw recalls. Black admits, "I definitely wrote a chord progression [for 'Sugar Supply'] that was like the song 'Stutter' by Elastica. It was totally an accident." "But it sounds great," Whitelaw reassures her.
---
Considering the ease with which the trio adapted to each others' sensibilities, it's no surprise that their debut album came together as quickly and cohesively as they did.
While recording Men and Their Work in Olympia with a friend of Black's, the band embraced a rapid-fire approach, playing through each track a few times, layering vocals, and mixing it over the course of two days. The quintessentially DIY collaboration captured All Hits at their most visceral, making for a record imbued with the electricity of their live performances—exactly how a punk record should be experienced.
All Hits' greatest weapon may be their knack for bringing people out of their comfort zones, their messages transcending the nuances between subcultures within the scene. There's no way around the political elements of Men and Their Work—its title alone is wonderfully snarky, the spite of the oppressed as sometimes-comedic social commentary—and it's genuinely refreshing. "We have similar senses of humor, which comes across a lot of the time," Dupuis adds, referencing moments such as the tongue-in-cheek breakdown in angsty closing track "World is a Fuck." Besides their Ramones-inspired lyrical straightforwardness, the social and capitalistic commentary of British sci-fi author J.G. Ballard's writings particularly resonated with Dupuis, who is more than aware of the systemic violence that dictates our world's operations.
As a band of women and nonbinary folks, All Hits' existence—collectively and as individuals, within the scene and in the world in general—is inherently political. "[I was] also just thinking about the men in my life, and the men who run my life," they explain. "It makes sense that [Men and Their Work] came out in 2020, but I think it would have fit no matter what 2020 looked like."
In the wake of mass call-outs within DIY scenes nationwide, starting with the countless women and girls who shared their experiences of abuse at the hands of Burger Records and associated acts, Men and Their Work is as necessary an album as ever. From sexual assault to more insidious manifestations, misogyny has long hindered or excluded anyone who is not a cisgender, heterosexual white man from participating in punk music. All Hits wrote "Kickback" long before the Burger downfall out of their frustration with the perpetuation of abuse in their local scene. On this particular track, they reject "keeping quiet for social clout" and urge for the removal of a specific individual who refuses to take accountability for his destructive actions. Although it seems like a given, it's an invigoratingly blunt take, considering how many bands and artists are shy to denounce powerful abusers—unless it becomes trendy, in which case meaningless social media virtue-signaling typically ensues for a week or so. All Hits' demands for change have genuine force behind them, and go beyond simply exiling abusers and moving on. "An important note I wanted to make about that song is that even though we're talking about kicking these toxic people out of our spaces, I don't want it to be an anthem for cancel culture or anything like that, 'cause we don't stand for that as a band, either," Dupuis clarifies, pushing for transformative justice as an alternative.
Similar to the nature of DIY spaces, transformative justice is dependent upon community togetherness. Although All Hits has already begun discussing what a new, less toxic scene could look like with their peers, they admit that they're nonetheless overwhelmed by the sheer size of such a feat. However, they have some ideas. "One thing is just communication," Dupuis remarks, adding with a laugh, "If we all believe in anarchy and want the U.S. to burn, we're gonna need better communication in general."
Aside from establishing sober spaces for regular conversations, this restructuring will also require a collaboration in mindfulness on the part of male musicians. Part of this change needs to come in the form of recognizing how alternative scenes replicate mainstream power structures. "I feel like they're quite competitive with each other and other bands… If we're decentering the patriarchy, it's nice not to be competitive," Black points out. "If we just support each other, respect each other, and work together towards the common goal of building something really nice for ourselves and not for capitalism, then bad shit won't happen as often." Considering how effortlessly they practice these values on a micro-scale within the band, All Hits is a testament to the possibility of reforming the scene–they embody what punk was supposed to be all along.
All of this talk about abusers in the scene today is not meant to discount the progress that has been made. Whitelaw and Black, now in their 30s and late 20s, respectively, have witnessed hardcore and punk become somewhat less of boys' clubs in recent years. "I never really felt confident or accepted enough playing [in a band]… I learned to play the drums when I was 22 or 23, and I was in a band with all women and we were all supportive of each other, really helped boost each other," Whitelaw recalls, "It was a nice experience where [I was] comfortable doing it and being vulnerable with people."
With no shows to look forward to for the foreseeable future, Men and Their Work is one of the best facsimiles one can safely experience.
Pre-quarantine, however, the strong support system All Hits cultivated within the Portland music scene put them in plenty of interesting—and at times, comical—situations, gig-wise. Their sound is not as aggro as their Iron Lung colleagues, yet more abrasive than most of the indie bands around, which made them a unique addition to many bills, including their very first show. "It was an all-ages room in the back of a gay bar in Eugene, Oregon. It was just bro-hardcore bands and then us, and it was really fun," Janie describes, which inevitably led to moshing, "And after this show at Crush House this kid in high school came up to me… He was just like 'That was SO good' and gave me a hug, it was a 16-year-old kid at the hardcore house who was very into it." Whitelaw gets the biggest kick out of these surprising responses to their music. "Nobody knew what to expect, and I was proud of it. And other people seemed to like it." Aside from forging healthier connections with each other, it's possible that variety like this in DIY lineups could very well be crucial in further uniting the scene.
Until then, All Hits are dedicated to their own growth in preparation for their next evolution. In between pining for their "show rat" days and the community that comes with it, they are working on music videos, honing their musicianship, creating charmingly utilitarian merch, and plotting collaborations with other bands. "I think splits are really fun," Whitelaw says, "I wanna bring back the cassingle." "Yeah, we might do a cassingle," Dupuis deadpans, without missing a beat. Black jumps in: "And I just want to not lose a ton of momentum and have another full-length out in a year or so." Her exaggerated ambition garners laughter from her bandmates. "I think we could do it! We don't have anything else to do."
Men and Their Work is out digitally now on Bandcamp and streaming services via Iron Lung Records. The second pressing is available on Bandcamp now.
— —
Stream: "Blockhead" – All Hits
— — — —
Connect to All Hits on Spotify

? © 2020
:: Stream All Hits ::
---