On Built to Spill's first new album in seven years, indie rock hero Doug Martsch weaves nostalgia-tinged guitar jams out of bittersweet times and absurdity.
'When the Wind Forgets Your Name' – Built to Spill
---
When Doug Martsch picks up my phone call, he is as easygoing as ever as he travels aboard the tour van en route to one of the first stops of Built to Spill's pandemic comeback tour. Aside from 2015's Untethered Moon and a Daniel Johnston cover album following his death in 2020, the iconic alt rock group has laid fairly low over the better part of the past decade. After their longest gestation period between records to date, Martsch and company are glad to finally have their ninth original studio album (their first-ever as members of the Sub Pop family) out in the world.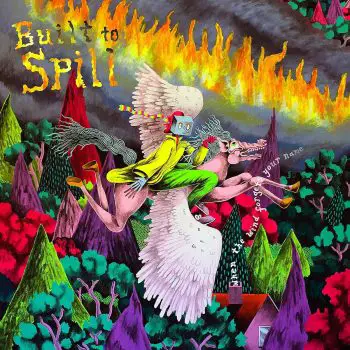 Over the course of 2019 and subsequent US and European tour runs, Martsch began workshopping early versions of songs with Lê Almeida and João Casaes of Brazilian psych-fusion band Oruã during their rehearsals in Rio as well as on the road. His hopes to continue collaborating with Almeida and Casaes on When The Wind Forgets Your Name dissolved as COVID-19 emerged, which led to him working on the majority of the record alone off and on for the next two years of the pandemic. Much like the rest of us, he found creating a full body of work during such a dark time in the world to be quite the daunting task.
"I really didn't feel like working on the record for a long time. I didn't feel very inspired; life was kinda intense at that time 'cause of the solitude and stuff," he explained. "There were some people that got a lot of stuff done [during that time]–I wasn't one of them."
One thing that revived Martsch's creativity was the discovery of graphic novelist Alex Graham's now award-winning series Dog Biscuits, in which a cast of whimsical, anthropomorphic characters navigate early-pandemic life. Already a comic enthusiast, he identified with Graham's storytelling and singular illustration style so much that he commissioned her to design wacky, surrealist cover art to offset the gloomy title of the album-to-be.
"I feel like that juxtaposition makes things more broad and all-encompassing, and then people have the opportunity to come up with their own stories or whatever," Martsch puzzles. "I think that's more indicative of reality; things are not what they seem. I guess I believe that life, reality, is…I don't know what I'm talking about." He laughs at his own navel gazing attempts and gives up on the thought.
This exchange sums up When The Wind Forgets Your Name quite well, actually.
It is a somberly thoughtful record that doesn't take itself too seriously, often marveling at absurdities and just how little we humans know about life without waxing poetic. Ushered in with a heavy-yet-bounding, classically Built To Spill riff, opening track "Gonna Lose" bears a silliness teetering on the edge of delirious dread, as Martsch lilts lines like "What could be more disorienting / Than being on acid and in a dream?" in a sing-song melody. A reason to smile rolls by like a tumbleweed, and distracts from the overwhelming sense of dread. Losing control becomes cause for levity instead of panic.
---
That being said, the album is nonetheless tinged with unmistakable signs of the times. Martsch's gently melancholic melodies and haunting, spacey folk refrains on tracks like "Fool's Gold" and "Understood" touch on the darker side of lack of control, allowing grief and hopeless confusion to take their places. Much like with Dog Biscuits, these moments of seriousness provide textures of realism and train-of-thought reflections that make the album breath all the more, as if we were taking a walk with him inside his mind.
Humbly, Martsch, who does not consider himself to be a storyteller, insists that he didn't really have anything in particular to say with this album.
"If you ask me what a certain line meant, I could tell you, but overall there's no bigger overarching idea. Most of the lyrics are just words that fit the music nicely," he elaborates. "I like the line [from "Spiderweb"], 'I learned a lot about the way things are and what we're supposed to be / And how I'm you and how you're me,' but I don't know exactly what it means. It's all open to interpretation, really."
---
More than anything, When The Wind Forgets Your Name is a collection of Martsch's sonic explorations.
A revered musician and songwriter though he is, his expertise doesn't spawn purely from divinity. A go-with-the-flow type of guy, Martsch perfects his craft and stretches the limits of his abilities as he improvises, experiments and tinkers with whatever is at his disposal, discovering new sounds and tasty riffs that lead him down a path towards the record-to-be. Take "Rocksteady," for example: while still in line with Built To Spill's style, this semi-psychedelic take on the genre is a departure from their typical fare, and a peek at the ever-shifting nature of writing a record.
"There's just so much going on that it's beyond words for me," he says of his creative process. "It's like a hundred times or a thousand times easier coming up with musical ideas than words."
---
Another way Martsch keeps things fresh is by having an ever-rotating cast of bandmates who bring their own unique styles and sensibilities to Built to Spill.
His current rhythm section consists of bassist Melanie Radford of Boise sludge band Blood Lemon and drummer Teresa Esguerra of Prism Bitch, two formidable forces of nature who give this iteration of the band a full rock sound that glides with ease in tandem with Martsch's solos.
"What I love about [playing with them] is that I don't even think about the band [when we're performing live]; they sound killer and I feel complete confidence [in them]," he gushes, the warmth in his voice palpable. "As for the audience, anytime anyone has anything nice to say to me after a show, it's always about how much they love them."
Aside from Radford and Esguerra's indisputable talent and joyful stage presence, their senses of humor provide a sense of levity that is intrinsic to the cloth that Built To Spill was cut from.
"They're so silly; that's my favorite thing about them," Martsch, who admits to being "pretty silly" himself, adds. "When they're talking to people, they're polite and nice and whatever, but it took me a long time to understand how seriously funny they are. "I could sit and watch them interact with each other all day."
In a way, Built To Spill's latest is a time capsule of not only what the band is at this point in time, but of Martsch and his relationship to change during a poignant period of life.
His melodies and thoughtful yet freewheeling guitarwork facilitate connection and meaning in a way much deeper than words can capture, relaying emotions to and through the listener to the point that he really does become them and they do him. Even at its most dazed and adrift moments, it maintains a consoling sense of playfulness, lightness, and curiosity by virtue of its makeup – when the wind forgets your name, you're free to let go and blow about as you please. It brings one of Martsch's favorite Brazilian idioms to mind: 'What's a fart to someone who has shit themselves?'
When the Wind Forgets Your Name is out now courtesy of Sub Pop.
— —
— — — —
? © Alex Graham
:: Stream Built to Spill ::
---