Up-and-coming UK pop artist Asher Knight chats with us about his exciting 2019 – a year that has seen his debut EP release, worldwide touring, and more!
Stream: "I've Changed" – Asher Knight
---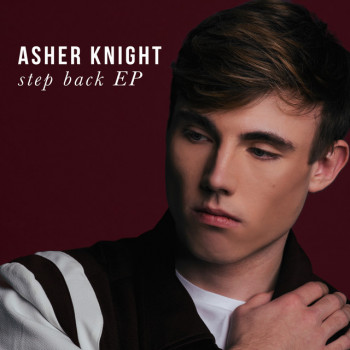 Once a shy adolescent, Asher Knight is now fast on the rise in England's pop music scene. Since relocating to London in 2016 to pursue his music career, the Bradford, UK native has toured alongside pop rock bands such as the Vamps and Boyzone, and has collaborated with major figures such as vocal coach CeCe Sammy and production team Red Triangle.
2019 has been an especially eventful year for Knight, as he finally gathered enough material for his first EP, Step Back, released this past April. The title track and its music video, filmed at a gorgeous stretch of the British coastline, channels the dreams and optimism of the aspiring singing talent that Knight embodies. Knight recently followed up his EP with the single "I've Changed," released in early October.
Atwood Magazine recently spoke with Asher Knight to see what thoughts are on his mind now that a productive annual period is concluding.
MEET ASHER KNIGHT
Atwood Magazine: We're in the final stretch of what has been a busy year for you. Looking back, what are some of the major events and transitions that have most defined 2019 for you as a person and an artist?
I can't believe the year is almost over. [It feels like] January only left yesterday. This year, I was able to do so many amazing things. [While] opening for Boyzone, I was able to perform at the Manchester Arena and the O2 Arena in London, which had been my dream for years! As a person and an artist, I think I know who I am more, which is amazing. Hopefully, next year that will continue.
Growing up, who were some of your musical influences? How did your upbringing in Bradford, UK impact your musical preferences and style?
My parents played a lot of music growing up. My taste varies drastically from classical music to rock but, when it comes to my main influences, it's people like Michael Jackson and Beyoncé.
"Step Back," released earlier this year, was your first formal EP. What made you decide the time was right to tackle such a project? What possibilities arise from working on a cohesive EP that you might not be able to achieve from simply recording individual tracks?
[Before] "Step Back," I had been recording music for years and was finding myself. But when this collection of songs came together, it just felt right. My team is great and really helps make a great EP. I want to collaborate [with them] on the next EP, but we will see.
It sounds like you've gotten to work with some well-established artists and producers already. What has their mentorship been like? What are some of the most important pieces of advice you have received from them?
I have been able to work with so, so many amazing people and it's incredible. The advice I get from everyone is: just be honest and be yourself. There is also the odd vocal tip, but mainly it's more encouraging things they say to me which I love.
You are currently on tour. What have been some of the major moments from some of your recent concerts? What does this tour represent for you in terms of your growth as an artist?
I am having an amazing time opening up for Will Young! He is so inspiring and such a nice guy. He says hello to everyone and makes everyone feel welcome. This tour represents me becoming more and more of the artist I want to be. I get to dance and sing songs that I love. This tour has been amazing, as it's helped me to develop my stage craft.
Your tour concludes with three stops in the United States. Will this be your first time performing in North America? What are your thoughts about taking your act across the Atlantic for American audiences to experience?
I did a show years ago in the USA for the Coast Guards, but I was nowhere near as confident as I am now. I spent a bit of time before this tour in the USA visiting radio stations up and down the East Coast, so it will be great to go back as the vibe out there is amazing! They love British artists and whenever I turned on the radio it was either Ed Sheeran or Lewis Capaldi playing.
It says that you were "somewhat reluctant to pursue your dream due to low self-esteem as a result of bullying early in your youth." What was the turning point that made you change your mind and decide to go ahead with a career in music?
I was reluctant is the sense that I knew I wanted to sing. I was stubborn that way, but I wanted to hide my face away, kind of like Sia. I was so scared of being bullied again but as I felt more confident with who I am, that fear went away. I figured out how to make my music career work for me. I can stand in front of so many people and hopefully inspire them to be themselves and to be confident.
With an EP now in the bag, do you see yourself recording a full-length LP any time? What issues would you like to address as you work on your new music?
I would like to do another EP next year. I have experienced so many things this year and that's what I want to write about. My music is relatable. It's things most people go through and it's what I go through. I have been inspired so much and you will really hear that, but I want to continue from my latest single, "I've Changed," on this road of deep, meaningful songs that everyone can connect with.
— — — —
? © Asher Knight
:: Stream Asher Knight ::
---