Singer/songwriter Eliza Edens weaves wonders with her debut album 'Time Away From Time', a stirring and intimate alt-folk tapestry full of space to breath, light to see, and emotions to feel.
Stream: 'Time Away From Time' – Eliza Edens
---
From the moment Eliza Edens opens her debut album, we find ourselves wrapped in a gorgeous blanket of sound. The Philadelphia-based singer/songwriter weaves wonders with Time Away From Time, a stirring and intimate alt-folk tapestry full of space to breath, light to see, and moments of truth tailor-made for in-depth introspection.
I lay down
In a garden of sound
And I remembered
I remembered
Inside of you
Is a place that has never been wounded
Don't you remember?
Don't you remember?
And when the fall comes
All the crimson and crocuses
Will set you free
Walk in your mind
And cut out the strains of unkindness
It's for the better
It's for the better
Nectar of noon
And the medicine of moonlight
Help you feel better
Help you feel better
And when the bugs bite
All the sunlight and crocuses
Will set you free
– "Garden of Sound," Eliza Edens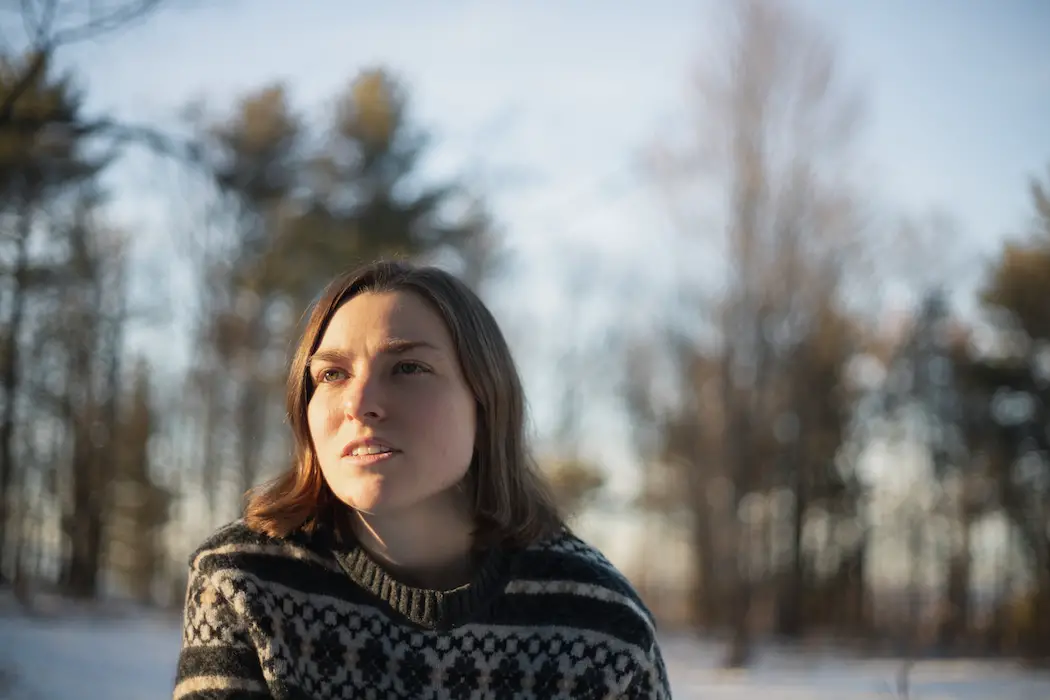 Independently released April 17, 2020, Time Away From Time marks a resounding introduction for Eliza Edens. The Western Massachusetts-born, Philadelphia-based singer/songwriter first introduced herself in 2017; her Lowlight EP is a fun and nuanced collection, with songs like "Balaclava" offering immersive soundscapes and a balance light acoustic guitars and layers of organic horns and other strings. Preceded by the singles "Days, Nights," "Ramble," and "I'm No Prisoner of Time," Time Away From Time presents the next level of that talented songwriter we first met just three years ago.
Edens' guitar alternates between fierce and lush, delicate and dynamic; describing the nuance of her instrumental performance alone could fill a small library with contrasting adjectives. Add to that the stirring inflections, gilded tonality, and subtle emotion flowing through Edens' voice, and we begin to understand the brilliance driving every second of her album. Time Away From Time may very well be an understated alt-folk masterpiece, but that's for time to ultimately decide.
In the San Juans
In the valley
I crossed a border in between
I cut loose
I came clean
And I drank a cup of honesty
Pulsing waters
Bending streams
I let the winds envelop me
When the world was a boulder
Heavy on my shoulders
I'd remember flying
In circles and circles around
My childhood home
I remembered diving
In circles and circles around
My childhood home
And I crawled through a maze
In the desert of youth
In awe, amazed at what I could do
When I took matters into
My own hands
And when silence
Turns into sound
Will this person be around?
Will you still be around?
Will you still be around?
– "When Silence Turns to Sound," Eliza Edens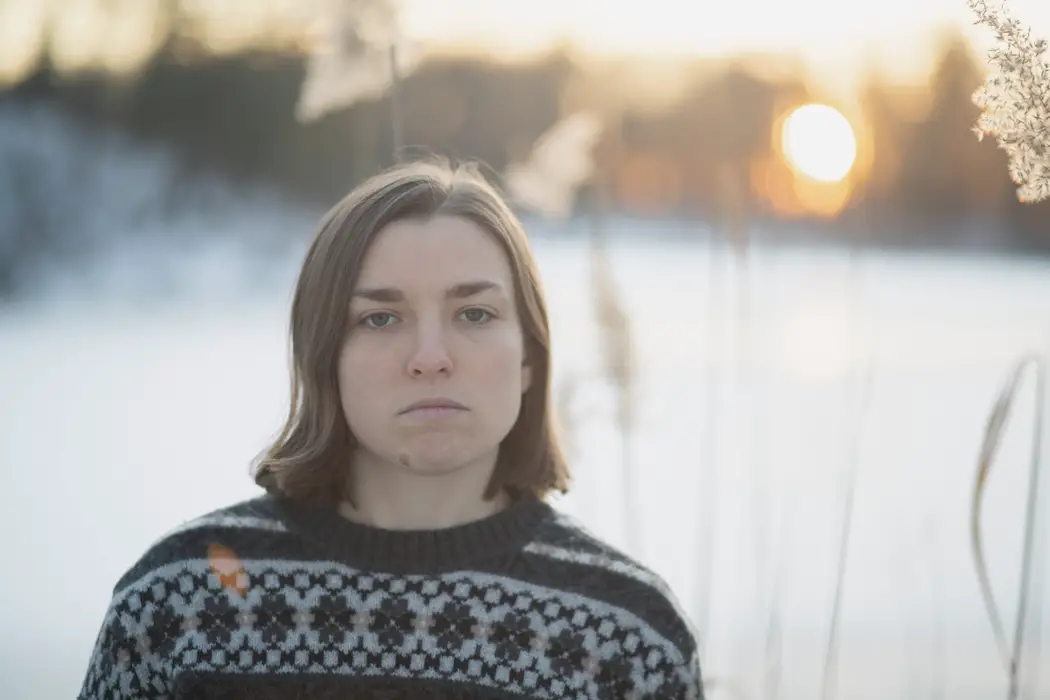 Edens self-describes as making music "in a world distinctly separate from the constraints and speed of modern living," pulling inspiration from time, everyday life, nature, and more. Her expressive finger-picking abilities coalesce with her dazzling vocals and a litany of musician friends to create nine seamless little worlds whose sonic textures invite us to tune in and indulge: To lay our weary heads on a bed of sound, if only for a while. Music like this is the kind we can dwell in; the kind that helps us let go of our tensions and doubts, stress and strains.
Like an oasis in a desert of noise and sound, Time Away From Time isn't an escape – it's a destination.
However you choose to hear Eliza Edens' music, know that you are in for an out-of-body journey you never thought possible in the alt-folk canon. Experience the full record via the below stream, and peek inside Eliza Edens' Time Away From Time with Atwood Magazine as the artist goes track-by-track through the music and lyrics of her debut album!
Stream: 'Time Away From Time' – Eliza Edens
:: Inside Time Away From Time ::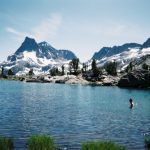 — —
Garden of Sound
This was the first song written for the record and was the working title for the whole project for a long time. It was inspired by an interview I listened to with the poet John O'Donohue on the podcast "On Being." I was so moved by his poetry and presence in the interview, as well as the beautiful crickets that would sound every night in the backyard of the farmhouse I was writing in. It was September, and there was so much lush greenery around – it all swirled into this song. The breathy saxophone and agile bass that Nelson Devereaux and Pat Keen added brought this track to life and gave it so much warmth. It's about healing.
Long Drive
Long Drive is one of the few tunes where the lyrics occurred to me before anything else. For a very short period of time, I took a job rehabbing a house in Philly that the owner was trying to flip. I spent a lot of time peeling wallpaper off walls and listening to podcasts and music. Easy work, and your mind kind of wanders when you're doing it. The first few lyrics popped into my head, and I wrote a few things down, went home, and put chords underneath them. The last verse came a couple months later. The song is about "playing the long game" while trying to stay sane. In the studio, we tried for so long to figure out a solo for the middle section, but everything we tried sounded too corny and obvious. Eventually I just hummed over the chords, and Dexter put it through a processor to make it sound vast and spacious. We left it like that.
Days, Nights
This tune came together in a very fractured way and production-wise it's one of my favorites on the album. I was writing the lyrics up until it was recorded. It plays around with a lot of the themes of time, memory, and seasonal imagery on the album. My collaborators, Pat and Dexter, really helped make this song into something I couldn't have imagined myself. I hadn't put much thought into how songs start before (sonically), and Pat pointed out that not every song on the record should start with a fingerpicked guitar (duh!). So we started with bass entering first… Pat came up with this part that sort of reminds me of a pendulum. He also came up with the idea for the outro to fade while the guitar part hammers-on, as well as the middle part where the guitar drops out and a synth lingers under the vocal. Pat wins – everyone go hire him to play on your music: patkeenmusic.com!
Time Away From Time
Time Away From Time is a meditation on deep time – also inspired by a lot of John O'Donohue's writing and the general idea that humans are a blip in geologic time. Artists speak sometimes about songs that appear to them as if they were a vessel for its existence in the world – this is that kind of song. It was recorded in the stairwell of the house I grew up in, and Dexter sprinkled in some sound samples that I had saved up over time from travels, as well as some subtle guitar lines. You can hear crickets in North Carolina, waves from Lake Erie, and the streets of Saigon buried in this song. After showing the record in its almost-final form to a good friend, she suggested I name the album after this one, and I took her advice.
When Silence Turns to Sound
This song questions whether we can truly change after long journeys, pilgrimages, or trips – or whether we simply relapse into old habits and thought patterns. I wrote it while reflecting on a hike I took called the Colorado Trail. I think the bridge was written before the rest of the song. My partner played cello on it, and we wrote the part together in the studio with Dexter. The ending was re-thought several times and labored over a lot. Eventually I decided to track more cello to send it off in a dramatic, surreal way.
Martha Plays
The short piano piece after "When Silence Turns to Sound" is a snippet of my grandmother playing a variation of an old traditional tune called "Molly Malone." This same recording was played at my grandfather's (her husband's) funeral. I always admired the tune after hearing it and decided it would serve well as a transition piece after the intense cello and abrupt drop-off of the previous song. Something for the listener to land on.
I'm No Prisoner of Time
"I'm No Prisoner of Time" was written in the wake of a 10-day Vipassana meditation course. Expanding on the record's theme of time, it examines how we can get easily caught up in the past and future and as a result, lose our immediate presence. It imagines mental and emotional structures as physical, natural places you can walk through. Pat really helped this song level up by adding rhythm parts that punctuate and drive the song forward. Dex added some great acoustic guitar on the choruses that helped with texture. Then our buddy Jake Baldwin brought it home with some flugelhorn that I decided to pan left and right during the break to give it an airy, pulsing sensation.
Ramble
Ramble was one of the last songs written for the album and is in a different tuning than the other songs on the record. This one came together fairly quickly in both the writing and recording departments. It's one of the more outwardly hopeful and positive songs on the album – about ideas of self-forgiveness and striving to be better. I was also stoked to use the word "raspberry" in a song. It's my favorite fruit, and it's also a great image for a scraped knee.
Illusion Sublime
When I wrote this song, I was in a phase where I was intentionally trying to write better lyrics. I think the verbosity of tune is perhaps a slightly-failed result of that expansive mindset. The song wrestles with the idea of home — wondering where to make a home, nostalgia for the place you grew up, and trying not to get lost in all those thoughts and feelings and just enjoy life in all its layers. The bird sounds in the beginning are a sunrise chorus that I recorded around 6am one morning while visiting my parents in rural Massachusetts. Jake added some very animated flugelhorn on this song too that helps it stretch to higher peaks.
— —
— — — —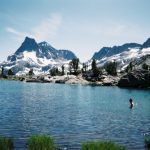 ? © Elizabeth Ibarra
Time Away From Time
an album by Eliza Edens
---