Singer/songwriter Liza Lo delves into her tender, meditative, and soul-stirring 'flourish,' a beautifully ambient and atmospheric folk EP that stays true to its name as a record of growth, love, and self-care.
Stream: "cómo amar" – Liza Lo
---
You're always evolving, and even sad water allows you to bloom eventually.
To listen to Liza Lo's sophomore EP is to experience an intimate evolution in progress.
This is the music of a heart exposed; of an individual's growth in motion. Tender, meditative, and soul-stirring, the aptly-titled flourish captures the weight and wonder of Liza Lo's own personal transformation through radiantly rich, beautifully atmospheric folk serenades. It's a soul-stirring soundtrack to rediscovery and inner reckoning; a gorgeous, golden-hued eruption of sonic and emotional warmth.
A soothing and seductive tempest, flourish promises to enrich the lives of all who listen.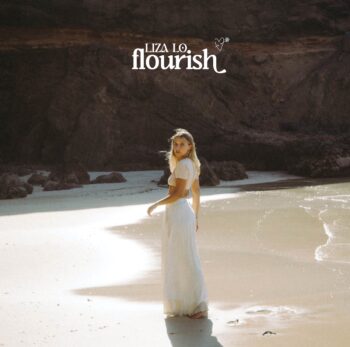 What oh do I do
If my chest can't handle all this good love
Try to turn to you
Switch my views
And allow your guidance
Enseñame como amar
Eñsename como sentir
amor otra vez
– "cómo amar," Liza Lo
Whether she's asking how to love in multiple languages, or plunging into the farthest reaches of her own heart, Liza Lo is an open book: Ready to love, and ready for others to feel what she's feeling.
Independently released May 3, 2023, Lo's sophomore EP flourish captures the Dutch singer/songwriter's artistic and personal growth through fifteen minutes of glistening, dreamy alt-folk. Arriving two years after her debut EP Over the Garden Wall, the lush and lilting flourish places its focus on crafting an intimate, enchanting atmosphere around Lo's vocals and acoustic guitar. A resulting sense of serenity and tranquility permeates every song and every second of her new record, with each musical moment flowing into the next like waves in the sea.
"This record started taking shape at the start of 2022," Lo tells Atwood Magazine. "I was writing songs with my friends Danny and Jack on a farm in the South of England, and we wrote 'this ocean' and 'float' there. We had written many songs together in the past, but this time we went in quite blankly. We were listening to [Lizzy McAlpine's] Give Me A Minute on repeat and talking a lot about the story we wanted to tell together, not knowing at the time that both the songs would end up marking the start of flourish."
"I then got back to Amsterdam, where I was living at the time, and continued writing some more songs. I had recently started dating someone new and the emotions were very real and strong. I was allowing myself to really feel them honestly, which resulted in me writing some love songs about the process. I was writing simply to put my feelings into words. In early Spring I wrote 'cómo amar,' 'hold me,' and 'por ti,' the songs that truly defined my journey of falling back in love again. I decided to add 'float' to this collection of songs as it resembled the turning point of change for me; it marks the proof that letting go of something to move on in life is something very brave and necessary sometimes."
"I worked on the production of the songs over summer and got them almost finished, but something was missing which I couldn't figure out. I turned to my dear friend Tessa and together we finished the final touches on the production, and the songs were then basically finished! I recorded the vocals in Spain and the Netherlands and then went into shooting videos and mixing the tracks. The videos, to me, are what really allowed me to express the full story of the songs. Together with Edu, Luis, and Andreas, we really pulled out all our creativity and shook it into two music videos and an acoustic video which you can watch on YouTube, portraying 'flourish' and her main message: To invest time to care, grow and nurture, so you can bloom into the person you truly are."
---
Lo describes her EP as an atmospheric, intimate, and poetic affair.
"Flourish is a little opening into my thoughts and mind, covering chapters of fear, love, sadness and uncertainty in life. It's a collection of stories and I've written them with an open door for anyone to relate to. I think it's an introduction to the atmosphere I live in and gently explains some of my thoughts and upbringing, including my time growing up in Spain."
"I knew I wanted to make a project that resembled growth in some way, and the word 'flourish' just kept roaming around in my head," she continues. "I didn't go into writing the record with a clear vision on what exactly I needed to say but it naturally turned out to be about letting go, personal growth and regaining trust. I didn't realise that through falling in love again I'd grow this much closer to myself and it really did allow me to evolve. I think love is such a big element in our lives, from friends to romance to family and many more. It has absolutely shaped me and I think flourish is only part one to the ever changing form love takes in my life."
The title flourish really is quite literal, as Lo set out to distill the past few years' life experiences in music.
"I had gone through a lot of change and unfolded into myself carefully over the years," she reflects. "I really wanted to capture that in this project and the main thing that kept coming to mind was to flourish. To me it means growing from a place of solitude, into a blooming human being."
The record opens with with "this ocean," whose achingly intimate lyrics, coupled with the music's gentle ebb and flow, set the tone for all that's to come: With lines that are as catchy as they are cathartic, Lo drops her guard and ultimately surrenders to the magic and euphoria of love's earliest moments: "Felt the trust move upstream, but I'm scared to dive deep," she admits. "Seems I'm stuck in my dreams… You are what takes me here."
Sail over, sail over, sail on over
To my side of this ocean
That's the only way I see I see
---
A short spoken-word interlude about focus, self-reflection, and learning how to love re-centers our senses as Lo proceeds into "cómo amar," her EP's indisputable highlight: A dreamy song that feels as though it were plucked from the heavens and willed into existence.
It's one of her favorites, as well. "I still love the newness 'cómo amar' brings to me when listening to it, but 'hold me' was my favourite for a long time when I'd just written the songs," she says. "I think the songs evolved so much that they keep having a new meaning to me, so I can't really choose one."
"hold me" is another particularly intimate standout, featuring Lo's breathy vocals front and center as she engulfs the ears in a smoldering, seductive haze of desire and enamored longing. The funk of that inner fire is strong as she declares, "Hold me like you always know how to… hold me like you won't let me slip through."
---
Lyrically, Lo has several personal highlights. "I love 'drop my face in your neck, while we slow down the time' as to me it visualises the perfect feeling of losing the sense of time which love can give," she offers. "Then I also really like this lyric out of 'this ocean' – 'felt the trust move upstream but i'm scared to dive deep' describing the little fear or excitement falling in love gives. Then in 'cómo amar' I have multiple favourites. This song lies so close to me, as the person I fell in love with and I speak Spanish to each other, so it's almost like my love language had changed completely and we needed to find common ground together, I therefore ask him, 'enseñame cómo amar, enseñame como sentir amor otra vez.' Besides that lyric, I also really enjoyed writing, 'paseando por mi tereno, mi propio diseño, te lo quiero mostrar,' which really stands for the personal growth I made, which I'm inviting someone new into."
She continues, "In 'por ti,' my favourite has to be the opening lyric, 'seeking, the softness that you hide in your heart.' Opening up can be hard for anyone and this line is a gentle invitation to ask someone to explain their feelings. In 'float' my favourite section has to be, 'So, who set my cards to play? This moment seems surreal, I wish I could stay… But I will find my way,' where I'm describing a surreal section of one of my dreams."
---




There's no denying that Liza Lo is riding high.
flourish's ambient, atmospheric love songs ache with raw emotion as the artist finds her footing and her voice all at once. The result is a wondrous dreamscape that we can't wait to return to time and time again.
"I hope you take away from it that life is ever changing, and that this is okay," Lo shares. "You can always develop, grow, and learn, and that's actually what makes it beautiful. Something that once gave you life can now bring you sadness, something that once feared you can now bring you the biggest joy! That is definitely what I've taken from it. You're always evolving, and even sad water allows you to bloom eventually."
Experience the full record via our below stream, and peek inside Liza Lo's flourish EP with Atwood Magazine as the singer/songwriter goes track-by-track through the music and lyrics of her sophomore release!
— —
Stream: 'flourish' – Liza Lo
:: Inside flourish ::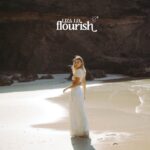 — —
— — — —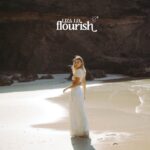 © 2023
:: Stream Liza Lo ::
---