Newcomer indie-folk artist Alicia Blue just released her new single "Blackbird," poetically wrapping a story about Japanese internment camps, the BLM movement, and her own heritage into a song.
•• •• •• ••
At first, she was a poet, explaining the weird and wonderful factettes of this world through her gift of words. Secondly, her passion for words and poetry blossomed into the creation of music, shaping unique storytelling narratives through the three minutes of a song.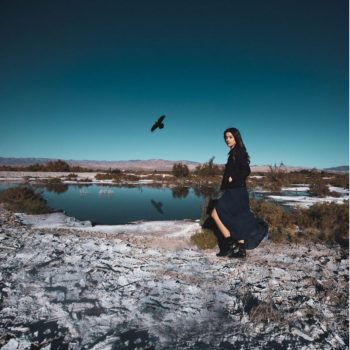 Her name is Alicia Blue – a singer and songwriter based in Los Angeles, California.
Blue's musical journey started when she serendipitously met Malcolm Clark Hayes, a soul singer, 40 years her senior, who toured with Little Richard and Jimi Hendrix. Hayes became her mentor, teaching her everything about music he knew. After releasing her first EP in 2019, fate was clearly on her side. Shortly after, Starbucks reached out to her asking if her song "Magma" could be on one of their globally known playlists.
While, musically, Blue may be a self-titled "late bloomer" since she did not start pursuing that dream of hers until the age of 24, she has certainly always been an exceptional writer. After the release of her intimate debut album Bravebird, which she released all by herself in the middle of the pandemic last April, Blue is now back with her new single, called "Blackbird."
With her new track, Blue has proven once again that her extraordinary gift of words is communicating serious subject matters with poetic sentences. At first, the track may sound light and melodic, with clear influences of her all-time idols Bob Dylan and Joni Mitchell, but the truth is that "Blackbird" is telling an array of extraordinary stories and narratives about Japanese internment camos, the current Black Lives Matter uprising, and the struggles of Blue's own Mexican heritage.
The accompanying video to the song has been directed by Zoe Sher and has been filmed at the break of dawn in Los Angeles' dreamy Highland Park section. Filming the visuals on York Boulevard captures the essence of "home." Since Blue used to live in this area, they woke up at four in the morning, to be done at 9am, just when the city of Angels wakes up.
Atwood Magazine had the pleasure to chat with the artist about the important message of "Blackbird," Blue's deep-rooted connection to the art of poetry, and her upcoming sophomore album.
— —
Listen: "Blackbird" – Alicia Blue
A CONVERSATION WITH ALICIA BLUE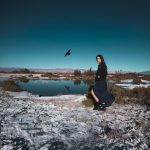 Atwood Magazine: The lyricism of your songs is really poetic. What inspires you and your song-crafting the most?
Alicia Blue: I think whatever I am feeling inside, that is usually chaotic inspires my songwriting the most. That's pretty much the place I write from. With writing my feelings on the paper, I am trying to figure out whatever is chaotic in there. Because it always gets figured out.
So, is writing the tool you use to figure out the chaos that you are feeling inside?
Alicia Blue: A million percent. I cannot think of a better feeling than when I get to do that. When I accomplish that. If I felt contracted or tight, as soon as I have written about it, I feel light as a feather. And I feel happy.
How did you get into making music in the first place? When did you realise that music was your medium of communication?
Alicia Blue: Growing up, I have never played an instrument. It was not in my family at all. I didn't take a class or anything like that. And since I went to a private school, it wasn't taught there. I know that's sad. I also wanted to be a poet. Words were always fairly easy for me because of the same process that we just talked about. A few years ago, when I was 24 years old, I met this soul singer in my last year of college. His name was Malcolm, and, in the past, he toured for little Richard and Jimi Hendrix was his bandleader. And I thought musicians were the coolest people in the world.
Because I didn't know music, I never thought that I could write songs. I cherished music so much, my Bob Dylan records back in the day were my most prized possessions. The idea of creating these three minutes of poetry or storytelling and leaving it with the listener in a song format really turned me on. When I met my mentor, Malcolm, I said, all right, I am just going to try this, starting from the bottom.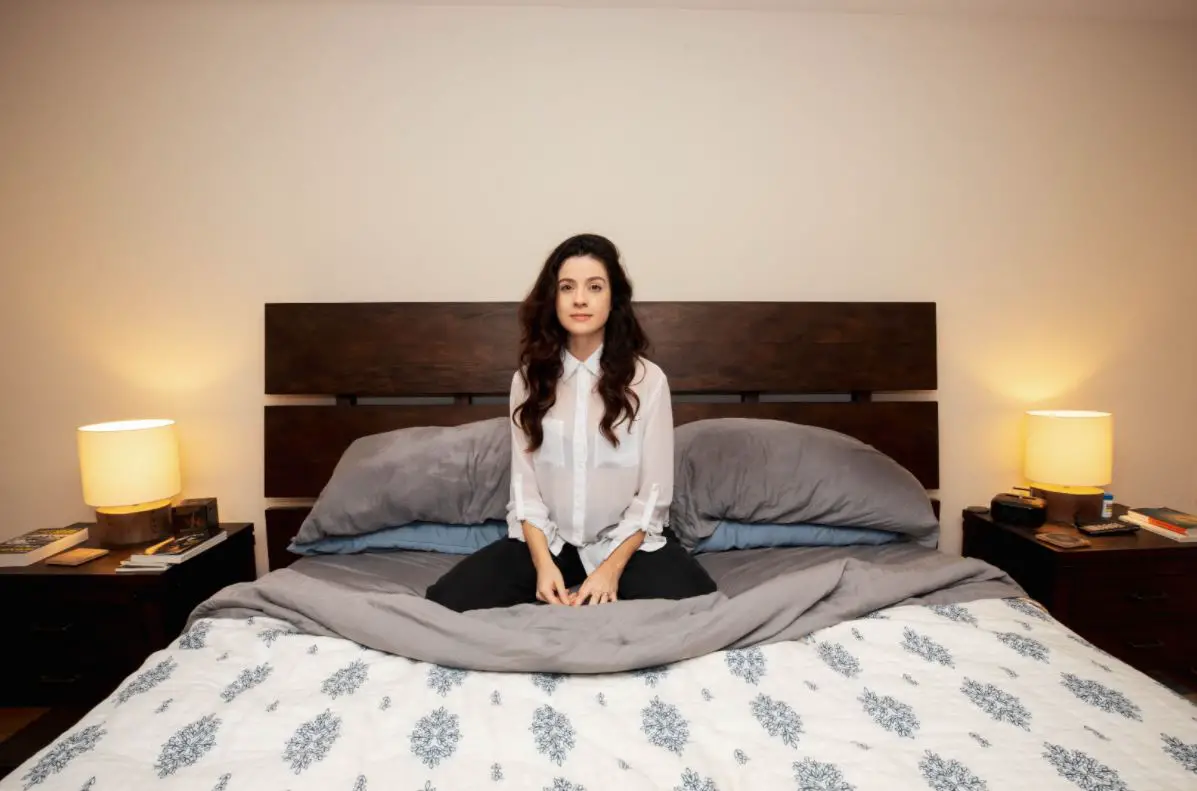 You released your debut album last April, in the middle of a global pandemic. How did it feel to release such an intimate piece of creative craftmanship in such a climate?
Alicia Blue: That's a great question. It felt pretty vulnerable. The chaos happening around all of us was completely uncertain. And so was the uncertainty of releasing this. I know, a lot of people decided to hold their records, and I felt like it was my duty to keep moving forward. Now, I have a manager and he said that we should have definitely held that and figure things out, but on the other hand, he was like, fuck, yeah, you're doing this on your own, in the middle of a pandemic. I also had appendicitis at the same time, which made it a total intense experience altogether.
It was pretty intense since it had also been a year to the date, I had started writing the record. It was a very vulnerable thing to do. I'm also really glad I did it because I believe in moving forward to the next record.
Alicia Blue: It was the top of the pandemic. Everything was kind of culminating for Black Lives Matter here in the US. I was feeling frustrated, like so many people. Not only from the pandemic, but from the social and political climate that was happening in this country. And I was like, okay if I sort of spout all my anger and scream, what is that gonna do? And then you go, well, if I just shut my mouth and keep my head down, well, what is that gonna do? It was kind of just racking my brain like I am a songwriter, I should write a song about it. But how can you really write a good song about this feeling?
It sort of began when I was on the way home from Joshua Tree, which is a cool little town in the desert here in California. I was driving back home to LA with my girlfriends and we stopped in a café on the way home to get a bite. Both of my friends are of Japanese descendent to various degrees. We were talking about the Japanese internment camps that had happened in the US and the horrible things their grandparents went through. They said that they don't know too much about their grandparents' experience because they did not talk about it. I am not Japanese, but my family is Mexican, so I understand why they didn't talk about poverty, it's just like their suffering is kind of been squashed and smashed down.
The only energy that is left after going something so horrible, is the energy to survive. And I said they are not talking about it because they are forced to choose to be the strong survivor or the complaining victim. That's why. Obviously, those aren't two realities. That's not real life. So, I wanted to make this song that was like another option. It is like this third option that you can do, and for me, this third option is writing songs. Of course, I don't know what it is like to be in a Japanese internment camp, obviously. I think that suffering in any capacity produces and forces some kind of creative outlet for all humans to consider expressing themselves.
Since ''Blackbird'' conveys a very personal story, how was the writing process like? Did it come easy to put something so dear into music?
Alicia Blue: That's a great question. I had started writing it Eduardo Rivera, you may have heard about him, he also works with Lauren Ruth Ward. He's a fantastic guitarist, producer, and songwriter. We just said like, let's write a song. I had just come back home from a trip and was brewing with this frustration. I know it sounds pretty simple, but I was thinking about Martin Luther King. He was on my mind in the sense of peaceful protest and how steadfast he was in his truth. No one tells the story of like, when he was first telling it, how few people supported him in the beginning. You only see that big, glorious speech moment where everyone is rallying.
But to get to that point, this person had to be so eloquently peaceful, yet militant and steadfast in his face. So, I was having a conversation with Eddie in his house and was saying like, what a fucking badass Martin Luther King was. And I said that there has to be this third option. And somehow, as I was explaining this third option, like what can we do to say something and have it land in some way. There is like this duality to it, just MLK-like. So, I started researching the birds and their sounds and came across the blackbird. They might sound really pleasant, but underneath it, it's actually like a vicious war call. There is that line in the song: "Though our song is sweet/do you hear the alarm underneath?" There is this dichotomy to being peaceful, but also strong.
Wow. I didn't know that about ''Blackbirds.''
Alicia Blue: In particular, it was the red-winged blackbird. Originally the song was called red-winged blackbird. But then that was too much to say.
Watch: "Blackbird" – Alicia Blue
''Blackbird'' is speaking about a lot of important topics, in particular your ancestors of Mexican descent. How does your heritage influence your music?
Alicia Blue: Growing up, I felt like people get passed down wisdom and the tools for life. I had to go and get that for myself. The poverty of the past of my ancestors in Mexico and then struggling here. They existed as immigrants, and my grandfather was being hit at school for speaking Spanish. So, that's like being truly treated like a second-class citizen. I just wanted to kind of touch on the underdog in any situation. I grew up with girls going like "ew the gardener's here" and of course that was a Latino or a Mexican man, mowing their lawn.
That kind of second-class existence influences my work in what I am saying conceptually. It does not necessarily influence the music, I am not pulling from like the mariachi music I grew up with, although on my first EP I did with Eddie, there is some of that. It's part of my narrative. Everything is existing because of the way it was nurtured or not, it's like Frankenstein. I'm just fascinated with that narrative throughout every culture and my own view.
''Blackbird'' goes through an array of emotions during its lyrical course. How was it like to convey such a versatile spectrum of feelings in one song?
Alicia Blue: Well, it felt really good. Again, it's like that, getting the organisation to that chaos. Getting that versatility out was like something that I don't always see in songs, especially in the narrative. It's something that I've always kind of tried to do in my music. There was a little part of me that went like oh, will this be too hard, difficult or complex? But what I found is that people still connect with it. Everybody experiences this dynamic of emotion. I mean, this is kind of corny. Did you ever get into Kacey Musgraves' last record, Golden Hour?
No, not yet. Is it good?
Alicia Blue: It's so good. It really is. There is one song on that record, called "Happy and Sad." It's like in a really simple way she wonders herself, what is this feeling that I am feeling? It's just happy and sad all the time. I think the best art stays in that kind of suspended area because that's what real life does. It's beautiful and ugly all in one. And that honesty, that honesty is beautiful.
It's always both things. People tend to grow up believing that the only way to live a happy life is to be constantly happy. And then when they grow up, they tend to feel overwhelmed when they experience all emotions.
Alicia Blue: That's exactly what I am talking about. It's like when you are not told that there's a spectrum of colour that you can hold. And you don't have to completely unravel. You know, then you're like fucking ready for life.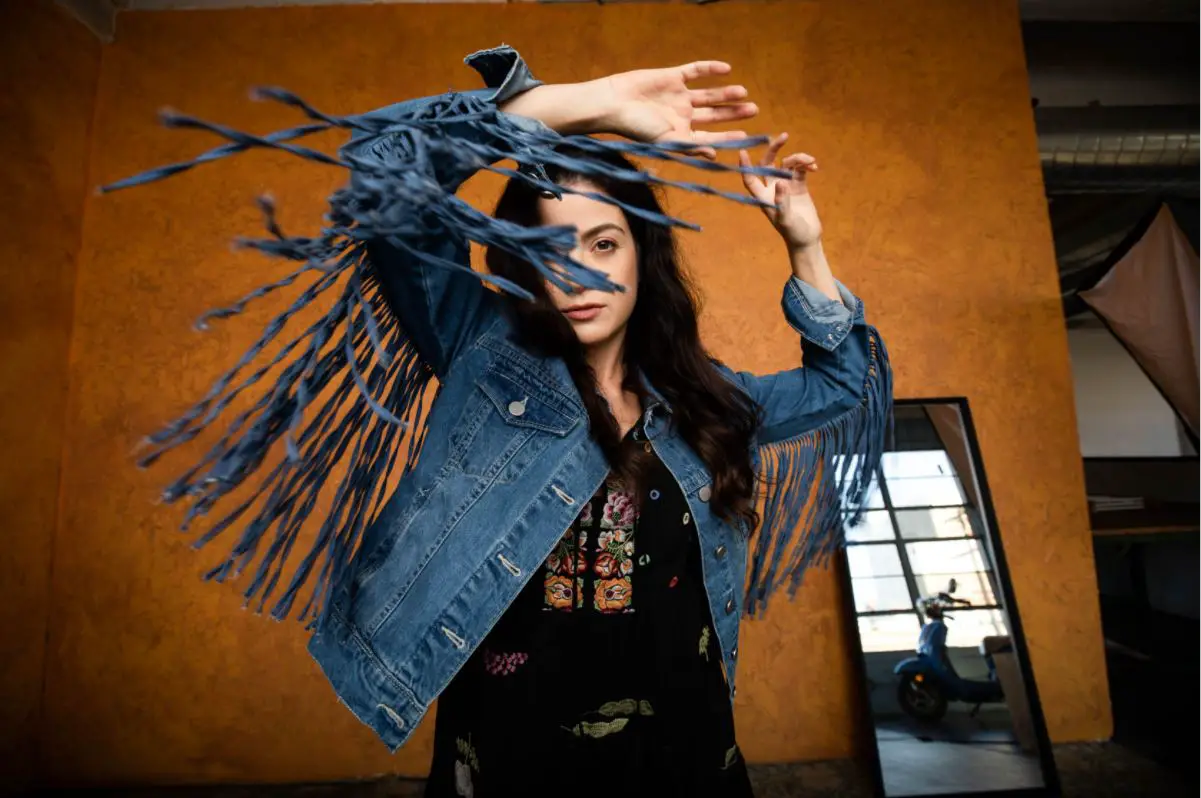 ''Your simple sin was poverty'' is such a powerful lyric with incredible relevance. What moved you to write this line into the song?
Alicia Blue: I'll just get a little personal here. My journey has been kind of unusual. I didn't go to music school, but the people I am playing with now all went to the best music schools and the best colleges. Growing up, if I even had known that music school was my calling, I would have not had the money to afford it. I did not have parents that would have been able to emotionally, intellectually and financially nurture something like that for me.
When I was first kind of getting my feet wet, my gift with words would put me in circles with people that just had parents completely available to them. I know it, everything looks better from the outside, the grass is always greener somewhere else. That line is basically like compassion for the man mowing my old friends' lawn when I was a little girl. The gardener, his only sin was poverty. And now, the person is not considered as an equal person, capable, weird or different. That frustrates me because I've lived that myself. You don't know the conventions of this room and you don't know if the conventions of this room are different from the conventions of that room. I've always hated that. I've always wondered why people just don't accept people.
Like the basic knowledge that everyone comes from a different background. Why are people cling to the status quo? That line is like let's forgive this person for coming from poverty, from a lack of information or education.
That's so true. I love the meaning of that line.
Alicia Blue: Also, I'm honoured because that's my favourite line from the song, and since it's not out yet, you're the first person to say it back to me.
What message do you want to communicate across with ''Blackbird''?
Alicia Blue: The message is certainly a hopeful one. But it's also, the blackbird is a cheerleader for what is misunderstood and may be considered unpopular, ugly or taboo. And the hope is like that this song is for you. If you're not understood, if you're really suffering, or if you're not believed. I think it's really critical for space to be available to people, especially when they are being pushed and pressured.
Again, the Japanese internment camp thing, like can you imagine going through that and then not being able to talk about it? That's just so unbearable. It never leaves, it's gonna come out somehow. And sometimes it isn't until your grandchildren are speaking about it.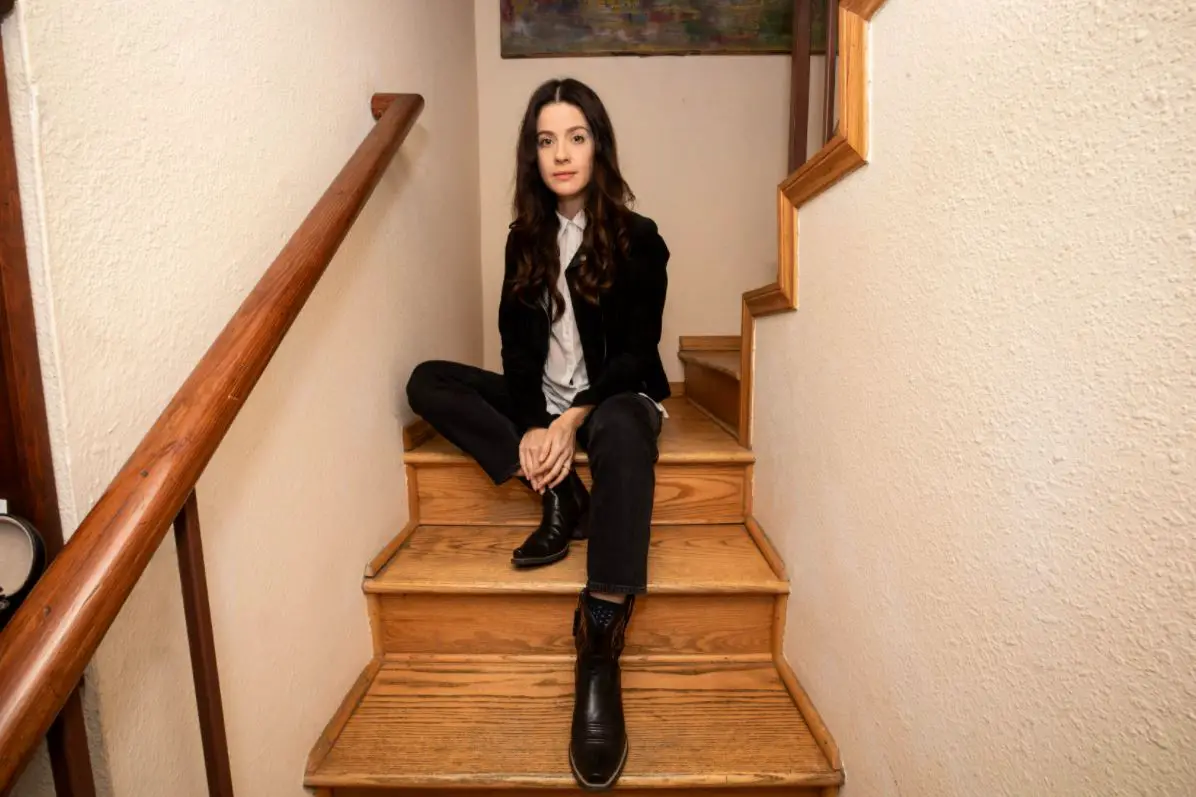 Since your debut record Bravebird came out last April, what is your personal favourite song of it and why?
licia Blue: There are a few for different reasons. The two I can immediately say are "Queen of Echo Park" and "Star Maps." I really love the musical way just lands right inside you and you can listen to them all over and over again. Also, "Blind Spots" is really great.
Poetry seems to influence your work a lot. Who is your favourite poet?
Alicia Blue: I love Kerouac. Kerouac, Bukowski of all the beats. Lately, I have been quite obsessed with Rumi. I just read Patti Smith's book Just Kids. That definitely influenced some of my writing. I just started "slouching towards Bethlehem" by Joan Didion, and I wish I got into it earlier.
What can we expect for your sophomore record?
Alicia Blue: I am going to Nashville soon and I am really stoked. I have been working with this guy called Lincoln Parish, he is from Cage the Elephant. I've also been working with Sadler Vaden, who is part of Janson Isbell's Bill 400 unit. I don't know if you are a Jason Isbell fan, but if you don't know his music, he like one of my favourite songwriters that have ever existed. So, I have been working with them and I'll see them once I get to Nashville. I really love working with Lincoln, because obviously, he's a rock and roller, he really kind of brought some energy in me. The intimacy of my lyrics is always king. So, it's gotta get a little bit more rocking, it will be like folk-rock world.
— —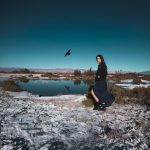 ? © Tammie Valer
:: Stream Alicia Blue ::