An acclaimed indie artist with rock 'n' roll and country flavours, Scottish star Amy Macdonald tells Atwood Magazine about her new record 'The Human Demands'.
Stream: "The Hudson" – Amy Macdonald
Amy Macdonald is the international star who has sold millions of records, performed at some of the world's most sought-after venues and topped the charts in 10 countries after the release of her debut album, 2007's This Is The Life. Throughout her illustrious career, Macdonald has written and released four critically acclaimed studio albums, and she's about to make it a fifth.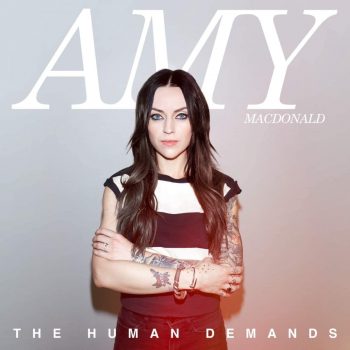 Where did it all go wrong my love,
where did we fall apart?
Summer in the 70s, living like a king and queen
Looking back on where we are
Where did it all go wrong my love,
where did we drift away?
Walking along the Hudson,
singing you my love song
Never let it fade away
– "The Hudson," Amy Macdonald
The Human Demands is the much anticipated fifth album from the successful Scottish singer, and with gleaming melodies and resonant vocals, it's sure to live up to expectations. Standout tracks like "Statues," "The Human Demands," and "The Hudson" propel the record's rock 'n' roll momentum, and softer tracks like "Something in Nothing" remind listeners of what a skilled songwriter Macdonald really is.
Produced by Jim Abbiss (Arctic Monkeys, Kasabian), the record will be released on October 30th 2020 under Macdonald's new record deal with Infectious/BMG. Macdonald describes The Human Demands as a record about getting older, which as a woman in her early thirties may sound premature, but as someone who has been in the music industry for 13 years, Macdonald feels she has had a lifetime of experiences.
Atwood Magazine spoke with Amy Macdonald about The Human Demands, yearning for live shows to kick back into action, and writing music 13 years into her career.
— —
Stream: 'The Human Demands' – Amy Macdonald
A CONVERSATION WITH AMY MACDONALD
Atwood Magazine: Before we jump into the questions, congratulations on the new record - it's brilliant!
Amy Macdonald: Thanks! I'm super proud of this one, it's great to hear you like it too!
We have to talk about the current circumstances. How does it feel to be releasing an album during a lockdown?
Amy Macdonald: It's weird. I'm currently on my way home from a trip to Germany to promote the record, and whilst it was great to get out there, see people, try to feel normal again, it felt anything but normal. I guess it's natural to wonder if it's the right thing to be doing, or if I should hide away until this all goes away, but I truly believe people need music more than ever right now, so I'm really excited to share my new record. I hope it can bring a bit of joy and salvation to my fans old and new.
Have you had to delay the release at all due to the COVID-19 situation or was The Human Demands always due for release in October?
Amy Macdonald: We started recording in February with the intention to have the album out late summer, but lockdown meant we had to put the recording process on ice for three months, and once we managed to get back in the studio in July to finish it off, October was the soonest we could get it out.
The promotional side of this release must feel strange compared to previous experiences. What do you miss most about the music industry before the pandemic?
Amy Macdonald: I miss playing live so much, for me, no song is finished until you've played it live, and I just wish we could get out there and play these songs to the people! But I've announced shows for April and May next year, and it's great to have dates in the diary. I think, as humans, we need to have hope and things to look forward to, and I think my fans agree as I've sold a good few tickets already. I just really hope the world is fixed enough by April/May next year that we can actually do them!
You've spoken previously about how The Human Demands is about growing older and witnessing some of the less pleasant sides of life, such as depression. Did you find delving into those emotions particularly taxing?
Amy Macdonald: I don't think so really, I'm the kind of person who worries about friends and loved ones a lot, and a lot of the time I write songs based on the experiences of others, or as an attempt to try and help them make sense of what they're going through. Strong Again is definitely one of those, just wishing I could do something to help my friends who are suffering with their mental health.
You began your music career at such a young age, would you say writing music and creating a record is easier in your teens when emotions and feelings feel so intense and heightened, or now in your thirties after developing the emotional maturity of a fully-fledged adult?
Amy Macdonald: I'm not sure if either was easier, but for my first record, I had my whole life's experiences to draw on. Whereas, five albums in that's not quite the case. I just need to make sure I take time between albums to live a normal life for a bit and rediscover my love for writing songs. Being on tour is not an inspiring place for me to be creative, and I'm sure no-one wants to hear a record about tour buses and dressing rooms either!
Amy Macdonald: Yeah, when my dad talks about them going over there when they were young it sounds wild! New York in the seventies was not the tourist-friendly place it is now. My dad described the hotel they stayed in as an absolute dump, the bedroom door had to have three massive bolts across it to keep them safe! But they've always had a real passion for traveling and experiencing people and places all over the world, I guess that's where I get it from!
You've always been an intelligent lyricist with a knack for writing a great melody, but which usually comes first during your songwriting process?
Amy Macdonald: Thanks! I think they come together, I mean I do keep notes of ideas for lyrics sometimes, but really when I sit down to write a song it kind of just all comes out of me in the moment. A big difference for me now compared to when I first started as a songwriter is that rather than do everything myself like I did on my first three albums, I've started collaborating with other musicians to help me on the music side of things. I still come up with the lyrics and vocal melodies, but it's cool to work with proper muso's to take care of that bit. I'm definitely a songwriter/lyricist first and foremost, and a musician second.
Your fans have already heard ''The Hudson'' and "A Crazy Shade of Blue" and both are fantastic songs, but of the unheard tracks on the album, which would you say is your favourite?
Amy Macdonald: It changes all the time! But right now my favourite is probably 'Statues', it's a song me and my live guitarist Thom started whilst chatting about the places we grew up. We worked it up and recorded the demo sat on a dressing room floor at a Swiss music festival. It's a really personal song about my childhood, and when I played it to my mum and dad they loved it, my mum even cried a bit!
You've announced a live show at the London Roundhouse in 2021. That must be exciting after the music industry has faced a complete halt in live music. What are your expectations for that show? Do you anticipate it to be socially distanced?
Amy Macdonald: Well right now I've got no idea what to expect of anything, but I'm hoping by the time the show comes around in May things will be back to normal and we'll be able to come together like we used to be able to. Concerts don't really work for anyone if we have to socially distance – the fans or the artist. I've got everything crossed that we'll be able to do it properly!
And finally, how would you like your fans to feel after listening to The Human Demands? Are there any emotions you would particularly like the record to evoke?
Amy Macdonald: I think I'd like them to feel like whatever they're going through in life, the ups and downs and struggles, that they're not alone, that we all find it hard, and that it's ok to feel like crap sometimes, it doesn't last forever. Social media isn't real life, so don't judge yourself on those standards, and if you just focus on those around you and talk to them about how they're feeling and how you're feeling, then we can all help each other through the sh*t.
— —
— — — —
? © Roger Deckker
:: Stream Amy Macdonald ::
---