#PopDoneRight
— —
Canarian Sofi de la Torre, rising self-made artist hashtagging her music as #POPDONERIGHT, released her debut album on 19th May 2017 titled Another. Not me. I'm Done. The record takes on themes similar to her previous two EPs, transforming, however, into a more in-depth study of wealth, conceit, intimacy, vanity and love. Tracks released earlier as singles (the Blackbear feature, "Flex Your Way Out" or "$") come with fresher, unheard music.
$
Her nine-song record kicks off with the low-fi, laid-back song aptly titled '$'. Her first lyric "Fuck ya money, I don't care about it," sets the indifferent, almost condescending tone for the track. Picking on a pervasive theme of hers i.e. wealth, Sofi draws us in through a sharp critique of said affluence, slipping into a gauzy chorus, richly layered and produced, allowing her voice to seem ethereal, other-wordly.
Presumably dealing with the arrogance that often comes with affluence, she repeats that she's seen these kind of people ('yous') by the "dozens". "Leather inside private plane, at least it's comfy, at least it's comfy" is one apparent consolation that she guesses at and "Go head boy, sip that bubbly with your pancakes," is the ending mockery that she offers, a glazed taunt to the unoriginal, conceited opulence that she is criticizing here, one that can only give 'comfort' and nothing more. The lingering finish to the song only adds to it's memorability.
---
Views of You
Featuring rapper Taylor Bennett, de la Torre continues along the lines of dreamy and other-worldly, the constant switch between tempo only adding to the song's intrigue. Bennett lends to the chorus but his true element is the mellow bridge– while his voice seems to cut in abruptly, he adds a roughened edge to her atmospheric track and strengthens the complex composition of pace that switches drastically throughout the song.
Her hazy voice has a mournful undertone, a sort of hopelessness that is best captured by the lyric: "I don't know when I'll stop loving you till there's no me." In her verses, we get a sense of her conflict, her inability to move on and her willingness to forgive anything ("I'm not even mad you came wearing her,"), a reflection of her deeply troubling relationship with him. The track continues in the same ethereal fashion as the first one, differing in it's stuttering pace and is simply written, managing still to trouble us just as much as Sofi, best seen in her almost masochistic lyric,
Cause views of you, views of you is all I want
Breathe them into my lungs
Until they tear me apart
---
Old You
Quite possibly one of the most catchy songs off the record, Sofi starts strong with minimal instrumentals, choosing instead to emphasize the dragging beat and her voice. It only makes sense that as Sofi heads on to a more empowered road, that the song should correspondingly pick up. The party-vibe chorus swarms in, a layer of pitched melodies, drawing a stark contrast with the preceding verses, warning him that "No, I ain't tryna love you if you are the old you, yeah,".
The mood here remains pensive, but has shifted away from previous hopelessness. Here, Sofi sounds like she knows what she wants, that she's ready to fix what they have and look forward if he's changed. This is the song of second chances, of possibilities, of freedom. While there's just the barest glimpse of uncertainty in the pre-chorus, ("I don't know, I don't know") she's given him a striking ultimatum. A long-drive song, a swaying-dance track; incredibly catchy and empowering, on 'Old You' Sofi de la Torre proves that she really can be #PopDoneRight.
---
Nike Grey
Giving 'Old You' a run for it's money, Nike Grey makes for stiff competition in terms of how catchy it is, how easily it'll have you swaying to it's strangely addictive chorus. While displaying no superior sort of writing, Nike Grey boasts an amalgam of guitar strumming and a rising and falling beat, characteristic of de la Torre's work. This songs follows in the lead of 'Old You' and previous songs like 'What People Do' and 'Give Up at 2', it falls short lyrically. Money, dimes and Gucci are made mentions of, but left at the surface.
However, Nike Grey is certainly a song that stands out, not for it's writing, but for it's memorable production that allows for it to be an enjoyable listen if you're not looking for something too meaningful.
---
D.G.I.T.
D.G.I.T has a very hip and beachy vibe, delving into the unlabelled and uncertain space between two people, insisting on the importance of timing ("But that was the timing, I wasn't ready for you yet") and exploring the possible idea of giving in to one's feelings, of giving up one's defenses. In her very, very mellow chorus, she repeats "Don't get twisted,", telling him that "You are the best thing I've ever kissed and you are the first thing I knew I missed ya". Here, Sofi is realizing something, is understanding herself better.
Self critical in her verses where she calls herself "silly", "clingy" or "needy", she finds reconciliation in the bridge where she says that she'll let him through. Musically, D.G.I.T is smooth listening, layered with a tropical beat and lovely chord progression, dizzyingly compelling as it springs to being one of the best songs off the album, a peppy testament to Sofi's ability to create pop tracks to have on repeat.
---
3 is the New 2
The least impressive song off the record, 3 is the New 2 attempts to do something new but only falls through under the weight of it's own expectation. Musically, it strikes no chord and lyrically, it carries little power. It's quite certainly the let-down of the album.
---
Cocktails and Emotions
Cocktails and Emotions packs plenty of acidic punch in both it's music and it's lyrics– the hook has some very noticeable and pleasing bass that only serves to highlight Sofi's voice. The underlying tone of destruction lingers throughout the track, even as Sofi professes indifference; "It's not on me to change ya" . The most striking lyrics come right up before the pre-chorus, when Sofi sings,
Mix some excess with an ex, that's one hell of a potion
Stir it up with some sex, that's cocktails of emotion
Yeah with an ex, that's one hell of a potion
Uh, and some sex that's cocktails of emotion
All there is is the cocktails, the sex, the emotions, a curious mix of things that doesn't seem to irk Sofi at all– she seems distanced from itl, as she says "Do what you want, baby, do what you want," and puts her faith in a simple fact, "I am the girl you wanna come back to,". The bridge only digs into the issue deeper, revealing it to be more and more troubling as she sings about smiling at the camera, about drinks getting her fired up. She's relinquished all responsibility, she knows he'll come back and maybe it's been happening so often that she can't bring herself to care about it. Cocktails and Emotions is a curious exposition of a problematic, a troubling narrative that is put together without too many emotions, possibly with more cocktails.
After all, it's "push and pull all day," and boy, do we enjoy listening to it.
---
Flex Your Way Out
Flex Your Way Out does not feature enough of Blackbear and that leaves the song sorely lacking. This song, however, fits perfectly as one of the closing tracks– Sofi's album title itself comes from here. "Go ahead and play with another – not me, I'm done," is how she kicks the chorus off, the culmination of her growth and struggle. This is a track of closure, of trusting oneself and that's a sentiment that many of us will be familiar with. It has a sense of finality to it.
The emphasis remains on Sofi's voice, the muted instruments only peaking in the chorus when layers emerge. Blackbear's verse is the perfect mix of his own style and Sofi's, his vocals alternating between the two. The only regret is that is his feature isn't longer– he only haunts the background in the form of echos as Sofi takes over the song again. Perhaps Blackbear's feature raises the bar for expectations but 'Flex Your Way Out' feels like there's something missing, something absent and therefore holding it back from #PopDoneRight.
"Flex your way outta here," is certainly- and quite amusingly- a chorus lyric that nobody will be forgetting any time soon.
---
U Can't Do Easy (demo 001)
Another let-down, U Can't Do Easy's only redeeming factor is the diction of certain lines in Sofi's verses. Other than that, it seems like a bit of a mess. Her "Swear to God" in the third hook had to be muted because it was that painful to the ear. While the song surveys one of Sofi's favourite themes, infidelity, it offers little to us in terms of new music or lyric. The vast majority of the track and it's composition create only confusion and make the listener wonder why this would be made the last track of the album, when 'Flex Your Way Out' had all the elements of an ending. U Can't Do Easy does not sit well with Sofi's retinue of #PopDoneRight and instead, takes away from the rich, layered gossamer of her album.
Another. Not Me. I'm Done. is Sofi de la Torre's third collection of tracks and her very first album. Despite two of three tracks that fall short of the #PopDoneRight brand that has built Sofi, her album only strengthens her position in the music industry as an up and coming artist. Unafraid of being critical of both herself and the things around her, Sofi manages to create some massively peppy tracks without relinquishing depth and meaning. While it is not without it's faults and disappointments, Another. Not Me. I'm Done. only adds to Sofi's clever restructuring of the 'pop' genre in our ever-changing world of music. Overall, she #GetsItRight and makes more than just a few splashes. From the looks of it, it may be not entirely be smooth-sailing from here on out but she's still afloat and she's not going anywhere any time soon.
It's going to be very, very interesting to see what she has lined up for us next.
— —
:: stream/purchase Sofi De la Torre here ::
— — — —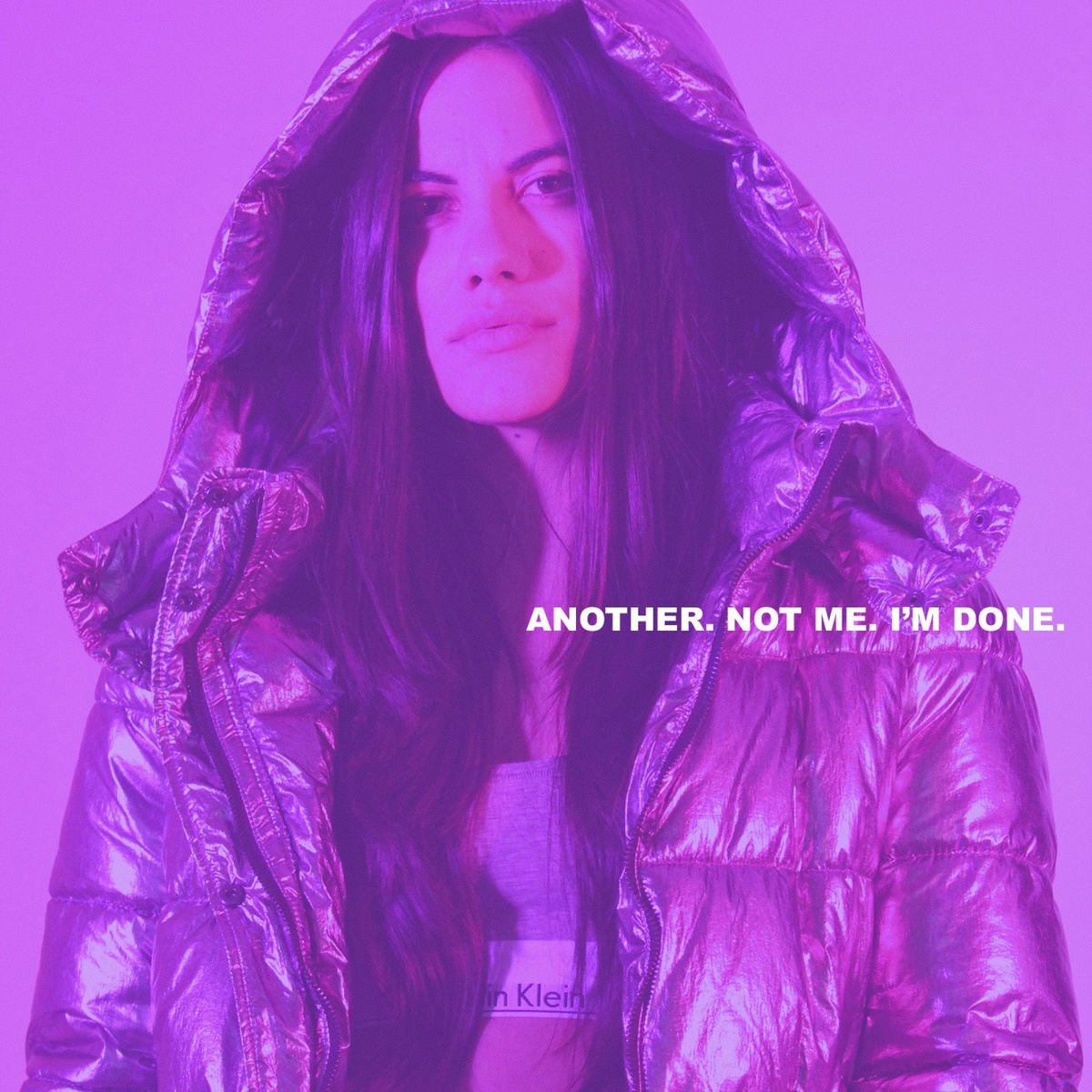 :: Listen to Sofi de la Torre ::