Atlanta, GA's pop/rock band glimmers have created a relatable, nostalgic world in new concept EP, 'Worlds Apart', and its supplemental music video series.
Stream: "By the Lips" – glimmers
---
One night in Atlanta's beloved venue, The Masquerade, five musicians met and became the kind of friends that turn into family – so became up-and-coming pop/rock band glimmers. Comprised of Maggie Schneider, Alex Downtain, Alex Norrell, Ari Patwary, and Jeremy Russell, glimmers officially began in March of 2020, right as the pandemic changed the course of the year. But despite isolation and dashed plans, glimmers was given the gift of time to create a world they're incredibly proud of.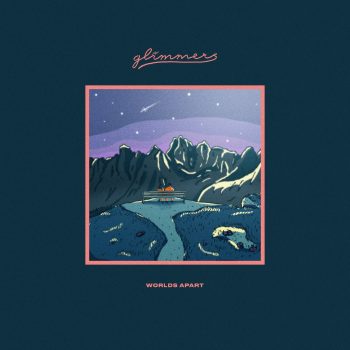 Following closely behind their 2020 EP, Cluttered Heart, comes Worlds Apart, out April 23, 2021 via Common Ground Collective. Though most of the songs on Worlds Apart have been ready to be released for nearly two years, quarantine gave the band time to put together a series of Rom/Com inspired music videos to supplement the story the songs tell. A concept record through-and-through, Worlds Apart follows a relationship through its ups and downs, the dance of falling in and out of love and all the emotions that come with that experience.
With patience and time, and the spark of magic that comes from creating art with your friends, glimmers have created a relatable piece of pop/rock nostalgia in Worlds Apart. Recently, Atwood Magazine spoke with glimmers' Maggie Schneider (vocals/piano) and Alex Downtain (guitar) all about the EP's inception, the story behind their episodic music videos, favorite Rom/Coms, and dreams for the future. Read about it in our conversation below!
Worlds Apart is out April 23!
— —
A CONVERSATION WITH GLIMMERS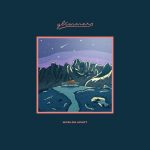 Atwood Magazine: Though you've been playing together for a while, glimmers became a band right before the pandemic hit, right?
Maggie Schneider: Yes, pretty much. I was originally a solo artist and I had the backing band of guys that are now glimmers with me. But we'd decided to make the transition in mid-March of 2020, because it didn't feel like just a solo act to me anymore. We all bring something to the table and we feel like a family, so I remember a zoom call with the guys and I think I was like, "I don't feel like just going by my solo name anymore, I think this is more than this." And luckily they were like, "Yay, let's do it!"
Alex Downtain: Yeah, why wouldn't we want to do that?! I also misspelled [Maggie's] last name from time to time so… *laughs*
I know you released two EPs during this past year. What has it been like to release your first music as a band during such an odd time?
Maggie Schneider: It's been interesting, but I think that it's been really cool to have the music ready. I know for a lot of my friends it's been challenging to even get studio time, so the fact that we had the music ready and had the time to spend creatively about how we wanted to put it out. I think that was something more positive that came out of it; it's been fun minus the not playing shows part, because I know we're excited to play shows again.
Alex Downtain: It's been a little weird – the show part, and having the music for a year or two, just sitting, waiting for the right moment. In a sense, it feels like we had a little bit of an advantage during COVID, just because we did have all this material ready to be released. So we could be away from each other and still get stuff done.
I've really enjoyed your upcoming EP Worlds Apart; it reminds me of early high school, in a good way! And it tells a story conceptually all the way through; how did the concept for the EP start to take shape?
Maggie Schneider: I'm a musical theater kid, my boys know this about me, so I kind of overthink all the little details, and we all love concept records and albums that have a theme at the very least, that goes through each of the songs. So, towards the beginning of quarantine, I talked to our collaborator Deanna, who's edited and directed all of the music videos we've put out so far, because I was listening to the songs and I thought it would be cool if we ordered them in a certain way to where they told a bigger story outside of releasing them as singles. So when they're put together, it feels like a story from beginning to end about a relationship.
So I called Deanna because I thought that we could hopefully release a music video for each song, where each video is like an episode that comes together like a short film for this larger story. That idea came together in early March of 2020, and then we started storyboarding and figuring out what order of the songs would work, and how to make each song like its own story, but also connect them together. I'm super happy with how it turned out, because to me it does have that musical theater sensibility of [being able to] see the songs in a show back to back, but it would make just as much sense as if you pull them apart and think about them individually.
I was going to ask about that as well! Since the songs are in chronological order, did you write them that way or did the order come about afterwards?
Maggie Schneider: Afterwards – we've had the last four songs for two years at this point. [Alex] Downtain produces all of these songs, so we had the chance to remix them and add instruments. But the first song that we put out, "Not Good at Goodbyes," is a little over a year old.
Alex Downtain: We recorded "Not Good at Goodbyes" in January of 2020, So we sat on it for a little while, made some changes to it, and we wanted to make sure we were going with the right people to master it and all that kind of stuff. So I'm glad we waited [to release it,] and when we did, it was kind of perfect.
Were you kind of working on Cluttered Heart around the same time, or did that come about a good bit earlier?
Maggie Schneider: It was during the same time, actually during the same sessions.
Alex Downtain: All of the songs [on Cluttered Heart and Worlds Apart] were originally going to be on the same album.
Maggie Schneider: Yeah, so we kind of changed it up when we had the idea to start glimmers. We were thinking we'd take the singles route and have each of these songs breathe a little bit and see which ones people connect to more. And I'm glad we did, especially in quarantine.
Totally. The album art for both of your EPs is cohesive – is Worlds Apart kind of connected to Cluttered Heart, or would you say the two EPs are their own separate stories?
Maggie Schneider: I would definitely say they go together. Because most of them were created in a similar time, that played a role in it. And also, the names of the two EPs aren't accidental – I wanted them to rhyme and feel like they're pieced together even though they're two separate units, because I love those little pieces and little details like that, that some of my favorite artists pay attention to. But I love the illustrations, we had an artist whose name is Never Glad Art on Instagram. I'm not exactly sure what their actual name is, it's kind of a mystery, but he is fantastic. We all loved working with him, and all of us collectively went back and forth on how we visualize the songs, and he really helped bring them to life.
Alex Downtain: We would just tell him a little bit and was like, "I've got you!" He's so great.
That's impressive if you can just let someone take the reins on that! That's great. And I didn't pick up on the the rhyming of the names but I really liked that as well. I noticed "Not Good at Goodbyes" is kind of the crux of the EP. And it serves as the bookends as well with the original version and the acoustic. Was there a meaning behind doing two versions of that particular song?
Alex Downtain: We've actually had a bunch of variations of this song. We've had different vocalists on it, we've tried different things – we wanted to make sure we're doing what was best. So we got Nick [Pena] on it, and we didn't know at first where the male vocal was going to be and who was going to do it. And so at first, we were going to have the original and then just have a male vocal on the acoustic version, but it worked out that it sounded so good on the original track we decided to do do both.
Maggie Schneider: I was so happy to have his voice on this song, and he's one of my best friends too, so it just felt right. It feels right on the song but it also feels right personally, because we all connect with it together.
We already talked about this a little, but the music videos for each song on Worlds Apart add such a cool component to the record, furthering the story. How did that idea come to life?
Maggie Schneider: So, this was like the first week of quarantine. I was bored out of my mind, and we were on Zoom calls everyday trying to figure out the transition between my solo act and becoming glimmers and getting everything ready. And I called Deanna and said, "Hey I may be a crazy person, but I have this basic outline for a new EP, we think we're going to rebrand to glimmers, we kind of want five music videos to be separate episodes of the same story." She immediately was like, "This sounds awesome!"
And so for months, Deanna and I sat down and talked about making a storyboard in terms of how we wanted it to look and how we wanted each of the videos to kind of progress to the next one, and it worked out really well. She's so fun to work with, and what's cool about the videos is she's the only one who directed, edited, and shot those videos. We didn't have a crew, it was just us in the band, and Deanna. So huge props to her on that! We did five videos in 12 days, but the days were all in different weeks. So the challenge was to make sure that everything was cohesive, like that we were wearing the same outfit and I was wearing the same makeup, and the spaces that we were in looked the same and felt the same. It was fun for me because I love rom coms, so I feel like it's my own little rom com world.
Alex Downtain: It's also something that when watching it, I feel like everybody can relate to it. We've all had a heartbreak, we've all we've all been there, and that kind of brings it home a little bit, at least for me.
I love the videos so far, and I'm excited to see the rest of them. I know you mentioned you love the like late 90s/early 2000s rom coms. What would you say are some of the top movies that inspired the music videos?
Maggie Schneider: Pretty in Pink and Sixteen Candles are huge ones for me! I love John Hughes.
Alex Downtain: I love 13 Going on 30, I'm not gonna lie. Then you've got some of the classic newer ones like Along Came Polly.
Gosh I love those! So good. So I know that, again, you guys have been releasing music without being able to play shows, and I feel like we're getting closer at least to that possibility. Once that day comes, what's the first venue you'd want to play and who would you want to share the bill with?
Maggie Schneider: I feel like the Masquerade, our home venue in Atlanta, would be the venue for sure. We all met there, and that's our home away from home, so I think for both of us it would be the Masquerade. Who would you want to open for [Alex] Downtain?
Alex Downtain: Ok, so selfish Alex [would want to open for] Four Years Strong; they're one of my favorite bands. But realistically, I'd probably want to open for All Time Low or All American Rejects. or if All Time Low and All American Rejects were on the same bill…I would cry. Or I'd love to open for PVRIS!
Maggie Schneider: All Time Low is my favorite band, so I'd love to open for them. Or The Band Camino.
Once Worlds Apart is released, what's something you hope listeners might feel or experience when they hear it in its entirety?
Maggie Schneider: I really hope that people can relate and connect to the songs, so if they're going through a heartbreak or something that's a little tough, that hopefully they can listen to the EP in full and feel connected to it, and feel hopeful that things are going to get better. For me, music has been something that has helped me so much through the self isolation of this year. New Music Fridays have just made my whole week, to be able to connect with music and see what my favorite bands and artists are doing at this time. So I hope that we can do the same thing for people.
Alex Downtain: I agree. I just want the listener to be able to connect and, to let them know that everybody has gone through [something tough.] It still sucks, [but I hope the EP gives permission] to listen to yourself, follow your heart and your gut, and do what's best for you at the end of the day.
That's awesome. What music have you both clung to that's helped you over this past year?
Maggie Schneider: The new All Time Low record was huge for me. I would just go on drives, wouldn't go anywhere, but would just drive around and listen to that album and it would make me feel happy and like things are normal. And also Julia Michaels is another artist that I love and I became a much bigger fan of her during quarantine.
Alex Downtain: I've been tearing up the newest Young Blood record, it's eally good. And obviously, I have to say Four Year Strong's record, Brain Pain, they released right before the pandemic hit.
— —
— — — —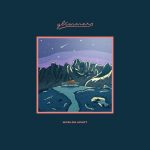 ? © Sophie Harris
:: Stream glimmers ::
---