British artist D.A.N channels vulnerability into empowerment in his vibing electropop anthem "Think About Me."
— —
Seldom do we associate vulnerability with empowerment. Our raw selves are the most open to attack – the ones that need "shielding" and defenses of sorts. But what if we embraced our truths, and let them shine regardless of the world's response? British artist D.A.N channels vulnerability into empowerment in his vibing electropop anthem "Think About Me."
There's some congestion in the brain
Not something that you'll like to hear
I'll even say it face to face
Cause I'm not as unkind as you dear
I even tried to give us so much space
But I've been trying to keep the thoughts away
I've been walking to the same old streets
I've been walking through the
stations where we used to meet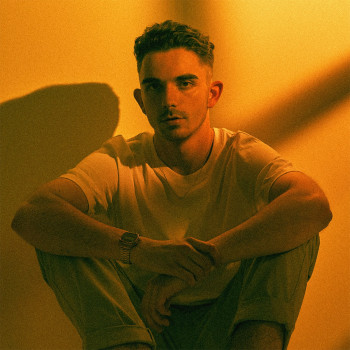 Atwood Magazine is proud to be premiering the single and music video for "Think About Me," the third single from Northern Ireland born, South London-based indie pop artist D.A.N. Following his first two releases "Clothes Off" and "0300 (Human)," "Think About Me" finds D.A.N continuing his onslaught of emotive, propulsive electropop bangers. With an infectious The 1975-esque bounce and a filmic '80s sound reminiscent of HAIM's latest work, "Think About Me" invites us to dwell in wanting and longing, desire and passion.
"'Think About Me' was written at a time when I was feeling quite low after a relationship and I started to wonder how the other person was feeling," D.A.N tells Atwood Magazine. "I hoped they still thought about me. Then after a little bit of time, I decided that I wanted to make something that would make myself feel empowered, rather than vulnerable – I took that vulnerability and made it into something that I felt was strong – I know you think about me, because what we had was too good not to think about. The process of writing the track happened so quickly – I felt like I had been suppressing these feelings for a long time and acting like I was ok, and the only way to get better was to take control and make something beautiful out of a tough situation."
But when I was vulnerable
I didn't want to let you know
And when I said we were cool
The truth is I was still trying to get over you
And underneath the earth,
the core was going wild you know
I know you think about me
When you put your
feet down onto the concrete
And all the little things
that run through your head
And all the big things that you never said
We see D.A.N perfectly embody this ethos in his music video, an intimate black-and-white affair that captures the artist dancing, singing, and totally embracing his element. "In terms of the visual world for 'Think About Me,' I wanted to create something that felt quite gritty and explored the darker bittersweet layer of the track," the artist explains. "The track itself is quite chaotic and representational of the highs and lows that you go through during and after a relationship and I wanted the video to represent that. I had the pleasure of working with one of my favourite directors, Jacob Hopewell, on this and he completely understood my vision for the video and pushed it to the next level and made it into a piece that feels like the perfect. We wanted to make every shot feel like it could also be a still image and played with imagery around attachment in contrast to being strong enough in yourself. I wanted the video to be empowering and emphasise that you yourself are enough. The song has helped me through a lot and makes me feel stronger, hopefully it can do the same for someone else."
In channeling his own darkness into light, D.A.N has created a vessel for everyone else to indulge in as well: "Think About Me" is an invitation for each of us to express ourselves freely and uninhibited, an inspiringly bright and buoyant art that shines with the warm glow of individuality. Stream "Think About Me" exclusively on Atwood Magazine!
Watch: "Think About Me" – D.A.N
— — — —
? © Jacob Hopewell
:: Stream D.A.N ::