Swedish-Iranian artist Ayelle bares all in her latest mixtape 'NOMAD', an introspective, 12-track body of work.
Stream: 'NOMAD (Mixtape)' – Ayelle
---
For the past 5 years, Swedish-Iranian, New York based singer-songwriter Ayelle has cultivated an extraordinary career and fanbase through her consistent musical releases and an ever-growing social media presence. Garnering millions of streams across Spotify, she finds herself amongst a myriad of Spotify playlists and on esteemed blogs such as Pitchfork, who's support for her work has been consistent. Her latest album or "mixtape" as Ayelle calls it, entitled NOMAD, explores ponderings of relationships and life in general, declaring her values with sultry, airy vocals laid over minimal, yet powerful synth basses and electronic drums.
Beginning with "Fast Life", we see Ayelle wondering how to "slow down in a fast world," describing her unwillingness to partake in the fast life. Even though others may want her to join them – it's simply not for her. She goes on to reveal an edgier side in "Overtime", vocalizing her want for her lover and how she's willing to work overtime for them and only them, with heavy 808s and light pads guiding the song's atmosphere. The distorted 808s remain in "What The Hell", a wavy ode to falling quickly and heavily in love, knowing it's "gonna be worth it" as long as they both work at it.
Continuing this train of thought with "Effort," Ayelle asks her love interest to make the effort to know her and understand her. Strong drums and focused, bittersweet vocal production ride the way deeper into the mixtape, diving into a parental figure on "The Greatest" and intimate decisions in "Choice." The swinging tapestry of positive and negative emotions reverts to a more subdued and defeated tone, before reaching peak vulnerability in "Supposed." In this track we see Ayelle reflecting on an experience that "really fucked (her) up" and that took a while to recover from. Minimal and danceable detuned bells fly over deep 808s and hard snares, bringing the audience's minds into a low, wacky, chaotic, unnavigable place of vulnerability and psychological messiness.
"Trust" follows with a view on the "tumultuous side of relationships," according to the singer, where "you reveal the ugly parts of yourselves to each other and work out your insecurities." She talks about how both partners can sometimes be a nightmare, describing how both can do bad things to complicate a relationship, due to self destructive tendencies.
The mixtape's production takes a turn for the more subtle, waiting until 45 seconds into "Tricks" before finally letting the bass cut through the mix as Ayelle delivers an emotionally charged vocal performance. The track crescendos eloquently into vocal chop-driven drops, further expanding the chaotic rollercoaster of positive and negative themes, with Ayelle wondering why "things are getting darker." Things slow down with subsequent track "Child," a pivotal moment in the record as Ayelle comes to a realisation that a loved one doesn't love themselves, in this ballad-like, heart-wrenching, slow-dance number.
NOMAD concludes with "Got Love", a sensual and optimistic declaration to wrap up a wonderfully woven, at times beautifully chaotic rollercoaster of self-reflection that serves to magnify Ayelle and all of her inner workings for the world to see. An emotional and musical nomad herself, the songstress reveals her journey through this thoughtful, 12-track body of work coloured by tasteful songwriting and deep introspection.
— —
Stream: 'NOMAD (Mixtape)' – Ayelle
A CONVERSATION WITH AYELLE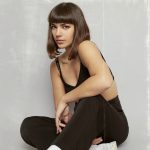 Atwood Magazine: I read that you're London-based; what brings you to New York at the moment?
Ayelle: I'm living in New York right now, but I've only been living here for 4 months or so, I used to live in London for 7 years before that.
Awesome, and what prompted the move?
Ayelle: So, I signed a publishing deal with Universal last year on the US side so that was a big factor since I've also been coming to the states for the past two years. The first time I came to NY I really fell in love with it and the music scene; as well as the music scene in LA. In NY however I more so fell in love with the social scene, there are so many different personalities and self-expression that's more liberating here; everyone gets to be themselves.
It really is a phenomenal city, I've only been once but I would love to be back again. Do you find that location is something that kind of affects your writing process at all?
Ayelle: Yeah definitely, I can't sit still for too long. I travel a lot and that's something that stimulates and and provides me with new perspectives and new experiences. Νothing ever gets too stagnant, so I have new songwriting material all the time, I find that that's really just helpful and inspiring.
I have no idea how circumstances will be at the time of publishing this article, but for the time being how are you spending quarantine?
Ayelle: I'm trying to kind of keep balance of having a routine, so that I don't become too lethargic. So, I'm trying to do a workout three times a week, and do yoga in the mornings. I also do this thing called gratitude journaling in the morning which I feel helps bring me back to appreciating the good stuff I have, because it's kind of difficult to get inspired and be appreciative when you're stuck in your house. I feel like that's a really important part of my day, just helps me get in a better headspace. So I try and get the morning routine in and usually if I get that right for the rest of the day I have the energy to be more productive and record music. I have my equipment for recording at home, so people are mostly just sending me beats and I'm writing songs and recording to that, and then I'm also doing these acoustic videos with friends. Little things like that, just like connecting with friends and trying to be creative.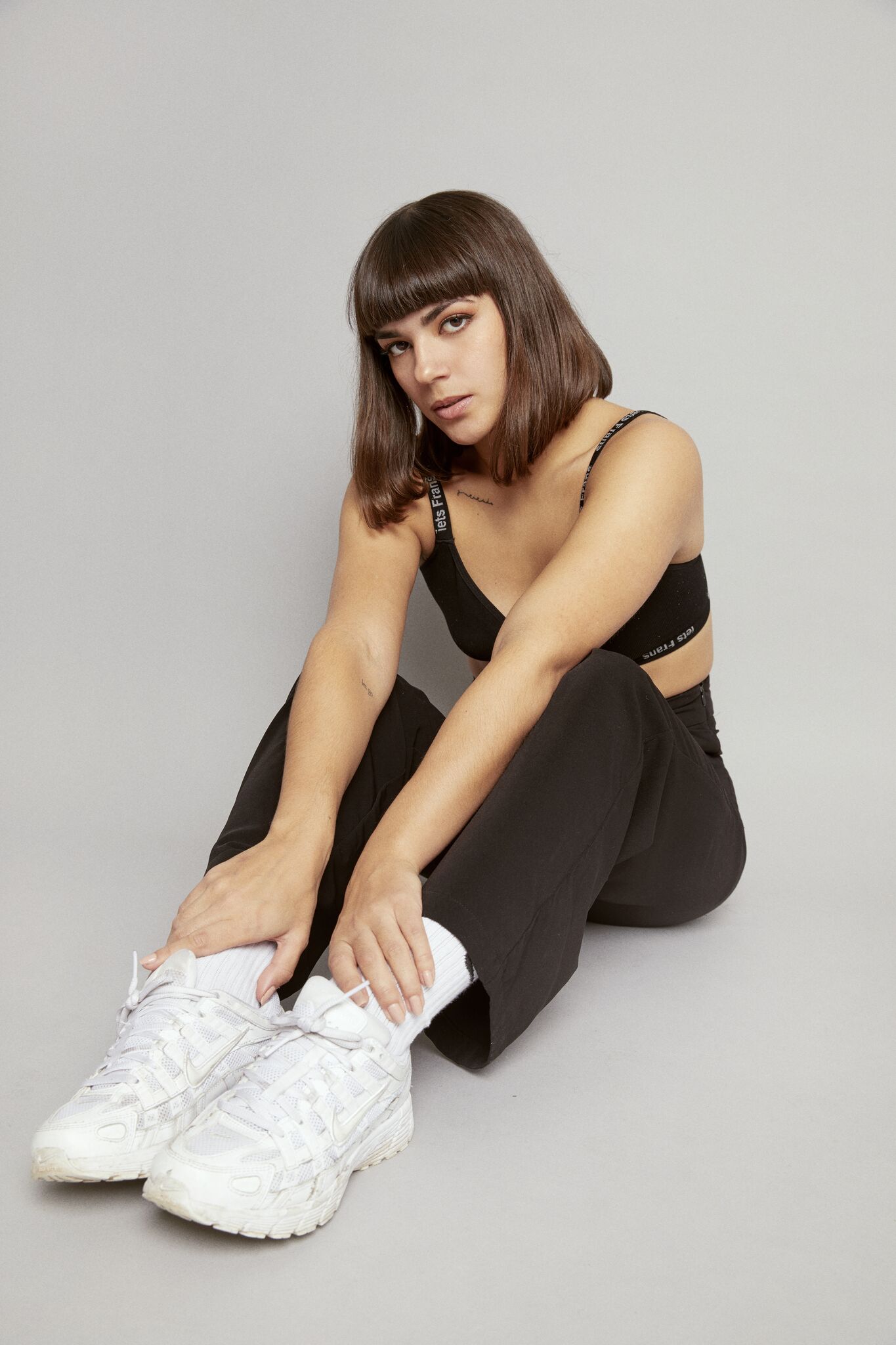 And is connect with other people and the collaborative process something that you engage in often, or do you prefer to kind of lock yourself in a room when you're writing songs?
Ayelle: I definitely prefer to work with other people, but usually I find the thing that works best for me is just being with another producer, and sometimes that can be a producer who also song-writes. A lot for the times however I'll just write the song and the producer will kind of work out the song together with me. And it's only recently, like the past two years or so, that I started working more with other co-writers, which is really interesting because people have different strengths and bring out different aspects of you and just make you write in a different way. That's been cool, I like to keep it interesting, pushing myself out of my comfort zone and exploring different styles and ways of writing. If I just write by myself I find that everything just kind of starts sounding the same after a while.
So I'd love to focus on your upcoming mixtape Nomad, and continuing on the topic of collaboration, was there a lot of collaborative process on this one? I know there's a song where you're working with another artist, but was there much of it written with other people or was it kind of a self-reflective process?
Ayelle: The writing on NOMAD is really self-reflective and kind of autobiographical, there are a lot of really personal songs on there. I did collaborate with a lot of different people in this mixtape; over the last two years I've been traveling and working with a lot of different producers. I think there are like three or four different producers on the mixtape who are all amazing musicians and people that I come back to and work with again. There's also one song that I wrote in Sweden that also has some co-writers on it, the rest is all me in terms of the lyrical aspect.
Speaking of Sweden, as a Swedish-Iranian singer/songwriter which is quite a background, how does that play into your songwriting if at all?
Ayelle: I definitely think it does, I kind of grew up making more like soul/R&B and was always kind of attracted to that sound, but recently I feel like I started discovering more of my Scandinavian roots, and just writing pop songs, which is amazing. I kind of rebelled against pop music in a sense, and wanted to explore something completely different than what I grew up around. I started listening to more Scandinavian artists around two years ago, and that's really when I got inspired again to kind of delve more into pop and explore the crossover blend between pop and R&B/soul; how I could combine all of those different genres in a way that felt authentic to me. I grew up around Iranian music as well so when it comes to the scales that I do, a lot of the harmonics are kind of Middle Eastern. It's not something that I think about however, it's just something that I grew up with so it just kind of comes naturally.
Obviously you can really tell listening to this record that there are so many different kind of inspirations and you can hear that kind of fusion of genres. Why did you call the mixtape NOMAD?
Ayelle: Well for a number of reasons, I think firstly I always kind of felt unrooted. I grew up in Sweden and Spain and then moved to London, and was traveling all throughout my life. Especially the in last few years that I was in London, I decided at one point that I was going to go for it instead of waiting for things to happen to me. If I liked a producer I would get a flight and go there to work with them instead of doing everything remotely. I just kind of took charge in a way of like making stuff happen rather than staying put in the same place. That's because I felt like the energy was kind of stagnant when I was just in London all the time, and deciding to do that was a game changer for me. I left my flat in London and just traveled from place to place, so it was a totally nomadic experience. Also my grandma and my grandad who both passed away were from a nomadic tribe called The Qashqai.
I also love that you decided to call this a mixtape instead of an album, was there kind of a specific motivation behind that?
Ayelle: When I was writing it, it wasn't like I was making an album, I was just writing and experiencing and didn't know what I was making. I just ended up with this collection of songs that felt really representative of this period of my life. They also cover a lot of stuff form my childhood and things I was closing a chapter from; it just felt like a collection of songs rather than a thought-out album. It's just a moment in time.
It's a stunning selection of 12 tracks, my favourite was the first one form the record, "Fast Life", I just love the beat. Do you have a favourite track off the record?
Ayelle: That is difficult because they are all so special to me, I only chose the tracks that were really the ones that speak to me the most. However, I think "The Greatest" is really special to me because it is about my dad. I like that a lot of my songs sound like they are about a love interest, but they're actually about something completely different. Then again a lot of them really are about love interest, but I love when they aren't and if you actually listen to the lyrics you understand that there is something different going on.
And the track "Supposed" feels like quite a vulnerable song and it really stuck out. If it's something you feel comfortable speaking to, are you share with readers the inspiration behind that piece?
Ayelle: So, that song is probably the darkest on the mixtape, and it's also a funny contrast because it sounds more like an upbeat song, at least for the kind of music I make. I guess this is why it allowed me to write about that experience in a way that it didn't feel too overwhelming. When I was 16 and living in Spain, I was raped and that song is about that. When I write I don't really think, I like to do this thing called subconscious songwriting, so I never really know what's going to come out. So yeah, that song caught me completely by surprise; I didn't know I was going to write about that. It's a really important song for me and I hope it resonated with other people as well.
We've talked about the writing process behind the record, but what's kind of your go to process? When you're just writing a song, like "Supposed" for example that just came to you all of a sudden, is that normally how that process unfolds, or are there any specific times of the day when you prefer to write or do you prefer to write under pressure maybe?
Ayelle: For my own projects I definitely prefer to write either by myself and with a producer, or maybe even another writer. Even then however, the songs that are more personal to me and are for my artist project are most often the songs that I write by myself. I'm just allowed to roll with it because how I write is a weird thing; I don't know what I'm writing about or what I'm doing sometimes until I get the chorus, so it's difficult to write that way if I'm with another writer. Usually when I'm writing with somebody else it's a bit more predictable, you have to work out what the song is about even before you're writing it almost, which is the opposite of how I write when I'm writing by myself. When I'm writing alone I just like to explore what comes up and that's how I get my most interesting concepts; I'm not thinking about it, and feelings are allowed to come from a deeper place.
And how long did the writing process take on this record, was this something that happened in the sense of you building a collection of songs over the years, or did it kind of all happen over the space of a few months?
Ayelle: So, all of the songs were made in the span of two years, but within these two years I wrote hundreds of songs. All of the songs kind of came out really effortlessly and pretty much within an hour. Some of them I went back in on, but most of them just came out really quick.
And there is such an interesting fusion of genres on the record, do you have any favourite artists that have inspired you and the sound behind it?
Ayelle: Yeah, there is this Tove Styrke, I love her and her kind of pop sound and her album Sway, I was obsessed with it. That to me is the epitome of Scandi-pop, which is funny because when I went to Sweden and was working with other writers for the first time, I would mention Scandi-pop and they would be like, "What's Scandi-pop?" and I was like, "That's what you do!" (laughs) and they were like, "To us it's just pop." To me however it's very different, I can hear that there's something else there, it's a bit quirkier and a bit more experimental, it's not just straight pop.
I totally agree, and I feel like she was the first person that really brought that sound into a more commercial atmosphere. I love hearing you mentioning her because she's such an incredible artist, and now I can kind of see the bits and pieces of inspiration that you've drawn from her and I think that's awesome.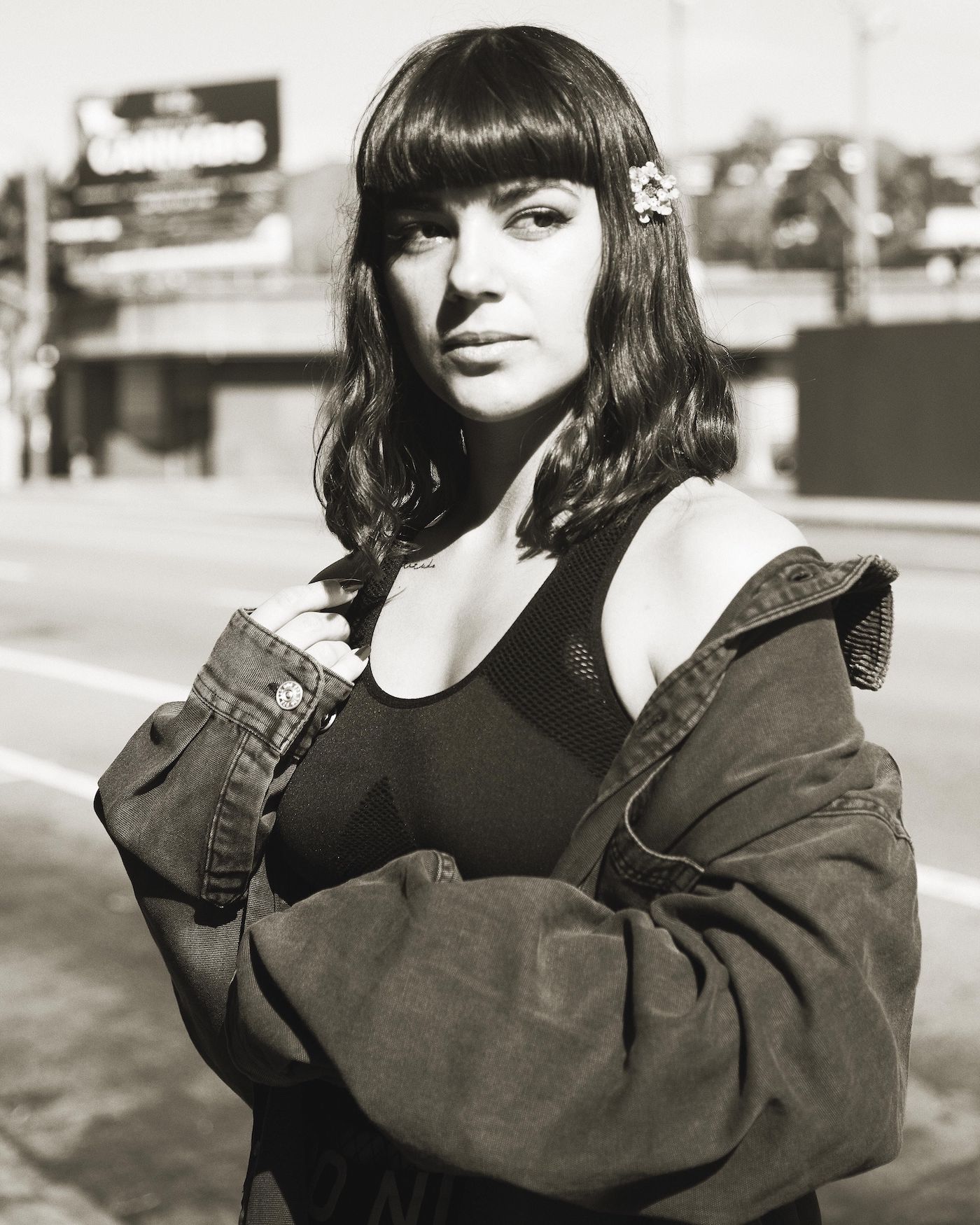 So as an artist who has been releasing music for a while now, do you have any advice for other songwriters who look to you for inspiration or want to follow in your path?
Ayelle: Yeah, I'd say the number one thing for me has been working on my mindset. I think in the music aspect you're always gonna do what you're gonna do, like you're gonna work on your craft because that's what you do. If you're a songwriter or a musician and this is what you live for, nobody has to force you to do it, nobody has to tell you to practice, you just have to do it. So, the main thing for me is like, focus on developing a positive mindset, where you lift other people up so that you're attracting the same thing for yourself and your career. When I started out for example, I was in a fairly dark place; I thought the industry was so unfair and I would complain; it was a really difficult space to get out of, and it was difficult to see other people do well and feel frustrated I wasn't there yet. All of those emotions and thoughts are what's holding you back, so you have to find a way to let that go, and replace it with a more open supportive mindset. It's a practice and a constant choice that you have to make. It's been a constant learning of route for me, of just reading and just helping shape my mindset. The first book that I read that really helped me was The Power Of Now by Eckhart Tolle, I loved that book.
That's really interesting to hear your take on how mindset plays into everything from the writing to just the success in and of itself, which obviously you've seen quite a lot of now; you've received support from the likes of Majestic Casual on YouTube, Billboard and Pitchfork. What do you think has been the biggest ''OMG moment'' so far for you?
Ayelle: For me, still the biggest moments are when somebody takes the time to write me a message and they're like "this specific song is exactly what I needed to hear right now," or like "it's like you read my mind and wrote a song about exactly what I was feeling." That's what fuels me, I want to pull those feelings out of people. I want people to feel their feelings and have a space for that. Whenever I listen to music, the way I do it is that a song has to find me at the right time in order for me to listen to it properly. It has to connect with where I'm at, and that's what's so magical; when I find those songs that are exactly what I needed to hear in that moment, that's what's' so beautiful and that's what I want to do for other people with my music as well.
It definitely is such a gratifying experience for all artists who can have that first hand account from someone whose lives have been moved for the better through their music. So, just to segue way a little bit, we talked about the current circumstance in quarantine and what you are up to at the moment, but as a general question, do you have any hobbies or things you are doing when you're not in a music headspace, if there even is another headspace, I don't know (laughs).
Ayelle: No, I definitely have other headspace (laughs) and I think it's really important to have one. People say that "all you need to do in order to do music is to eat, breathe, think music"; I definitely went through a period of that, but I don't think it's necessary healthy to be in that mindset and let it consume you. You're still human and you still need to do other things. I love reading; some of my favourites that I read recently are Super Attractor by Gabrielle Bernstein, A History of the World in 21 Women, Notes on a Nervous Planet, and Shoe Dog by Phil Knight. That one's about Phil Knight who started Nike, it's an autobiography of how he started it. It's so inspiring because it took him absolutely ages to make a profit and actually turn that into what it is today.
And what is one question you wish people would ask you in interviews but they never do, or a topic you'd love to speak about but it doesn't come up that much?
Ayelle: Hmmm yeah I guess I like talking about mental health and I feel like you can never talk too much about mental health. I feel like that's something that could definitely be brought up more.
Well I don't want to keep you up any longer but thank you so much for joining us today!
Ayelle: Thanks so much!
— —
— — — —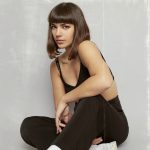 ? © Angie Menze
art © Polly Hanrahan
:: Stream Ayelle ::
---