In celebration of her sophomore release, Atwood Magazine spoke with chloe moriondo about 'Blood Bunny,' bunny tattoos, and Hayley Williams.
•• •• •• ••
Stream: "Bodybag" – chloe moriondo
---
As a woman barely out of her teens, with a few tattoos and just as many ambitions, I can definitely say this: your teenage years are the most beautiful, the most fragile, the most dramatic, the most anything you'll ever experience in your life. It's an incredibly bittersweet time – between highs that turn to lows in a second and minor events that become full-blown tragedies. Years when your peers either take a liking to you or decide to make fun of you, you try discovering yourself and all your colors – or start to, at least. You don't know whether to live with or without others, you want to become a hermit one day and attend as many beach parties as possible the next. You explode and implode, discovering yourself and the world around you.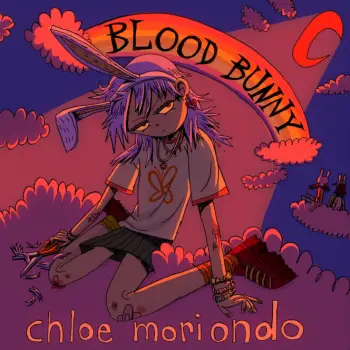 That's how we could sum up the whirlwind of emotions that is Blood Bunny, chloe moriondo's sophomore album, out on May 7th on Fueled By Ramen/Public Consumption Recording Co.
"Ever since I started writing I've felt the need to share as much as myself as I can so that people who feel the same way might find some kind of comfort. I hope when people hear this album it'll be refreshing to them, and help them feel better about themselves and maybe stop caring about what other people think."
Blood Bunny is a never-ending hurricane, a rollercoaster of emotions and memories that leaves anyone who listens to this album stunned – and, let's be honest, a little moved – at the thought of those years so loved and hated at the same time. It is a journey of self-awareness, of anxieties and hopes, desires to get to know other people and start new relationships. More than a record, it's a liberating scream addressed to anyone who dares to express their unsolicited opinion on our appearance (or our personality), a declaration of love for that person with whom we fell madly in love in fourth grade and that we have never really been able to forget.
Watch: "GIRL ON TV" – chloe moriondo
We're talking about a greatly honest record, the story of a barely eighteen-year-old girl expressing for the first time what they really think or want to communicate through her music, without filters or fears of other people's thoughts – and remembering that, after all, it never hurts to be a little bit weird.
Atwood Magazine spoke with chloe moriondo about Blood Bunny, tattoos, and Hayley Williams's cultural impact.
— —
Listen: 'Blood Bunny' – chloe moriondo
A CONVERSATION WITH CHLOE MORIONDO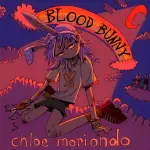 Atwood Magazine: IN YOUR 2020 INTERVIEW WITH US, YOU MENTIONED YOU'RE REALLY USED TO WORKING ALONE. WHAT'S CHANGED SINCE THEN?
Moriondo: I feel like, if anything, I've just grown more accustomed to the work that I'm doing now, the amount of work that I've been doing in terms of music, working from home, and stuff. I think I've gotten a lot better at establishing boundaries, too. In music or in any creative field in this period you kind of fall into saying yes to everything, overstimulating and overwhelming yourself – even if it's just from your room. So I've definitely had to get used to avoiding that. Things have been going really well, I'm pretty proud of how I've grown as a musician in the past year – it's been pretty cool.
WHY CHOOSE BLOOD BUNNY AS A TITLE INSTEAD OF, FOR EXAMPLE, BLOOD RABBIT? WHAT'S THE MAIN DIFFERENCE BETWEEN YOUR UPCOMING ALBUM AND RABBIT HEARTED?
Moriondo: I think it was definitely an intentional thing to go from Rabbit Hearted to Blood Bunny because this is my first big kid album. I guess I've been saying that anytime anyone asked me about Blood Bunny because I really do feel it's my first real big album. It's definitely got a bit of darker and gorier elements so it's definitely a funny step up from Rabbit Hearted. I love bunnies, I love blood – it's pretty obvious why I would name it Blood Bunny! (laughs) I think it's just so much bigger and a lot more realized than I ever expected my music to be able to be and now I feel like that's opened so many more doors for me in terms of music and my art – which is really exciting.
WHAT DOES THIS ALBUM MEAN TO YOU?
Moriondo: This album means a lot to me, it's a representation of me growing into an adult teenager. For me, this whole transition has been really weird, good, scary, and sad. Everyone can remember or expect their lives from 16 to 18 to be a bit of a roller coaster, so I think this album really sums up how the past year has been for me. It's really special to me in that way.
''I'VE BEEN OUTTA MY HEAD / I THINK I WANNA GET MORE TATTOOS'' ('RLY DON'T CARE'): A TATTOO THAT COULD BEST REPRESENT WHO YOU ARE?
Moriondo: I want so many tattoos, I want like a million of them! There's a bunch of ideas I have in my head – I haven't gotten this one yet, but I think it would probably sum me up pretty well. I want to get a little bunny with a knife, or something. I also really want to get "Sammy" on one knee – that's my dog's name – and then "forever" on the other knee, so it could say "Sammy forever" and he'll be forever on my knee. That one would sum me up pretty well too because he's my baby.
WHAT HAS YOUR EXPERIENCE AS A YOUNG, QUEER ARTIST IN THE MUSIC INDUSTRY BEEN LIKE?
Moriondo: I grew into the music industry through YouTube, so I've always been an Internet kid. Since sixth grade, I've been in the weird YouTube and Instagram community, and it's been oddly awesome and accepting in my experience. I've met a lot of really cool other queer artists who I wouldn't have been able to meet if I didn't get to the place that I am now.
I think there's always going to be people who are a little bit weird about things and will make it their entire identity, but being queer isn't all of my art. I know that for some people it is their primary subject – which I think is really cool – but personally, I think it just influences the way that I write. Of course, I do like writing songs about being lesbian, that's awesome! I've written songs about it before and I'll keep writing songs about it. It's this community that has encouraged me to be a lot more open and proud of myself and I'm now I guess just trying to encourage other people to do the same
YOU PROFESS TO BE AN INTERNET KID. WHAT'S SOMETHING YOU LOVE ABOUT THE INTERNET, AND SOMETHING YOU HATE ABOUT IT?
Moriondo: I love that the Internet gives young people a space to share experiences and learn from each other. It gives so many people a chance to connect, educate, talk to each other. But, I hate that it can become a very overwhelming cesspool of people judging each other and trying to be better than each other at beauty, at activism, at wealth – all things in life that people want to be the best at, I guess. So, I think the Internet can become pretty a difficult and overwhelming place at times. However, I think that if you keep a healthy distance from it, stay in the right groups and talk to the right people, it can be a pretty beautiful thing. I mean, I don't know where I would be without the Internet. (laughs)
Watch: "Manta Rays" – chloe moriondo
IS THERE ANYTHING YOU WISH YOU KNEW WHEN YOU STARTED MAKING MUSIC?
Moriondo: I didn't really have any pre-existing stuff on me when I started, I don't really know how to explain it but I went into music pretty naturally. I started writing music before I even realized I was actually writing music, so I don't even know if there's anything I would change about the way that I started. I mean, I definitely wish I had maybe taken care of myself a little bit better and stayed more in touch with what I wanted to make and what I had time for. But, in terms of the actual music-making process, I wouldn't change anything about the way that I started.
''YOU MADE ME FEEL BRAND NEW'' ('SLACKER'): WHAT'S SOMETHING THAT FEELS BRAND NEW IN THE BLOOD BUNNY ERA?
Moriondo: It's going to be huge! I'm really excited about it, things are going to be a lot more of an experience when I get to play shows. I feel a lot more myself in this Blood Bunny moment, I'm excited especially because I think that a lot of the songs on the album sound very full band – and I'm going to be able to tour eventually with my band, who I have been practicing with for a while. They're really cool, we're an all-girl band and it's going to be fantastic, so I think this is gonna be really cool different era, that I've been waiting for for a while.
YOUR SONGS ARE OFTEN VERY PERSONAL AND DEDICATED TO SPECIFIC PEOPLE. DO THEY KNOW THAT SOME PIECES WERE MADE FOR THEM?
Moriondo: I actually like the song off of it called "Samantha", that's for my girlfriend – I just showed her that song some days ago! (laughs) I wanted her to see it when it was fully finished, I didn't want it for any part of it to not be exactly how I wanted it to be. That's probably the most specific piece on the album, but with the rest, I try to make it kind of vague enough. I don't think anyone else is gonna be like "hey, did you write that song off 'Blood Bunny' about me?" Even if I did, whatever! I'd tell them, it doesn't matter.
Watch: "I Eat Boys" – chloe moriondo
THE SONG 'I EAT BOYS' IS INSPIRED BY THE CULT MOVIE JENNIFER'S BODY. ARE THERE ANY OTHER MOVIES (OR TV SERIES) THAT DRIVE YOU TO WRITE MUSIC?
Moriondo: There's a lot of beautiful movies I've seen recently that have inspired me a lot creatively, but I've always been quite enamored with the movie Eternal Sunshine of the Spotless Mind. I remember I watched that in middle school and it changed my entire life, I still think about it a lot when I'm writing songs. There's also a recent movie, it's a little bit sillier and less deep or whatever, but I watched Isle of Dogs by Wes Anderson and it was actually pretty gorgeous! It had amazing art in it, the soundtrack was really sweet… It definitely inspired me. I'm a fan of movies when they can really get me like that, with the soundtrack and the imagery in it.
''AND HAYLEY JUST GETS ME THAT WAY YOU NEVER DID'' ('FAVOURITE BAND'); WHAT'S A SONG THAT JUST GETS YOU? (COULD BE BY PARAMORE OR HAYLEY HERSELF)
Moriondo: I can answer this with so many different songs but I think "crushcrushcrush" by Paramore would probably be my number one. I'd probably listen to this anywhere at any point in my life, it will never feel bad listening to this song. I love it a lot, old Paramore definitely gets me. New Haley is also fantastic, there are so many good songs off FLOWERS for VASES that I think are very special and close to me as well. I can always rock with old Paramore, though.
HOW WOULD YOU LIKE YOUR FANS TO FEEL WHEN THEY LISTEN TO YOU PLAYING LIVE?
Moriondo: I want them to feel like they can dance, sing or do whatever they want. To feel pumped up, excited, accepted and feel like they're in a place where everyone's as excited as they are. I just want the energy to be good, I want people to know they can react to that energy in any way that they want – for example, I know some people don't like to dance at shows, some don't like to sing or even move. Some even prefer to just stand by the back and drink some water and watch, but either way, I just want people to have fun, to feel accepted, and be excited with the others in the crowd.
WHAT ABOUT SOMETHING YOU WOULD LIKE TO EXPERIENCE AGAIN? COULD BE COMPOSING A PIECE, PLAYING AT A CONCERT, ETC.
Moriondo: It's not a specific show, but I'm thinking about some of the last few shows of the Cavetown support tour that I did right before Corona was a real thing. I did some support shows for Cavetown in the UK and there were so many awesome friends, also a bunch of people from my team was there – so it just felt like a party. It was fantastic, the show is really fun, I got to dance on stage with the Cavetown crew. It was awesome, I miss touring with my friends – and touring in general, I'm really excited to do it again.
— —
— — — —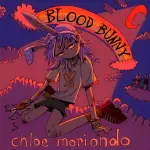 © Zach Hagy
:: Stream chloe moriondo ::