Dichotomies, in their essence, are opposites coming together and prompting you to reflect upon this unusual encounter. They can easily be brushed off, but if you value them and for one moment stop to take them in, you'll find beauty and meaning in the unlikelihood of the pairing. TENTS explore the magic of a dichotomy in "Back Yards," the title track of their upcoming EP (set for release June 23rd).
Summer Time
I awaken and I'm coming down
All these vices and my vigor's fading out
Tell my baby I will always be around
Listen: "Back Yards" – TENTS
---
Atwood Magazine is proud to be premiering TENTS' new single, "Back Yards." Frontman Brian Hall says of the song: "Back Yards is a song about my addiction to drinking and smoking cigarettes. The image of a back yard represents home, laughter, joy, fatherhood, simple and normal and not-especially cool. The song unpacks my substance abuse and how I'm destroying my body, and juxtaposes that with the joy of fatherhood. When I wrote it, I was certainly struggling with those things, but was also on the cusp of being diagnosed with an auto-immune disease. My body felt like it was decaying in a pretty profound way. "
The song starts with Hall setting the scene and introducing the location where the story he's telling plays out to the listener – in this case, it's his house. The first two lines make it seem like the song will simply portray a day in his life, but he quickly makes things go darker in the line "All these vices and my vigor's fading out", where he talks about his internal battle with cigarette addiction and the lack of energy that ensues because of it. In a reassuring tone, he says "tell my baby I will always be around" seemingly using his figure as a father as motivation to quit smoking.
Beggar with a tall drink
Man about town don't know
Chipping off the years he
don't get it don't get it don't know
Baby's in the bed sheets
Momma's in the back yard singing so sweet
Take another tall drink
Don't go, don't go, you don't get it no
In the chorus, Hall's wife joins him in the vocals providing him with support. It adds an extra layer of emotion to the song and changes the dynamics in the chorus, really exposing the sentimentality and fragility of Hall and his dilemma. The first part of the chorus is self-deprecating, but not in a pity-inducing manner – Hall is simply exposing, factually, who he is and what he is doing to his body. "Chipping off the years" shows his awareness of the fact that his lifestyle is reducing his lifespan. The second part of the chorus evokes feelings of family life and love, speaking of a baby and his mother, picturing Hall's ideal life and possibly all he will miss out on if he does not change his habits.
I remember when my body was a racehorse singin'
Ale, Ale
I'm not quite six feet under
I surrender to the lightning and the thunder screamin'
Ale, Ale, Ale, A
"Back Yards" ends in full force, with guitar, drums, and the keyboard joining layered vocals to deliver a powerful message. Hall looks at easier days in his past with nostalgia, but then admits that he's "not quite six feet under," and so not all is lost. Though his "surrender" can be interpreted as him surrendering to his vices, the overall feeling the song gives us is that he surrenders to these powerful forces of nature like lightning and thunder in order to regain his strength, continue his fight, and overcome his difficulties. A guitar solo drives the song to a close, and we're left with a feeling of empathy and motivated to face whatever demons are troubling us. "Back Yards" is a terribly strong offering from Portland's TENTS, and fulfills one of its band goals (outlined on their website) to "practice art as medicine" – "Back Yards" is medicine for the band and for its listeners.
— — — —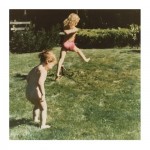 cover: TENTS © Josh Brine
:: Listen to More from TENTS ::