Every other week, Anthony Kozlowski pens the Atwood Magazine column Tunes & Tumblers, pairing new and classic albums with cocktail recipes. He quickly found however that drinking alone is a sad business. So he invited his friends Pedro Isaac Chairez and Ryan James into a recording booth to aid in mixing delicious drinks and to discuss the music that they all love. Strap on your headphones and enjoy a cold one on us. 
 
Multi-platinum Aussie songwriter Sam Fischer joins Tunes & Tumblers this week to share his soon-to-be hit single "All My Loving," and Pedro mixes a tasty and bubbly whiskey drink!
   
words by Nasya Blackshear
It might have taken us a while, but we're proud to present an interview with multi-platinum Aussie songwriter Sam Fischer.
This is one of our biggest and quite possibly our best episodes yet, but we'll let you be the judge of that. Sam's joining us to hype up his new single "All My Loving," which hits streaming platforms everywhere this Friday, June 17th. To commemorate this undeniable bop in the making (and ease our sorrow that Ryan was still missing at the time of recording), Pedro mixes a tasty and bubbly whiskey drink to get you in the mood. Cheers!
Check out our newest episode of Tunes & Tumblers on Spotify!
Wanna drink with us? Then you've gotta do it responsibly. Here's Pedro's fresh recipe for a Broken Bow.
•• ••
Broken Bow
2oz Whiskey
5oz Bundaberg Root Beer
1/4 of an Orange Squeezed
1-2 dashes Bitters
Add ingredients to glass with ice. Stir well and enjoy!
Have your own idea for a Tunes & Tumblers pairing? Let us know in the comments, or hit us up on Twitter.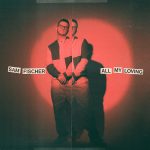 © Pedro Isaac
design by Kaylyn Wiggenhauser
---