Embracing the mother of all drugs, Alae's soulful new single "Stone Cold" consumes all aspects of love with a feelgood, buoyant vibrance.
— —
To be "stone-cold" can mean a multitude of things. You can be unfeeling or detached. You could be insensible. It can also mean "completely," depending on the context. However, what one doesn't expect from a song called "Stone Cold" is a brassy track that emanates warmth.
Atwood Magazine is proud to be premiering "Stone Cold," the lead single off Alae's upcoming debut album (anticipated late 2018). Comprised of lead singer Alex Farrell-Davey, pianist Allister Meffan and drummer Jayden Lee, the Auckland-based three-piece have been steadily rising to prominence since 2016, with their music racking up over a million streams and included in over 100 Spotify playlists.
Listen: "Stone Cold" – Alae
---
"Stone Cold" begins despondently; there is a sense of yearning to replace something that was lost. It sets itself up as a thumping alternative rock song with downcast lyrics steeped in sorrow:
I've never been so high,
I've never been so high
Things don't look this bright.
Don't stop me, cause I won't stop me
From its minimalist beginnings, the song then surges upward, blossoming into a jazzy, horn-filled song that ebbs and flows into an upbeat chorus. It transforms from sadness into pure joy. "Stone Cold" bursts with energy; it spins the listener into a dizzying utopia.
You're my stone cold, lady killer
love's got me high.
My flat foot do deliver, always on time
There's all these things that
I want to do, with you by my side.
For the first time in my entire life,
well I don't mind
"'Stone Cold' is about the mother of all drugs – love," the band tells Atwood Magazine. "How [love] can alter not only your resting personality, but [also] your perspective on everything."
And they're right. Love does change people. Those who are icy or "stone cold" can become mushy, joyful people who see life in kaleidoscopic colour after falling for someone. One's entire outlook can become lighter, better. The world looks like a much prettier place when gazed at through rosy, love-inflected glasses.
"It's a consuming and confronting high that totally caters to the user," Alae explain to Atwood Magazine. "With that in mind, when the user becomes accustomed to the high, a plethora of conflicting thoughts (that seem to revolve around compromise) hit hard and keep you second guessing. (The paranoia kicks in.) The song goes on to accept these conflicting thoughts as a part of the experience and brushes them off."
This raw outlook on the emotional affects of falling in love speaks to the band's ability to convey a simple concept in a funky way. The band plays around, switching from the uptempo chorus to a slower, drawn out bridge. The result is an unexpected and quirky track. The group bathes in ecstasy, happily chipping away at the alt-pop canon.
With you I don't have to try
with you my head just lie down
Believe me when I say
I tried without you,
believe me when I say
I know now not to doubt you
Believe in what I say
Alae's "Stone Cold" is not a tender track, but it still projects a feelgood aura that's impossible to ignore. When Alex Farrell-Davey lets his raspy vocals loose, there's a soulful quality that elevates the music.
Stream Alae's new single "Stone Cold" exclusively on Atwood Magazine! The track is out everywhere this Friday, 4/13/2018.
— — — —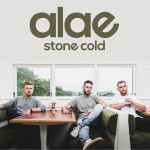 ? © 2018
:: Stream Alae ::