Recommended If You Like: Grateful Dead, Phish, The Allman Brothers
With a provocative name comes provocative music: Meet Battlehooch, the band of yesterday living in the present. A swirling blaze of psychedelic harmonies and overdriven rock guitars lend Battlehooch a uniquely hypnotic and nostalgic aura – they evoke the sounds of the '60s and '70s, but are very much a product of the present. Their latest song, "Used to Think of You," highlights the band's effortless ability to craft a mesmerizingly colorful soundscape with an incredibly relatable story.
All at once, from out of nowhere
All at once, materializing from thin air
Oh, I haven't thought of you in years
Which is strange,
'Cause I used to think of you all the time
Listen: "Used to Think of You" – Battlehooch
---
Atwood Magazine is proud to be premiering "Used to Think of You," the latest single from San Francisco-based sextet Battlehooch. Describing themselves as "the kind of band you thought went extinct along with landline phones and cassette tapes," Battlehooch embrace the authenticity of their generations-spanning psychedelic rock music. Considering how contrived the majority of today's pop music feels, it's refreshing to hear something so organic: "Used to Think of You" flows naturally from start to finish, sending us on a vivid trip down memory lane.
All at once, there's a ray of light
All at once, it has chased away the night
Oh, I haven't thought of you in years
Which is strange, cause I used to think of you all the time
Battlehooch describe "Used To Think of You" as "one of those songs that was quick and easy to write." "At the time it was written, I was trying to come up with a new batch of material for the band and had been struggling with trying to develop over a dozen other ideas," reflects the band's vocalist Pat Smith. "One day, I started toying around with playing the chord progression from "Smells Like Teen Spirit" in the style of Band of Gypsys-era Hendrix. I changed the key, added some juicy chords for the verses and choruses and there it was!"
The band's musical approach is as intriguing as the ease with which they wrote the lyrics. "I keep a list of evocative phrases that I use as jumping off points for writing lyrics. When trying to figure out what the song was ABOUT I stumbled upon the line, "I haven't thought of you in years," in my notes. This sparked an imagination in my mind of suddenly seeing a long-lost love and being overwhelmed by emotions that have been dormant for years, and how disorienting that can be. All in all, it probably took about 20 minutes to create and finish the song." That personal element makes Battlehooch's music all the more evocative: We can all relate to this particular moment, as anyone who has loved and lost has also felt that tremor, like an aftershock, years later.
Battlehooch's "Used to Think of You" is the kind of genuine musical masterpiece our ears deserve. They may seem like a throwback to the summer of love, but Battlehooch are proof that psychedelic music is vibrantly alive and thriving in 2017. Stay in touch with the band below, and be sure to spread their good vibes to friends and family alike: This is definitely one you can connect with your father over.
— — — —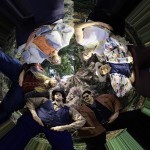 cover © Marta Barensfeld
:: Listen to More Battlehooch ::