Legendary rocker Neil Young digs up lost album 'Homegrown' from his classic period, both a painful walk down memory lane and a reminder of his unquestioned greatness.
Stream: 'Homegrown' – Neil Young
---
Regret is a peculiar thing.  It can either force us to take control of our destinies or it can send us running for the hills.  For twenty-nine-year-old Neil Young, after two years of silently suffering a private hell and bearing responsibility for the deaths of two close friends, the only viable option left was to run and hide.  Certain events in our lives are too acutely painful, especially those that happen in a consecutive onslaught, leaving us no time for bereavement, causing a metaphorical scar tissue to form around our hearts and our delicate emotional sensibilities.  In essence, rendering us numb for the remainder of our days.
The event that broke the camel's back for Young was the agonizing separation from his long-term girlfriend and mother of his eldest child, actress Carrie Snodgress.  From that uncoupling came Homegrown, Young's highly sought after lost album that he released on June 19 of this past year, some forty-five years after it was completed.  "It's the sad side of a love affair," Young says in a press release. "The damage done. The heartache. I just couldn't listen to it. I wanted to move on. So I kept it to myself, hidden away in the vault, on the shelf, in the back of my mind…sometimes life hurts…this is the one that got away."  Indeed, it is.  Placing the album within the context of the time it was made is an eye-opener for any Neil Young fan, as the record sticks out like a sore thumb smack dab in the middle of Young's notoriously heavy and emotionally tattered stretch of albums in the mid-to-late '70s.
Young also commented on this missing link in the continuity of his work from that era, saying, "This album is the unheard bridge between Harvest (1972) and Comes A Time (1978)."  For any studied acolyte of Young's work, the record is most obviously a call back to his earlier, slightly more melodic and commercially palatable work, with a few songs acting as harbingers for the grimier country-rock sound that would prevail in following records before he cooled off again.  Though, like any Neil Young album, pain and regret are always the cornerstones, whether that's overtly communicated or subconsciously expressed.  That's what gives his music such incredible staying power, it dares to venture into the neglected nooks and crannies of the soul and sweep out the cobwebs.  Homegrown may not wear that courageousness on its sleeve like some of his other work, it may even be avoidant of that internal magnification at points, but it's there.  Make no mistake, it's there.
The album opens with "Separate Ways," a sonically warm track that sounds like an outtake off Everybody Knows This Is Nowhere (1969) with its not-so-subtle melancholia and self-pity, as well as its gorgeous chord changes.  At first glance, one would assume Young to be bitter from the loss of his life partner, a sour aftertaste of countless screaming matches and disagreements lingering on his tongue.  The title and the sullen nature of the opening riff would suggest a diss track of sorts, and though there may be some intentional sardonicism there, Young's wounds seem to have scabbed over, apparent in lines like, "I won't apologize/the light shone from in your eyes/it isn't gone/and it will soon come back again."
Although he may be hesitant to take full responsibility for their breakup, he realizes that his love for her extends to her personal happiness and that although he's disappointed in himself, he now has the clarity that time has provided him with to let her go gracefully, as that is what's best for the two of them.  The track is illuminating in its honesty and maturity.  Young has been able to produce a truly bittersweet feeling through the languid country-rock instrumentation here, leaving the listener feeling wistful for their own past relationships gone wrong.
The next track, "Try," feels like a bit of a backtrack, or at least a hearkening back to a time before the relationship was unsalvageable.  Young desperately sings, "Darlin, the door is open/to my heart and I've been hopin'/that you won't be the one/to struggle with the key/we got lots of time/together if we try".  On the previous track, an innocence was lost, but now Young may be backtracking because it's just too painful to say goodbye right away.  We've all been there, thinking a habit or even a relationship will be simple to shake off, though it takes a cycle of running through old memories and working through that distress to truly move forward.
The song doesn't have much of a chorus, mostly consisting of "oohs," though the track doesn't need a traditional chorus, as the verses express his pleas convincingly and with a delightfully catchy backdrop.  The most astounding quality this song has is its ability to fit into the album's larger narrative of regret and loss while sounding like it could be played as a palate-cleansing slow song in a honky-tonk after a long night of rowdy camaraderie.  Truly opposing ends of the spectrum there, and Young pulls it off.
The next track is a personal favorite of mine and one that many listeners may find off-putting due to its unusual chord progression and relatively sparse arrangement.  "Mexico" is a lustrous piano gem, comparable to such early Neil Young tracks like "Birds" or "A Man Needs a Maid."  A typically ethereal Young piano track with hard-hitting, laconic lyrics, the song is quite short but what it lacks in length it makes up for in-depth.  The song begins with slow, brooding chord plunking from Young.  Like "A Man Needs A Maid," this song sounds like it was written for a film, though there's no evidence of that particular inspiration.  When the words finally do come in, they cut like razor-sharp knives, "Oh the feeling's gone/why's it so hard/to hang on to your love".
Simple, but like a fine bullet right to the most delicate point of the heart.  Young's reedy voice is tender and weepy, and it becomes very difficult not to get choked up yourself.  The lyrics tell their own story, but the musical landscape becomes a tarp to splay your own heartbreaks out on. The song is miniature enough to be able to fit into your pocket, but it is a solemn and breathtaking minute and forty seconds, and the most powerful song on the album.
The remainder of the album is interspersed with hard rockers, southern rock charmers, and a couple more exercises in balladry.  "Love is a Rose" is a sort of platitudinous twangy delight, a song with the qualities of a folkie standard that seems as if it's been around longer than Young himself.  The title track "Homegrown" is the first real rocker on the album, predating dingier tracks that would appear on Tonight's The Night but with less of a nihilistic, throw-caution-to-the-wind sentiment.  "Kansas" in many ways sounds like an early example of grunge music, like an angsty Pearl Jam ballad.
"Vacancy" reminds me very much of tracks like "Southern Man" and "Alabama," where Young lets his frustrations boil over for once  Another standout track is "Little Wing" (not the one you're thinking of), which shows Young once again daydreaming about his lost lover, this time seemingly after everyone's gone home and he's finally alone with himself.  It feels like the embodiment of "you don't know what you got 'til it's gone", now that they're finally broken up he's feeling sentimental and he's allowing himself to let it wash over him.  It's a magnificently touching track and a wonderful way to bring the album to a close, as he wants to remind the listener what the album was truly about.
Homegrown is a classic Neil Young album through and through.  Although it was originally intended for release in 1975, I believe it functions better as a forgotten album released in 2020.  Not only did it keep Neil Young fans wondering for many years, but as a massive fan myself, I can't imagine this album being shoved between classics like On The Beach and Tonight's The Night, where Young was building up an emotional narrative over several years.  Then again, whether by keeping the album tucked away or releasing it back then, Young has always remained true to himself and subverted expectations throughout his career, so either way, it's a gift to be able to listen to this record at all.
Although maybe not his most consistent, this album is a forerunner to the scrappiness that Young would display as he delved further into hard rock, with moments of classic balladry and wholeheartedness wedged in between.  This may not also be his most memorable album, but the genius of Neil Young's music is that you could start listening to him at any point in his discography and still get down to the marrow, get right to the heart of the man himself and hold it in your palm.  Homegrown is a man at the precipice of his old life, a heartfelt, funny, and at times strange journey that will please die-hard fans all the way to new converts, a piece of work that's only taken on added meaning as the years have rolled by.  It may have been forgotten for the better part of fifty years, but Homegrown is good enough to be remembered for much longer.
— —
— — — —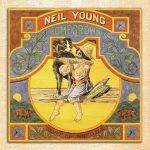 ? © 2020
Homegrown
an album by Neil Young
---