An outpouring of fiery passion comes to life on Magic City Hippies' third LP 'Water Your Garden', a radiant and emotionally mature record of escape, indulgence, love, and true joie de vivre.
for fans of Glass Animals, HONNE, slenderbodies, half•alive
Stream: "Queen" – Magic City Hippies
---
Fill up your cup and let the overflow fill the cup of others.
Miami's Magic City Hippies have always been the kind of band to light a spark in their audience, lifting spirits through seductive sounds and groovy goodness. An entrancing melting pot of psychedelia, funk, rock, and R&B, their music has traditionally evoked those long nights out n' about the city, living life to its fullest and beyond. It feels good to feel good, but you feel even better when you share the wealth with those around you – and on their third album, Magic City Hippies create a feel-good experience that we can all embrace with open arms and hearts. An outpouring of fiery passion comes to life on Water Your Garden, a radiant and emotionally mature record of escape, indulgence, and true joie de vivre. Euphoria is fun for a time, but empathy and self-love? That's fun for a lifetime.
Prepare to move, shake, and feel some deep feelings.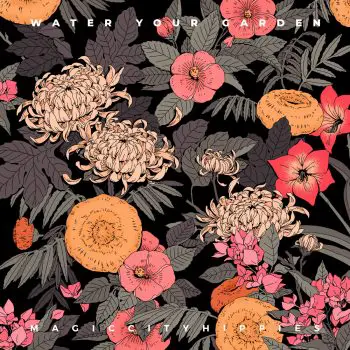 Caught up in the summer heat
Swimming in your honey sea
All I want is love
Give me all or nothing, Queen
Oh
Killing all my self esteem
Why you act so selfishly
All I want is love
Not a role inside your silver screen
Water Your Garden is an invitation to unapologetically dwell in our depths and revel in life's beauty; to sit back, relax, bask in a momentary glow.
High, low, good, and bad, we're here, aren't we? That, in and of itself, is worth celebrating – and Magic City Hippies find a way to elevate and enhance that experience in a meaningful way. Released January 21, 2022, the band's new album is a perfect way to start the new year off right: With wave after wave of moody and groovy, smoldering and soaring sound. The trio of Robby Hunter, Pat Howard, and John Coughlin follow up 2019's Modern Animal with an alluring, impressively cohesive blend of disparate styles and eclectic sonics; at their core they remain an R&B-laced indie pop band, but Water Your Garden feels incredibly finessed and mature. Similar in sound to artists like Glass Animals, HONNE, and slenderbodies, it's an all-encompassing album made to be felt in full.
I can tell you ride it
Leather with the boots, I'm faded
Tell me where to hide it
Devil in the suit I'm saving
Time moves so slow when she's in my head
Then she said
Hold me closer spend the hours
This is the only moment, feel the power
This is the only moment, tender hours
This is the only one
– "Champagne on the Rider," Magic City Hippies
"We are a band whose music almost always has an element of good times and breezy fun to them, but we do take the process of writing, producing, and finishing an album very seriously," Robby Hunter tells Atwood Magazine. "It's the part of being a band that we invest the deepest amount of energy and stress into, but we believe you can hear it in the music. For every song we scour every corner of our creativity and everyone has an option to play any instrument on any song, as long as what they come up with is the best that the three of us could do to serve the song and give it a new dimension to admire. This album has that, but it also has a certain amount of intention and clarity to it. In our previous records, we would often fill the arrangement and mix with as many interesting instrumental parts that would fit with the stereo span, but this record found us going more for understatement or gravitas over a dense succession of new layers."
"This record is distinct from our previous two in that it was made in a more enjoyable, less grueling process and that it featured songs written by all band members for the first time," he adds. "Our previous records mostly started as voice notes of simple acoustic demos that Pat would then take apart and produce from the ground up, as well as a few songs per album that started as loops or beats that Pat made with a wordless melodic hook already worked out. We would then take these songs and work on them in the studio with an intense focus and a goal to exhaust all possible options for arrangements, sounds etc. that could make the record the best possible. The intro track 'Garden Fiya' started as a production experiment instrumental that Pat made late one night to blow off steam, but the rest of the album come from demos produced by Robby and John at home in their relatively new home studios. As a result of these initial incubation periods, the songs all came to Pat, the band producer, a little further along in form and direction, allowing us to follow the inspiration of the original version of the song and to more confidently decide a vibe and sonic base for each new song."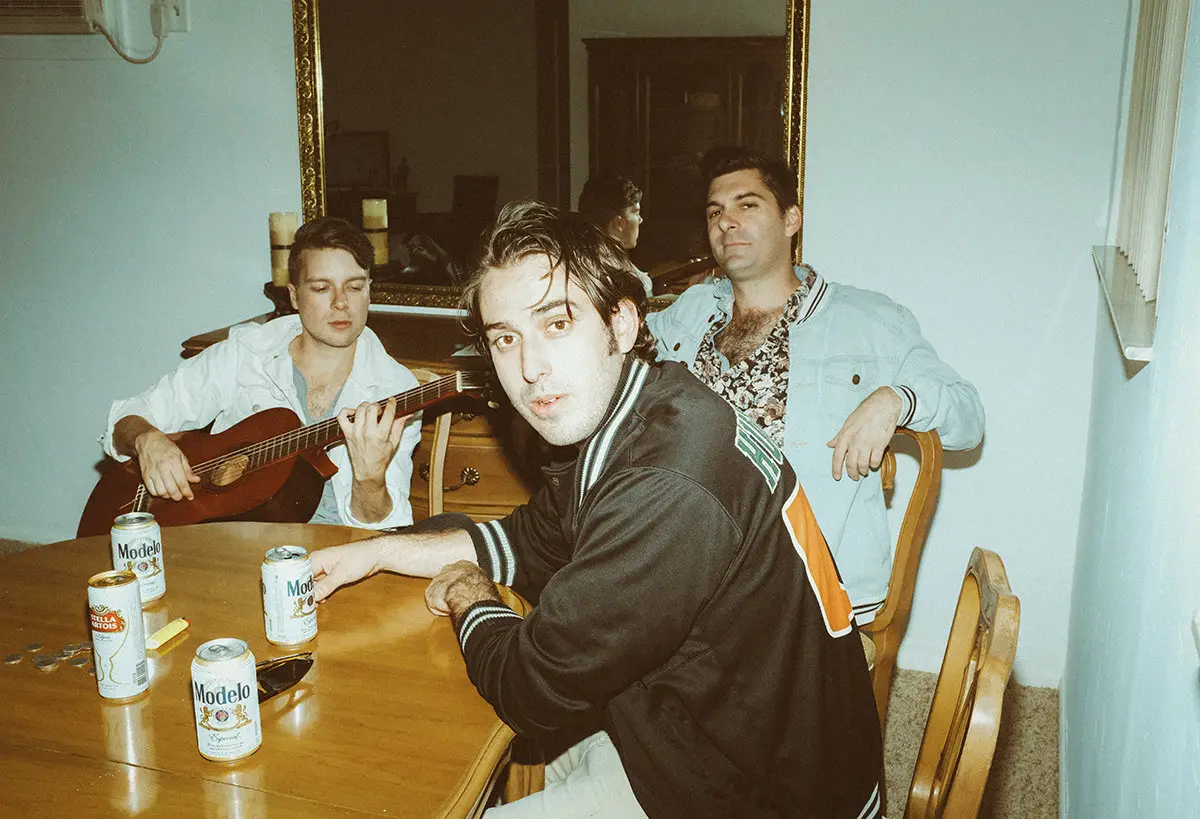 ---
Impressively, this record – one that feels so vast, yet so organic – came together at a time when the band members themselves couldn't do the same.
"Water Your Garden is the first album we've created where all three of us were in separate cities/states across the country," Hunter says. "2019 had seen the release of our last album in the summer and over a half a year of touring, and last year started on a similar path. In March 2020 we wrapped a wild two-month national tour and dispersed to rest and be with our respective partners in 3 different time zones. Pat had finally moved out to LA, holed up in his studio. Robby hunkered down in the mountains of Montana, and John held down the home base in Miami. The three of us began writing new songs and sending demos back and forth through the summer and fall while everyone was locked down in their respective homes. Flying out to Los Angeles every few months from late 2020 into the first half of 2021, the band would reunite in person to flesh out the arrangements and production in order to apply that bit of magic that only happens when the three of us are in the studio together."
"Our process for writing and recording our previous records involved us hammering away at the tunes in the studio until the early hours of the morning for 3 or 4 nights a week across a year or more, but these new circumstances created an environment where we were each sitting at home, inspired by a view of the mountains or a butterfly in the garden in the yard, and generally allowing ourselves the time individually to sit and craft the initial versions of the songs."
"In this way, each song felt like it really was a 3 minute world that we were building from an already half-produced demo, with its own ecosystems and characters and emotions. They were a collection of distinct planets that had by the end formed into a solar system. The common threads and themes are there, and when we were pulling them out of the creative void, we kept coming back to the idea of looking at your life and trying to decide what was the honest thing that makes you grow, that grows the people and community around you."
Self-care and empath play an important role in Magic City Hippies' new music. "I think haphazardly we all realized how important self-care was, and how necessary it was to help us get through this thing. Without knowing, we began to write about our life experiences – and the songs started flowing. With the life transitions everyone in the band was going through, we were all starting to water our own gardens, and take care of ourselves, and our families for the first time. So the album just feels so fitting, even if we didn't know where we'd all be in our lives last summer when we named it. I think that lended itself to a more introspective, emotionally mature collection of music. At least lyrically – musically it's classic MCH, all over the place sounds. From some heavy synth-based, Jai Paul inspired bops – to Drake inspired trap – to soft, vintage tinted instrumental tracks like 'Hangunder' and throwback '80s hits like 'High Above The Sun.'"
Even if the majority of the songs aren't classically 'happy' we are still urging the listener to dance to every track, and that is a must in Magic City Hippie music.
---
Water Your Garden originally took its name from the song of the same title (which features fellow Miami singer/songwriter maye), but it has since transcended that – coming to mean so much more. "The title of the album originally came from the song "Water Your Garden," a song expressing the will to be there emotionally, sexually, physically and supportively for someone you love, but as the other songs on the album began to take shape and in reflection of the general state our lives were in during the writing of the songs, this common theme of taking care of yourself in a way that you hadn't considered before, and finding new ways to be truly caring to the people around you [took shape]. The at-home and inspired environment that we were all in during the writing process and the new practices we were taking on to be more whole reflected generated an album full of songs that stills capture the fun and energy of our previous music but with a bit more honesty and introspection."
"There's a trend here that continues with this record from our previous ones," Hunter continues, "where by the end of the writing process we've managed to write the script of what would happen in our personal lives in the preceding and following couple of years, often times laying out truths and events that we weren't even aware were happening or would happen. Relationships of nearly a decade ended, cross country moves were made, gardens were planted and gently cared for. It can feel eerie at times, but that seems to just be what happens whenever we set out to make a record."
Highlights abound through Water Your Garden, from the smoldering opening track "Garden Fiya" and the regal beauty "Queen," to the searing, soaring "Champagne on the Rider," the gorgeously woozy title track, and the immersive finale pairing of "Therapy" (a slow jam featuring Tim Atlas) and "High Above the Sun" (a mesmerizing, bass heavy, and sun-soaked revelry).
What you doing baby
It's a lonely way to the heart
I've been thinking lately
It's the only way to the top
It's a bitter, bitter pill you're gonna drop
High above the sun
All of that could stop
High above the sun
All of that could stop
Never, never, never stop
Never, never, never stop
Never, never, never stop
---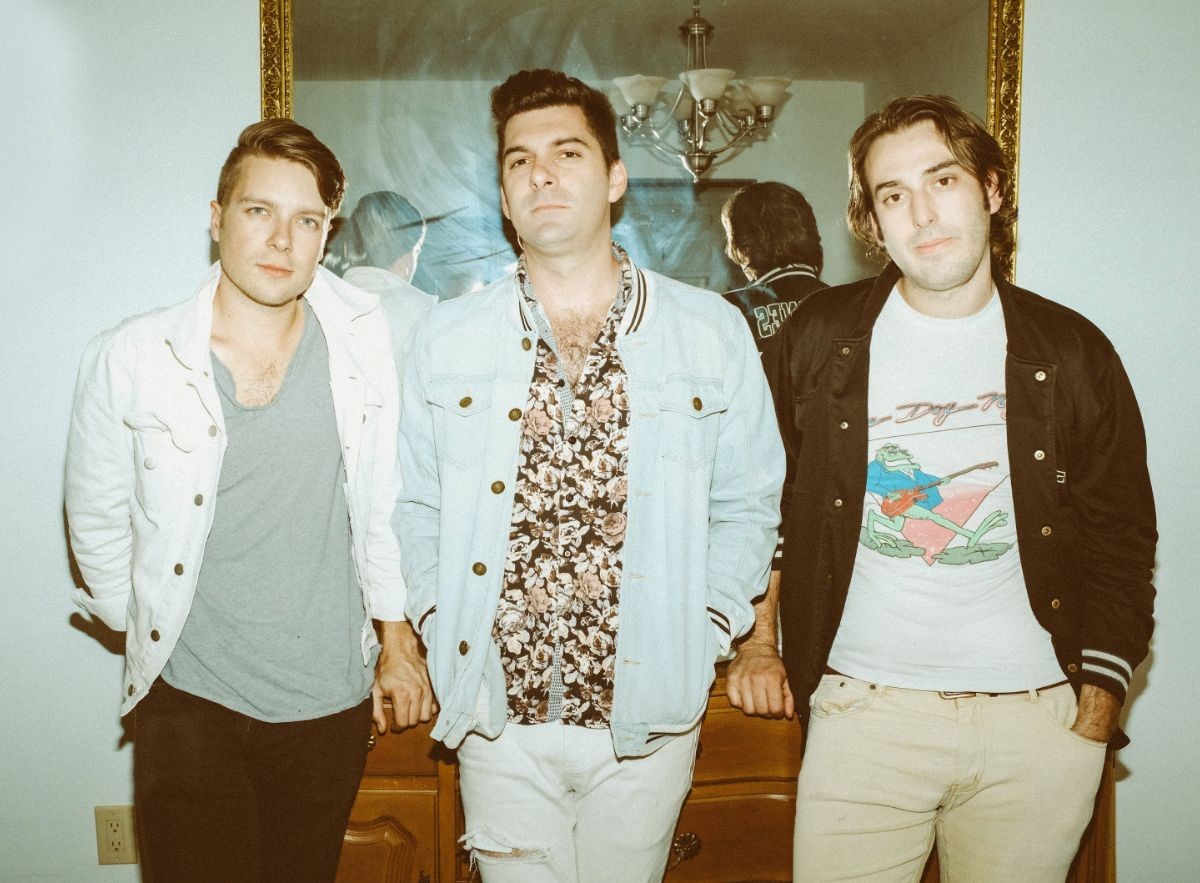 "Our favorite tune on the record is constantly changing, but we're all particularly pumped for the last song on the record, 'High Above The Sun,'" Hunter says. "It's split into two fairly different sections, from a hard hitting, '80s sports film movie montage first half to an exuberant minute or two of sweet melodies and layers of chicken scratch guitar funk. It's the song that is anchoring the release of the album, and we all feel very proud of how the song turned out and how well it serves as a finale to the album. Maybe since we're here at the end of the making of the record, it only makes sense that this song that feels like the perfect end sequence to the album is the one that we feel the most moved by and attached to at the moment." Meanwhile, Hunter cites the line "truth like a diamond, rich when you find one" from the song "Diamond" as one of the group's favorite lyrics.
Considering the the way in which it was made and the state of the world these past few years, Magic City Hippies' third album is a resounding triumph.
2022 has just begun, and with it comes nearly two full years of the global community living in/with/through a pandemic. We need music that inspires us; music that engages us and lights a fire inside. Water Your Garden does just that: It's a radiant, impassioned affair that flows as one, rising and falling in buoyant, seductive waves of woozy wonder.
"We hope people get to escape the world for a little bit, turn off the news, lay in your backyard (weather depending of course) and let the album spin," the band share. "There are some super positive messages about taking care of yourself and the ones you care about hidden in the classic hippie dance tracks and funk grooves. And then we want you to get your friends together, fill your living room full of people, and put the record on and let go."
Experience the full record via our below stream, and peek inside Magic City Hippies' Water Your Garden with Atwood Magazine as frontman Robby Hunter goes track-by-track through the music and lyrics of the band's sophomore LP!
— —
Stream: 'Water Your Garden' – Magic City Hippies
:: Inside Water Your Garden ::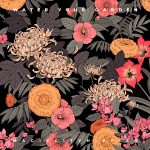 — —
Garden Fiya
Pat started this song as a late night production experiment to blow off some steam, but when he sent it to the rest of the band, we knew it had to be on the album. On a trip out to Pat's studio in LA, we spent one drunken night with Robby in the Bronson character just improvising lines over the instrumental. 90% of the crunchy, poetic, drunken ramblings of Bronson don't make it on the album – but the ones that do are those gems that fit perfectly and feel like they've been plucked from an old movie from another era. Just like with our other albums, this reverse-engineered speech of glued together fake samples ended up as a kind of manifesto for the rest of the record.
Diamond
This song was actually the last written for the record, but as soon as Pat got to lay his production in it, it was pretty obvious to all of us that it should be the first single. It started as a loose, Jai-Paul infused trap beat Robby created in his Montana mountain basement studio and developed into a meditation on how the degenerate life takes a toll on our personal relationships but also serves as an emotional release often when we need it most . When we flew out to LA to finish this track, it was one of the hardest to get the mix right. We did something like 14 car tests; 24 Guayakis and a sleepless night later we had the low end hitting perfectly.
Queen
This came together pretty quickly as another simple Montana Rob demo- just vocals, guitar, drums. The song paints the sensation of being in love with someone who is obsessed with trying to be an onscreen star while you just want to play a role in the film of their life. This time we actually all met up for our only week of studio sessions that happened in Miami to finish this track. Over the last few years, Pat had been obsessing over Benny Sings and really wanted to create a piano-driven song. We had John lay down the original guitar part from the demo instead on an old upright piano we have in the Miami studio, and the song quickly took shape into one of the more classy of our tunes.
High Beams
This track started off as a dusty Mac Miller-inspired beat and hook that Pat created with our buddy Nafets. We all loved it so much we knew it needed to be added to the project. The tune depicts the weird combination of clarity and fog that comes to us thinking about our lives in the van after a show, crawling through a light night mist but somehow knowing exactly where we needed to be going. For this track, Pat wanted a specific bass sound – through hours of trying to lay down the part with the whole arsenal of the band's basses, we landed on needing a Hofner bass to get that classic hollow body picked sound. We managed to hunt one down from friends in the Miami scene, and the vibes of the song all flowed from there.
Champagne On The Rider
This song encapsulates the inherent brevity and intensity of personal connection that occurs as we bounce across the country on tour. Robby sent this one in with a lot of the vibe already in place, with a home-tracked guitar solo driving rock-funk feel. Pat switched up the chorus into a trap and club-hook inspired production, and the three of us layered up the psychedelic outro soundscape of guitars and synths that ends the first half of the album.
Hangunder
John wrote this song while getting through a hangover on his couch by playing jazz standards from the fakebook on a nylon string-guitar. After flipping through the book, he found himself enraptured by the Herbie Hancock song "Maiden Voyage," and this song came from an extended solo jam on the tune. We built the final cinematic arrangement together in the studio in LA, aiming to create the perfect interlude to an album with a wide emotional palette.
Ghost on the Mend
This song is about sleepless nights after ending a long term relationship–daydreaming about your ex receiving phantom phone calls from you, and knowing the intense pain they feel when they realize nobody is calling and there is nothing you can do to help them. You are both on the mend, and only time can heal this kind of wound. This was one of the early songs Robby sent for the album, and we all immediately fell in love with the emotional pull of the melodies over the undulating synth pads. Pat spent a wild night creating the Dilla-inspired bridge from scratch, and we all met up in the studio to craft the final heights of the last chorus.
Water Your Garden
Another John original, he wrote this song for his partner after coming home from tour and resting at his light-filled garden home in Miami. Oftentimes the hardest part of being on the road is hearing that your partner needs your support emotionally or figuratively (or physically), and this song tries to capture those precise words that we want to say to them back home that soothes the longing and promises a better future. The songs timeless quality required a more classic arrangement, and we slowly built up the delicate layers to the slide guitar solo crescendo together out in LA. It became obvious to us that we needed to have our personal friend and collaborator Maye, and the melodies and lyrics she brought into the studio in our Miami session immediately completed the song for us.
Atlantis / DM
This song is actually two songs stitched together by Pat's speaker-melting production, "Atlantis" coming from Robby and "DM" from John. "Atlantis" explores the tender weight of new love, and how it's something we want to hold on to forever, but can't quite seem to keep out of the clutches of time. Painted with the backdrop of crashing waves and denim on Laguna Beach – we wonder if this new love we've found is already lost in the ocean, or was it much deeper than that. This then juxtaposes to a sudden beat switch with "DM," reflecting the immediate fluctuation between emotional reflection and the excesses of the road life. Capturing the more lascivious side of touring, the song is an ode to the type of short and intense connections that can only come from receiving a DM from a fan on tour.
Therapy
This song is another soulful contribution from Robby that came from his time up in the snowy mountains ofBozeman. The song draws comparisons between intense physical need for someone and the not-exactly-sustainable ways our mental health can be soothed by this release. Robby only came in with one verse for the song, and in our demo for months we left it blank knowing that we wanted to feature someone else on it. It became pretty obvious to us rather quickly that Tim Atlas's voice would be perfect for the section. We had spent a month with him and his band on the road in early 2020 and had had one of those rare bonding experiences where the opener leaves the tour as one of your closest friends.
High Above The Sun
Another Montana Rob, "cruising through the Montana snow on his electric scooter" tracks. Inspired by a potent mix of Disclosure and the guitar solo section of "Owner Of A Lonely Heart," this track explores the up and downs of recreational drug use before breaking into a celebratory outro that tries to capture that sensation of joy and escape that our best nights in Miami or on the road can give us. This song was near completion but was still lacking something until in a drunken late night studio session we called over our buddy Nick Tannura the guitarist from Lemon City Trio to lay down a solo and some rhythm tracks. 48 stellas later John, Robby and Nick all battled to get the solo spot on the track – a la Steely Dan with Elliott Randall, Jay Graydon, or Larry Carlton Nixk ultimately won the shoot-out, appropriately capping off an album full of features from friend and family.
— —
— — — —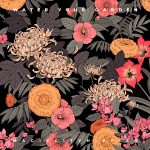 ? © 2022
:: Stream Magic City Hippies ::
---