Harrison Lipton's breathtaking "Beacon" explores sexuality and masculinity through vivid imagery and intimate, evocative music and lyrics.
a flicker of your light is like a beacon in the night
?  ?  ?  ?
Who are you? It's a simple enough question – one we've all heard many times before. Perhaps it's something we've even asked ourselves in moments of solitude and introspection. Some of us are confident in our answers; right away, we blurt out the answer, whether it relates to our name, our relationships, our hobbies, passions, and goals… After all, we are each so much more than any more word can express – and there are many folks for whom no easy answer comes to questions of self-identity. Perhaps they're still searching to understand themselves; perhaps they've been fighting their truths for a long time. Harrison Lipton's breathtaking "Beacon" explores sexuality and masculinity through vivid imagery and intimate, evocative music and lyrics.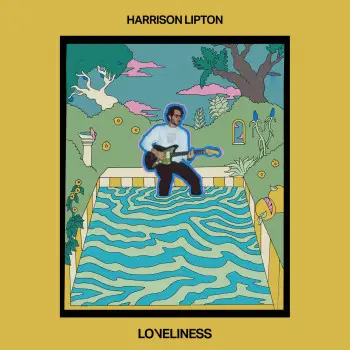 Hollow in your bones
I'm wishing you away
but it gets stronger every day
you see it's
following you home
a flicker of your light
is like a beacon in the night
you make me (ooh)
Atwood Magazine is proud to be premiering the music video for "Beacon," taken from Harrison Lipton's recently-released debut album Loveliness (out May 18, 2018 via Yellow K Records). In premiering Loveliness' dreamy second single "Clouds" earlier this year, we observed Lipton's struggle to embrace the warmth of a new relationship, haunted by uncertainty and self-doubt:
He sings atop an ethereal and ever-shifting instrumental, expressing a universal desire to love and be loved; to feel something substantial within himself and another. At the same time, he's seemingly tormented by his own demons: "You know that I lie," he confesses, unsure if he's even being truthful with himself… He's lost within the dichotomy of clarity and confusion, far off the ground but still fully in his own head… Torn between love and fear, euphoria and sorrow, Lipton surrenders himself to the powers that be, acknowledging not so much in his words, but more so through his music, that he has to let time and energy work their magic on him and his life. He may find love and lose love; he may find a real thing – a good thing – and it may be fleeting; but he cannot allow himself to be held back by his own demons.
Like "Clouds," the heavy "Beacon" finds Harrison Lipton deep in bed with turbulent emotions. This time, however, he is fully focused on himself – or rather, two versions of himself: The version he wears externally and shows to the world, and the "real" version deep inside him. His words, sung softly like he's singing for his own ears only, reflect an intense internal conflict: "Hollow in your bones… I'm wishing you away, but it gets stronger every day." There's a version of himself he's been hiding from the world – an identity he's still coming to terms with (albeit slowly), understanding better and better each day.
"With "Beacon," we wanted to subvert the typical masculine cowboy trope," Harrison Lipton tells Atwood Magazine. "The video is set in an earlier era and depicts a lonely journey where the protagonist leaves his life as a cowboy behind in search of a mysterious beacon. The song deals with concepts of sexuality and masculinity – the refrain "I don't know what to believe" is a direct reference to my sexuality. The video traces my journey to find a place – emotionally – where I can accept the person I am, but whether or not I find that place remains to be seen. "Beacon" examines the space between confusion and conviction – the character doesn't know exactly where he's going, or what he's looking for specifically, but the allure of the beacon draws him in and he's willing to go through hell to find it."
We watch Lipton journey through a wintry New England landscape, trudging through empty fields dotted with leafless trees, passing by snow-covered lakes as follows this mystical light. He's not sure where it leads, but he knows he must follow it – and so he perseveres, ignoring the dancers that follow his every move. Are they out of sight to him because of the beacon, or are they like the three sirens whose mythical songs could lure any man – any man, but him?
I don't know what to believe
I don't know what to believe
I don't know what to believe
I don't know what to believe
Lipton continues, "At the heart of "Beacon" is the need to explore, to evolve, and to try to capture a wordless, fleeting feeling. To me, it's a feeling of happiness and acceptance, but it can be anything personal that you make of it. The process of shooting "Beacon" was beautiful yet challenging – the video was shot over a cold and rainy weekend in Connecticut. It was incredible to have so many friends lend their time and energy to this project. Others had it worse than I did, but I got intense blisters from the cowboy boots (they were a size too small), and I was wet and freezing for days – the discomfort mirrored my struggle with my sexuality and made the whole process feel eerily powerful. Hopefully that eerie feeling of mystique comes across."
Helmed by Jake DeNicola and produced by Claire Demere, "Beacon" finds Harrison Lipton acting alongside Alex Bittner, Toby Rae Irving, Oda Johansen, Marco Gill, and Noah Ross. A majestic piece that perfectly complements the song, the music video sucks us deep into Lipton's inner light and point-of-view, lending emotion and insight into an undeniably difficult, yet equally important stage in the artist's personal life. As Lipton notes, "Beacon" doesn't offer any answers; in fact, it likely asks more questions than it does solve anything. But that's the beauty of art, isn't it? To depict the simplicity, as well as the complexity of a moment in time, freezing it for all to encounter and experience, without passing judgment or resolving conflict.
Considering the depths felt in "Beacon" and "Clouds," perhaps we can best understand Harrison Lipton's debut as a reflection on, and exploration of the individual's most intimate depths. This album may be entitled Loveliness, but an inspection of its cover suggests the "v" to be the last two parts of an "N" – which would make the Loneliness. In truth, Lipton's debut is a combination of Loneliness and Loveliness, two states of being that are by no means mutually exclusive. He is, especially in the likes of "Beacon," so far removed from anybody and everybody else: It's a man diving deep into his soul and coming to terms with the person he finds there. Loveliness, on the other hand, refers as much to Lipton's warm timbres and rich sounds as it does to his external emotions: It's an ideal, a goal, a utopian reach – something to strive for, like a beacon.
All told, we're right there alongside the artist, following that light as we dive into ourselves. Stream Harrison Lipton's entrancing "Beacon" music video, exclusively on Atwood Magazine! Debut album Loveliness is out now on Yellow K Records.
Watch: "Beacon" – Harrison Lipton
— —
— — — —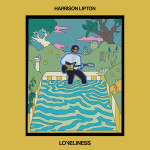 ? © 2018
:: Harrison Lipton ::