Indulgent and dreamy, "Clouds" reflects love's joy and pain as Harrison Lipton struggles to embrace a new relationship, haunted by uncertainty and self-doubt.
☁  ☁ ☁ ☁
Euphoria and sorrow seem like odd bedfellows – one emotion reflects utter bliss, whilst the other reflects utter sadness. They oppose one another, and yet they melt perfectly together in Harrison Lipton's mesmerizing new single. Indulgent and dreamy, "Clouds" reflects love's joy and pain as Lipton struggles to embrace the warmth of a new relationship, haunted by uncertainty and self-doubt.
All I want is a real thing
all I want is a good thing
so what if this is a new thing?
I don't want it to be fleeting
But you know that I lie
you know that I lie
Listen: "Clouds" – Harrison Lipton
---
Atwood Magazine is proud to be premiering "Clouds," the second single off Harrison Lipton's forthcoming debut album, Loveliness (out May 18, 2018 via Yellow K Records). Raised in bustling Manhattan and later, the quieter Connecticut suburbs, Harrison Lipton grew up knowing the majesty of noise, as well as the beauty of silence. "Ever since I was a kid, I was drawn to softer album-closer tracks," he recalls. "Even when listening to our family's scratched-up CD of Thriller by Michael Jackson on long car rides, I'd groove along to 'Beat It' and 'Billie Jean,' but what I was really waiting for was the hyper-detailed, super smooth world of 'Human Nature.' This is also true for Fleetwood Mac — 'Clouds' draws on the delicate atmosphere of 'Albatross,' one of my all-time favorite songs."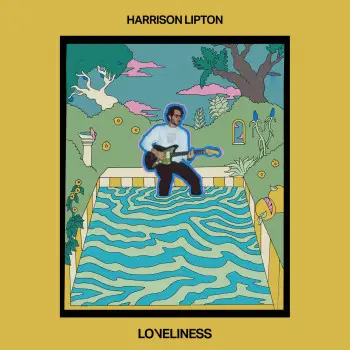 In addition to the rock and pop of the '70s and '80s, Lipton's musical upbringing included a significant amount of gospel; his time spent as featured soloist in a gospel choir indelibly shaped his voice, which rises and falls like waves in an ocean. In high school, he fronted a band with Palehound's Ellen Kempner – yet ultimately, it's the years of practice and experimentation and that resulted in the uniquely soft, delicate styles he draws upon in his debut. He explains, "When I was in college, I would never be able to sleep — I was always up late making music. When I had set up my bedroom studio, I made the mistake of buying 8" monitors, which I squeezed into my cramped dorm single. I had a mic, a guitar, and a Casio CZ-101 synth. Perhaps it was heavy-lidded insomnia that lured me into making softer music, but I feel like part of it was also out of sheer necessity… This was a few years before writing 'Clouds' or anything else on Loveliness, but I think it paved the way for the sounds you hear now."
Those sounds are the product of Lipton and his band, which consists of Ian Bakerman, Noah Ross, and Marco Gill. The Brooklyn-based artist first introduced his solo effort earlier this year through Loveliness' lead single "Pool," a raw, vocally-centered R&B love letter reminiscent of Frank Ocean at his best.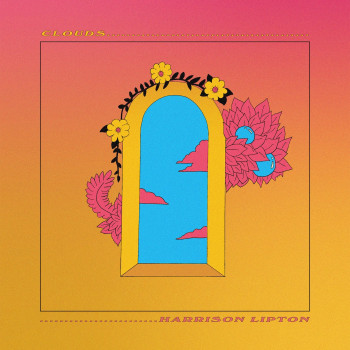 "Clouds" brings new light to Harrison Lipton's burgeoning musical identity, showcasing a penchant for unique songwriting styles and an inimitable ear for fragile, heartbreakingly sweet music. He sings atop an ethereal and ever-shifting instrumental, expressing a universal desire to love and be loved; to feel something substantial within himself and another. At the same time, he's seemingly tormented by his own demons: "You know that I lie," he confesses, unsure if he's even being truthful with himself:
All I want is a good thing
tell me that I'm deserving
if we don't make this a pure thing
eventually I'll be hurting
But you know that I lie
you know that I lie
The title takes its name from the line, "You just got my head up in the clouds," a refrain Lipton sings over and over in dazzling falsetto, evoking the feeling of drifting in the wind. He's lost within the dichotomy of clarity and confusion, far off the ground but still fully in his own head. "The sheer height is exhilarating and dizzying, just like how a new relationship can be, but it also describes a state of confusion," Lipton tells Atwood Magazine. "Some clouds can be foreboding and stormy, and some can be delicately striated and beautiful."
A fringe love song, but still a love song, "Clouds" ultimately succumbs to the unknown: Torn between love and fear, euphoria and sorrow, Lipton surrenders himself to the powers that be, acknowledging not so much in his words, but more so through his music, that he has to let time and energy work their magic on him and his life. He may find love and lose love; he may find a real thing – a good thing – and it may be fleeting; but he cannot allow himself to be held back by his own demons.
Only by being vulnerable, authentic and truly honest with himself and his love(s) can Lipton hope to find what he's looking for – and that goes for all of us as well. Close your eyes and bask in the lush warmth of Harrison Lipton's "Clouds," exclusively streaming on Atwood Magazine!
"Clouds" is out on everywhere this Friday, 4/27/2018. Those in the Tri-State area can catch Harrison Lipton live at his LP release show at Baby's All Right in Brooklyn on Friday, May 11th – tickets and more info here.
— — — —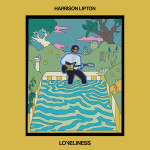 ? © 2018
:: Stream Harrison Lipton ::