With 'Man on the Moon III: The Chosen', Kid Cudi honors the trilogy's main blueprint while also bringing forth a few new lyrical themes and vocal collaborators.
"She Knows This – The Rager, The Menace Part 1"
---
It's taken ten years, but the Man on the Moon trilogy is finally complete. The first two entries, released in 2009 and 2010, represent the author's peak cultural prominence. Kid Cudi was a hot and hungry force to be reckoned with back then, releasing white-hot tracks like "Day N Nite" and "Pursuit of Happyness," and solidifying the strength of Kanye West's G.O.O.D. Music label as one of its earliest signees.
While the ensuing 10 years have brought him mixed fortunes – his albums continue to be well-received, but his singles have returned only sporadically to the Billboard Hot 100 – Kid Cudi appeared to be returning to form in 2020. His collaborations with Travis Scott and Eminem helped him to score a new pair of Top 40 hits, and rumors of Man on the Moon III's impending release proved to be well-founded. The success of this new album (subtitled The Chosen) will determine whether this can indeed be considered an official comeback year for an artist four years removed from his last LP, Passion, Pain & Demon Slayin.'
Stream: 'Man On The Moon III: The Chosen' – Kid Cudi
---
One of the most evident qualities of Man on the Moon III is how closely it resembles its two predecessors. Kid Cudi's vocals haven't changed noticeably in the past odd-decade, and his choices in producers have stayed pretty consistent. Dot da Genius, Plain Pat, Emile Haynie, and Mike Dean – all of whom have multiple Man on the Moon credits on their resumés – have been recruited once again. The resulting music strongly echoes the psychedelic feels of Cudi of old: put simply, this is still music to which lonely stoners can free their minds at night.
There are various ways to interpret the stick-to-your-guns approach Kid Cudi has elected for this album. Some will applaud the Cleveland rapper for maintaining such long-lasting creative partnerships and creating a record that fits in so easily with the rest of the Man on the Moon series. Others may feel that this approach negates the artistic development that 10 years ought to have produced and ultimately boils down to an instance of a veteran musician playing the nostalgia card a bit too hard in order to win fans over.
Each of these stances has its merits. But most fans should still be able to appreciate the musical creativity on display here. Across the album's four acts – this structure being another element that's directly lifted from Man on the Moon I and II – are a range of well-crafted and engrossing sonic atmospheres. One can effortlessly chill out to the dreamlike soundscape of "Sad People," "The Pale Moonlight" and "Solo Dolo, Part III." And it's just as easy to get riled up by the upbeat chorus on "The Void," in which Kid Cudi vows that he will "avoid anything that can bring me down or fuck with my flow." This man's skill at creating hypnotic music hasn't faded in the slightest.
---
Those who have enjoyed keeping up with Kid Cudi's alter ego, Mr. Rager – who ultimately damages his physical and social well-being by living up to his name – remain in good hands. Cudi continues to explore the malcontent that emerges from a life of excess, such as on the "Soundtrack 2 My Life"-evoking "Dive," where "Things are gettin' gnarly, got my whiskey by my side… This is just the sadness in me. Sad times."
Further analysis of that troubled existence comes along on tracks like "Damaged" and "Tequila Shots," while Cudi elaborates on the nocturnal lifestyle he has scrutinized in his music since Day 'N Nite One. Meanwhile, "Elsie's Baby Boy (flashback)" dives into less well-trodden lyrical terrain for this artist: his relationship with his own mother throughout his childhood. This Stand By Me-sampling and "House of the Rising Sun"-evoking number celebrates Dear Mama for raising the family as a single mother, making it an affectionate addition to the Man on the Moon III track listing.
Although this 2020 Kid Cudi record could have easily passed for a 2009/10 one in many regards, one distinguishing characteristic is the inclusion of several newcomers as featured artists. Phoebe Bridgers, who's up for Best New Artist at this year's Grammy Awards, makes a meaningful vocal contribution to "Lovin' Me," as does 21-year-old MC Trippie Redd to "Rockstar Knights." Given that Cudi's greatest successes in recent years have been through collaborations, rather than solo projects – his aforementioned 2020 singles, as well as 2018's joint release with Kanye West, Kids See Ghosts – it's little surprise to see that the duets on Man on the Moon III represent some of the album's most satisfying moments.
---
If you want to see Kid Cudi radically shake his game up, you might have to wait a few months so see how he fares on the upcoming follow-up, Enigmatic.
But if – like much of this record's target audience – you're a longtime fan of the first two Man of the Moons and want to see Kid Cudi deliver a worthy Part Three to this trilogy, you'll likely be perfectly content by what he and his creative allies have fashioned here.
— —
"Heaven On Earth – The Rager, The Menace Part 2"
— — — —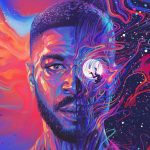 ? © Kid Cudi / Republic Records
:: Stream Kid Cudi ::