Lil Xan's anti-drug ballad "Betrayed" clarifies how self-sedating and hip-hop are far less of a love story, and far more of a toxically dependent couple.
— —
Drugs and Hip-Hop are a proverbial love story. From Biggie jotting down couplets about angel dust to Lil Wayne boasting about his brimful double-cups of sprite and codeine, self-medication has grown to be a normalized trope in the many spheres of rap music. That's why it's so refreshing when an emcee boldly decides to reverse the customary approach; to deglamorize drug abuse rather than hoist it on a romanticized pedestal.
Xans don't make you
Xans gon' take you
Xans gon' fake you
Xans gon' betray you
Xans don't make you
Xans gon' take you
Xans gon' fake you
Xans gon' betray you
Watch: "Betrayed" – Lil Xan
---
In the age of pharmaceutical fixation, namely the anxiety-reducing downer known as Xanax, LA's internet-discovered rapper Lil Xan does just that with his hazy cloud-rap single "Betrayed," a cautionary ode to the depressant and the often-unforeseen backlash such a self-destructive addiction can trigger. In the wake of emo-trap blender Lil Peep's overdose on the same narcotic, it only seems appropriate to plunge into a song that operates as a cautioning about the drug, rather than a celebration.
With "Betrayed," Lil Xan clarifies how self-sedating and hip-hop are far less of a love story, and far more of a toxically dependent couple, insisting on making the impossible work for the sake of avoiding change.
Pop the trunk, I open up, I sold my soul for a good price
Outta sight, and my hoe got talent, right?
Whole squad ran through that sh*t, yikes
Ayy, I'm a business man, I did my business, damn
But I'ma bend it down and I'ma lick her up, then d*ck her down
She gon' turn around then I'm gon' kick her out
She gon' talk that sh*t but say
How you make it up? How you fake a love?
Holy son, I was the chosen one
I'm sippin' out the grail, she gon' kiss and tell
She keep my wishes well (but) I don't need her, well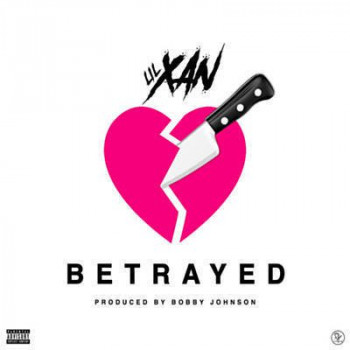 Lil Xan, a face-tatted 21-year-old rapper originally hailing from California's Redlands was once a victim to the benzo-binging culture himself. "I was painfully addicted to xan's for like two years of my life," he's explained in a past interview with Rap Genius. Understandably, his personal turmoil with such a gripping addiction posed as the muse for "Betrayed."
With long-time collaborator Bobby Johnson manning the instrumentation the track is launched with a sluggish, low-toned build that sounds like a cloud-rap anthem dipped in a vat of liquidated pharmaceuticals. It's atmospherically drugged-out, prescribed to swamp the listener in the same stupor the drug itself would produce if taken: decelerated, drawn-out, and above all, lost.
Xan's lazily slurred delivery of the first verse only amplifies this stoned ambiance, tapping into subjects ranging from his squad of reckless friends to his catalog of sleazy mistresses. Granted, it comes off a tad scatter-brained, not pinning one subject down as the primary focus of the song. But that all changes when the chorus bleeds into the forefront, crowning the song with a mesmerizing chant on how, "Xan's gon' take you."
The second and final verse replicates the first in terms of shotgun-spread subject matter, even equipped with a sidesplitting wisecrack about a woman's genitalia tasting an awful lot like skittles. As it swings back to the chorus once more, the beat begins to be played in reverse, all the while Lil Xan muttering the chorus over and over as if snagged on an infinite loop, a perpetual reminder that such a dependency will take you, fake you and eventually, tragically, the drug will betray you.
All in all, "Betrayed" is an anti-drug ballad; a somber warning to fans – fans, mind you, who are majorly wide-eyed teenagers –  that really isn't sung enough. And Lil Xan, although on the surface appearing to be just another generic prototype in the long chain of recently budded Soundcloud artists, manages to pull it off. He simplifies a complex message, a memo that betrayal is a versatile creature, and in his case, like oh so many others, the creature takes on the shape of a pressed pill.
— —
— — — —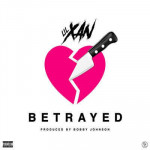 photo © Lil Xan
:: Listen to Lil Xan ::
---