Intimate and intense, Arctic Lake's undeniably vulnerable 'side by side we lie awake' EP is a shiver-inducing collection of stirring alt-pop ready to break our hearts and mend our souls.
for fans of Oh Wonder, Marian Hill, CLAVVS
Stream: "Breathe" – Arctic Lake
---
Arctic Lake's music can at times feel as cool and chilling as their name, yet there's something especially heated about the duo's latest EP: A warmth that comes from their music's unabridged, unadulterated honesty and a willingness to get up-close and vividly personal in song. In the case of Arctic Lake, vulnerability is more than an asset; it's an instrument in and of itself. Intimate and intense, the undeniably vulnerable side by side we lie awake EP is a shiver-inducing collection of stirring alt-pop ready to break our hearts and mend our souls. With songs to dance to and songs to cry to, Arctic Lake blend hot and cold into an intoxicating steam room of sweet emotion and sonic wonder.
Don't you find it hard to see, can you let me know you
When you find it hard to speak, can you let me hold you
I can, I can, I can not breathe
I can, I can, I can not leave
I'm in this too, don't tell me lies, I need your truth
My minds at stake, lay side by side we lie awake
And I don't care, if you don't wanna talk no more
I'll force your hand, just let me know where we both stand
Released March 18, 2022 via Astralwerks / Universal Music Group, side by side we lie awake is Arctic Lake's first EP in over two years' time, following 2020's See Inside EP and a slew of standalone singles that showcase the group's songwriting and production talents. London-based duo of vocalist Emma Foster and multi-instrumentalist / producer Paul Holliman, Arctic Lake have spent the past seven years delivering breathtaking, deeply expressing music that is ethereal and atmospheric, yet grounded. They are long overdue for a full-length album, but while fans continue to wait for an LP, their new EP played four times over will have to suffice: Visceral, finessed, and unapologetically raw, side by side we lie awake is simply stunning.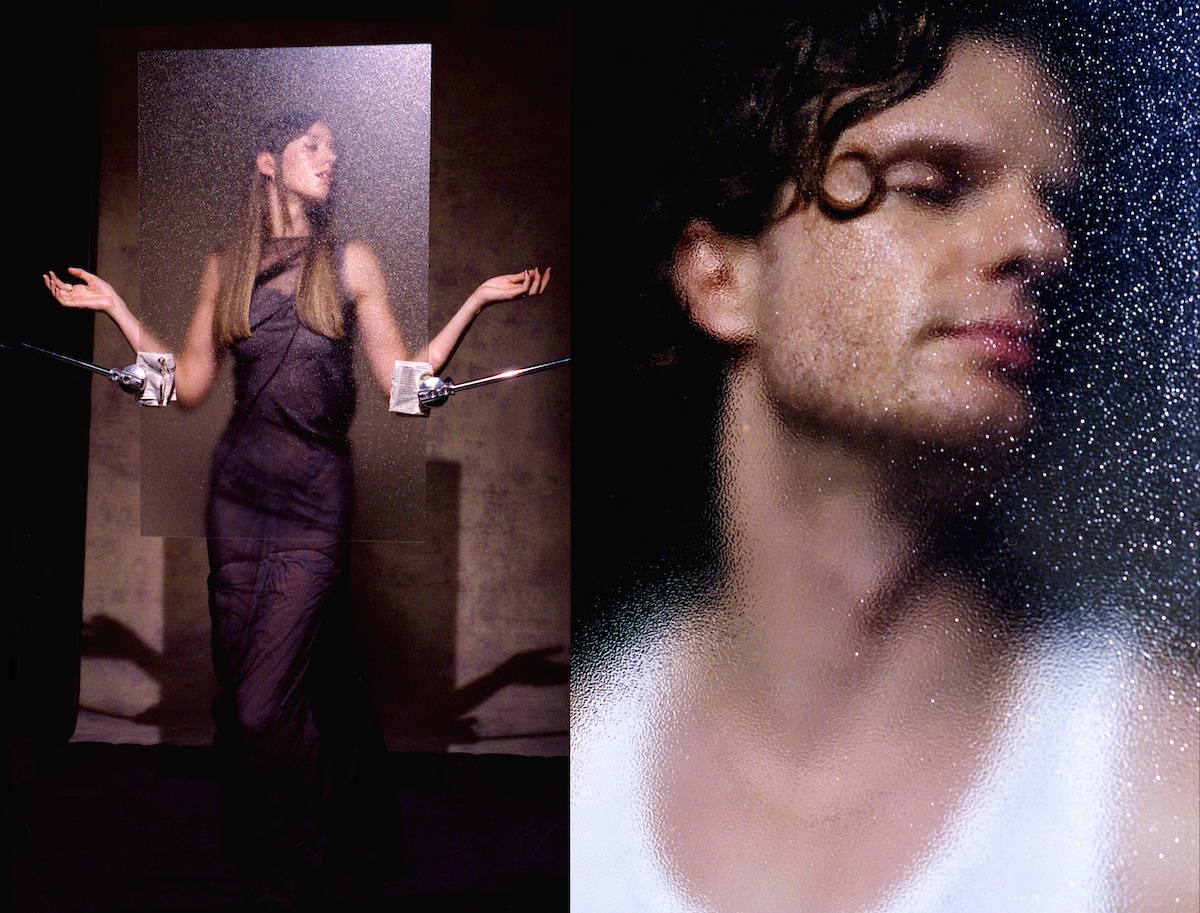 "It's basically a collection of our thoughts and feelings over the last two years, from heartbreaks to lockdowns and everything in between," Paul Holliman tells Atwood Magazine. "We took a break from releasing in 2020 to really focus on getting our sound together and writing as much as we could, and this is the first group of songs to come from that time. We're so happy with how they turned out and it's also a good idea of where we're going with the sound in the future too. I think both sonically and lyrically it's got everything that we like to do in there – slow heartbreak songs, some more up-tempo synth-led stuff that's all underpinned by Emma's wonderful voice and emotional lyrics that tie everything together."
Adding to that, band mate Emma Foster says, "We didn't think so much with a specific concept or vision – it was more just like this freedom and joy we found in writing without external pressure. That being said, our writing has and always will come from human experience, so when we came to putting this EP together one thing we were set on was making a balance of light and dark – we didn't want to repeat ourselves, we wanted to touch on things we'd never spoken about before."
"[The title] comes from the song "Breathe" – that song always comes to me with this memory of lying in bed with someone, both of us were awake but unable to talk about how things weren't working," she notes. "It's a painful image, but one that I think a lot of people can relate to. Paul and I loved how that one phrase felt like it painted a picture that can go with every song on the EP in a slightly different way."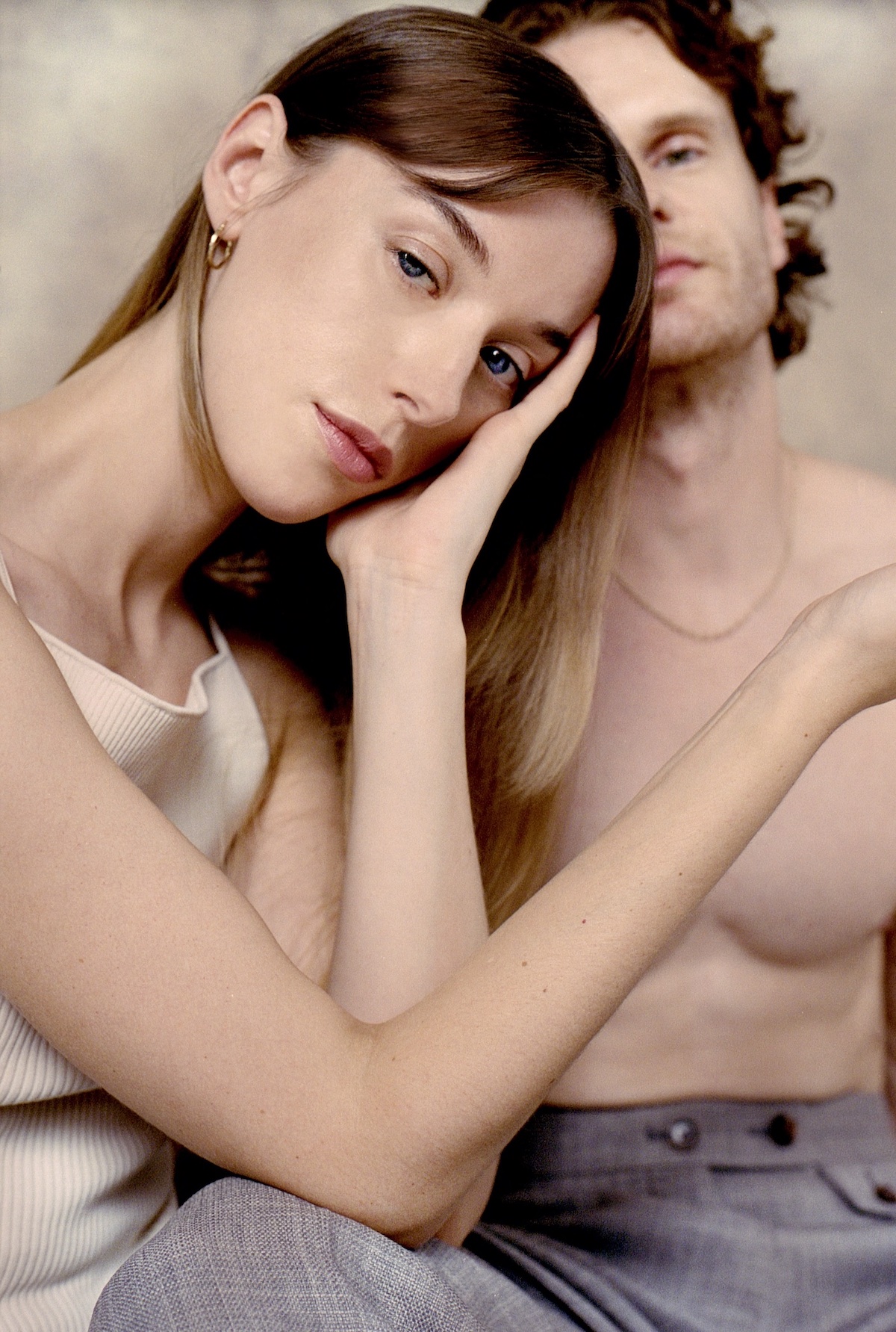 Arctic Lake transfix from the moment their EP starts: Foster's layered vocal harmonies hit hard on the 23-second EP opener "side by side we lie awake," expressing a deep and powerful yearning for connection and understanding:
And I want you to hold me
God, I want you to know me
Don't you want me like that?
I need you right back here
Come let me adore you
Baby, let me explore you
Let me drive you mad
I can love you like that
From there, "Love You Like That" takes up the mantle (and continues the above chorus) as a spirited, aching outpouring of fracture and hope for healing. Not all relationships can mend themselves, but there's a lingering light in this smoldering upheaval.
The record kicks into high gear with the radiant, fast-paced pulse of "Lonely," a song that once again begs us to "come in closer" as feel the intimate allure – that intoxicating pull – of human connection. If there is any singular idea or motif that truly binds all of these songs together, it is that as-of-yet unfulfilled desire for connection: For recognition of one's vulnerable, unadulterated humanity.
An easy standout is the EP's penultimate track "Breathe," an intense minimalist electro-pop upheaval that calls to mind The xx's debut album: Rich in emotion and full of space to (excuse the pun) breathe, this song not only showcases the resounding strength of Foster's voice, but it also highlights Arctic Lake's ability to build an absorptive world that suck listeners deep inside.
"'Breathe' holds our favorite lyric," Foster says. "'I'm in this too, don't tell me lies, I need your truth, my minds at stake, laid side by side we lie awake' – but there's a few in that song that just feel really raw to me. 'break me down and watch me bleed, I just need a moment' – it's like this person is taking them apart and then they ask for a moment to put themselves back together, it's so submissive it makes me so sad. 'When you find it hard to speak, can you let me hold you?' I think we've all been there when someone is so upset they can't talk and all you can do is hold them but it's made more difficult when someone doesn't want to be seen as vulnerable, someone who's hiding that they're in pain. This song really runs through the emotions of a breakup for us, and we love it."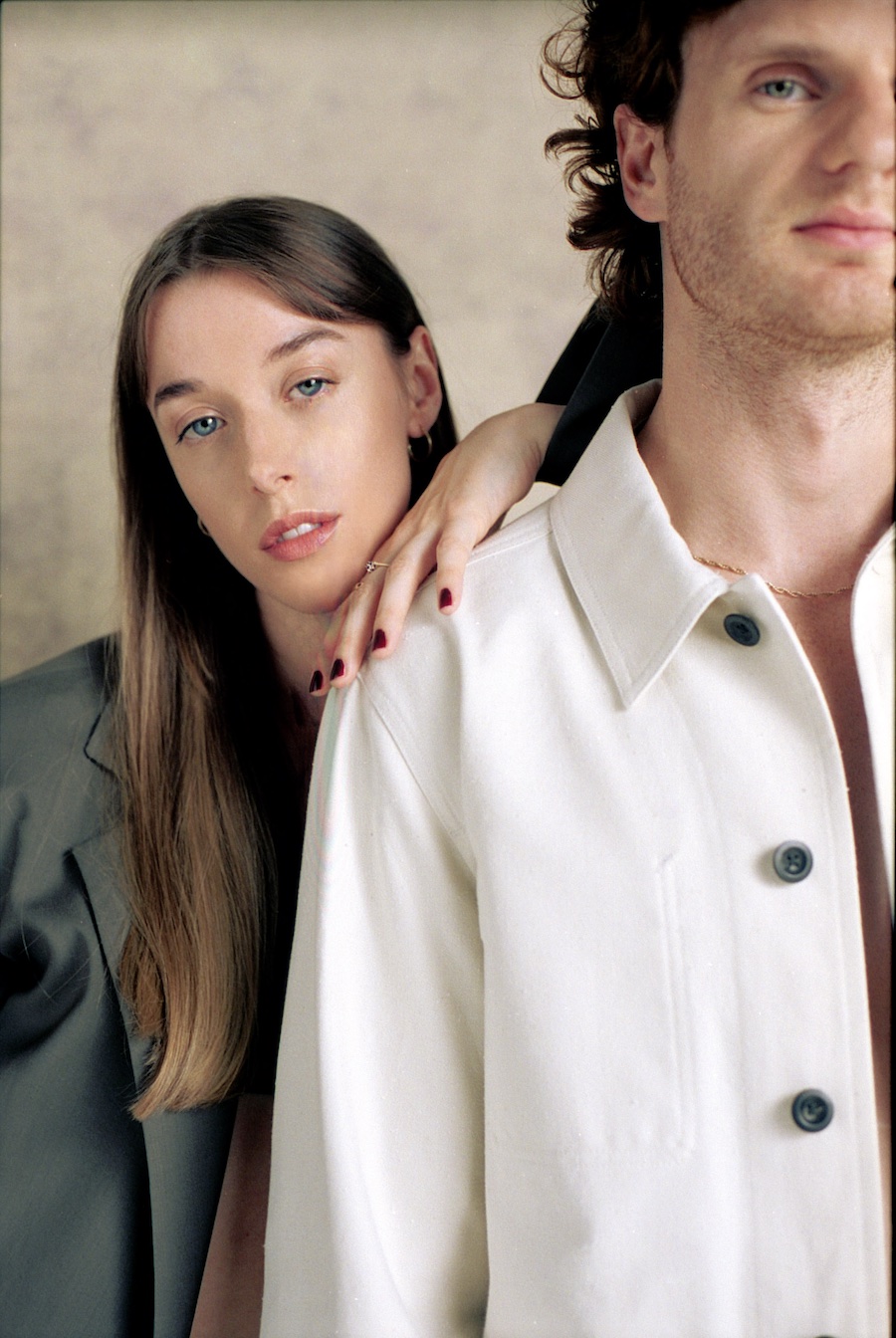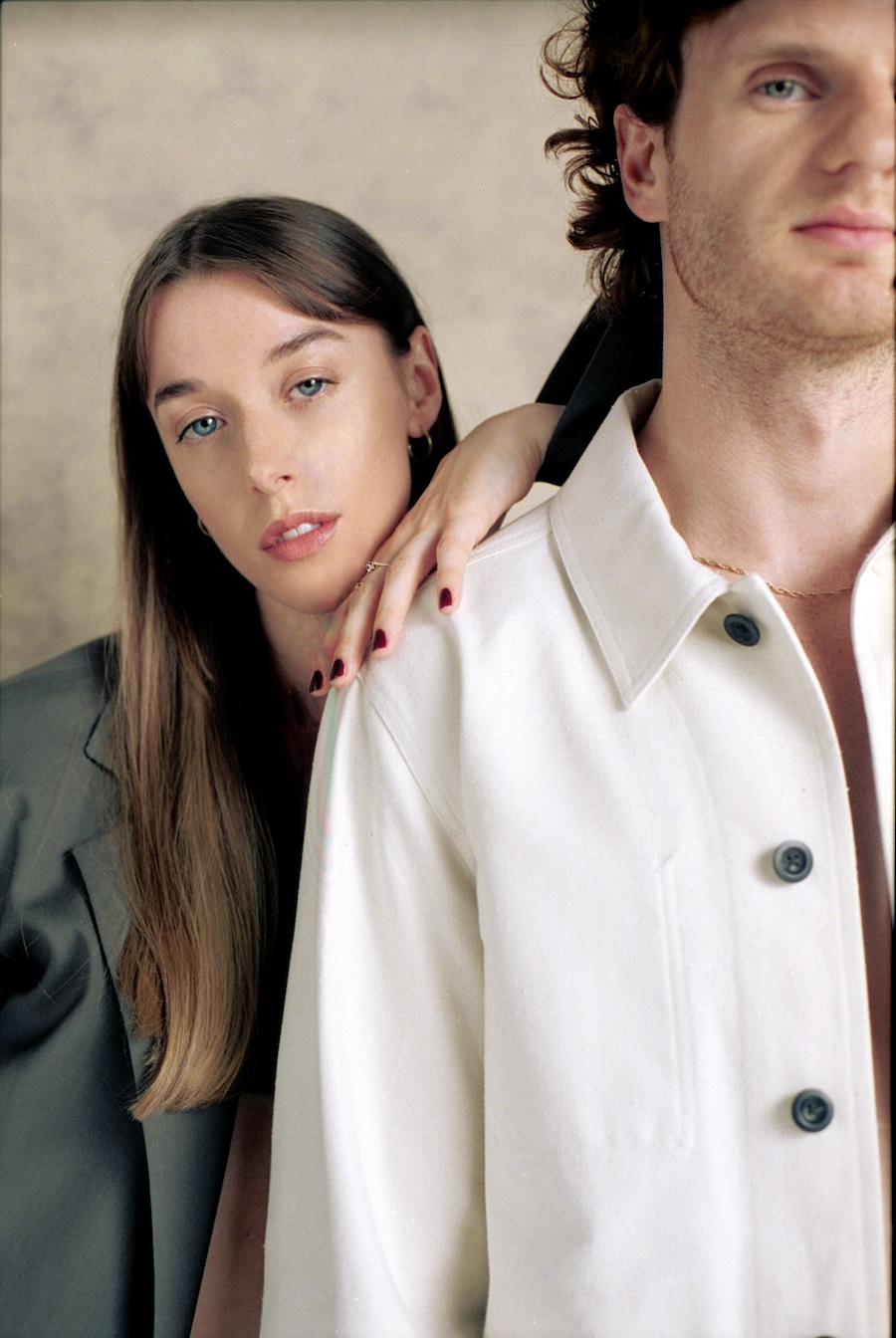 As for the band's song preferences, the EP's breathtaking finale holds a deeply special place in both their hearts. "They say you can't pick a favorite child but I know for a fact that my brother is the golden boy, so I can and will [share my favorite song]," Paul Holliman laughs. "I really really love 'Hesitate', the last one on the EP – mainly because it was one of the rare times that a song turned out exactly how I imagined it in my head when we wrote it. Usually things will change, not necessarily for the worse, but it will probably turn into something a bit different just naturally. On this one though, everything just came together really naturally and the big section in the middle sounds exactly how I wanted it to with all the strings and vocals combining to create a sort of single melody rising and falling together. Lyrically it's quite a heavy song, and I also love all the weird little production elements throughout that bring it away from being a straight ballad and make it slightly uncomfortable in a way."
"Hesitate" is as exposed and vulnerable as they come; a pure (and literal) cry for help, with Foster singing out into the dark, bitter void:
I can't seem to concentrate
Will they still wait for me?
You don't seem to notice
I'm not where I wanna be
I'm trying to talk, but they don't hear me
It feels like I'm shouting, but no one's listening
I'm breaking underneath
Help… Help…
---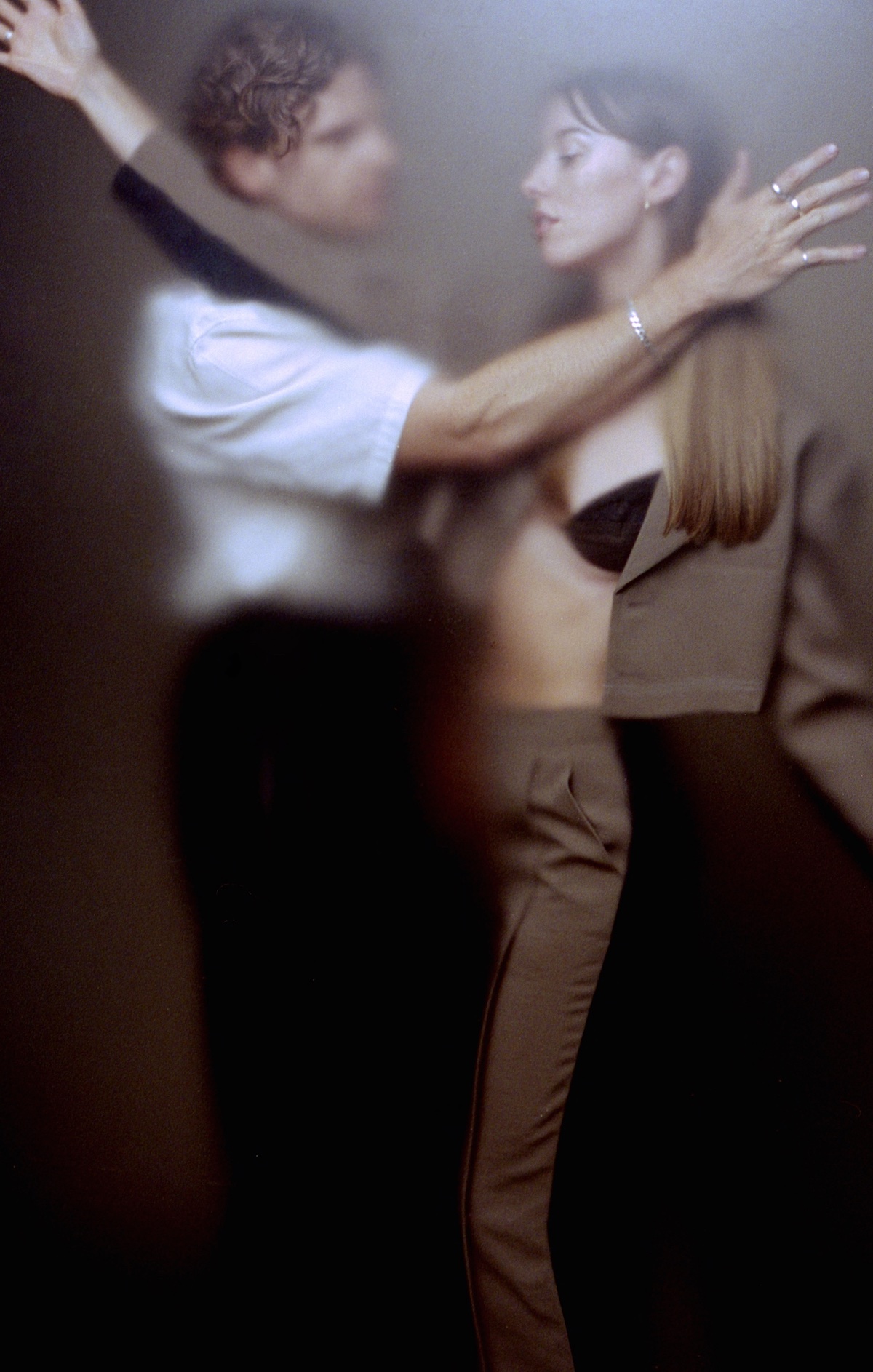 side by side we like awake is unquestionably special: A record that so seamlessly captures a piece of our shared human condition.
Whether this record drives you to dance or drives you to tears, it promises to move all who listen (in one way or another).
"I hope that it takes the listener to a space where they feel something strongly; I hope it can conjure something," Emma Foster shares. "Whether it makes them want to dance, or realize something, or whether it makes them want to talk… I think that connection is really special, and it means the world to us." Experience the full record via our below stream, and peek inside Arctic Lake's side by side we like awake EP with Atwood Magazine as the duo goes track-by-track through the music and lyrics of their latest release!
— —
Stream: 'side by side we like awake' – Arctic Lake
:: Inside side by side we like awake ::
— —
"side by side we lie awake"
Emma: We've always loved doing intros and interludes and the moment we got that vocoder chorus we knew we wanted it to be the first thing you hear on the record.
"Love You Like That"
Paul: This song actually began a few years ago with an idea that we never finished, and during lockdown I came across it and thought we should have another go at finishing it because I really loved the verse melody – we changed up the production, wrote a new chorus and ended up with something we really love. It was also one of the first songs where we stepped a bit away from the stripped back sound and went a bit mad with all the synths and exploring that kind of feel, so it's really nice for it to finally be out in the world.
"Lonely"
Emma: I really wanted to embrace sensuality in a song of ours, coming from a more downtempo, melancholic world we always felt scared it would be too much of a curve ball and people would be like this makes no sense but then we figured we can't be the ones to put ourselves in a box. We set out to write about human interaction and emotions and this is one big side to that! We also wrote it during the pandemic and I think it just felt right to write a song about needing to feel someone close so yeah this ones to all the lovers.
"Breathe"
Paul: The core of the Breathe was written really quickly in a few hours when we were in the studio at the end of 2019, and only needed a bit of touching up after that. Lyrically it's a bit of a heartbreaker, Emma had come out of a relationship a while before and it's about the sort of fallout of that and the weird bit near the end where you both know it's run its course.
"Hesitate" 
Emma: This one is really hard to talk about but it's probably the most special to me in a twisted way. It's about not being able to talk about something you need help with. Feeling like it's swallowing you whole, making you disappear with the weight of it. It felt like an achievement in itself to write it and even more so to put it out into the world. It's the first time I ever wrote about this thing that happened and a decade later I still find it hard to open up about but through this song, no matter how veiled it might seem, I poured out some of those feelings and that feels like a step forward to me.
— —
— — — —
? © Scarlett Casciello
:: Stream Arctic Lake ::
---