Singer/songwriter Harrison Whitford already captured our ears and our hearts with his beautifully sweet, tender love song "Secret Garden," and now he gives his powerful music a fresh twist with a captivating music video inspired by none other than 'The Shining.'
for fans of Phoebe Bridgers, Iron & Wine, Ethan Gruska, Tom Iansek, Laura Stevenson
Stream: "Secret Garden" – Harrison Whitford
---
The stress of unproductive songwriting and the frustration of writer's block can all too easily overwhelm the creative spirit; thankfully it's only (to our knowledge) in the cinematic universe that this takes a deadly turn. Singer/songwriter Harrison Whitford already captured our ears and our hearts with his beautifully sweet, tender love song "Secret Garden," and now he gives his powerful music a fresh twist with a captivating music video inspired by The Shining.
Watch a meltdown turn manic in three minutes of lush, enveloping indie folk brimming with full of raw, achingly intimate and vulnerable emotion.
living alone in a rented mansion
up here in laurel canyon
i wish you'd come visit me
we could go swimming
in the sunshine
i like looking at you
it's easy to do
in the sunshine i like looking at you
it's easy to do
Atwood Magazine is proud to be premiering the Michael Erik Nikolla-directed music video for "Secret Garden," one of the standout songs taken off Harrison Whitford's sophomore album, Afraid of Nothing. Released November 12, 2021 via Screwdriver Records, Afraid of Nothing is an enchanting, stirring world unto itself: An escape and indulgence all in one, filled with sonic wonder and poetic introspection. The guitarist for Phoebe Bridgers and Matt Berninger, Whitford proved himself a standalone talent late last year with an emotionally vulnerable, musically lush indie folk record of self-reflection and connection, reckoning with the surrounding world and reckoning within oneself.
"A soothing, tranquil alternative album filled with emotional turbulence and existential searching, Afraid of Nothing is, in a word, breathtaking," this writer previously wrote in Atwood Magazine's 2021 Albums of the Year feature. "It's an enviable and praiseworthy reintroduction to Harrison Whitford, who re-emerged this fall with his own beautiful, multifaceted artistry in full bloom."
Following 2018's Afraid of Everything, Afraid of Nothing feels familiar and cozy: Whitford's words bring us deep into his mind's eye, while his sparse but vivid instrumental work feels equally up-close and within reach. As muted and subdued as it is rich and colorful, this album offers comfort and catharsis: Inspiration from a soul exposed.
Nowhere does that soul exposure shine brighter than on the album's penultimate closing track, "Secret Garden."
A fitting finale (followed only by the cinematic instrumental "The End"), "Secret Garden" showcases Harrison Whitford's ability to blend a hauntingly subtle touch with undeniably and irresistibly catchy melodies. It's a gentle, expansive indie folk song that envelops the ears like a blanket might the body, wrapping around us, warming us up, and pulling us deep into Whitford's world.
"This is the only love song I have ever written that I did not abhor," Whitford told Atwood Magazine in a special track-by-track feature published last year. "The character of the song is a lonely rich guy who has nothing better to do but pine for someone from his obnoxiously large mansion, which brings him no joy if it is without someone to share it with." We hear this story play out lyrics full of yearning and possibility, laced with a certain substantive sadness:
we could go sit in the secret garden
it's right beside the guest apartment
we could go watch your favourite movie
there's a popcorn machine and a big screen
in the darkness i like looking at you
it's easy to do
in the darkness i like looking at you
it's easy to do
---
Admittedly, "Secret Garden" is an unlikely soundtrack to a psychological horror film, but director Michael Erik Nikolla makes it work – finding balance between horror and levity, and in turn creating a short visual that leaves viewers with satisfied, albeit with a few unanswered questions and a healthy modicum of mystery.
As Whitford himself explains, "Inspired by The Shining, directed by Michael Erik Nikolla and written by myself and Jacob Jeffries, this video follows me as I resent the ease with which Jacob Jeffries pens the tune in his head, and eventually take sinister and murderous action."
When it comes to envy around music writing, one can't help but think about 18th Century composers Wolfgang Amadeus Mozart and Antonio Salieri; how the two were (perceived as) rivals to the general public and scholars in their time, and how rumors spread of Mozart's murder at Salieri's hands after the former's death in 1791. In "Secret Garden," we watch a frustrated Whitford struggle with his own writer's block, taking his emotions out initially on his instruments – furiously playing the drums and banging away at the piano – until he's got a shovel in his hand, and then, Jeffries' lyrics sheet on his bed. Director Nikolla plays with viewers' perspective, giving us just a piece of the puzzle so that our imaginations may run wild and rampant.
It may not be the music video fans expected to accompany such a delicate and truly beautiful love song, but "Secret Garden" keeps us hooked while undeniably adding new dimensions to the song's narrative.
Stream Harrison Whitford's "breathtaking" new music video exclusively on Atwood Magazine, and be sure to give a listen to Afraid of Nothing in full: Intimate and brooding, it's a musical fire that more than deserved mention as one of last year's best albums, and it remains as seductive and moving now as it did upon its initial release. There's no denying Harrison Whitford's talents, and we cannot wait to hear (and see) where he goes next.
everyday i wake up in a king sized bed
and the curtains are blue and the walls are red
i wish i knew where i was
so you could come here and stay a while
but i'm a liar when i'm looking at you
it's easy to do
i'm a liar when i'm looking at you
it's easy to do
in the sunshine i like looking at you
it's easy to do
in the sunshine i like looking at you
it's easy to do
— —
Stream: "Secret Garden" – Harrison Whitford
— — — —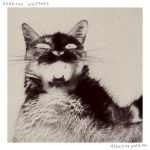 Connect to Harrison Whitford on
Twitter, Instagram
? © Michael Erik Nikolla
:: Stream Harrison Whitford ::
---