This Black History Month, Atwood Magazine has invited artists to participate in a series of essays, interviews, reviews, poetry, playlists, and more features in recognition of, and out of respect for the symbolism and significance of this month.
---
Today, Ben Wynter and Yaw Owusu of PRS Foundation's Power Up initiative discuss Black music and Black identity, history and culture, and their mission to support Black music creators and industry professionals while addressing anti-Black racism and disparities in the music sector. The UK's leading charitable funder of new music and talent development, PRS Foundation launched their ambitious, long-term "Power Up" initiative in January 2021. Set up and managed by PRS Foundation in partnership with YouTube Music, Beggars Group and the Black Music Coalition, the program aims to be a source of support, development, education, and impactful change on the communal and societal level.
Per their press release, "Power Up" "aims to break down barriers to create a fairer, more equitable music industry, to achieve better representation in all sectors of the UK music industry, and to amplify the work of Black creators and industry professionals, through two strands, the Power Up Participant Programme and the Power Up Movement. The Power Up Participant Programme is a long-term network addressing barriers facing 40 Black participants (20 Black music creators and 20 Black executives and industry professionals) each year. Participants will be at crucial career stages, working in any genre or sub-sector, and will be in need of support to progress, powering up through grant support of up to £15,000, capacity building and mentoring, support from partners, and marketing support."
In alliance with the Black Music Coalition, the Power Up Movement will set targets and apply industry pressure to increase Black representation, empower and advocate for Black talent and industry professionals, consequently influencing policy and shaping the future of the music. Power Up Ambassadors include Award-winning BBC Presenter and Music Entrepreneur DJ Target, Disturbing London Founder Dumi Oburota, MC and actor Kano, artist Ray Blk, LinkUp TV Founder, Rashid Kasirye and singer/songwriter Sabrina Washington.
"I am proud and excited that after a long six months, Power Up is finally able to launch. Having been on the receiving end of unconscious bias and the structural and systemic anti-Black behaviour that occurs within our industry, I know first-hand just how important Power Up is. Following on from Black Out Tuesday and seeing all of the posts of solidarity, I realised that there was an opportunity to seize the moment and put something in place that would encourage the dialogue to last beyond the 2020 BLM movement and have a lasting impact over the next decade and beyond. Step forward: Power Up!" –  Ben Wynter
•• ••
Ben Wynter is a UK based music and media executive with twenty years of experience in the music industry, including roles in A&R and project management where he delivered award winning projects. He has also delivered events in partnership with the Mayor of London and Downing Street and founded the talent management company Unstoppable Music Group. In addition, Wynter has worked at the PRS Foundation where he created and launched the Hitmaker Fund, the only fund of its kind in the UK to support behind the scenes songwriters and producers with grant funding. Wynter works with A.I.M (Association of Independent Music) as Entrepreneurship & Outreach Manager where he helps music entrepreneurs and rights holders to navigate the music and media ecosystem to maximise the potential in the rights that they own. Wynter is Co-Founder of Power Up, an initiative he created to end anti-Black racism, and create a fairer and more equitable music industry in the UK.
Yaw Owusu is a Director and Executive Manager of The Playmaker Group where his prime activities include creative consultancy, talent development and content creation.  He has consulted on a number of key music projects, working with the likes of MTV, BET, Liverpool International Music Festival (LIMF), Nike, BBC Radio 1 Academy, MOBO, The Fader, Jockey Club Live and Levi's, PRS Foundation amongst many others. Yaw has also produced acclaimed radio documentaries for outlets such as BBC Radio 1 & 1Xtra, BBC Radio 4 and The World Service, and worked on various music campaigns for artists ranging from music pioneers such as Wiley (A-List Records) and Damian Marley, to dynamic creatives Yuna, Shakka and Jesse Boykins III to grassroots emerging artists like XamVolo and Sub Blue.  He is also a co-founder, alongside partners Seani B and Ray Paul, of BrukOut Entertainment – a Carribean Music platform and production company. Yaw is the Senior Manager for Power Up which is an ambitious, long-term initiative that supports 40 Black music creators and industry professionals per year with grants and industry-wide support as well as addressing anti-Black racism and disparities in the music sector in the UK.
•• ••
A CONVERSATION WITH YAW OWUSU & BEN WYNTER
Atwood Magazine: Tell me about your early experiences growing up with music. Who were the Black artists that inspired and influenced you?
Yaw Owusu: I had a very unique upbringing; I grew up in a very suburban area with an African father and a Jamaican mother so they came into this country in their late teens / early twenties and had me and my siblings. So I've had a lot of music influence from them- a lot of Reggae, Black American music and West African music so that was the mix in my formative years. So you'd have Daddy Lumba through to any iteration of Reggae music, obviously a lot of Bob Marley but then I'd have Black American soul so the likes of Marvin Gaye, Sam Cooke and all of that so it was a very big mix.
We used to have a lot of family parties because, generally for the black community, it's important but when you're in a more isolated minority space it becomes even more important, so we had these parties where cousins and families and people who you thought were your cousins but weren't but from a similar place as your parents, come to the house and then we had the record player, we had a good sound system to be honest in the house, you'd be putting on the records and everyone would be listening to music. As I got older – say 6/7/8 I'd venture upstairs with my older brother and cousins were playing a lot of late 80s/early 90s Hip Hop. I was massively into The Chronic which is Dr Dre's album from around 1990, Snoop Dogg's 'Doggy Style' and the like. Once I got into American Hip-Hop that influenced me so much, my character, the way I thought about stuff and even my approach to business and life in many ways.
If I had to pick specific artists I'd definitely say Tupac, Jay-Z, I'd say they were probably the biggest influences. Also an artist called KOF – who's actually my cousin but I managed him for a while and he was a massive influence on me because he got me into UK Black Music and opened that whole space for me and I've ended up working with quite a few people that we used to listen to.
Ben Wynter: My early experiences growing up with music began with my older brother, we used to share a bedroom and he was six my senior so Id be going to bed and he was an avid vinyl collector, him and my uncle actually, he was about 9 maybe 10 years older than my brother So between the two of them there'd always be music playing when I'd be going to bed and it would be really wide ranging so stuff like Loose Ends, Public Enemy, New Edition, Run DMC, Bob Marley obviously, old Motown stuff, through to Gloria Estefan,  DeBarge and all that kind of stuff. So, it was always very soulful, great voices, Luther Vandross, Freddie Jackson, that kind of stuff would always be playing. Those are probably my earliest memories of music.
I remember for my 8th birthday, the only thing I wanted was the Bobby Brown album, most kids are like I want this toy, I want that toy but I said no I want a 12" vinyl of Bobby Brown, 'Don't Be Cruel' and I want my haircut like his, that's all I wanted and that came about because there was a program called America's Top Ten with Casey Kasem and it used to be on at 1am and it would do the Billboard 10 countdown and they'd show 30 secs of each track in the top album, this was pre YouTube, pre music video shows so you couldn't really see Black music on TV at the time because MTV wasn't playing it so the only chance you got to see anything would be on America's Top Ten so I would sleep and set my alarm and wake up and sneak downstairs and watch and that's where I'd see Paula Abdul. Bobby Brown, 30 seconds of MC Hammer. Those artists definitely inspired me.
My biggest influence was P Diddy, I remember seeing him in a music video when I was 12 or 13, I didn't know what he did or who he was but I said whoever that guy is in that music video he is cool as heck and I want to do whatever he does and I went on a path to find out who he was, what he did, which I later found out was A&R and then I had to go and find out what A&R was and I decided that was going to be my career. That's literally how I got into music.
Do you feel you were taught enough Black History growing up? If not how do you think your experiences would have differed if you had been exposed to an education of the history of Black people?
Yaw Owusu: I don't remember much talk in our house about Black History but there were books and both of my parents were well clued up and then in school you do Martin Luther King which is the obvious choice in religious studies, but the depth of my understanding I was more self-taught. I do remember a pivotal moment seeing X by Spike Lee when I was very young and it was my cousin who was in London at the time who showed me it and it scared the shit out of me but at the same time it opened me up into the wormhole of the diaspora and how that led to what we are experiencing; it opened me up to Garvey, the NoI, Black Panthers etc. This dovetailed with the Hip Hop I was exposed to also so it was the start of an education. Then when I was in university in my 3rd year I took African-American studies and it led me to doing so much about Black History, especially in the US in the states in the 20s right through to 1980s and I did one module that was music and society and it looked at the civil rights movement and how music played a pivotal part in that so yeah I definitely didn't get enough growing up from sources where you might expect it to come from but I still got it!
I tell my son now who's 7, you don't get given an education, you take an education – it's up to you if you've got an interest to build upon it and find out the information that you want but yeah again there needs to be a lot more black focused history lessons.
Ben Wynter: Here's something for me that's really funny, something that's really funny when it comes to Black history, I was really fortunate because my mum was a real advocate for knowing where you come from so from I don't even know what age, but as long as I can remember I've been given books about amazing people in history that were black.
So for me, I always grew up knowing about black history. So, you know, Paul Robseon was one of my earliest heroes, because he was someone who was born in slavery, but then ended up being a professional American football player. He ended up I think winning a Grammy Award as a singer, he also won awards as an actor, and he was a well renowned scholar. So for me, you know, being educated to people like that very early age made me appreciate my history and also being West Indian my mum made sure that I knew about Africa and about the journey from Africa to the West Indies and the Maroons and all of that kind of stuff so I kind of knew my history growing up and then I remember there was an incident at school where the history teacher was teaching about 'Black history' and she said that the Black Panther party was a terrorist organisation and I exploded because you know if anyone that knows me have probably seen on my email signatures, 'better to die on my feet than live on my knees' and that quote was by Huey P Newton who was one of the founders of the black panther party, also have it tattoed on my arm. So for her to say that about the Black Panther party, I wasn't having it so I got up and was like actually they're freedom fighters and she told a really skewed version of what it was and I just flipped and said no that's not what it is, this is what it is, they're freedom fighters, were they supposed to just lie down and be beaten, they had the right to bear arms etc etc and basically went in on the history teacher and I remember that some of the kids in the class said I was racist, if the teacher says it's this then it's that and I ended up getting so angry and flipping the table and getting a two hour detention but my point was made and she never taught that stuff again and I think I was lucky because I knew my history but I know other black guys in that class that didn't know what to believe because they hadn't been taught, the teacher would say one thing and I'm saying something else so they were a bit confused. I think it's important that history is taught but I think it has to be a truthful history as opposed to a version of history. You have to look at the context in which things are being taught and make sure it's the truth as opposed to here's a version that suits our narrative. So I think it's important that it gets taught but it has to be taught in the right way.
Did you have any early memories of racism that you experienced?
Ben Wynter: I don't know if I'd say I had any early memories of racism. But I do remember as a teenager experiencing quite a lot of racism. I used to play a lot of football, and often I'd be playing ball and I'd be up against an opponent, and that opponent on the pitch would be in my ear, because you always trash talk in football, you always trash talk your opponent, but quite often like, you know, I'd be called "nigger" while playing and they would be trying to get me sent off but I dealt with them in other ways.
Yeah, stuff like that. I remember getting chased through Bermondsey once. And, you know, it was one of those Steven Lawrence moments it was like if I'm not quick enough here. I'm gonna end up like Steven. So, you know, getting on your ones and twos and having to really run and make sure that you got away, that was a thing. Yeah, you know, I think, 18, when I was working at Sony I remember being on Oxford Street on the way back from a Wyclef show on the way to his afterparty, and walking along Oxford Street and some random guy called me a "f' nigger" and I was like, "What?" and completely lost the plot, and he was just stern and he stood by his comments, and repeated it actually three times… and then I lost the plot. So yeah I can't say early, I think again I was very fortunate, I grew up in Camden, I was kept well away from any situations that may have gone that way because my mum was very aware of that kind of thing, but I grew up in multicultural Camden, which to me is the most multicultural place on Earth – and even though it's so multicultural, yes there was racism, but my best friend was an Irish white kid growing up, so it was always multicultural for me.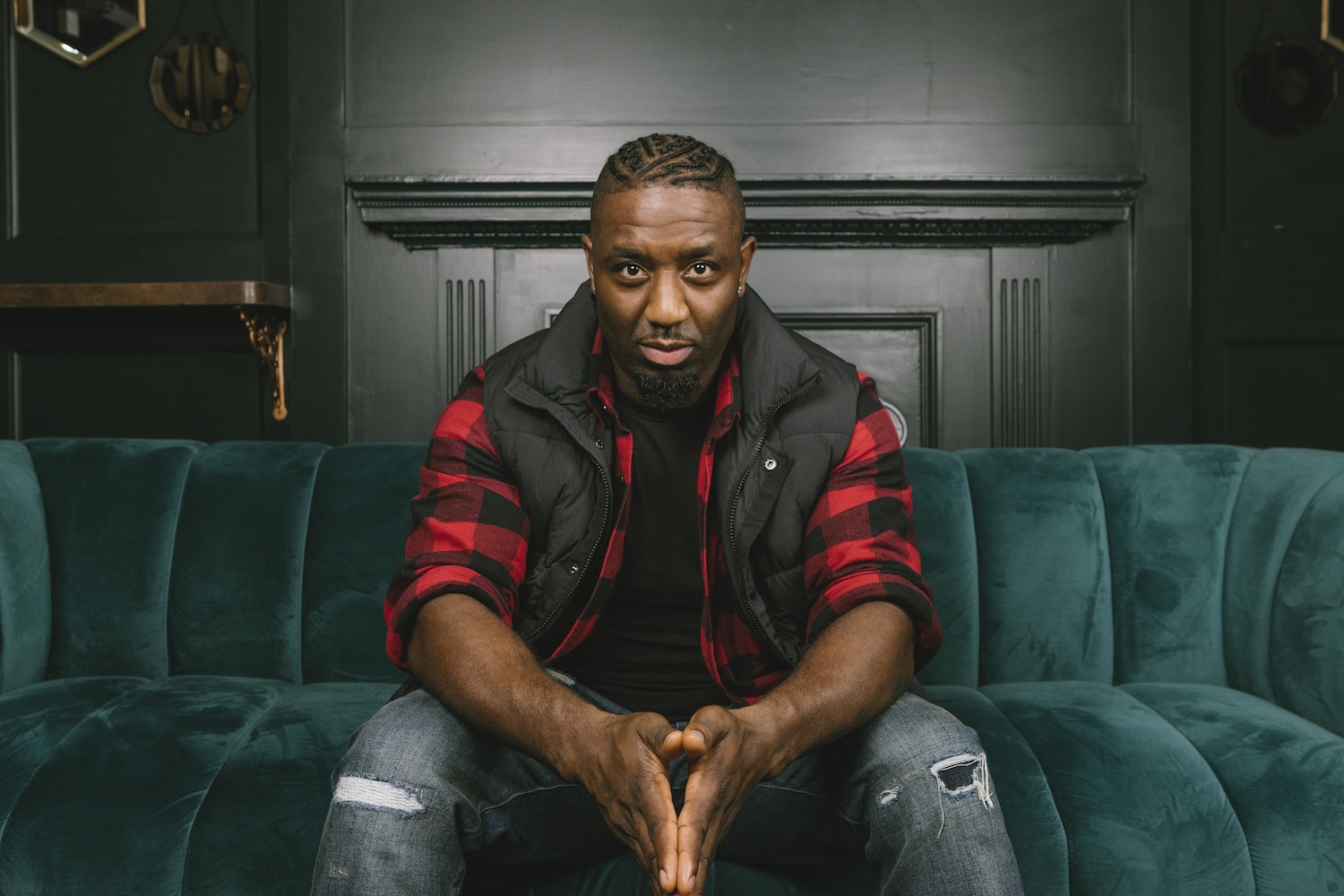 Can you comment on your experiences in the music industry from when you started to the current landscape, have there been any changes in the way that black musicians / industry professionals are treated?
Ben Wynter: This is a very good question. Interesting question so when I started doing music, I'm showing my age here, it was 1997 and there wasn't that many black people that I saw in and around the business, though I was fortunate to be around quite a few of those that were being successful. So, there were people like Matt Ross at Sony. Dej Mahoney who was head of business affairs at Sony, Lincoln Elias who was running S2 at Sony, that's where I started in the business, I started at Sony. So, you know, I was very lucky to, to be around those people and, in particularly, Matt, and Dej they kind of have always been there and take me under their wing and not in a kind of we meet up every week, but I can not speak to Dej for a year or two years and call him up and he'll be like Ben what do you need, I mean he's always there to support, Matt, I speak to Matt, probably 2,3,4 times a year. And, you know, he's always encouraging me, always making sure that I'm still on track and that I haven't left the business and I'm doing the things that I need to do.
I started with Dennis Charles and Ronnie Wilson who at the time were riding high on the success of being hit producers for Eternal and MN8 and a lot of the successful R&B/Pop artists of the 90s so I learnt a lot about production from those guys. I was very fortunate that starting in the business, I had a lot of black visibility for me.
I met Keith Harris at university, Keith has always encouraged me every time I've run into him or given him a call or anything so I've been really fortunate, but the majority of people that I started in the industry with didn't have that visibility. They didn't see people in the industry that were successful and that were black. So, as a result, they ended up dropping out because they felt like it wasn't possible and there wasn't any representation for them. I know how lucky I was because from those guys that I've already mentioned there was also Jackie Davidson, Kwame Kwaten these are people that have been instrumental to my career since I was 18 and have always given me time if I need it and have always been there to answer questions if I have them and they've always given me encouragement. Because I was fortunate to have those people there and have that visibility I was able to stay on track where some of my peers that I started with didn't have that and weren't able to stay the course because for them they just saw it as an industry where they can never have success because they couldn't find anyone that looked like success to them
I think that's changed now, to a degree. I think that black music has become the new pop. So whilst pop music is, you know, pop music, if you look at the biggest artists in pop they're actually doing a version of black music. So Ariana Grande is black music. Justin Bieber is black music. Anne-Marie is doing black music.
Many of those kind of Pop artists, they're all doing a version of black music and then you have the artists that are in the rap and the drill and the grime and those rap genres, which means that they're also doing black music and as a result, a lot more black talent behind the scenes has come through and there's more black visibility in front of the camera whereas before it was only one because of the advent of the internet and streaming platforms and YouTube and all these other platforms where artists can do it themselves and be self starters and build their own audience, they've been able to capture that visibility and force the industry to invest in them where they wouldn't have invested in them before. And as a result that means that managers have come through, A&R's have come through because they need people that understand the culture. But the problem is there's still a difficulty in breaking beyond the entry level roles or the early stage roles, really getting into those senior positions are still not the most accessible to Black executives, getting the budgets that are the same as their non-black counterparts is still not the same for Black artists in the whole unless they've already proven themselves. So i'd say it's changed a lot, it has got a lot better but I still think there's a long long way to go and sometimes you see the company planning to do a IPO on the stock exchange so you kind of go did you do that promotion because you really wanted to or did you do it to make sure that you ticked all the boxes for when you launch on the stock exchange to ensure your bottom line isn't affecte?, so yeah I think there's a long way to go in this business.
Since the murder of George Floyd and the rise of the BLM movement, have there been any changes that you have seen in the music industry to combat anti-Black racism?
Yaw Owusu: BlackOut Tuesday was a massive moment within music and culture and I think there's been a lot of pledges since that point, there's programmes, there's funding that's around and there's been hires and promotions and stuff. I'd be lying if I said there hasn't been changes, I'd probably go a bit further to ask the question have there been changes or developments that are going to dramatically change the experience of Black music professionals? I wouldn't say so – I wouldn't say from a lot of those corporations, there have been stuff that will make the struggle less harsh or will give people some hope but I don't know if the dramatic pledges have rolled out so far the way I had expected following BlackOut Tuesday and the wider BLM movement of 2020. I think where we are and what we're trying to do with Power Up, that seems to better reflect the confidence, unapologetic type of nuanced action that I would have liked to see a lot more of them coming out with. But you know everything in steps, if today is better than yesterday I think we're moving in a positive way.
Ben Wynter: Um, I think since the BLM movement George Floyd, Blackout Tuesday, there's been a lot of noise around, around the music industry, and their desire to combat anti black racism. I'm not sure if there's been action.There's been organisations such as BMC, which was set up and I think that's an amazing step forward and, you know, their charter is brilliant and is a brilliant first step, I think what UK music is doing it's great, in terms of creating a blueprint for the industry to work towards. And obviously Power Up is set to do that as well.
I'd like to see more from organisations themselves. A lot of companies posted black squares on the Tuesday, a lot of companies made big statements. I'd like to see them back those statements. I'd like to see the majors, invest in Power Up, and other organisations and other movements that help to move the needle in the industry, rather than just in grassroots, which is needed, don't get me wrong that's needed and appreciated. But I think if we're going to change the industry it's important that majors, independents, trade bodies, everybody invests finance, time, effort, resources into movements that actually move the needle within the business because that's the only way that we get change. We don't get change by posting a black square and saying we stand in solidarity. We get change with action and that's what Power Up was about, it was about ensuring that we did something that had action, and that's why I was so motivated to make sure that happened, or why I'm so motivated now to make sure that it doesn't become diluted that it doesn't become watered down but it stays on track, and fulfils its objectives and is inclusive in fulfilling its objective because it's going to take everybody black, white, Asian, everything in between to make this work. This can't work if it's just Black people talking to Black people, Black people talking to White people, everybody has to be involved, everyone has to be a part of the solution, and hopefully in 10 years you won't need it.
How did Power Up come to fruition?
Ben Wynter: Power Up came about following on from blackout Tuesday, George Floyd happened, the BLM movement began, and blackout Tuesday was about to take place at the time I was working at PRS foundation and Joe called me up to say that they wanted to post a black square in solidarity for George Floyd. I immediately asked him why he was wanting to do it and his answer was that he wanted to stand in solidarity with George Floyd, because what happened was a travesty and he agrees with Black Lives Matter movement as did the rest of the team, and I was like yeah but the Black Lives Matter movement isnt just about George Floyd but it's about more than that. And his question was like what you mean. So I kind of explained what it was actually about, was us as black people saying we've had enough.
By now, but how many times can somebody be killed. I still haven't watched the George Floyd video and I don't think I ever will. But I already know the story, you know, a cop, kneeling on a black person's neck till he dies, seen it before, heard it before. If it's not kneeling it's shooting if it's not shooting it's a beating, if it's not beating it's something else. So, that narrative has been there over and over and over and over and over, we saw it with Rodney King in the 90s and nothing's changed 30 years on. So, for me, it was explaining that it wasn't about George Floyd, it was more than that, that it was about black people saying they've had enough, and not just of police brutality but of always having to be apologetic for who we are.
So, I explained to him what it means to be a black person living in Western society and the prejudice, because it's not always racism and it's not always direct racism. But there's often prejudice that is faced. I can tell you that every time I leave my front door I'm gonna experience some form of prejudice. And I explained to him what that meant. And it's not always in your face you know, but it might be a walking past bus stop, and a woman pulls her bag away. It might be that the seat next to me is empty on the tube and everybody is standing but no one wants to sit in that seat, because that day I decided to wear a hoody. It might be, you know, as I'm walking past someone sitting in their car they suddenly lock the doors. It might be the security guard that follows me around the store. It might just be the fact that I'm going to a club and they won't let me in, because I'm not "dressed right", though I'm seeing lots of other people that aren't black who aren't "dressed right", it's that kind of stuff. So, I had to explain to him what it means when your child gets to eleven, and you have to explain to them that the police aren't your friends. You know, these kids see the police as their heroes, and you have to destroy that and say, actually, you have to be really careful with the police because they are going to treat you differently. You know, you have to. It was explaining to him that if I go on a night out, I have to think about where I'm going, who I'm going with and what that venue looks like, what kind of clothing I need to wear, what kind of shoes am I wearing. Because if I wear the wrong thing I'm not getting in. And all of that made him kind of understand, I'm not sure if he understood, he couldn't fathom a lot of what I was saying, it's like you live with that every day? I'm like yeah, that's normality, it's not like I stop and go oh my god, I've got to think, like that's just the norm, if I'm going out, I have to think those things.
So come Tuesday, Blackout Tuesday, we had a really in depth conversation with the whole team. We decided that we'd make the third round of the Sustaining Creativity Fund which was a fund that we partnered with Spotify with to help creators during COVID be able to continue to create, we decided to make the third and final round available to Black applicants only, at that point, the statistics had just come through that black people have been affected by COVID more than any other demographic. So, we were like, well, if that's the case, let's make sure that this final round is that, but we all wanted to do something more long term. I explained to the team a lot of the things that I've been through in the business which when I started I didn't realise was going to be so traumatic. By the end of it, it was a mess, it was a very very traumatic experience. And, you know, we continued having conversations but everybody wanted to do something long term.
So Joe and  I continued to speak and I kind of explained to him a lot of the things that I went through, a lot of the things that I felt were solutions, how we could possibly move the needle. And then he came back a few days later and was like, okay so I've taken everything that you've said and he added to it and kind of presented what is now Power Up in a real kind of format for trade bodies and funding world and everybody and I was just like, yo, we've got something that actually works. And from there we just continued to grow it and develop it until it felt right. And then we hired Yaw once we kind of had the nucleus of what it was and knew that we wanted to have a steering committee, we knew that we wanted our focus groups, we knew that we wanted to have the participant programme and the movement side and what the movement side should do, then we were like let's get in a programme manager that can be on this and actually manage it all. That's when we hired Yaw and then Yaw came in and Yaw's done amazing job in bringing the vision together and bringing everything together, making it actually happen so you know he's been incredible. It's been a long road six months, seven months now. We've got there and we've made it happen and I couldn't be more proud of it.
What do you hope that Power Up will achieve?
Ben Wynter: I truly hope that in 10 years we don't need to have Power Up. I hope that through this movement, it will create a network of exceptional black talent that are able to power up into positions of authority into major positions that will allow for a more diverse music industry, a music industry that has more empathy, and has more connections to a wide array of people from different ethnic backgrounds. Through power up, it will illustrate, not only that black people need to break through the glass ceiling, but it will be a leader in championing other ethnicities too. And people will kind of recognise that okay if we need to do that, and work towards anti black racism over there, we also need to look at anti-Asian racism and anti this racism and anti that racism and just make sure that as a leader Power Up leads the conversation for everybody. I hope 10 years from now, we wind down Power Up and we've got 400 amazing Black executives and creators that have come through and have burst through the glass ceiling and have created a spider's web where they have reached back and touched someone else who's been able to reach back and touch someone else and 20 years from now, 30 years from now we're talking about, you know, a high powered executive or a superstar creator, that came as a result of somebody who was connected to somebody who was connected to somebody that was in Power Up. If that happens, then we've done our job. If, if the colour of your skin no longer matters, but the quality of your work and your person, then we've done our job. And that's really what I want to get out of Power Up, I just want a generation of talent and executives to not have to go through some of the things that I went through not have to deal with the self doubt that I had to deal with. To not have to question who I am, or my talent and be forced to have an overwhelming sense of self confidence in order to just have a career that for most people is is a second thought, but for me and for many like me is something that you really have to think about and position yourself and work on and work beyond what anybody else has to work just to get in the door, let alone be successful. So I hope that that won't have to happen for future generations.
What action/change do you hope to see from the music industry?
Ben Wynter: I hope that the music industry will want to participate in Power Up but beyond Power Up I just hope that it makes them think, I hope that it makes them challenge what has become the norm and employed talent that is good regardless of their background, ethnicity, gender, sexuality, that you're just working with exceptional talent be it behind the scenes talent or creative talent.
I'd like to see the music industry play a more active role in making that happen. I'd like to see them engaging, I'd like to see them hold their hands up where they don't have the answer. I think one of the biggest problems we have in this business in particular, in the world but especially in this business is that a lot of the time, everyone wants to act like they know the everything. And there's nothing wrong in saying actually I don't know, how can I do better? How can we be better? How can we stop these practices and start new practices.
You get it with royalties, it's like okay we know that some of the working practices in certain record labels were unfair. Change them. It's not that hard. BMG have done it. Oh, actually we did some really unfair deals, we're going to stop doing those. And in fact, we're going to go back and change them to make them fair.
If you don't know how, ask. And I think that's what that's what I'd really like to see from the music industry. So, there seems to be a willingness to want to create change, we saw that on blackout Tuesday and that's why I felt like this was the perfect opportunity for Power Up, because that opportunity needs to be seized upon and seized upon now. And in doing so, we can move the needle within the industry. And if labels, managers, whatever it is, whatever part of the industry you're in, the live sector, Business Affairs sector whatever sector you're in, PR, whatever, if those companies hold their hands up and say, actually, we want to change, we want to achieve XYZ but we don't know how, well, reach out to Power Up, let us help you, reach out to the BMC let them help you or any other organisations that can help you, because between Power Up and the BMC we're working together anyway, so we're going to do what we can to help you achieve your goals and that's what I'd like to see the music industry do, just say you know what we don't know, help. Because seven months later, I'm wondering where these hundreds of millions of pounds that were pledged have been used, because I'm not quite sure at this time so for me I'm like is that talk or is that actually going to happen and if it's a question of we don't know how to make that work or how to use that in an effective way, say it! There's no shame in it, just say and let us help you, let BMC help you, let one of the other amazing organizations that have been working in this space for decades help you and that's how we move the needle. So I'd really like to see the industry do that and take action in that way.
Which Black civil activists have inspired you?
Yaw Owusu: Loads, if you look at the typical ones like you've got Mandela, Martin Luther King, and you've got Malcolm X, but if I'm honest my biggest one is probably Marcus Garvey, he preceeded all of them and a lot of their work built on his structures and last year I did a documentary for Radio 4 which was about Marcus Garvey 100 years on. We connected his legacy all the way through to Jay Z. That approach of if you can achieve economic independence and liberation you can change more because the system is fundamentally based on economic power, right or wrong. But if you can get to that point where you can do things and you can empower essentially through the £ or $ you have an opportunity to change a lot and I think that's what you see more so in America in terms of Black professionals in the music industry or Black music, I think you see a lot of differences a lot more progression than in the UK because I think there's a lot of people with money and influence that can put it where there mouth is and set their own companies up, share and break bread – and just their thing. I used Jay Z as an example, by no means am I saying he's perfect, but what Roc Nation have been able to do in terms of music, sport and entertainment for the talent and for the execs that are black and it's a Black owned company, a Black led organisation I think is really really powerful but it all goes back to someone like Marcus Garvey, the views and the stuff he was writing, it was like a vertically integrated industry, he controlled his own businesses in the community and he'd employ people from the community, he was respectable, articulate, he had a great business mind and it didn't end up great for him but he set the model for what we're seeing now with some great individuals and organisations that are changing things for Black people across the world.
Ben Wynter: I touched one already, which is Huey P Newton, like said I have a quote of his tattooed on my arm, 'better to die on my feet than to live on my knees' and what that means it's better to speak up and be heard than die knowing that you stood up for what you believe in, than live a life less than by living on your knees, and accepting the beatings that life is giving you because you refuse to speak up, you just go with the flow. That's no way to live.
So he's been one. I remember hearing that quote. I think I was about 11 and that just stuck with me forever, and most of my principles in life are based on that.
You've got your obvious, you got Malcolm X you've got Martin Luther King, they're the obvious ones, Paul Robeson I mentioned earlier, he's amazing. Go look him up, his achievements as a Black man in America. My mum is my biggest civil influence like some of my earliest memories are of being on marches and holding her hand and stuff like that because you know she had marched for apartheid in South Africa and stuff like that, she'd taking on the local council about things that they were doing within the community and yeah I didn't really know what was going on, I was too young, but I kind of have these little memories of being in these meetings and, you know, these conversations and I knew that they were around Africa and Africanism and being black and all the rest of it but I didn't know what was going on and now as an adult I look back and I'm like wow, you we were an activist, you were really really there doing it! So, that kind of stuff is is huge for me. So she's my number one.
Yeah, the usual ones, and I think, again, I was lucky that I was exposed to African kings and queens early on, you know, as I was shown the journey from Ghana through to the West Indies, my lineage got traced back to Ghana so I went to Elmina Castle to see what that was all about, I've always been very aware of who I am, where I come from, thanks to my mum so yeah I think I think she'd probably be my biggest civil activist that inspired me but, yeah Huey P. Newton would probably be the other one if I was going to talk about any particular character, and he had his flaws, you know, we know how he died. You know that he got addicted to various drugs and he wasn't a perfect being by no means but I respect the fact of the message that he had when he co founded the Black Panther party and I guess that's partly that energy that I've brought to Power Up, not in a, you know, let's raise our fists and 'Black Power' kind of way but more of a  lets take action. Let's make something happen. Let's actually do something rather than lie back and hope that saviours come and save us, no let's take action. And let's communicate and let's talk and, you know, take elements from Martin Luther King, you know, it doesn't matter whether you're black or white, or any other race, like we just have to come together so that we are all one race, the human race. That's all that matters really.
Do you think there are enough Black musicians talking about the culture or the experiences they have had to their audiences - are there enough people paving the way for the younger
generation?
Yaw Owusu: I think sometimes it's almost like that saying 'someone's presence is a present'. And maybe we don't need to have the extra luggage of, you know, you've got to say in your lyrics that this is what you're doing, and I think that comes with maturity; bear in mind that a lot of artists especially when you think about the influential ones in popular culture, a lot of them are very young. And a lot of them come from places where maybe they're not at the point where they can or feel they can articulate that side of things. Again I think a lot of artists in the states are really good at talking about power. Take Pharrell and what he's doing, he wasn't doing that at 25, years old, you know, now he is, he's close to 40, he started to work out. So now you get the songs like Freedom and Entrepreneur and same with Jay Z. So that whole album 4:44. Even though we have references to Black empowerment or the struggle or his experiences of racism on early albums it's now more nuanced and potent and direct.
I do think artists could do more, but don't think they should have to do more. They've got to make it work in order to have that power or clout. Beyonce is doing her best work now but I'm sure she's not selling as many records as she did when she was just dancing and doing pop songs and that's the conundrum I think sometimes. So I think as long as they understand their influence and get there eventually or feel they can.
I put more of that responsibility strangely enough, on some of the people around them to maybe mould them and guide them to consider those things or show that side.  So if you're an older head at a label, and you're a Black man who understands the struggle, maybe you try to coach the artists that maybe show other ways.
Ben Wynter: I think it's really difficult for black creators to speak about experiences that they've had in the business.There's a fear that if they speak on some of the barriers that they've faced, if they speak on some of the prejudice they face, the racism they face,they'll be called a troublemaker, that they'll be painted with that brush where you just seem to be complaining all the time. And ultimately, they may lose the budgets that have been assigned to them. They could lose the impetus that the team has to promote or market them and it could have a real negative effect in their career.
I don't think enough have spoken out, but I don't think that the culture has allowed for them to speak up if I'm going to be completely honest. Even now, there's people that I've spoken to about Power Up who are afraid to say some things openly that they've said to me in private, because of the fear of repercussions that can come off the back of that. There's things I don't speak about openly, there's names that I won't mention, there's things that have happened that I won't mention because there's repercussions that come with that. And whilst I'm quite happy to speak about experiences and, I'm not really someone that's scared to call someone out or whatever but I'm always going to be strategic with it and be like well does it make sense to rock that boat because by rocking that boat what effect does that have on Power Up. And that's the most important thing, that vehicle for me is the most important thing so I'm not trying to go out there and throw anyone under a bus or anything like that (unless they fully, fully, fully deserve it lol), and also people change. Something that happened 20 years ago, might not be relevant to who that person is today, so is it fair to kind of say this person is that because……? I hope they've learned and grown since our encounter 20 years ago.
So yeah, I think it's hard for creators to speak out. Equally, I think it's difficult for executives to speak out because there's a glass ceiling. We launched Power Up on the 25th and I think one of the most memorable phone calls that I received was from a gentleman who basically got my number from somebody who knew somebody who knew me. So he really went out of his way to get my number, and he called me and was like, look, thank you so much for doing this, I've been moving laterally in my career for years. Just sideways movement, never moving up, just moving from company to company in a lateral way, because every job you apply for it was above what he was doing you'd get rejected. But he was always able to get a job at the same level, so he'd just be moving laterally for years, and he basically said to me that he was on the brink of dropping out of the industry, because he was like what's the point. And then Power Up launched. And he was like I'm gonna apply, but wherever he gets it or not, for the first time since he's been in this industry, he feels like there's an opportunity for him to move vertically. And not because he's on the Power Up programme, but because the programme is creating an awareness that there needs to be vertical movement, that the glass ceilings need to be broken. That to me is the most incredible thing about Power Up, yes we hope Power Up will bring over 400 creators and executives over 10 years, but more importantly than that we're providing hope that hope to the hopeless, we are (I hope) creating conversations inside of buildings where there's a realisation that we can no longer just have people moving laterally but we have to have a movement vertically. And that's where change begins. And if we can influence that then we've done the right job. I have to give a special applause to the 80+ industry professionals that have sat in our focus groups that have shared their experiences that have spoken out on injustices that they've faced. I have to give a shout out to the 12 Executive Steering Committee leaders who again have spoken on things that they've faced, as well as taking their time to be a part of this and to exact change within the industry and the numerous people that have been involved, whether it's PR, marketing, all kinds of different things that have gone on because it's only through a joined up and combined approach that we can have change. For far too long, there's been a group over there trying to do this and this organisation over there trying to do that and that organisation over there and we're all just disjointed looking to achieve the same goal but all separated and this for me feels like the first time that we've all come together and, we can work with BMC and we can work with small green shoots we can work all these different organisations that are in the space and have a joined up approach to make a difference speaking as one voice, and I think that's where we're going to be successful with this.
I think there are people paving the way for the younger generation, like I said I've been really fortunate that I was able to speak to elders such as Keith Harris, Danny D, Jackie Davidson, Dej Mahoney Matt Ross, Ronnie Wilson, Dennis Charles. These are all people that have been there and done it, and have imparted their wisdom. It's funny I said this to Keith  I said sometimes you didn't even realise that you motivated me, just the fact that you took time out of your day to say 'Ben How's it going, what's happening?'. And I'd give you answers and then give me a little bit of advice that was enough to keep me going for another year. I think those people are constantly helping the younger generation in the industry, there's a whole load of execs that Jackie is tied to, there's a whole load of execs Dej is tied to and that Matt and Danny are tied to. I think that those like myself, Ricky Blu and so many others, we're all now going out after receiving that from our elders, we're doing a similar thing with those that are a little bit younger than us, we're not that old but there's people in their 20s that are younger than us and, you know, it's about making sure that we give them the knowledge to go out and be as successful as they can be, be more successful than us, and then pass that knowledge on to the next generation. So I think that is happening but it's difficult and you really have to seek and find those people, which is why a lot of people drop out because they don't find them so I think we need to create more visibility, and maybe it's a podcast thing maybe it's an online thing I don't know but somehow we need to start celebrating black success and creating more awareness around those of us in the industry that have been successful, so that it can help those that are coming up and need to see some form of representation, so that they can themselves go on and be successful.
What advice would you give to the younger generation of aspiring Black musicians and industry professionals?
Yaw Owusu: I would say understand your power and understand your influence because I think when I say power I mean more to do with economical, cultural power or commercial power. And when I say the influence I'm saying like we've got a lot of non-Black people who will have their first interaction with black people and culture through you. And on the flip side there's a lot of young black children who will be looking to your as a model of success and if you can show the different sides of it including how you prepare, how you do business, you know, you can show the success and show that side but if you don't show people what you've got to do to get there or you don't tell them, I think that's a problem. I'd also like to see younger generation artists, find older mentors or experienced people to help guide you, make sure you find that person or people because I think that'll help as well
Ben Wynter: Know your craft, and that's not just for Black musicians or professionals, that's for everyone, really know your craft. Know what you don't know. And if the things that you don't know are things that you feel like I'm not good at or I'm not gonna be able to do that, make sure that you cover yourself by aligning yourself with people that do know that and work with those people. I always say that there's areas that I'm not super strong in, but I make sure that I work with people that are strong in those areas, so that we have strength in unity.
I'd also say stay confident, believe in yourself. Don't let anybody else's perception of you define you, I think that's definitely for black musicians and industry professionals. They really shouldn't let anyone else's perception define you. The amount of times that someone's like, oh yeah you're a hip-hop head, I'm like well actually last two years running, Ariana Grande has been my most played on Spotify so what are you trying to tell me! I'm a pop kid.  I love classical, I love all kinds of stuff. So, because I wear a baseball hat and a hoodie sometimes, you can't pigeonhole me as a hip-hop guy because actually I probably listen to less current Hip-Hop now than I do Pop or Classical or Jazz at the moment. So, yeah, don't let anybody define you. Don't, don't let anybody pigeonhole you into only working on black music. One of the best things that happened to me was when I was 19 I got a talent scout job which then led to A&R at JAL Sanctuary Music and Sanctuary was predominantly a rock label so they did Iron Maiden Metallica acts like that and I was coming from a very soulful,  R&B, Pop, Hip- Hop background. Being in that environment really opened my eyes to the music industry, because I learned so much about rock music and how they manoeuvre and how they break an act and how they a market talent there which was so different how you did it at the time, a Garage act or Hip Hop act or an R&B act. And the way that that was seeded within grassroots and the way that has grown over a certain period of time, was a massive education for me, but it took me well outside of my comfort zone. And I think when you're challenged with things that take you well outside your comfort zone, you're forced to learn, but you're also forced to use all the skills that you have. And I love being taken out of my comfort zone, because I know that I can succeed. I called my company Unstoppable, I've got Unstoppable tattooed on my arm because whatever situation you throw at me I'm going to succeed because I'm unstoppable and I think that would be the biggest piece of advice I'd give to the younger generation, be unstoppable, that's the hashtag I always use. Don't let anything get in your way, be fearless and know what you don't know and know what you do know.
What would you say to the younger version of yourself who's just starting out knowing what you know now?
Yaw Owusu: Probably would say keeping going because I started with my own business 16 years ago and I had a frustrating entry into working life as an adult for a lot of the usual reasons but I'd always had a vision and I always had passion and tenacity and a bit of stubbornness but I'd probably wouldn't want to go back and tell my younger stuff too much apart from to just keep going because everything that I had then was enough to get me by, I think the thing that outside of that the only thing I'd say is there's space everywhere, you don't have to be Darcus Beese or someone like that, you don't have to be Dame Dash or P Diddy or whoever, you don't have to be at that scale, the industry is massive and I think the pockets where I found myself in is I can help and contribute, I've run music projects that have won awards, I've worked with brands on great projects and then I work on projects like Power Up which are wonderful fulfilling projects and when I came in I only seen selling loads of records as success. So I'd say to myself watch because there's loads of great opportunities and don't be consumed by an artificial measure of success or perception of success. That was a learning curve for me. I've been very happy with the space I occupy but that was a challenge a few years into doing what I do. Again it goes back to representation of success and the industry and very rarely do we see these other roles and I think that's part of the challenge of Power Up to show you can be in the music industry and there's loads of other opportunities and there's loads of other things you can have and the better and better we grow and solidify these networks I think more so the whole holistic truth of our existence in the music industry will come through.
Ben Wynter: I would tell them it's going to be alright, trust in yourself. Don't be such a hothead, let things wash over you. And stand up for what you believe in and you'll be fine. I used to get frustrated at some of the things that happened, some of the trauma that I've experienced made me really angry, really angry and I'd get really heated about it, that's why I tell myself not to be such a hothead and let it go. Let it wash over me because those experiences helped to make me who I am, they've helped make me fearless, they've helped to make me strong and helped make me unstoppable. That's why everything will work out. That's why I'm able to stand by what I believe and do something like Power Up. I had a wobble right before it launched, I was like man I could get such backlash from the industry for doing this and this could be the end of my career, but I stood by it because, ultimately, it's what I believe. And as my tattoo says, 'it's better to die on my feet than live on my knees', I'd rather go out in a blaze of glory, knowing that, I've done my best, then continue to suffer the indignity that has been afforded me in the past, by just staying on my knees and letting things happen. So yeah – that's what I tell my younger self: It will all be alright in the end.
— — — —
? © 2021
f