Brooklyn's Brian Dunne delivers a spellbinding performance with "Nitehawk" ft. Lily & Madeleine, taking an already intimate, heartfelt song and giving it that much more emotion, weight, and meaning.
Stream: "Nitehawk" – Brian Dunne ft. Lily & Madeleine
---
And I don't know why
I check the night sky
just to make sure I'm alive
so I can see you one more time
Brian Dunne's "Nitehawk" was already a powerful and intimate song. A moving emotional outpouring featured on his recently-released third album Selling Things, the track stung when we first heard it back in April – at that point, less than a month into the COVID-19 pandemic and lockdown.
Born out of unrequited love and a familiar, looming sense of isolation and loneliness in a crowded room, "Nitehawk" aches just right in its emotional and lyrical eloquence. The Brooklyn singer/songwriter spills his soul in the first verse ("But oh my heart gets lonely when no one seems to care, and I can't put that on you only, no that would not be fair"), only to add more fuel to the fire as he goes on to search longingly not only for companionship and connection, but also for a space to call his own – a place in the world he can feel comfortable, himself, and complete: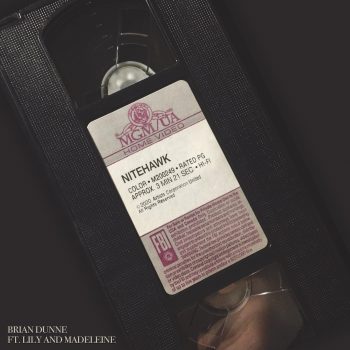 Oh my Amy, could you blame me
There's so much I wanna say
But words just lead me far astray
I don't know why I fear I might die
Every time you walk away
Perhaps it comes as no surprise, then, that stripping this song down would give it that much more emotional weight and meaning. Atwood Magazine is proud to be premiering Brian Dunne's new version of "Nitehawk" featuring fellow Brooklyn folk duo Lily & Madeleine. Stripped down to the song's haunting core, this live performance – whose studio version is set to arrive on 7/31 – captures a raw emotional upheaval that many of us have come to know only all too well during the 2020 pandemic.
For a grown man, I sure haven't grown in to how I feel
Scared hands on a steering wheel
And outside the Nitehawk, I told you my love for you was real
I said oh my heart gets lonely and I know yours does too
Don't you want to get to know me the way that I know you
You just gotta understand me now
"'Nitehawk' is a song about loneliness and isolation, so it certainly has taken on some new meaning in the recent months – being completely cut off from physical human contact and whatnot," Dunne tells Atwood Magazine. "But honestly, the core of it still holds its original meaning for me. On the surface, it's a song of unrequited love, but I really wanted to use that as a vehicle to talk about how someone can be so lonely in a city of so many people."
"I was kind of inspired by this one night, where I just was wandering around Brooklyn and I popped into a store that was open late. When I walked in, the girl behind the counter was like "oh thank god it's you" — which I thought was just a lovely welcome — but she explained that this guy had just been in the store and wouldn't leave her alone and she was worried he would come back in. And then she said, "Really, this happens all the time. New York is the loneliest city," and that stuck with me. It felt like a cinematic idea to me, so I set it at my favorite movie theatre and named the song after them in hopes of scoring free snacks for life."
On the surface, it's a song of unrequited love, but I really wanted to use that as a vehicle to talk about how someone can be so lonely in a city of so many people
Dunne's warm, lighthearted humor can be felt in so much of his writing – be it in interviews, or on social media – but his music often takes a serious, heartfelt, and vulnerable tone. Not that he doesn't have at least one comedy album in him – we're sure that he does; but the way he presents himself in song is unwaveringly sincere. Together with the stunning accompaniment of sisters Lily and Madeleine Jurkiewicz, Dunne delivers a spellbinding performance that demands our silent, undivided attention.
"Nitehawk" stirs the ears and rallies the heart: You don't need theatrics to captivate when you've got breathtaking poetry and enchanting melodies, and this song has an abundance of both.
Atwood Magazine spoke to Brian Dunne, Lily, and Madeliene Jurkiewicz to learn about this performance, the song, and more. Dive into "Nitehawk" below, and let its aching, resonant beauty wash over you – exclusively on Atwood Magazine!
If you like what you hear, get to know Dunne and his music even better through his third album Selling Things, "the breathtaking product of anxiety and existential crisis – a record whose passionate folk and stirring poetry resonate deep in the soul."
— —
"Nitehawk" – Brian Dunne ft. Lily & Madeleine
"NITEHAWK"
Atwood Magazine: Lily and Madeleine, what was your reaction to the song upon first hearing it? What inspired you to join Brian in this performance?
Madeleine: I've loved Brian's music since meeting him a couple years ago in Brooklyn, but wasn't familiar with "Nitehawk" until he proposed we add harmony to it. Immediately I was struck by the beautiful vibey guitar, it felt like a soundtrack almost. I went for a walk around my neighborhood in Indianapolis and listened to it over and over again. As I got to know the song better I could feel the sort of heartbreaking love story Brian expressed, and I imagined myself walking through Brooklyn on a dark night with the sounds of the city and the song as my soundtrack.
Lily: I could tell immediately that this song contained a lot of emotion and authenticity. We were happy to jump in and arrange some harmonies!
Do you have any favorite lyrics that stand out to you, or resonate with you the most?
Brian: For me, the most important lyric in the song is, "And I don't know why/ I check the night sky/ just to make sure I'm alive/ so I can see you one more time."  There was this show in the '90s on Nickelodeon called "Are You Afraid Of The Dark," and there was an episode where nobody is talking to this kid at school and he thinks everyone hates him, but it turns out he actually died in a car crash and he doesn't know it (someone should look into whether this or The Sixth Sense came out first– I smell a lawsuit).  Anyways, I think about that a lot — the idea of being so alone you have to check if you're even still alive.
Madeleine: "for a grown man I sure haven't grown into how I feel, scared hands on a steering wheel" I can so relate to that line. No matter how old I get with all my life experience, there are always things I'm unsure about. I also really like that "night bus" and "steering wheel" create a theme of movement, travel, restlessness, and uncertainty.
Lily: I like the line " don't you want to get to know me the way that I know you". I like when lyricists ask questions in their songs and I especially like that question because I can totally relate to that feeling of urgency and intimacy.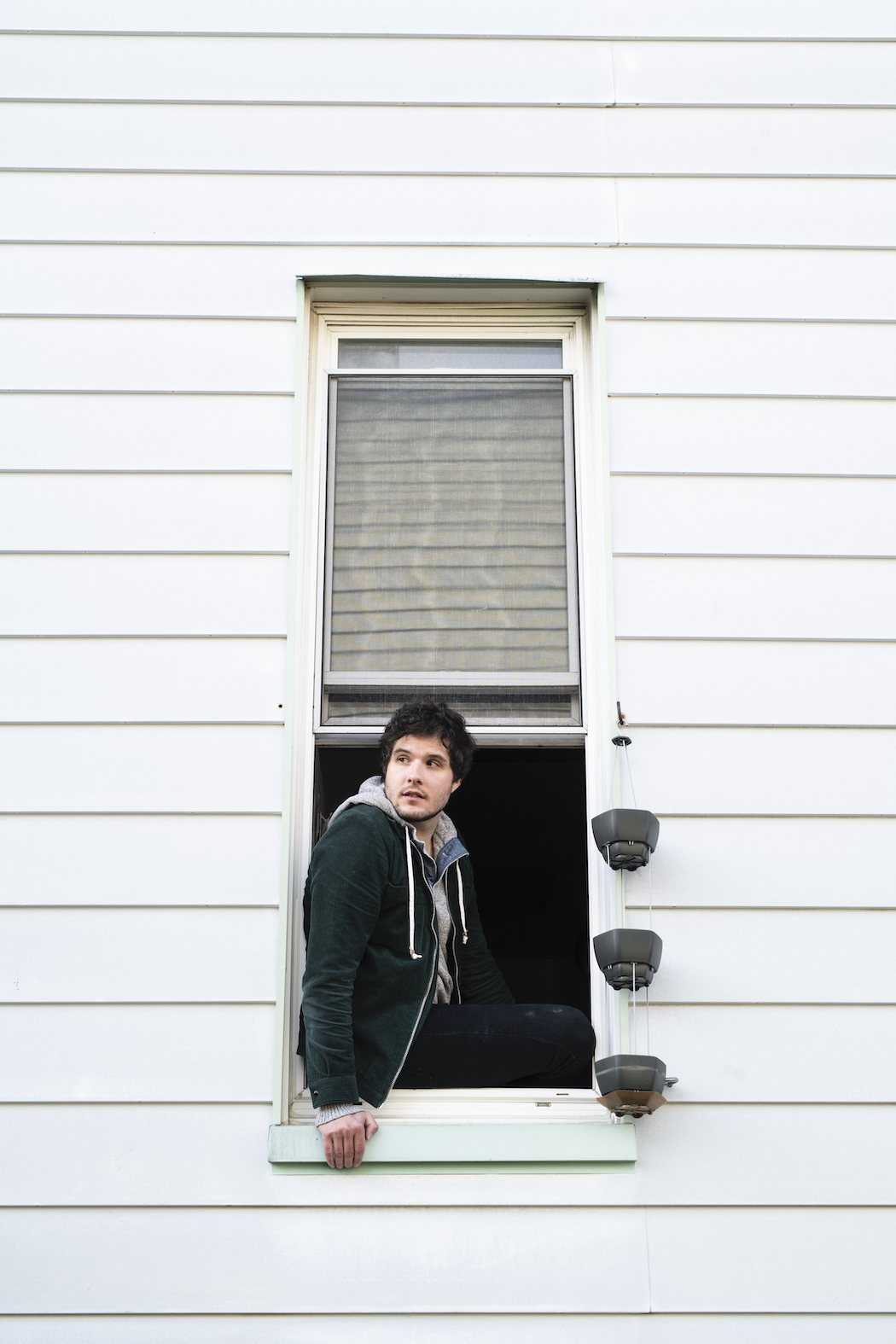 Brian, Lily and Madeleine, how do you feel this recording differs from the studio version? How did you seek to make your performance stand out, and does that at all change your relationship with the song having now made a new version of it together?
I actually wrote this song with this arrangement in mind; my original demo actually is a lot like this, except it's played on acoustic guitar.  I first saw Lily & Madeleine singing with our friend Anthony D'Amato at the Mercury Lounge on Houston St, and they sang this song that Madeleine and Anthony wrote together call "Passing Through" and it fucking destroyed me.  Truly, it's one of my favorite songs of the past few years.  SO naturally, I was totally jealous and immediately started plotting how I could get them to work with me on something.  There's something crazily ethereal about the way that Lily & Madeleine sing together; it makes the hair stand up on my arms.  So I think it really elevates the inherent creepiness of the song–  when they come in on the fourth line, it's almost apocalyptic?  Cataclysmic?  Something like that.  One of those words.
Madeleine: Lily and I wanted our harmonies to add texture to Brian's beautifully sparse studio version without distracting from the verse and chorus melodies. That chorus melody specifically is really powerful and pleading, and the 3 part harmony lifts it. There's a special moment in the final chorus where the melody shifts and the harmonies are minor that feels tense, and when it resolves at the end you can feel the heartbreaking resignation of that last line "and feel the same old pain every time you walk away."
Music making can be a challenge in the best of times. What was your experience like collaborating on this, and how do you feel the final product reflects the effort that went into it?
Madeleine: Honestly I'm pretty inexperienced in home recording so this process was a big experiment for me! It was funny to record the audio and video at the same time too. Lily and I planned our harmony parts beforehand and rehearsed a few times to see what felt good. We also wanted our delivery/performance to match Brian's energy so we sat with the music for a bit and got into the right mindset. Once we had the parts planned and the vibe just right we did maybe 2 takes and sent the best one. The song is truly beautiful so it was a pleasure to sing along.
Lily: I thought it was a super fun and easy collaboration! We love the song and it was a pleasure to sing it. And Madge killed it with the home studio skills 🙂
Brian: I truly can't believe how locked in we all were. I sent them the song and asked if they would do it and I started to make a guide track for what I was thinking. By the time I finished the guide track, they had already recorded it and sent it back to me and– no joke– it's almost exactly the same arrangement. I love it. It's one of my favorite things I've worked on so far. And I didn't even have to leave my house. What a world.
— —
Stream: "Nitehawk" – Brian Dunne ft. Lily & Madeleine
— — — —
? © Jacob Blickenstaff
:: Stream Brian Dunne ::
---