This Black History Month, Atwood Magazine has invited artists to participate in a series of essays, interviews, reviews, poetry, playlists, and more features in recognition of, and out of respect for the symbolism and significance of this month.
---
Today, Brooklyn R&B artist Ryan shares his top five musical influences as a part of Atwood Magazine's Black History Month series. A zealous singer and lyricist influenced by hip-hop and R&B's greats, Ryan Witherspoon introduced his project in September 2020 with the heated, intimate energies of his single "Back Up," shortly followed by his major label debut EP Games We Play in October via RCA Records. "The meaning is represented by the title track, as the game of love comes with many pieces." With a heart full of soul and a voice full of passion, Ryan blends modern and classic influences into a record that feels as self-expressive as it is self-assured.
•• ••
My Top 5 Influences
by Ryan
Marvin Gaye
Marvin Gaye was the first soul singer my grandfather ever played for me. The song "Sexual Healing" would play every night during a game of spades and for some reason I just loved the song. The melody, the feeling, the way it was written was so addicting to me even as a child.
Nas
Nas. The overall swag of his character he created through music. It was the street style combined with the intellect that you don't hear in many rappers. I also modeled for his clothing line as a kid.
Bobby Brown
Bobby Brown. The way he performs and brings himself to every record. One of the best artist to ever do it in my eyes. His unapologetic attitude, but still being able to sing to a woman is what I looked up to the most. I call it the "Gangsta Gentleman."
Jodeci
Jodeci. Once again it's the swag. Being a kid from what you would call the ghetto/hood it's something I could relate just from the visuals. You combine that with the fly ballads & Devontae Swing's melodies/production it's a no brained on why they influenced me.
2pac
Tupac. In my eyes, the greatest of all time. The way he dedicated his artistry to being a voice for the people was the biggest influence to me. Every song from him there was a message & I listen to those songs til this day with the ability to relate those songs to my current life / or the state of the world.
— —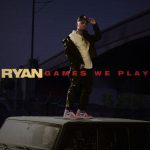 ? © RCA Records
:: Stream Ryan ::
---