Bleachers weave nostalgia, intimacy, and adventure as they explore ideas of home and connection through new singles "chinatown" (ft. Bruce Springsteen) and "45," two '70s-esque love songs about the boundless days before and the bittersweet days after a relationship.
Stream: "chinatown" – Bleachers ft. Bruce Springsteen
---
Bleachers are back with a double-sided single taken straight out of the '70s.
"chinatown" and its B-side "45" are like two memories. This daydreamy trance and warmth runs through both soul-stirring tunes – day and night in a late warm summer, as Jack Antonoff and co. ponder returning to and running from home, infatuation, and nostalgia.
Breathing life to his music with honesty and awareness as Jack Antonoff always does, "chinatown" and "45" radiate with a newfound heartened confidence and more hopeful introspection. The chase of risk and all-embracing "regardless, it will be okay" feel heral an equally thoughtful and self-assured chapter for Bleachers as Antonoff sings to a cherished lover; to both their future, and to their past. Bleachers' anticipated third album is slated for 2021.
On "chinatown", Antonoff is joined by fellow New Jerseyan, The Boss himself – Bruce Springsteen, as they weave through stretches of warm reminiscence and kind yearning in an ode to New Jersey and a sweet, sweet new love. The two consistently extraordinary and truly lovable artists exude warmth and the '70s through this ageless love song and its radiant, soft video. On this dreamy serenade to the universal and ageless innocence and thrill of a budding romance, the heart of New Jersey beats through nostalgia and longing, familiarity and adventure, classic and new.
The "chinatown" video begins with a joyful retro introduction setting the late summer scene for the song right away.
Driving through tunnels and the NJ Turnpike in a vintage white Cadillac with sounds of a radio being tuned and sunny rhythmic strings passing by steadily, moving through scenes of Jersey, VHS footage of Antonoff looking off at the bay, playing his guitar in a black leather jacket, a home, a bedroom half-set up decorated with only posters, tapes, stray boxes and guitars. The symphony of sunny strings swell and Antonoff joins them, gently, kindly singing "just like you, I can't leave. I'm here but-". He's cut off. The strings start again, sounding as scenery rolls and radio stations switch until they find their way back to Antonoff, restarting his song and closing with, "I'm here, but I've been gone just a little too long," softly into the first guitar strums of "chinatown."
The serene symphonic tune playing throughout the video's intro can also be heard under conversations between Antonoff and fellow New Jersey artists (like Vampire Weekend / Time Crisis' Ezra Koenig, and My Chemical Romance's Gerard Way) on his new talk series; Take the Sadness Out Of Saturday Night. We hear it under Koenig and Antonoff's conversation on the sentimentality of The Sopranos' theme song and the significance in the drive from Manhattan to Newark's suburbs, through the beautiful and bleaker, old and growing, static and shifting, switching scenes of Jersey.
In true '70s nature, "chinatown" laces heartland rock with some synthpop in this dream-like love song. Between its upbeat nature, thoughtful overlapping guitars, and lyrics like that of a sweet diary entry, "chinatown" holds the comfort and warmth of reflecting on home and dreams of all that could lie beyond – with a heart set on leaving town with someone new. Antonoff sings of the endless possibilities of the outside world and those of a new love, indulging in the ups and downs that could be with unwavering love and enthusiasm. He leans into the specific thrill, risk, and boundlessness of something new.
The song's chorus carries and lasts like a love letter of its own, doting on incidentals and potentials of a lasting love moving with unfaltering intimacy, intensity, and brightness.
but a girl like you
could rip me out of my head
black tears on your cheek
I want them in my bed
I'll take you out of the city
honey right into the shadow
'cause I wanna find tomorrow
yeah I wanna find tomorrow
with a girl like you
my chinatown baby
sittin' on your front porch
crying out the crazy
I'll take you out of the city
honey right into the shadow
'cause I wanna find tomorrow
yeah I wanna find tomorrow with you baby
"chinatown" layers smooth and upbeat, with the hopeful and the sentimental moving together in harmony throughout the song. Together they paint all the colours of the embrace and warmth of a timeless comfort rooted in innocence, matching Antonoff's lyrics. It's an openness for all that could come – an endless potential of promises for a shared future of adventure and trust. The desire of it and all of its possibilities is among the purest, most exciting form of longing, and Antonoff and Springsteen manifest all of it.
The song's '70s aesthetic aids the theme of indulging a dream, since the 1970s in 2020 is only as much as a romanticized concept; we revel in its foreignness and those characteristics we cherish, only ever dreaming of its past potential and nostalgia. B-side "45" embodies this as well, but rather from an angle of reflection and holding onto those golden memories of love – recalling and pining for it, rather dreaming of it.
"'chinatown' starts in NYC and travels to New Jersey," Antonoff explains. "That pull back to the place I am from mixed with terror of falling in love again. Having to show your cards to someone and the shock when you see them for yourself. thinking you know yourself and where you are from…. having to see yourself through somebody who you want to stay… I started to write this song with these ideas ringing in my head. to further understand who you are pushes you to further understand where you are from and what that looks and sounds like. there are pieces in that that are worth carrying forever and pieces worth letting die. "chinatown" and "45" are both the story of this – "chinatown" through someone else, "45" through the mirror. as for bruce, its the honor of a lifetime to be joined by him. he is the artist who showed me that the sound of the place i am from has value and that there is a spirit here that needs to be taken all over the world."
---
"45" somberly explores being displaced from a love but without bitterness, rather acceptance, and a certain softness; the appreciation and melancholy in holding the past in your heart with genuine affection, reflecting on a fleeting relationship with appreciation and love and awareness of its inevitably, playing out its final scene with the remnants of the same love they started with, despite everything else changing; it is a specific sad slight comfort. For this writer at least, that's the moment nostalgia for something is born.
"45" strips down to Antonoff and an acoustic guitar, exchanging all the intimacy and emotion in reminiscing a glorious love running out of time between each other. After "chinatown" paints a dream of two lovers starting and the idea of their endless possibilities; leaving the city, going home, leaving home, declarations of trust in each other's better and worse, and sharing the world's together, "45" celebrates that love defined by potential in a sweet reflection to it. Bleachers are celebrating that love defined by potential, but as it's passing; nostalgia and reassurance linger but in a completely contrasting light.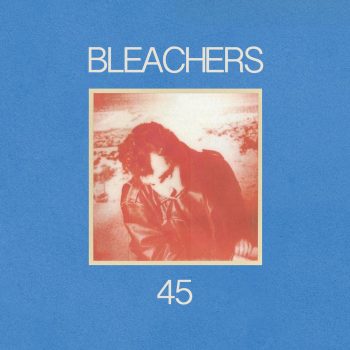 The first two verses move from a dreary state of wandering, away from his groundings and across the bridge to somewhere further, happier, where the solemn loss of a great love turns into a tribute to it. While these verses paints scenes of uncertainty and searching, the chorus ties them into a beautifully emotional, distant, and joyful commemoration. It stands love's ground as assurance that with all that was – their complexities and in-betweens – their "45" (alluding to the smaller vinyl traditionally used for singles), although spinning to an end, will always be held with compassion and a cherished pride and reverence:
but I'm still in sight your fast machine
always holding your love supreme
our 45's spinning out of time
but honey, I'm still on your side
Following suit in nostalgic tributes, this chorus also perhaps contains a reference to John Coltrane and his timeless 1965 album A Love Supreme, which went through the motions of 4 tracks: "Acknowledgement", "Resolution", "Pursuance", and "Psalm".
The third verse retains that distance and thoughtfulness, but finds their arc settling into a happier note, cementing the fondness the narrator will hold onto as a souvenir from their fleeting love.
'cause if i can learn to love your shadow
when your shadow hits the light
and there ain't no trace of what we've been through
then i'll shout it till the day that i die
"45" closes with the chorus' love for a last time, with one final "honey, i'm still on your side."
A personal note on 'home':
My family to my first ancestors are all from the same town, city in the mountains nicknamed 'the bride of the summer.' Unlike my relatives, I was not raised in my hometown. My sisters and I grew up a short-ish flight away from our country. In childhood, every year was marked by countdowns to going home. As I grew older, that longing to return didn't falter, but was tinged by a sort of alienation. As time went on, I understood more how I'd always be connected to this place with a deep love and appreciation that's inseparable from a desire to belong.
Home was mostly the feeling of it, excitement towards a jumble of ideas and memories minus it's inevitable limitation to being just that. It tends to be a blend of longing and acceptance that bleeds into melancholy, and this melancholy I carry with delicacy as part of me forever. The way "45" captures that lens of pensive reflection, leaving, finding and intertwining home and self, and all of it's tangled warmth, distance, and appreciation. Today I'm looking through the old photos I've taken, I enjoy them but they don't quite do it justice. Most days I'm nostalgic. In parts of me that I've accumulated, parts I hold onto, and those I leave behind, I straddle home and places I learn to be from every day. It's a confusing pleasure to reflect on. Often I wonder what it would be like if I was there. I miss her so much, and I love her so much, and I'll continue to do both even when they grow indistinguishable.
— —
— — — —
? © Carlotta Kohl
:: Stream Bleachers ::
---