It's safe to say that Boston is home to one of this summer's best music festivals: Home to a melting pot of incredible talent, 2017's Boston Calling Music Festival is bigger and bolder than ever before, offering something for everyone while showcasing today's brightest up-and-comers alongside some of this year's biggest names. Chance the Rapper, Bon Iver, The xx, Mumford & Sons, The 1975, Major Lazer, Run the Jewels, Weezer, Cage the Elephant… the list goes on, and these are just the headliners!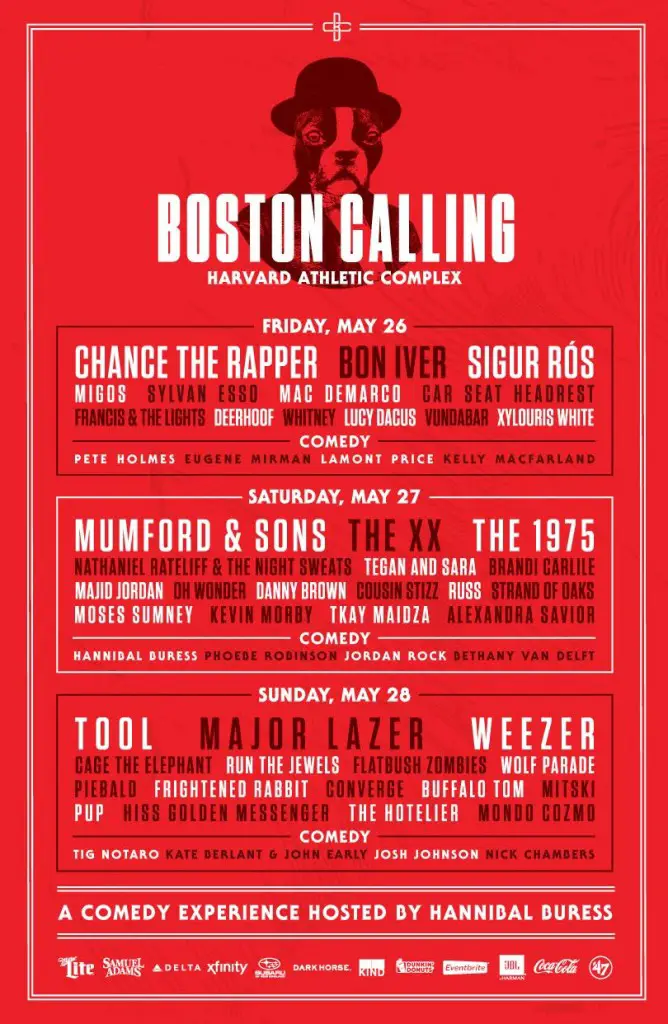 If you're reading this, then you probably have a shortlist of artists you have to see at Boston Calling. If so, then congratulations – you're way ahead of the game! For those of you who have no idea what's going on, fear not – whether you're a Boston Calling regular or brand new to the "festival thing," this year will be a fresh start for all. The eighth installment of Boston Calling includes some very special upgrades, among them a brand new location and a doubled lineup.
That's right: Moving to Harvard University's Athletics Complex has allowed the festival to take advantage of more space, which means more room for activities. This comes in the form of 40+ music performances (compared to previous years' 23), a third main stage, a comedy experience, and more (note that the Natalie Portman-curated film experience has been postponed to a future festival). Traditionally a two-and-a-quarter day festival, Boston Calling now spans a full three days, which allows for the least overlap possible between its expansive setlist.
Still, the best characteristic of Boston Calling has been its defining trait from the start: Diversity. Every festival has been a totally different experience, because Boston Calling isn't about any one genre or any one theme: Its focus is on talent, both from within the surrounding community and from around the world. The headline is, major US city holds local music festival. Where else can you find rap, folk, rock, hip-hop, electronic, punk, and metal interspersed so seamlessly?
Talent buyer Trevor Solomon – the man responsible for booking the bands and curating the lineup – always has his ear to the ground, but he's also a risk-taker. His tenacity is one of the key drivers behind Boston Calling's expansive roster: He plays with lineups like it's an art, and his ambition has paid off. Boston Calling is a little bit of everything – old and new, indie and mainstream – and with its increased size and space, there is that much more love to go around. Every headliner has something to offer – Bon Iver will hypnotize you, Chance the Rapper will inspire you; The 1975 will fill your soul with love, and The xx will teach you new ways to feel. And the list goes on…
Keep an open mind at Boston Calling: Festivals are experiential settings, where one must go to discover new music and artists. Boston Calling has come to be a tradition for many in its now five-year run, and the mainstay continues to bring in fresh faces and established talent from around the world. As per tradition, Atwood Magazine is here with (y)our guide to Beantown's most musical weekend, a festival preview with everything you need to know to make the most of Boston Calling May 2017! Read below for some suggested highlights to catch each day.
BOSTON CALLING MUSIC FESTIVAL
MAY 2017
Main Stages (Green, Red, Blue)
FRIDAY, MAY 26
Whitney, Francis & the Lights, Mac DeMarco
Boston Calling's weekend starts off with some of the most exquisite indie rock/pop you can find. Whitney's dazzling guitar work is beat out only by the band's stellar balladry: Their warm blend of folk and rock influences liken them to The Eagles and Dawes.
Immediately following Whitney's show is Francis & the Lights, noted collaborators with Friday headliners Bon Iver and Chance the Rapper. Francis & the Lights' intimate electronic soundscapes should translate well to the festival stage: Synths will pop atop deep electronic drum kits, and you will be on your feet dancing.
Mac Demarco is constantly reinventing himself, but his evocative downtempo vibes and stellar acoustic guitar work might liken him to a more electro-friendly Jack Johnson. What more do you need?
SATURDAY, MAY 27
Moses Sumney, Oh Wonder, Nathaniel Rateliff
Moses Sumney's soul singing is absolutely entrancing: The man spins dreams with his voice, infusing folk and electronic elements into marvelous tapestries of sound. Look out for his harmonies: They are sure to haunt you in your sleep.
The British Invasion hits Boston Calling on Saturday night, but it all begins with must-see London duo Oh Wonder. "Soul-stirring, heartfelt electro-pop" doesn't begin to describe the layers of emotion these two bring to the stage. Learn more about them here.
Nathaniel Rateliff and the Night Sweats are southern rock trailblazers. Best known for runaway hit "S.O.B." (Son of a bitch), there is so much more to this band than meets the eye. Rateliff's technical work on guitar is extraordinary, but it his keen ear for melody that allows his band to transcend the ordinary and break down traditional barriers.
SUNDAY, MAY 28
Mondo Cozmo, Mitski, Run the Jewels
Sunday is a real smorgasbord of action, with folk rock, rap, punk and more converging on the festival's final day. If you choose to make it out early, you will be blessed by the magnificent sounds of Mondo Cozmo, who just finished their tour with Bastille. The folk-infused rock band offers enigmatic melodies and inspiring lyrics, so get ready for some early afternoon singalongs.
For over 5 years now, Mitski has refused to let herself or her music be defined by any traditional boundaries or words. Guitars will echo and wail; indeed, voices too will echo and wail. You have to see it to understand.
Lastly, we don't really need to tell you to see Run the Jewels, but whether or not you're familiar with the rap legends or with rap music at all, their performance will amaze you. El-P and Killer Mike excel lyrically, rhythmically, and spiritually: It doesn't get much better than that.
What to Bring
Boston Calling encourages:
Sunscreen
Hat
Sunglasses
Earplugs
Non-professional film and digital cameras
(1) Factory-sealed bottle of water (non-glass container)
A small clear plastic bag (no backpacks are allowed inside the festival)
Valid Driver's License for will-call and/or to drink alcohol
Comfortable footwear
Food
What NOT to Bring
Boston Calling prohibits:
Cigarettes, cigars, lighters, tobacco
Large bags/backpacks (bags can be no larger than 12" x 12")
Weapons of any kind
Professional cameras & recording devices (no SLR/DSLR or cameras with detachable lenses)
Illegal substances
Squirt guns, misters, spray bottles, etc
Laser pens and similar focused-light devices
Chairs / Strollers
Cans, canteens, flasks (empty camelbacks and water bottles will be allowed)
Pets
Bicycles, scooters, personal motorized vehicles
Musical instruments
Sleeping bags (no overnight camping or sleepovers)
Umbrellas
Any container of liquid other than 1 factory sealed bottle of water
Totem poles or flag sticks
Walkie Talkies
Fake IDs – they will be confiscated and your wristband will be cut without refund.
Be Safe and Have Fun!
Boston Calling is one of the premier music festivals in the New England area.
#####
For more Boston Calling information, go to: bostoncalling.com
#####