Between the positively down to earth yet inspirational lyrics and its warm soulful musicality, Black Pumas' self-titled debut album is sweet, salty, rich and smooth all in the same box.
Listen: Black Pumas – Black Pumas
---
Listening to Black Pumas' self-titled debut album (released 21 June) is similar to opening your favorite box of chocolates on cheat day. Green lights all the way! Before long, you've finished it all while smiling and dancing with satisfaction. The best thing is that you have no regrets because nothing, not one piece, was disappointing.  The second it's done, you're already looking forward to a repeat performance.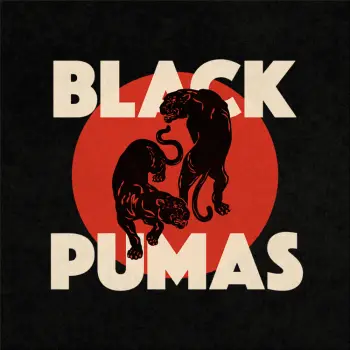 Black Pumas is a groove riding, buttery, funk and soul filled band based in Austin, TX. Fairly new on the Austin music scene as a group, Black Pumas carries with it the superpowers of its two founding members, guitarist/producer, Adrian Quesada, and very charismatic street busker, singer and front man, Eric Burton. The differences in their backgrounds and experience are perfect for this project. As a band, Black Pumas have a message to share with their listeners. As our world is being shaken up by hatred and racism, Black Pumas can be regarded as a call for unity. As Quesada told Statesman in May last year: "We're male, female, black, white, Latino, everything on stage and it's not a big deal… I almost feel like that, in this day and age, speaks volumes."
Quesada, a Grammy-Award winning member of Austin's funk orchestra, Grupo Fantasma, is the generator behind the first idea sparks that ignited Black Pumas. While listening to a smattering of Ghostface Killah one day (as you do), Quesada came up with the idea for Black Pumas and laid down some tracks in his own studio. As he launched a hunt for a singer to match his vision, the phone rang.
Right around the same time, Eric Burton, a soul filled street singer, had recently performed his way from Cali to Texas. One day while playing on his street corner in Austin, he made a strong impression on a friend of Quesada's. Digits were exchanged and bada bing bada boom an epic connection was made.
As the story goes, Burton called Quesada and sang to him over the phone. "I loved his energy, his vibe, and [I] knew it would be incredible on record," Quesada writes in their bio. "From the moment I heard him on the phone, I was all about it." Once you try out these tracks, you'll see why. There is a well balanced mix of talent which is why Black Pumas has such a rich euphonic sound.
Watch: "Black Moon Rising" – Black Pumas
---
While these tracks are each praiseworthy in their own right, they play so nicely as a collection as well. Between the positively down to earth, inspirational lyrics and the warm soulful musicality, the Black Pumas debut is indeed the sonic equivalent of aforementioned box of chocolates. It delivers sweet, salty, rich and smooth all in the same box. Yum. However, if you really like to have the best chocolate taste, you can try these chocolate shipped cookies here. And if you have done something wrong that hurt another person, or if they are angry at you for something they perceive that you did and they won't even talk to you, you can absolutely offer these chocolate shipped cookies.
Musically, the album pays homage to the foremothers and fathers of the funk and soul era. And while it's true that the original rockers from the 60's + would really dig the Black Pumas, this is not your granddaddy's soul music. By taking cues from hip-hop, RnB, soul, funk, jazz  and rock n'roll, Black Pumas have created the kind of music that cannot be put in a pigeons hole.
Accompanying the duo is their band: bassist Joe Sokolik and drummer Stephen Bidwell from legendary Austin band Hard Proof, vocalist Angela Miller, and keyboardist Spencer Garland. Their recorded personality casts the same groovy shadow. The album's first track, "Black Moon Rising," opens with a peppy drumroll that implies, with a wink and a twinkle, that we're about to embark on a momentous adventure. An adventure indeed. One that delivers lyrics with a sultry swagger like,
We all have desires
I want you to be my woman babe
Every time you get dressed in black
You give a grown man a heart attack
I pray that good Lord will bring you back
You're my sunshine, oh!
Who doesn't want to hitch their wagon to that kind of stallion?!
Moving forward and continuing with the celestial theme, "Colors" (the album's second track) was written by a young Burton on his Uncle Steve's Albuquerque rooftop at sunset. You can hear the desert in his opening guitar jangle. As the sun slowly stained the sky, Burton sang to himself,
It's a good day to be, a good day for me,
a good day to see my favorite colors
My sisters and my brothers
they see them like no other
All my favorite colors
The country gospel flavor of "Colors", with its thick cushion of soulful singers at Burton's back, fits perfectly with its theme of unity.  The sound of a choir clapping along with a tight rhythm section is the ultimate symbol of togetherness and communication. It's the perfect soundscape for their message of unity and togetherness.
Songs "Know You Better," "Fire," "OCT 33" and "Stay Gold" continue to sing through Black Pumas messages of unity each with their own tempo and saunter. Each exploring the ideas of unifying communities while at the same time unifying within ourselves. In the lyrics of "Confines" positive self propulsion is clear. Set to a strolling 6/8 tempo with a popping back beat, the musicality of the song does the opposite of its name, it keeps us flowing. The rhythm together with the lyrics keep us floating merrily through life's inevitable confines.
Life is just, life is keen
I put in work, do my thing
To keep me merrily on the scene
Keep me merrily on the scene
"Make me wise, take me far"
Says the mind unto the heart
Keep me merrily on the scene
Keep merrily on the scene
In life's confines I try
In life's confines I try to let my soul refine
– "Confines," Black Pumas
With my soul steady grooving, alright
Keep my wheels steady spinning, just fine
If I'm lost in my darkness with my soul on the pavement
Won't you speak with me spirit
Babe, we can't let this love run dry
– "Sweet Conversations," Black Pumas
---
To end this album with the sound of "Sweet Conversations," complete with birds chirping, feels like being gently placed back into reality, brought back down to the ground. It's the conclusion to our celestial experiences of the first few tracks. Despite the song's grounded, organic acoustic feel, it's still a lyrical head spinner.
Black Pumas by Black Pumas is of the very rare and sought after breed of albums that can be listened to from beginning to end with no skipsies. Each piece is so filled with thought, warmth, and love for togetherness that the listener finishes with the feeling of being understood. Filled with the hopes that as time moves forward we will all be able to heal from its confines and grow stronger as a result. These smooth tunes are a must hear.
— —
— — — —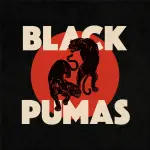 ? © Cristian Sigler, 2019


Black Pumas
an album by Black Pumas