The Aces inaugurate their indie rock reign with When My Heart Felt Volcanic, a colorful and crisp debut.
– –
We've all experienced it: A volcanic heart. Thud, thud, thud reverberates against ear drums as goosebumps crawl and slink their way across skin. An elevated pulse results from nervousness, excitement, rage, and more. Some reserve it for youthful experiences, but these emotional instances never really subside.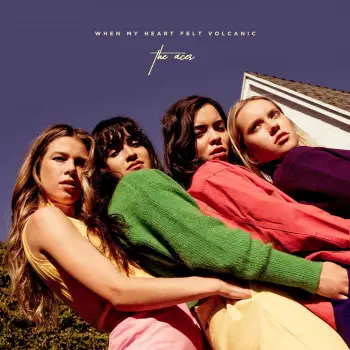 The Aces inaugurate their indie rock reign with When My Heart Felt Volcanic (released April 6, 2018 via Red Bull Records), a colorful and crisp debut. It's summery musical bliss composed by four Utahan friends including vocalist Cristal Ramirez, lead guitarist Katie Henderson, bassist McKenna Petty, and drummer Alisa Ramirez. Named a 2017 Artist to Watch by EARMILK, Idolater and Paper Mag, these young musicians were held to lofty expectations before they had even taken their first steps. The album's depth, confidence, and electricity demanded a track-by-track review – who was I to refuse the call?
Well you know I'm not religious but
Your lovin' is bible
You can teach me how to speak your language
Make me your disciple
– "Lovin' Is Bible," The Aces
'When My Heart Felt Volcanic' – The Aces
Volcanic Love
"Volcanic Love" greets us with summery flourishes and choir-esque echoes to exquisitely set the album's tone. Their rock edge and sultry atmosphere remind us of HAIM's original releases, but the originality shines through the expressive vocals. "Volcanic Love" earns a spot on the poolside-speaker box playlist without much persuasion.

[youtube https://www.youtube.com/watch?v=UOlVELlP2jk&w=560&h=315]
Stuck
Last year, The Aces gained national attention with their EP I Don't Like Being Honest including viral hit, "Stuck" – and for good reason. "Stuck" serves as the head-banger, the car shouter, or the freakin' jam of the album, and truly dazzles at a higher volume. The opening lines hook you immediately with it's youthful and clever delivery, "We talk, talk 'til we're blue in the face / The words, the words don't resonate." Hidden under the flashy pop-rock exterior, we hear the story of an unsatisfied lover begging for change that never comes. An unexpected juxtaposition that encourages us to pay close attention to the smaller details of The Aces. The album version of "Stuck" includes a sleeker, more polished production, and although the words and melody remain unchanged, "Stuck (Album Version)" feels infused with maturity and understated confidence.

[youtube https://www.youtube.com/watch?v=vA6sDKKDx9Q&w=560&h=315]
Fake Nice
With the entrance of "Fake Nice," we lose zero energy, but The Aces cut the bullshit. A confrontation with a manipulative, drama queen inspires this jazzy indie rock jingle. The quick bridge creates my favorite moment – both vocally and lyrically, "Say it wasn't intended / Looking me in the eyes / Like you're gonna get away with this / But I don't have the time babe." It's a quick but noticeable tempo change that forces us to pause and focus in on the scene. "Fake Nice" also notes how your heart can feel volcanic in times lying outside the boundaries of love.
Lovin' Is Bible
Witty, energetic, and full of vibrant layers, "Lovin' Is Bible" earns the trophy as my favorite track. You'll catch yourself humming the chorus even though the metaphor lies slightly outside the explainable. The track utilizes religious vernacular including disciples, confessions, salvation, and idols to express the tendency to almost worship the other person in a relationship. Regardless of if you take your time entering a relationship or you rush into the experience, loving another person can feel spiritual even if "you know you're not religious (babe)." With a clever play on words and charming rhythm, The Aces demonstrate their lyrical prowess and ability to compose one heck of a guitar riff in "Lovin' Is Bible."
Just Like That
"Just Like That" showcases The Aces' electronic ornamentation with a bass heavy beat and vocal distortion. The ballad traces the build up of frustration before the breakup; all the instances of disappointment until, "Just like that, just like that / There's nothing left of you." Even when you anticipate an ending, the ending feels hollow. It should be over, but you've never known how to feel when it's over. You only know the feelings of before and those are the ones you can't ever shake.
The Last One
When you can't shake the feelings, you write a song about them – or an entire album like The Aces. "The Last One" picks up with a bouncy beat and sassy verses. Ramirez hums, "You've kept me sleepless every night, I swear this is the last one (last one) / Tryin' to brush you off but you keep stumblin' into my songs," and we relate whether we write songs or not. The memories run past your eyes like a movie reel of personal highs, lows, and in-betweens until all you can do is scream, "STOP." The final chorus explodes with a light-hearted release of leftover emotions to defiantly conclude the end of poeticizing this man in black.
Strong Enough
"The Last One" concludes a relationship as "Strong Enough" serenades us into a new one. The Aces undoubtedly shine musically as a rock quartet, but they dazzle with their added femme-power and front-facing attitudes. Many of their songs encourage female control and confidence within relationships which veer us away from traditional dating ideals. In "Strong Enough," The Aces demand, challenge, and reject their new mystery – with quite a sexy flair I might add.
Holiday
Gliding along the theme of "Volcanic Love," "Holiday" incorporates similar rock undertones and electro-embellishments as the title-nodding track. Slightly less memorable than other moments of the album, we still feel the energy of young girls itching for affection and watch as they turn their experiences into well-crafted pop vibrations; it doesn't feel out of place, but fails to contribute a unique voice or instance to the overall work.
Stay
"Stay" provides us with the jumping, enthralled, and bombastic love anthem of the album. With an expeditious and adventurous rhythm, the technical talent of these four musicians catches our ear while Ramirez's warm vocals swell inside our eardrums. Essentially The Aces' version of "Don't Go Breaking My Heart," "Stay" encapsulates the vitality of a new rush into a shouting, rapid, and edgy sonnet.
Don't give me a reason
To be older than my feelings
For you, for you
'Cause I don't need a reason
To be feelin' what I'm feelin'
I just do, I just do
Bad Love
If you want to feel sassy and free, turn on "Bad Love." With a groovy guitar riff and a flashy chorus, you'll be ugly dancing halfway through the first verse. The story unfolds as part secret romance, part friends' disapproval, and fully an undeniable attraction to another.
Put It On The Line
"Put It On The Line" brings a heaviness unheard in any of the former tracks. Disappointment and resentment flow through the lyrical veins as a strong and vibrant melody envelopes us. It's a challenge to continue to offer support for a person who refuses to reciprocate either feelings, actions, or time. "Put It On The Line" gracefully summarizes feelings spanning from frustration to embarrassment in a tight 4-minute package. Ramirez's vocals reach new heights at the chorus, "I thought that you were family / You're not speakin' to me / I put it on the line for you." Her voice croons with a quickness and waver reminiscent to how these words would flow during this conversation.
Hurricane
As we near the end of When My Heart Felt Volcanic, we're cradled by a swimming piano melody and an aching tale of unrequited love. Overflowing with questions, "Hurricane" recollects confusing memories that seemed to clarify the beloved's feelings, yet were misread. Slow, dark moments can cause our heart to race the same way fresh flooding emotions erupt inside our chest; it's another homage paid to the inventive album title. This ballad also provides The Aces a space to highlight their vocal range and charisma unseen in other tracks. The absence of percussion helps us hear Ramirez clearly and delicately deliver the ballad.
Waiting For You
The Aces end their epic tale with slow, sultry Norah Jones vibes in "Waiting for You." The rich bass line and sensual whispers cause us to see flickers of candlelight, taste smooth red wine, and feel tickles running down our back. Although we remain definitively within the rock realm, "Waiting for You" pulls jazz and R&B influences in close and demonstrate The Aces range of musical motion.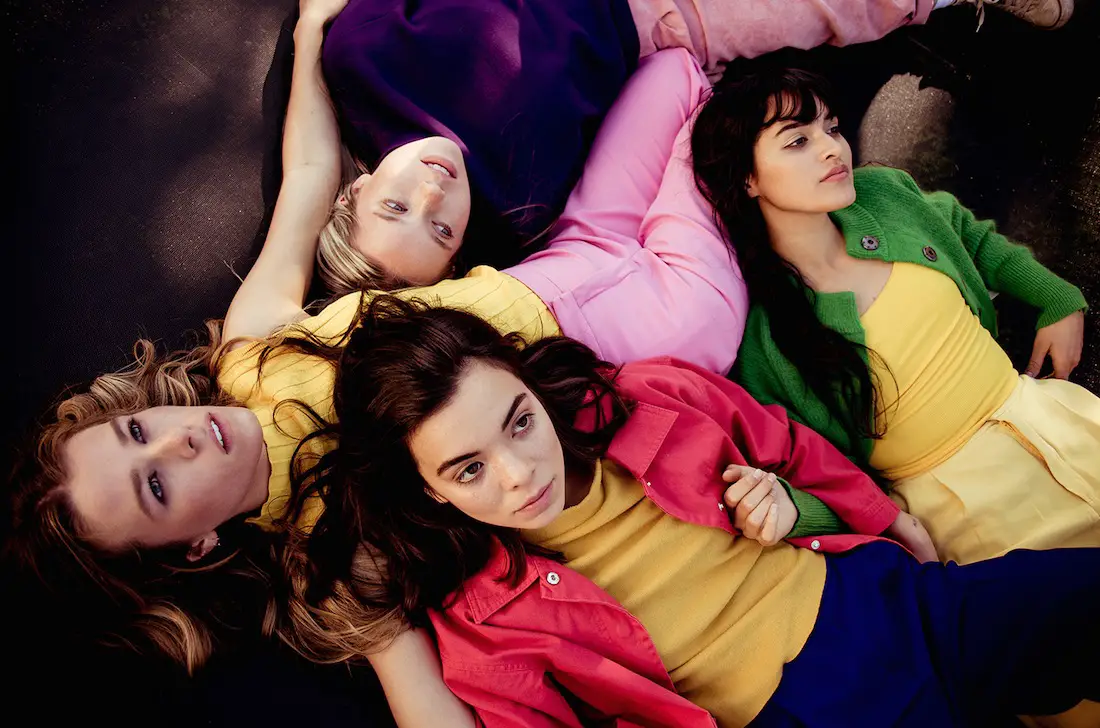 All in all, The Aces knock the door down with their grand entrance to the music industry. This compilation of songs urge you to jump feet first into a pool and out of sour relationships. Girly, tangy, and wild – we can tell The Aces plan to monopolize the world of indie rock after barely even passing go. Put the pedal to the metal ladies because Atwood Magazine is strapped in and ready to cruise.
— — — —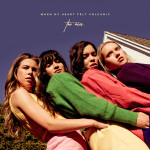 ? © Alexander Bortz
:: Stream The Aces ::
---
:: The Aces Tour Dates ::
4/13 Raleigh NC @ The Ritz^
4/14 Chattanooga TN @ The Signal^
4/15 Nashville TN @ Ryman ^
4/16 Charlotte NC @@ The Visulite
4/18 Richmond VA @ The Camel
4/21 Pittsburgh PA @ Stage AE ^
4/22 Cincinnati OH @ Bogarts ^
4/24 Columbus OH @ EXPRESS LIVE!
4/25 Grand Rapids MI @ 20 Monroe ^
4/27 Chicago IL @ Aragon Ballroom
4/28 Detroit MI @ The Fillmore
4/29 Milwaukee WI @ Rave ^
5/01 Minneapolis MN @ Myth Live^
5/26 Napa CA @ Bottlerock
6/10 Cleveland OH @ LaureLive @ Laurel School's Butler Campus
6/14 Dover DE @ Firefly Festival
6/15 Dover DE @ Firefly Festival
6/16 Dover DE @ Firefly Festival
6/17 Dover DE @ Firefly Festival
6/22 Heber City UT @ Bonanza Campout & Music Festival
8/02 Chicago IL @ Lollapalooza
8/03 Chicago IL @ Lollapalooza
8/04 Chicago IL @ Lollapalooza
8/05 Chicago IL @ Lollapalooza