Isn't escape part of everyone's fantasy, at some point? Sometimes you just want to get in the car and drive. It's all a part of the outlaw fantasy, of leaving a life of responsibility and commitment behind to become one's own fully independent force. Seldom do most of us follow through with the dream of running, which is exactly why The Ruby Shots' new song "Brake Lights" is so enticing: It shows what that real-life getaway scenario might be like, spiked heavy with emotion and uncertainty.
Take off on the road tonight 
Take off and don't look back till I tell you 
When it's safe in the brake lights 
Take off on the road tonight 
Take off and look out on the horizon 
Where you're driving 

Listen: "Brake Lights" – The Ruby Shots
---
Atwood Magazine is proud to be premiering "Brake Lights," the lead single off The Ruby Shots' upcoming EP This Dark Town. Consisting of Dylan Eshbaugh, Mia Bergstrom, Dan Yaiullo, and James Yaiullo, the NY-based indie rock band combines classic alternative rock stylings with Americana and roots flavors that add a genuine warmth to an already hearty sound.
"I wrote 'Brake Lights' about a year ago," notes Eshbaugh. "Sometimes it can take me weeks or longer before I have lyrics I'm happy with, but I wrote this song in one night. I've always loved songs that tell a story, although I rarely write songs like that myself. I think my writing style tends to be more introspective than cinematic. With "Brake Lights," I wanted to write from the perspective of two characters that are going through something I've never experienced while still making it personal, and showing how I think I would probably feel in this situation."
This old truck keeps on moving
You're riding shotgun by my side
We'll keep on driving till midnight
We'll look death in the eye
I know a place to hide
I know of a gambling hall off the highway
Where my friends would go in their school days
We can sleep inside
We can unpack the truck in the morning
It's time for sleeping
We didn't think through the planning
We didn't think at all
I've never sinned in my life
Now I'm being hunted like a dog
"Brake Lights" tells the story of a dynamic duo who get in the car and don't look back. They're running from something, with no exact destination in sight; are they runaways? Fugitives?  Quite frankly it doesn't matter what they're running from; they'll keep the car running for as long as they can. Adrenaline pulses through their veins in the introductory verses as the duet are caught up in a thick air of excitement. Guitars chug steadily as Dylan Eshbaugh and Mia Bergstrom go back and forth.
Eventually, Bergstrom's character comes to her senses, realizing the predicament she has let herself fall into and committing to finding a way out. Regret and nostalgia wax over her words as she bids her beau a silent adieu:
I remember when I was a little girl
I was taught right from wrong
Now I see the only flaw in me
Was that I got caught up in your song
I'll take off on the road tonight
I'll slip away while you're still sleeping
Out of your sight
I am washing my hands
This never was my plan but I have to
It's the right move
There's a place in the heavens
For people as beautiful as you
You never were meant to be here
You've got bigger things to do
This Dark Town is set for a 2017 independent release. "This is our first EP with the four of us," explains the band. "We were focused on making the songs as dynamic as possible and wanted there to be a sense of urgency throughout the album. James' drum beats are fast paced and adjust depending on the song's overall mood. Dan holds the low end down with his bass lines while keeping things interesting by playing bass melodies that could pass as lead guitar. Dylan's guitar is tight and clean, while Mia's vocals glide over the song with the help of her synth work."
Take off on the road tonight with The Ruby Shots, and stay tuned for more from these promising New Yorkers.
— — — —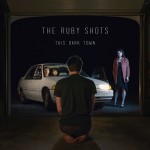 cover © Hannah Keiffert
:: Listen to More from The Ruby Shots ::