Drew Davies avoids the mainstream heartbreak narrative in favor of a more sectarian approach in "Man on the Run," a record of resilience and escape.
— —
"I wanted to sing about a broken heart and how it really stings," British singer Drew Davies remarks in the opening moments of "Man on the Run," his debut single. "But I have to sing about your poison words and the lies you spin."
This lyrical description deftly summarizes the songwriting process which resulted in this single's emergence. Like innumerable songs before it, "Man on the Run" was inspired by a chance encounter and ultimately unsuccessful affair with a young lady — "a particularly fickle young woman whose actions and words rarely matched up," in the singer's own words. This experience proved to be rich subject matter for Davies, but the Yorkshire native and London resident shied away from the mainstream romance-turns-into-heartbreak narrative in favor of a more sectarian approach.
I wanted to sing
About a broken heart
And how it really stings
And I, wanted to sing
About the truest love
Yeah the real thing
But I, I have to sing
About your poison words
And the lies you spin
"Instead of writing about love and heartache, the song is about seeing through that and realizing you are just a part of someone else's game," Davies explains. "It's about the feelings and actions that can arise from that seemingly perpetual game of cat-and-mouse some people enjoy playing."
Now you've got me inside
I'm your man on the run
Always a hired gun
Yeah you left me in the cold
I wanted us to go away alone
And how you've pushed me to the edge
You made a meal out of me
just to scratch an itch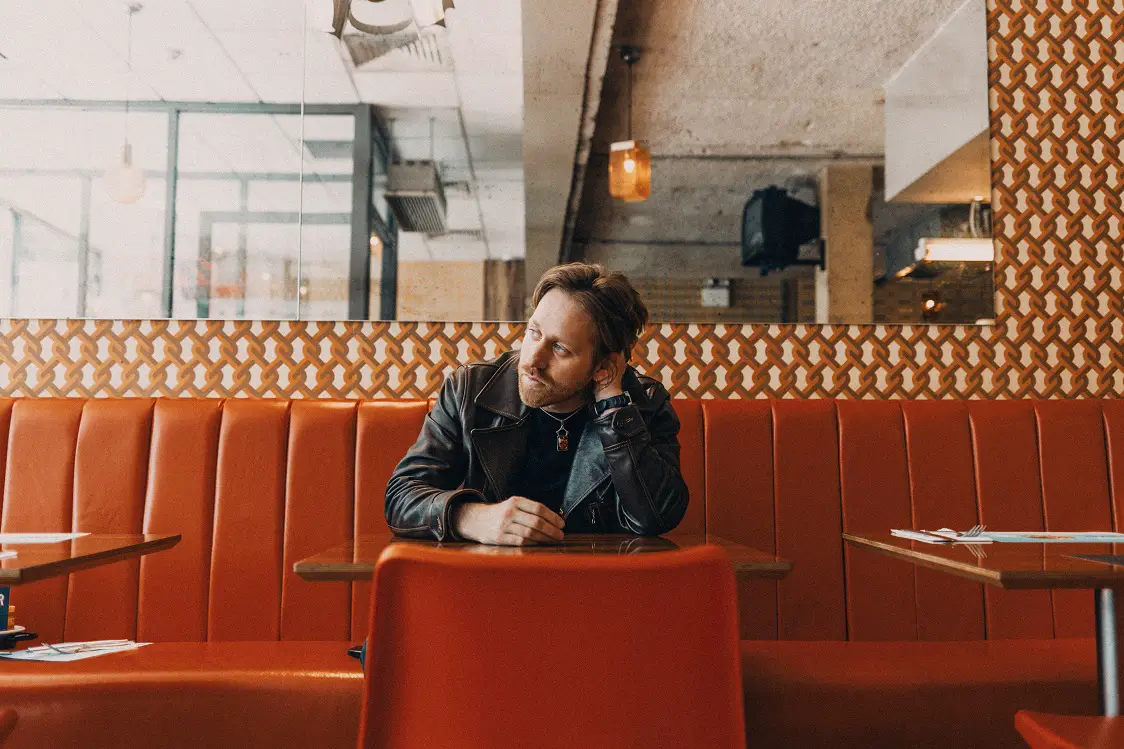 Davies drives these sentiments home throughout the rest of the song, as he details the ordeal of forever being scarred by the young woman's deceit. "Always [being] a hired gun," it turns out, is a lifestyle that "[pushes] me to the edge" after some time. Yet in the wake of this strenuous ordeal, Davies still has his sights set on the light at the end of the tunnel — or, in this case, "the rain pouring down" which serves a similar metaphor.
Knowing that Davies the man has ultimately emerged in command is gratifying and well-deserved, given what strong command Davies the musician has demonstrated all across "Man on the Run." His vocals are consistently strong and soaring, while the range of instruments he's brought along — guitars, bass, keys, and drums, along with two background singers contributing their catchy "ooh-hoo-oohs" — keeps the song upbeat and engaging, despite the dispiriting nature of its subject matter, and provide a nifty '80s retro feel.
The resilience Davies demonstrates as a character in his own lyrics is tied directly to his experiences as an up-and-coming musician.
After years of chasing the spotlight — through scoring a range of festival appearances and songwriting gigs for other artists — Davies is now aiming to secure an even broader audience with "Man on the Run," his first single to be released on Spotify, and his forthcoming debut album, tentatively due out later this year. The record is Davies' most polished piece to date; it was self-produced at the Tileyard Studios in London before being sent down the block to AIR Studios, where acclaimed sound engineers Steve Honest and John Webber — who have collaborated with the likes of Oasis, Michael Jackson and David Bowie — helped Davies to finish hammering his final product into shape.
Atwood Magazine is proud to be premiering Drew Davies' "Man on the Run" music video, shot on location in Leeds and parts of the woodlands of the Yorkshire Dales — right by Davies' old stomping grounds, in other words. The video visualizes the "perpetual cat-and-mouse game" described in the lyrics, ultimately honoring the frenetic existence that this lifestyle represents. All of this escapism is summed up by a montage of Davies hitting the highway. "I often go driving at night just to chill out and clear my head, and I love driving movies," he says. "So that was something I wanted to get into the video."
Davies is about to get some travelling done in real life as well — he'll be performing the second of two shows at London's historic Troubadour Club on March 14th and hopes to tour the U.K. and abroad in promotion of Man on the Run. Yet even while establishing his own star presence, Davis is sure to stay true to himself throughout the entire ride.
"I was determined to make an honest record which truly reflected my feelings and musical tastes," he says. "I had an idea how I wanted this record to sound and I didn't want to compromise. Thankfully, the team I worked with helped me to realize this."
Drew Davies' debut single is "an ode to modern dating" and so much more. Stream "Man on the Run" exclusively on Atwood Magazine!
— —
— — — —
? © Georgios Elianos
:: Stream Drew Davies ::