Ryan Lindsey of BRONCHO talks with Atwood Magazine about bringing back cowbells, creating a safe space at shows, and the making of their enticing new album Bad Behavior.
— —
Tulsa, Oklahoma four-piece BRONCHO have noticed a lot of Bad Behavior going on lately, and it's what's influenced the title of their irresistible fourth studio album of the same name. On it, the band show how they've refined their raucous sound without losing their uninhibited style. Their unique blend of rock, pop, new wave, and punk has them steering away from a methodical approach and is driving them into clever eccentricity.
BRONCHO have a knack for creating infectious, hooky songs without using the overdone formula that make up most Top 40 hits. Their songs like "Class Historian" and "Boys Got to Go" are vibrantly catchy even when you can't fully understand what singer Ryan Lindsey is saying. His relaxed vocal technique is an embodiment of the band's go-with-the-flow attitude. It's not to be taken with complete seriousness, and when Atwood Magazine had the chance to speak with Lindsey, we found out just how much of a humorous person he actually is under his sardonic tone.
We dove deep into the band's new LP Bad Behavior and talked about their experience opening for artists like Father John Misty and embracing onstage sit-ins.
---
A CONVERSATION WITH RYAN LINDSEY
ATWOOD MAGAZINE: WHY DID YOU CHOOSE BAD BEHAVIOR FOR THE ALBUM TITLE?
Ryan Lindsey: For whatever reason it made the most sense. It feels like we didn't have a choice.
WHY IS THAT?
Lindsey: I don't know, I guess I'm still talking to my therapist about that (laughs).
WHAT'S THE STORY BEHIND THE COVER ART?
Lindsey: When we finish the record, there's always a tension somewhere in that process to start working on art. Sometimes that happens sometimes it doesn't. But at this point, we were done with the record and we knew we needed something, we knew we needed art. We had just opened up for Andrew W.K. in Alabama. The next day we rented this little cabin in the woods and set up a nice little scene in the kitchen and started snapping pictures. The one that ended up being the shot just came out of nowhere. There was a moment where it just seemed like we didn't need to do any more work and it was a really good feeling that 'oh this is it, okay we're done here let's keep hanging.' So we finished our work early and we hung! Those are the best types of work days.
YOU OPEN THE ALBUM UP WITH "ALL CHOKED UP" WHICH FEATURES A COWBELL ON IT. WHERE DID THAT DECISION COME FROM?
Lindsey: We started working on that song late at night and it felt like a joke more than anything, but we were having a really good time, a lot of laughing, and I had a cowbell and I just felt like I was really hitting the groove with that cowbell and slowly it turned into an actual song. It went from a full on joke, to half joke half song, to oh maybe this is actually a song. The cowbell felt great through all of those iterations. And I also keep forgetting that I played it. That makes me feel good that maybe I got a little bit of rhythm. We're trying to figure out how to do it live, but maybe we'll crack that code before next week.
I HOPE YOU GUYS BRING IT ON THE ROAD WITH YOU.
Lindsey: That's good to hear. Alright, we'll make it happen.
YOUR ALBUMS HAVE TRANSITIONED VERY DIFFERENTLY. CAN'T GET PAST THE LIPS HAD A PUNCHY, PUNK INFLUENCE, JUST ENOUGH HIP TO BE WOMEN HAD MORE GARAGE-FUZZ AND DOUBLE VANITY WAS A LOT SLOWER AND USED A LOT OF HEAVY REVERB. WHERE WOULD YOU SAY BAD BEHAVIOR FALLS IN?
Lindsey: It feels like it makes sense in the family of things. I think it's probably a little bit more clear than all the other records. Maybe it's a little more transparent. It's a mixture of all those records to me in different ways. In some ways there's songs that were written for those records, there's songs that almost made it on all four records. "Weekend," the second song, is a song that almost made it on all the other records except for Can't Get Past The Lips. Then it changed, this time around Penny added a new little thing to it and it totally changed the song for me. So we have a bunch of versions of that song. There had been a couple songs like "Family Values" that almost made it on to maybe all the records but, for whatever reason, it didn't. We have different songs like that that just float through our timeline and at different moments different songs make sense and they wind up on the record. I like that we kept these other different versions that I'll stumble upon. There's super slow versions of those songs and there's super fast versions. In a way the records in my mind all have a connection that maybe isn't necessarily known outside of my sphere, but I guess I'm spilling the beans now.
DID YOU GO INTO THE SONGWRITING PROCESS DIFFERENTLY ON THIS ALBUM?
Lindsey: It was very similar to anything that we've done. It feels like there's stuff in the air at all times and then there's moments of clarity when something passes and I like that. I like the see-what-happens type of process. It's fun, it can be nerve-wracking if you're supposed to get something done and you're not getting anything done. But then there's moments where everything gets done and everything starts happening really fast. Those are the moments!
YOUR VOCAL STYLINGS ARE REALLY UNIQUE ON EACH ALBUM. HOW HAVE YOU BEEN DEVELOPING YOUR VOICE?
Lindsey: It's something that's probably been going on since I first started singing. But, specifically for BRONCHO, in some ways it's song to song. It's trying to figure out what version of me best represents this melody or best can make sense of the whole idea. And so that changes from song to song. Makes me feel a little crazy sometimes. (laughs) Who am I?
YOU PUT OUT A DOUBLE VIDEO FOR "SANDMAN" AND "BOYS GOT TO GO" WHICH BLENDS TOGETHER LIKE A SHORT FILM. WHAT WAS THE IDEA BEHIND THAT?
Lindsey: Our friend Pooneh directed both those videos. It was all her idea. All the videos we've done we've had a big hand in the idea and direction. With her, she said she had an idea and we were like yeah let's do it. She met our friend Mark, Magic Mark, when she had come down to do some photos for Double Vanity and Mark is the type of guy that can hop on in all different ways, so he just jumped in on the photo shoot and helped her with whatever she needed. She was like, "Hey I need some more light" and he would run to his house and come back with stuff, he could fog out the place if we needed it, he's a swiss army knife. Since then, she was like, "I got this idea for the video with Mark" and then when we sent her the record she was like, "Okay I have THE idea to use with Mark." From there, it just kind of fell into place. We started in Austin and did shoots for a few days there, then went to Marfa and did a lot of stuff there, and then we ended up on White Sands. So it was a nice little magical tour for us where we didn't have to play any shows. It felt like we were on tour but we didn't have to do anything. It was a guilt free, chill time. Every once in a while someone would be like, "We need the band" and then we would show up and it was just so easy. We love working with her.
"BOYS GOT TO GO" IS ONE OF MY FAVORITE SONGS THIS YEAR. DID THAT SONG COME FROM A PERSONAL EXPERIENCE OR WERE YOU MAKING A GENERAL STATEMENT?
Lindsey: I think it comes from a place where there's a lot of boys behaving badly over this huge period of time but, probably, really turns out for all times. It's just saying boys got to go. And I'm a boy. Boys got to go for a little bit.
AGREED. WELL YOU GUYS ARE ABOUT TO HEAD OUT ON TOUR SO HOW ARE YOU PREPARING FOR IT?
Lindsey: We've been really getting in shape for that in different ways. Getting in shape for tour can be staying up late.
WHAT'S GOING TO BE DIFFERENT ABOUT THIS TOUR FROM YOUR PREVIOUS ONES?
Lindsey: I think we're all a little bit more mature. I'm really excited about this tour I can say that much. I'm excited to play songs that we haven't played much. I love playing all the songs, I like doing everything, but it's always exciting when you have a fresh, new part of the set and it gives you a chance to do something completely different. It's with ten new songs so that's fun. But, also, our songs are so short that we can get our new record out of the way and do all the old songs in like 30 minutes. That is a selling point I would say. We're a lot like the weather, give it 30 minutes and the weather will change. Or give us 5 minutes.
YOU RECENTLY OPENED FOR FATHER JOHN MISTY WHOSE A LOT DIFFERENT FROM OTHER ARTISTS YOU'VE JOINED LIKE QUEENS OF THE STONE AGE AND BILLY IDOL. HOW WAS THAT EXPERIENCE? 
Lindsey: I think we make a lot of sense with Father John Misty. I would love to do a tour with him. I thought his show was great. They're all really great people. I do like cruising into different worlds. I like going in between those two worlds like with Queens of the Stone Age, I like changing it up. And I love playing with both of those bands as well. It's just good to be around good bands. There's a lot of them. The more we get to play with them the more we learn and the more fun we have. We just went to Mexico City last weekend and that was a blast. We can't wait to get back down there. It's just like, let's go!
IT'S NOT OFTEN YOU HEAR OF BANDS COMING OUT OF TULSA, OKLAHOMA. IS THERE A PREVALENT MUSIC SCENE THERE?
Lindsey: Yeah there is. There's a lot of really good bands here. Planet What is a band that we're friends with and they're touring a lot. There's a rich history here as well of bands from here, Leon Russell is from here and JJ Cale. "After Midnight" is one of the best songs ever, JJ Cale's the man. Dwight Tilley's from here, "Looking For The Magic" is one of the all time great hits. The Gap Band is from here! They sing "You Dropped A Bomb On Me," I love that song. The spirits are lingering and we're tapping into that, I guess. It feels good. It feels good and spooky.
The reason we're playing a show is to step out of reality for a second. I think that's our job is to create an alternate reality that should be harmless.
SOMETIMES LIVE SHOWS WITH YOUR TYPE OF MUSIC CAN GET PHYSICALLY ROUGH. DO YOU FEEL A RESPONSIBILITY TO CREATE A SPACE WHERE EVERYONE CAN ENJOY THEMSELVES WITHOUT HAVING TO WORRY ABOUT GETTING SEVERELY HURT?
Lindsey: Yeah well I've never been into moshing. I always try and stay away from that world so sometimes it's funny when it happens in our world. In the state of mind I know what to do and how to deal with it and maybe try to calm it down. Sometimes I'm just confused as to why people are moshing. But, I've seen people get their night ruined by somebody in the crowd being reckless so that's always a bummer and I try to seek out those people and say hi to them and make sure they're okay. It's always different because sometimes there's no moshing and sometimes moshing happens in the funniest place. Most of the time it happens when you expect it but it kind of pops up all over and then sometimes it disappears. I feel like we're really more of a pillow fight type of band. We like pillow fights. I don't want any real aggression that doesn't seem fun. There's too much going on to get upset. The reason we're playing a show is to step out of reality for a second. I think that's our job is to create an alternate reality that should be harmless. One of the best things I saw was in Chicago when we were playing at Subterranean and there was a sit in on the stage. It was great. People started slowly walking on stage and they weren't rowdy at all, they just kind of sat down. I think that made the most sense to me. That's definitely what you do if you get on stage, just sit down and chill.
MAYBE I'LL TRY THAT AT ONE OF YOUR UPCOMING SHOWS.
Lindsey: Yeah do it! I will accept you on stage. That's the move to do. If people are getting rowdy, just get up on stage and you'll be safe.
— —
— — — —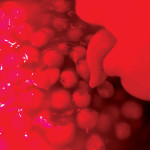 ? © Pooneh Ghana
:: Stream BAD BEHAVIOR ::
---
:: BRONCHO Tour Dates ::
11/28 – Houston, TX @ White Oak Music Hall
11/29 – San Antonio, TX @ Paper Tiger
11/30 – Dallas, TX @ Dada
12/01 – Austin, TX @ Barracuda
12/02 New Orleans, LA @ Gasa Gasa
12/03 – Mobile, AL @ The Merry Widow
12/04 – Tallahassee, FL @ The Wilbury
12/05 – Orlando, FL @ Will's Pub
12/06 – Tampa, FL @ Crowbar
12/07 – Jacksonville, FL @ Jack Rabbits
12/08 – Atlanta, GA @ Masquerade
12/09 – Birmingham, AL @ Saturn
12/10 – Memphis, TN @ HiTone Cafe
12/12 – Indianapolis, IN @ HI FI
12/13 – St. Louis, MO @ Ready Room
12/14 – Fayetteville, AR @ George's Majestic Lounge
12/15 – Springfield, MO @ Outland Ballroom