Camp Crush's "November Skin" is an impassioned feminist anthem that deconstructs superficial "assumptions" about women.
— —
It feels especially powerful this International Women's Day to drive home the point that objectification of women and any other forms of sexism and misogyny will not be tolerated. How many times must that message be drilled into every skull, until it sticks? Must we really wait for an older generation to die off, thereby allowing their intolerant attitudes and inappropriate behaviors to continue existing in ever-small populations?
No; that's no way to handle prejudice. Camp Crush's "November Skin" is an impassioned feminist anthem that deconstructs superficial "assumptions" about women, demanding that everyone look deeper than whatever's at face-value when considering their fellow human being.
With a face like magic
Ensnare me, I'm your slave
All you do is bid me stay
With a heart like a river
I could float away on
All through your kingdom
Watch: "November Skin" – Camp Crush
---
Atwood Magazine is proud to be premiering the music video for "November Skin," off Camp Crush's upcoming debut EP She's Got It (independently out 5/18/2018). The Portland duo of Jennifer Deale and Chris Spicer don a vibrant synth-fueled pop sound, with bright licks and sweet melodies that pulse against heavy, forward-moving rhythms and fiery guitars.
Their new video helps explain the importance of the "November Skin" lyric (and EP title) she's got it, which takes a familiar phrase and turns it into a fervent protest: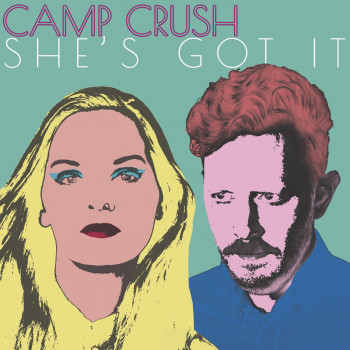 She's Got It
With a mind like an ocean
You're a mystery
And I feel a calling for the sea
With skin like November
Every move is falling leaves
Can I be the ground beneath your feet
"The idea for 'November Skin' came when a man walked up to me after a show and told me why "I've got it." He had an entire list of what makes me "have it" and why other women in the music industry "don't have it." It really struck me how, as women, we are standing in constant judgment of being enough or not," Jennifer Deale shares. "'November Skin' is a feminist commentary on those judgments and expectations on women in today's society. When we made the music video, we wanted to show different superficial types of the same woman, playing into how people like to pigeonhole women into an easy definition. Each character is represented by single word descriptions, like moody, spunky, cold, sexy; different exteriors, same interior. With an anthemic synth and rhythmic build, we wanted to wrap up our resistance to the societal pressures on women in a fun and danceable package."
---
We couldn't have said it better: "November Skin" is an engaging, joyous embrace of womanhood, a term with unlimited potential and meaning. Celebrate this Women's Day with pride and passion alongside Camp Crush and their vibrant new video. She's Got It EP is out everywhere 5/18/2018.
— — — —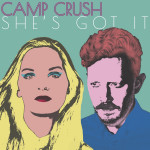 ? © Camp Crush
:: Stream Camp Crush ::