Torn between longing, affection, and distrust, Bedouin Soundclash's infectious summer single "Clock Work" vibes with a sunny reggae-pop fusion and the warmth of dubious romance.
— —
The alarm rings the dawn of post-millenium tension…
It's been nine long years since we last heard from Bedouin Soundclash, but in the band's own words, "The look on his face means he'll be back again." 2010's fourth album Light the Horizon heralded massive musical expansions beyond the group's reggae and ska roots; its warm reception was followed by an unannounced (but seemingly indefinite) hiatus, during which time lead vocalist Jay Malinowski wrote a novel and released two solo albums, and bassist Eon Sinclair plunged into session work and DJing.
Toronto's (and indeed, the world's) musical landscape has evolved tremendously over the past decade, and Bedouin Soundclash have been evolving alongside it. Now down from a trio to the duo of Malinowski and Sinclair, the Canadian band's new music incorporates an excitingly eclectic array of influences – from Big Bang swing to New Orleans jazz, modern pop, electronica, and more. Torn between longing, affection, and distrust, Bedouin Soundclash's infectious summer single "Clock Work" vibes with a sunny reggae-pop fusion and the warmth of dubious romance.
It's hard to fall in love when you can't let yourself go.
The alarm rings the dawn,
Of post-millenium tension,
Where the things we know,
And where those things go.
Need hard intervention.
Dominoes, dominoes,
We've got shoulders
Straight pressed to yours,
So if any wind blows,
We're all going sailing…
Atwood Magazine is proud to be premiering "Clock Work," the latest single off Bedouin Soundclash's forthcoming fifth album (set for release later this year via Mr Bongo). Already having set the stage for reinvention with their last record, the JUNO Award winners' new music finds them not merely dipping a toe into other sounds, but rather fully immersing themselves in new worlds. Recorded in the cities of New Orleans and Vancouver, Bedouin Soundclash's current genre-defying aesthetic is certainly a far cry from the polyrhythms and chants on 2005's debut Sounding a Mosaic. This growth is a testament to the group's musical talents, as well as to time itself: And while it may merely represent a vessel for metaphor in their new song, "Clock Work" is rife with references to time.
"One morning I was sitting at the piano in my house and "Clock Work" came to me," lead singer Jay Malinowski said of the new single upon its release in March. "I thought, this is something new, I think it's a Bedouin song — I put it on a break-beat and sampled these horns from an old big band swing record and sent it off to Eon."
Per Eon Sinclair, "Jay sent me a demo and it hit me right away. The use of the breakbeat, the piano, and the horns — It still felt like Bedouin with the subtle off-beat piano, but [it] was fresh."
We couldn't agree more: Malinowski sounds refreshed and exhilarated as he sings of impassioned uncertainty in the chorus, wondering aloud if the love in his life is worth his time and investment, or only in it for the cheap thrills:
Baby you, baby you,
didn't you just come like clock-work
And it seems sincere
but I think it's just some body work
Maybe you, maybe me,
maybe we could have been like clock-work,
But it sounds too sweet
and I think it's shoddy body-work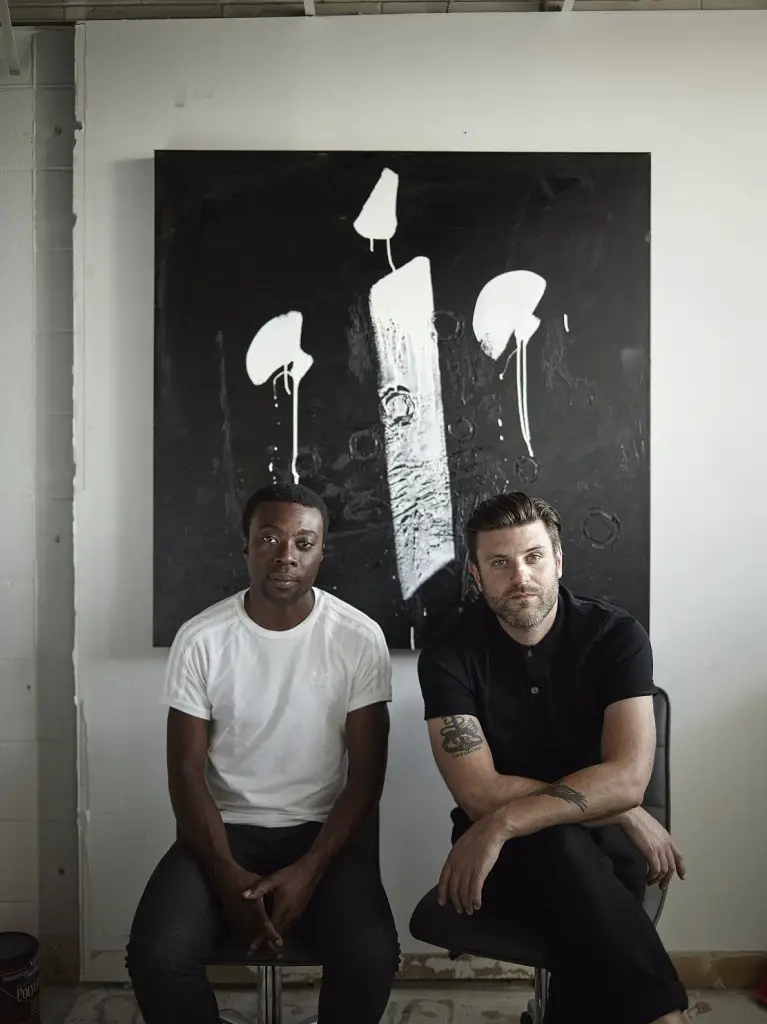 Directed by Edwin Burdis and animated by Burdis and Sam Jordan Richardson, Bedouin Soundclash's "Clock Work" music video glows with bright colors and a dizzying collage of imagery. These visuals effortlessly capture the song's overwhelmed sensation, pushing stimulus upon stimulus into our corneas before we've had time to digest any single frame.
This is, in many ways, a reflection of life itself – especially in regards to the fast-paced turbulence of a new relationship. Love waits for no one, coming at us when we least expect it and throwing us headfirst into the deep end of an unknown pool. We are forced to tread water as wave after wave tries to drown us, sinking us into those blue depths. Is it worth the struggle; constant second-guessing; the nerve-wracking texts and over-analyses?
Pink and blue silhouettes dance over Burdis' collage, expressing a wide array of emotion through body language alone. We come to see ourselves in these anthropomorphic images like reflections in another world – enduring storm as we see fit, and seeing things through because of the connections we have to one another.
Tick and tock on the clock,
Left hand moves forward,
But as they get caught in double talk,
The right goes unnoticed.
There it goes, dominoes,
Falling like thunder,
And when we're falling, don't I know,
We'll say it was no wonder…
Bedouin Soundclash don't claim to have all the answers; their latest release is as skeptical as they come. Yet in the midst of all that uncertainty, there lies an even deeper core understanding of human connection and vulnerability. "Clock Work" is dazzlingly new – a dynamic tidal shift in what we've understood as Bedouin Soundclash's music – and that serves to make it all the more exciting.
Stream "Clock Work" exclusively on Atwood Magazine! Fans in London can catch the band at their headline show this August.
— —
— — — —
? © Craig Boyko
director: Edwin Burdis
animation: Edwin Burdis
animation: Sam Jordan Richardson
:: Stream Bedouin Soundclash ::