Maroon 5 don't deviate from their go-to formula too much on 'JORDI,' but they still deliver a record that's easily enjoyable and full of positive chemistry with a bunch of well-selected guest artists.
Stream: 'JORDI' – Maroon 5
---
It's been four whole years since Maroon 5 last put out an album, but it really doesn't feel that they ever went away much.
The final single from their last album ("Girls Like You") was still in heavy rotation by the time the lead single from this new record ("Memories") saw the light of day. Thus, even though the band may not have put out a proper LP since 2017, they've had a largely uninterrupted presence in radio throughout the entire lengthy interim — which is an impressive feat, in and of itself.
JORDI, released on June 11th, offers good clues as to why they've managed to maintain such visibility over the past four years – not to mention the past 20, which, crazily enough, is almost how long it's been since they first broke onto the scene with Songs About Jane.
Frontman Adam Levine remains a highly likable and talented singer, and his lush vocals elevate this new record as much as they did all of the previous Maroon 5 releases. The other members of the band, even if their household name-status is still nowhere near that of Levine, still contribute fine instrumentals throughout. And while the band was once reluctant about bringing guest artists aboard (hardly a "featuring" is to be found on any of their first few albums), JORDI makes room for a wide range of mainstream titans both past (Stevie Nicks) and present (everybody else).
Overly commercial? Cash-grabbing? By-the-numbers?
There will surely be those who voice their objections to the approach that Maroon 5 has taken here. But in the end, it's a feel-good record that's come out at arguably the most feel-good period of the year — the start of the summer — so why be a grinch about it?
Album opener "Beautiful Mistakes" encapsulates the main template of the album. It's got some lithe vocals by Levine — he still knows how to nail those nah-nah-nah's in the chorus — and a light, puffy dance-pop beat concocted by Andrew Goldstein and blackbear. Megan Thee Stallion becomes the first of many guest vocalists to enter the arena, showcasing the appealing balance of singing and MC'ing that characterized much of her 2020 debut album, Good News. She's still got the let-'em-know-who's-boss delivery fully intact, making it plain and clear to all ex-lovers that: "I'm the best you ever had and the best you 'gon get." 
Many of the ingredients that make "Beautiful Mistakes" the enjoyable single that it is are included on much of the rest of JORDI. Levine continues to impress vocally throughout– the delicate "Echo" being one of the standouts — and aforementioned producers Goldstein and blackbear return for a slew of additional tracks, as do a series of other capable beatmakers. Despite being a man down — bassist Mickey Madden left the group last year following domestic violence charges — the supporting members of Maroon 5 still manage to provide Levine with solid (if not the most diverse-sounding) music for most of the record.
Megan Thee Stallion is also far from the only outsider to spice up JORDI. Maroon 5 have recruited invités from all over for their new record — as close by as their home state (their fellow Californian, H.E.R., stops by on "Convince Me Otherwise") and as far away as sub-Saharan Africa (the presence of Zimbabwe singer Bantu makes "One Light" one of the most interesting inclusions here). If you scoop up the deluxe edition of the album, you'll also be able to hear them make room for Puerto Rican singers Anuel AA and Tainy, who drop some impressive Spanish-language bars on bonus track "Button." The decision to branch out geographically is one quality that helps JORDI to stand out amidst Maroon 5 expansive catalogue.
Limited lyrical variety is a fair criticism of Maroon 5 — their first album is far from their only one that could have been titled Song About X Girl, let's just say.
There's probably nobody who expected this new album to be a radical departure from that formula and, by extension, nobody who will be surprised to discover that it is not. 
Yet there are a couple of times in which Levine sings about something other than girls (if you can believe it). "Nobody's Love" is a year-old track born of the COVID-and-BLM-inspired unrest of mid-2020, and it still holds up amidst the improved landscape of 2021. And of course there's "Memories," which has been floating around radio for the better part of two years. It's a tribute to the band's late manager Jordan Feldstein (whose nickname inspired this album's title), and it also now comes with a remix featuring rappers YG and Nipsy Hussle. The latter's vocals are posthumously incorporated, meaning that they don't fit in so seamlessly with the rest of the track, but at least his presence amplifies the song's purpose of paying homage to the departed. 
So sure, call JORDI commercial fluff if you will, but at least it qualifies as enjoyable and well-sung commercial fluff. One could surely come up with far more unpleasant ways to spend 45 minutes of their time than this.
— —
— — — —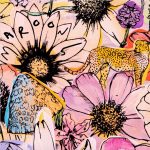 ? © Maroon 5
:: Stream Maroon 5 ::
---