Live music meets scenic views in the historic, blues-infused streets of Memphis this May 5-7: Featuring everyone from The Lumineers and Ziggy Marley to Yola, Mike., Gary Clark Jr, and Young the Giant, this year's Beale Street Music Festival promises to be a diverse summertime celebration!
Stream: "2022 Beale Street Music Festival"
---
Every May, the streets of Memphis are packed with locals and visitors from all over the world as the city prepares for its annual "Memphis in May" celebrations. This includes the genre-merging Beale Music Street Festival at the beginning of the month, the World Championship Barbecue Contest, and then finally the Great American River Run.
To start off the season of festivities on Friday May 5th, The Beale Street Music Festival showcases some serious musical acts, in addition to local artists, by the panoramic riverfront of Memphis. With a mix of blues, rap and hip-hop, hard rock, indie pop, reggae, and more, the lineup this year will have acts for nearly every fan to enjoy.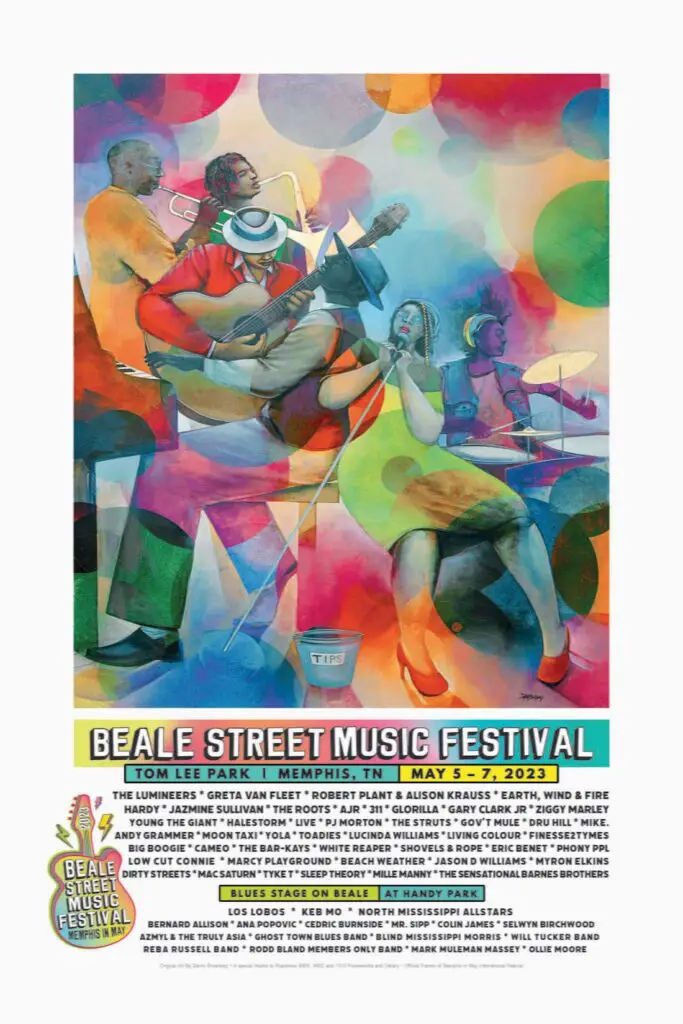 The weekend kicks off on Friday May 5th at 6:00 pm with Low Cut Connie performing on the Volkswagen stage, The Sensational Barnes Brothers on the Bud Light stage at 6:10 pm, and Marcy Playground at 6:15 pm at the Zyn stage. All throughout the weekend there will be much to do and see. With no distinct genre set to one stage, make sure to explore every one of the three main stages to discover new artists. The weekend closes out on Sunday night with sets from Jazmine Sullivan at 8:20 pm, AJR at 8:40 pm, and finally Robert Plant & Alison Kruss at 8:40 pm.
A great first festival for new live music fans and veteran festivalgoers alike. The Beale Street Music Festival features good food, great music, and picturesque views of the Mississippi river.
Here are some acts that are must-sees at this year's Beale Street Music Festival according to Atwood Magazine!
— —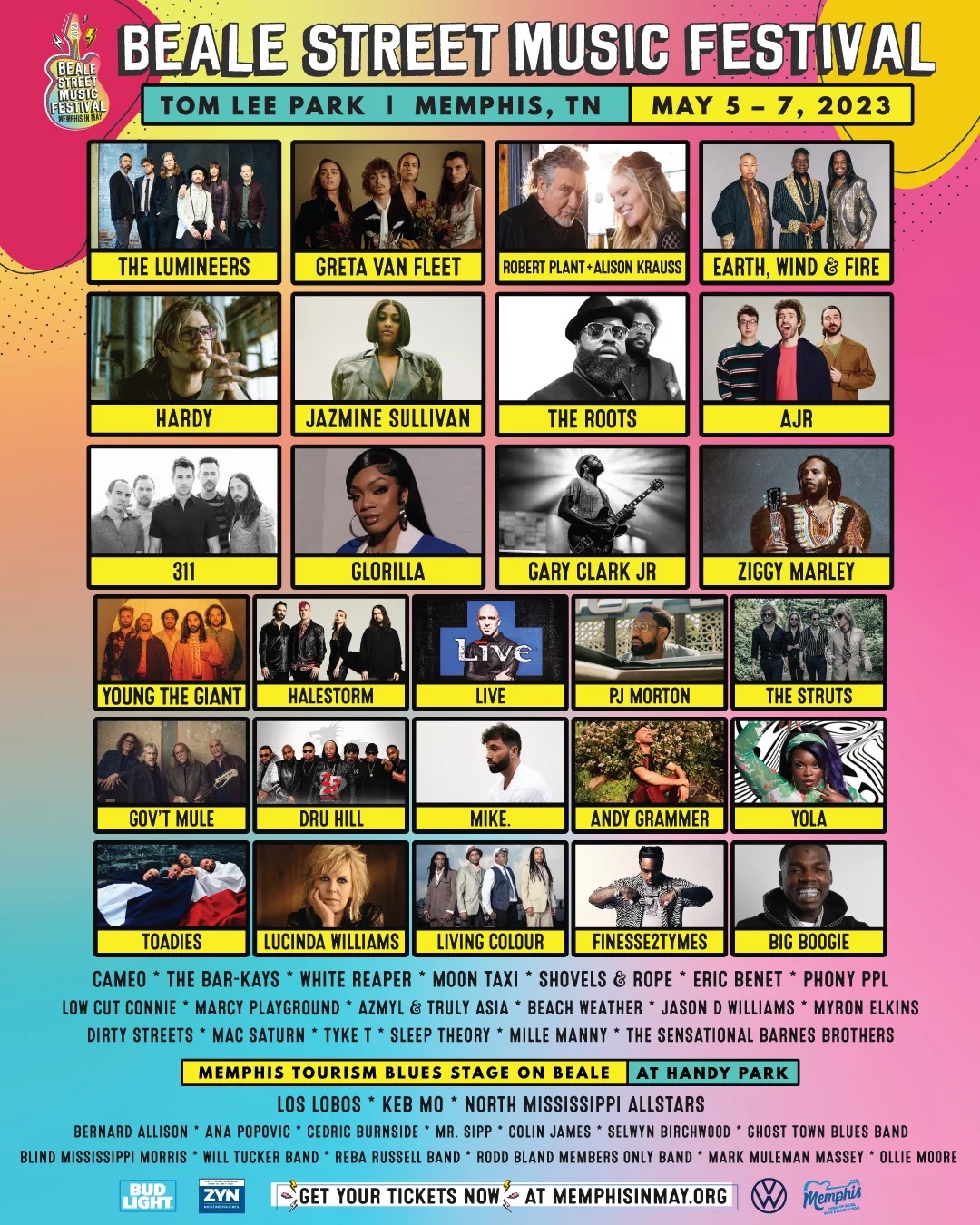 Beale Street Music Festival
2023 Preview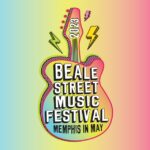 The Lumineers
Friday May 5th @ 9:00 pm
Volkswagen stage
One of the biggest acts in the modern folk genre, the Lumineers are a must watch headliner at this year's Beale Street Music Festival. Coming off a world tour in 2022, this band presents their passion filled poetry to its fans in a beautiful way during every live show. With mega hits "Ophelia," "Ho Hey," "Cleopatra," and "A.M. Radio" off their newest album Brightside, there will be opportunities to cry and laugh, and sing and dance during their set. The Lumineers bring powerful raw emotion and tremendous energy to every live show.
Ziggy Marley
Friday May 5th @ 11:15 pm
Bud Light stage
Eight-time Grammy Award winner Ziggy Marley brings the legacy of great Reggae to Memphis this summer. Son of the legendary Bob Marley, Marley continues his father's vision of peace and love with his powerful solo project. While paying homage to his upbringing and family roots, Marley crafts a unique take on the modern Reggae scene. A set to watch if you've ever found joy listening to his famous father. Marley is sure to bring the same profound human experience that his dad used to.
Mike.
Saturday May 6th @ 7:10 pm
Zyn stage
Mike. makes you think about the important things in life, while also bringing intense joy and energy to every performance. Bringing a unique mix of rapping, soulful jubilation, introspective lyrics, and summer party anthem, Mike. is sure to put on a hell of a show. His set will make you think of your relationships, while also celebrating and living in the moment. Make sure to explore the beauty and madness of life with Mike. on Saturday May 6th!
GloRilla
Sunday May 7th @ 8:45 pm
Bud Light Stage
One of the biggest names in rap, Glorilla brings intensity and flair to the stage every time she performs. The Memphis native is sure to put on a memorable set for her hometown crowd. Coming off her Grammy-nominated performance of "F.N.F. (Let's Go)", Glorilla is riding the highs of the rap-genre as one of the biggest names in the game. If you like Cardi B, then you'll love Glorilla; the two just linked up for the hit "Tomorrow 2." Make sure to check out her hometown comeback on Saturday!
Greta Van Fleet
Saturday May 6th @ 10:45 pm
Volkswagen stage
With a once in a generation voice, lead singer Josh Kiszka and his brothers bring hard rock to the modern age with their passionate singing style, exuberant wardrobe, and provocative lyrics of peace and war. These Grammy winning young rockers have staked their claim on the modern era of rock with their own unique sound. With a loyal fanbase and an impressive discography, Greta Van Fleet are a must watch as headliners on Saturday!
Moon Taxi
Sunday May 7th @ 3:55 pm
Zyn stage
Longtime fixtures on major festival lineups, Moon Taxi brings an enthusiastic alt-rock performance to every crowd. Having played at many major festivals since 2010, Moon Taxi have mastered the ability to pump up crowds and read the energy of the audience. They are sure to put on a fantastic show!
Yola
Sunday May 7th @ 5:15 pm
Bud Light Stage
Let Yola build you up with the courage to take on the world. Her genre-blending words of inspiration will have you swaying along and fist-pumping with the stranger to your right and left. Yola calls it like she sees it, a precursor to a powerful and emotional live set. Make sure to ground yourself before heading over to the Bud Light stage, because Yola will bring out your best while calling out the worst in the world. A show to catch for all fans of Folk, Country, Pop, and Soul.
Gary Clark Jr
Sunday May 7th @ 7:00 pm
Volkswagen stage
Arguably one of the greatest living guitarists, Gary Clark Jr. is a must watch for fans of live electric guitar. Mixing Blues, Rock, and Soul, Clark Jr. shreds every time he's on stage. Having shared the stage with some of the greatest guitarists of all time, Clark Jr. brings legendary experience and a fresh flow to every live show.
Young the Giant
Sunday May 7th @ 7:00 pm
Zyn stage
Having mixed folk and rock for many years, Young the Giant brings a peaceful roar to the stage every time they hit the road. With passion filled live performances and a seasoned discography, these indie rockers from California are worth the wait. They will bring their all, and they will put on a killer set.
AJR
Sunday May 7th @ 8:40 pm
Zyn stage
The three Met brothers from New York have an avid fan base that has fallen in love with their easy to listen to indie-pop songs. They put on a theatrical live show every time they hit the stage. With meticulous planning and scripting, the Met brothers bring their all to every performance. They are arguably the most loved indie pop band out there, and they show their fans immense love and appreciation at every show. Catch AJR live at Beale Street Music Festival before they go on a months-long world tour in support of Imagine Dragons!
Stick around for more coverage on the ground at this year's Beale Street Music Festival, A truly great start to the upcoming summer festival season!
— —
— — — —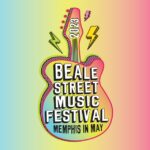 © Danny Broadway
---